Gluten Free Peppers Stuffed with Cheesy Chicken Recipe
Prep Time
15 Minutes
Difficulty
Easy
Cook Time
40 Minutes
Serves
6
When it comes to stuffed peppers this is probably the best recipe I know. The delicate peppers are packed with a delicious cheesy chicken stuffing making this gluten free dinner recipe a winner! Stuffing in this recipe is made with chicken, quinoa, a variety of spices and plenty of cheese. You will find this recipe quick and easy to make. Enjoy!
Ingredients
3 large red bell peppers, halved lengthwise and deseeded
1 tbsp. coconut oil or grape seed oil
4 boneless skinless chicken thighs, thinly sliced
Sea salt and freshly ground GF black pepper to taste
2 cups shredded cheddar cheese, divided
1 cup cooked quinoa
½ cup sour cream
1 medium-size ripe tomato, chopped
1 Tbsp. chili powder
½ tsp. dried oregano leaves
1 tsp. garlic powder
¼. tsp. cayenne pepper (optional)
Instructions
Preheat oven to 350 F
Line your baking pan with peppers, cut side up
In a large non-stick frying pan heat the oil over medium-high heat. Add chicken and season with salt and pepper. Stir-fry for 3 – 5 minutes or until the chicken is no longer pink on the inside
In a large bowl combine 1 ½ cups cheese, quinoa, sour cream, tomato, chili powder, oregano, garlic, cayenne and cooked chicken. Mix well
Fill each pepper with the chicken mixture and top with remaining cheese
Bake for 30 – 35 minutes or until the cheese is bubbling. Serve hot
Similar Recipes
Chicken Alla Calabrese – Gluten-Free
Calabrese sauce originates in southern Italy and gives this chicken dish exceptional flavour. The chicken is layered with ham, tomatoes and buffalo mozzarella and is smothered in a delicious red pepper sauce then baked to perfection. Serve it up with gluten-free pasta, parsley rice or mashed potatoes. Read More
Prep Time
15 Minutes
Difficulty
Easy
Cook Time
40 Minutes
Serves
4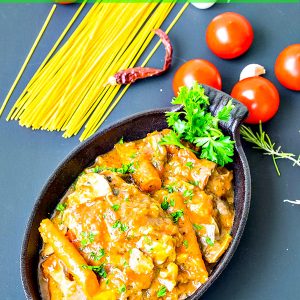 Chicken Cacciatore with Roasted Tomatoes
A crisp chill in the air is always an indication to cook comfort food. The aromas of simmering vegetables, herbs and spices are welcome any time of the year. This chicken cacciatore is a gourmet version of the classic Italian dish When it comes to gourmet chicken cacciatore, it is all about the sauce. You […] Read More
Prep Time
15 Minutes
Difficulty
Easy
Cook Time
60 Minutes
Serves
4 - 6
Chicken Parmesan Stuffed With Artichoke In Tomato Basil Sauce -Gluten-Free
These tender chicken breasts are stuffed with amazing artichoke stuffing, then wrapped in ham and baked in creamy tomato basil sauce. This recipe will impress your family and friends every time. Serves 4 Read More
Prep Time
15 Minutes
Difficulty
Intermediate
Cook Time
30 Minutes
Serves
4
© Copyright 2017 Only Gluten Free Recipes. All Rights Reserved.