Gluten Free Minnie Mud Pies
Prep Time
15 Minutes
Difficulty
Easy
Cook Time
15 Minutes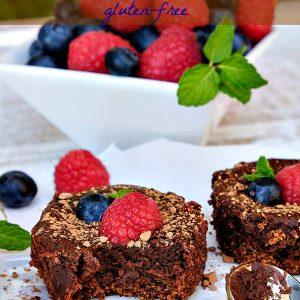 Minnie mud pies are one of our most popular gluten free small chocolate desserts. They are decadent and dense small chocolate dreams. Whether you are entertaining a large crowd or small dinner party, these are ideal desserts. They are simply heavenly!
When I was creating this recipe, I was looking for a cookie that can be used as a base in these easy to make minnie mud pies. I found these delicious gluten free cookies called Nairn's. They come in different flavours and are four per package for lasting freshness. I used the gluten free chocolate chip and oatmeal cookie to make the base. The cookies are easy to work with and are not too sweet. If I were making a cheesecake, I would use the gluten free oat grahams
Ingredients
4 oz. gluten free chocolate cookies, should make 1 cup of cookie crumbs
3 Tbsp. strong cold coffee, divided
1 Tbsp. melted butter
4 oz. GF chocolate chunks or chocolate chips (preferably 80% + cocoa)
2/3 cup raw turbinado sugar
½ cup pure cocoa powder plus some for dusting
3 Tbsp. almond flour
1/4 cup plus 1 Tbsp. light cream cheese, softened
¼ low-fat sour cream
3 large eggs, room temperature
2 Tbsp. pure maple syrup
1 tsp. pure vanilla extract
Fresh berries for garnish
Instructions
Preheat oven to 350 F. Lightly coat a 12-cup muffin pan with cooking spray
Place cookies in a food processor and process until they resemble bread crumbs
In a small bowl combine the cookie crumbs 1 Tbsp. of coffee and melted butter. Divide evenly into muffin pan and pat down
Add chocolate and 2 Tbsp. of coffee into a small saucepan and over low heat melt the chocolate until smooth
Add sugar, cocoa powder, almond flour, cream cheese, sour cream, eggs, maple syrup and vanilla into a food processor. Process until smooth. Add melted chocolate and process until creamy
Evenly pour the chocolate mixture into muffin cups and bake for 15 minutes. Cool first, and then chill for 4 hours before serving. Carefully remove from the muffin pan using a knife. Serve with a dusting of cocoa powder and fresh berries
TIP: you can use parchment paper cups in the muffin pan instead of cooking spray. The mud pies will last up to 4 days when refrigerated
Similar Recipes
Flourless Chocolate Cheesecake Cupcakes
Indulgent, moist, perfect, flourless, chocolate cheesecake cupcakes…when you taste perfection there is nothing else to say Makes 8 cupcakes Read More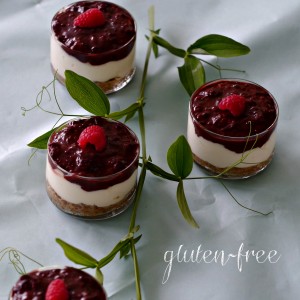 Cheesecake Cups With Raspberry Chocolate Topping
This flourless, deliciously creamy cheesecake served in small cups gives everyone just enough forbidden pleasure. When you choose to indulge, do it in small portions. Enjoy Read More
Prep Time
20 Minutes
Difficulty
Easy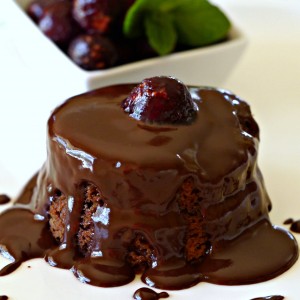 Flourless Chocolate Ganache Mini Cake
For chocolate lovers, it does not get any better than this! When following a gluten free diet, making desserts can be challenging, but you will love this recipe because it is super easy to make creating a luscious melt in your mouth results. This after dinner chocolate indulgence can be made up to 24 hours […] Read More
Prep Time
15 Minutes
Difficulty
Easy
Cook Time
25 Minutes
Serves
6
© Copyright 2017 Only Gluten Free Recipes. All Rights Reserved.