Healthier Gluten-Free Double Chocolate Bundt Cake
Published on Apr 25, 2019
by
Kristina Stosek
Prep Time:

15 minutes
Cook Time:

50 minutes
Serves:

12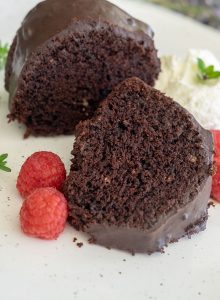 ​This post may contain affiliate links, please see our
privacy policy
for details
There is no wrong way to serve Healthier Gluten-Free Double Chocolate Bundt Cake – but, the best way is with a pure chocolate glaze made from scratch. There is nothing like a moist, chocolaty mouthfull of incredibly delicious cake.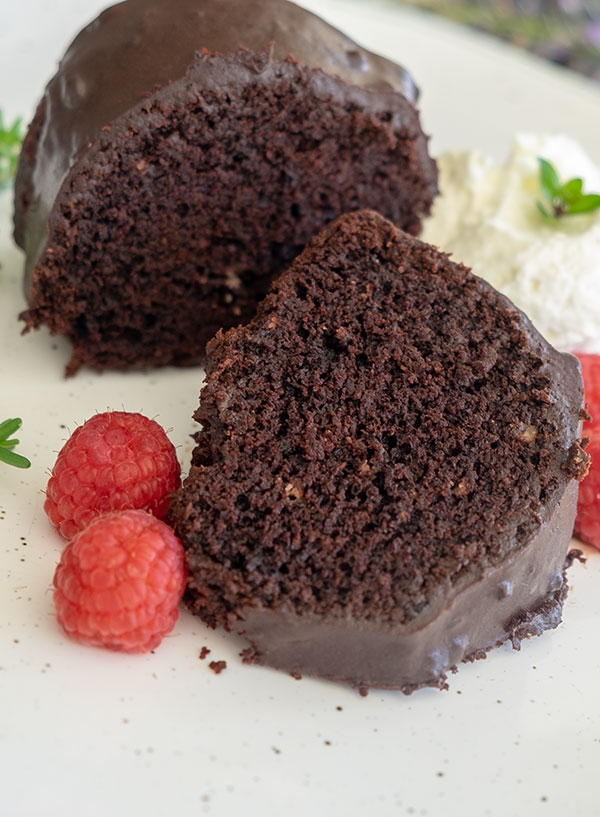 A healthier gluten free chocolate cake recipe
If you are a chocolate lover, you will love this gluten-free chocolate dessert not only because of how delicious it is, but because it is healthier.
This gluten-free dessert is a basic grain-free chocolate cake, made with almond flour and is sweetened with bananas and pure maple syrup, therefore eliminating refined sugar and grains. And, this gluten-free cake recipe is relatively foolproof.
What is so special about this gluten-free chocolate bundt cake?
We all need a chocolate fix every once in a while. And this indulgent chocolate bundt cake will fix that twice over. What's better than chocolate cake with freshly made chocolate glaze?
This recipe is made with protein-packed, fiber-rich almond flour. And the bananas and maple syrup are used to sweeten the cake.
Sides to chocolate cake
This is a simple everyday chocolate dessert, but feel free to add vanilla bean ice cream or whipped cream with berries on the side to make it extra special. Chocolate dessert shouldn't be appreciated only on weekends, don't you agree? Not to mention this recipe is so easy that you have no excuse not to make it any day of the week.
If you are a lover of chocolate, check out these gluten-free chocolate recipes for inspiration.
Let's Connect!
Be sure to FOLLOW US on FACEBOOK and PINTEREST. And don't forget to sign up for our newsletter, the form is at the bottom of this page. We always have something new and exciting for you!
Many thanks!
Kristina xx
Healthier Gluten-Free Double Chocolate Bundt Cake
Published on Apr 25, 2019
by
Kristina Stosek
Instructions
1.

2.

In a large bowl whisk together almond flour, tapioca starch, cocoa powder, baking soda and salt

3.

In a bowl of a food processor add bananas and process until smooth. Add butter, maple syrup, eggs and vanilla and process until smooth

4.

Add wet mixture to dry ingredients and using a spatula mix to combine

5.

Transfer batter into the prepared bundt cake pan and bake for 45 minutes or until it passes the toothpick test. Let it cool for 15 minutes, then turn it out onto a cooling rack to cool completely

6.

For the chocolate glaze; In a small saucepan whisk together milk, cocoa powder, maple syrup, tapioca and vanilla

7.

While stirring, cook over medium heat until the glaze starts to thicken. Melt in the butter and stir to combine

8.

Immediately drizzle the glaze evenly over cooled cake