Gluten Free Marble Kuglof Recipe
Published on Dec 12, 2022
by
Kristina Stosek
Prep Time:

15 minutes
Cook Time:

45 minutes
Serves:

12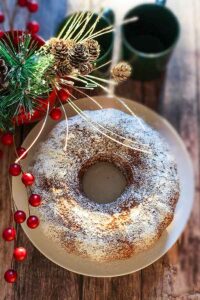 ​This post may contain affiliate links, please see our
privacy policy
for details
Gluten Free Marble Kuglof is a delicious and festive coffee cake that is perfect for any special occasion. With its light and airy crumb texture, it will surely be a hit with family and friends.
This kuglof is dairy-free, flavored with vanilla and lemon zest and marbled with chocolate cake. The coffee cake is then finished with a light dusting of powdered sugar or a glaze. We love this Coffee Walnut Glaze on marble kuglof.
The key to getting the perfect marble effect is in the batter. First, you'll have one batter, which is divided into two. Then you add cocoa powder to one.
Once you have the chocolate batter, swirl it throughout the white batter. The resulting cake is airy and moist kuglof with a beautiful marbled appearance.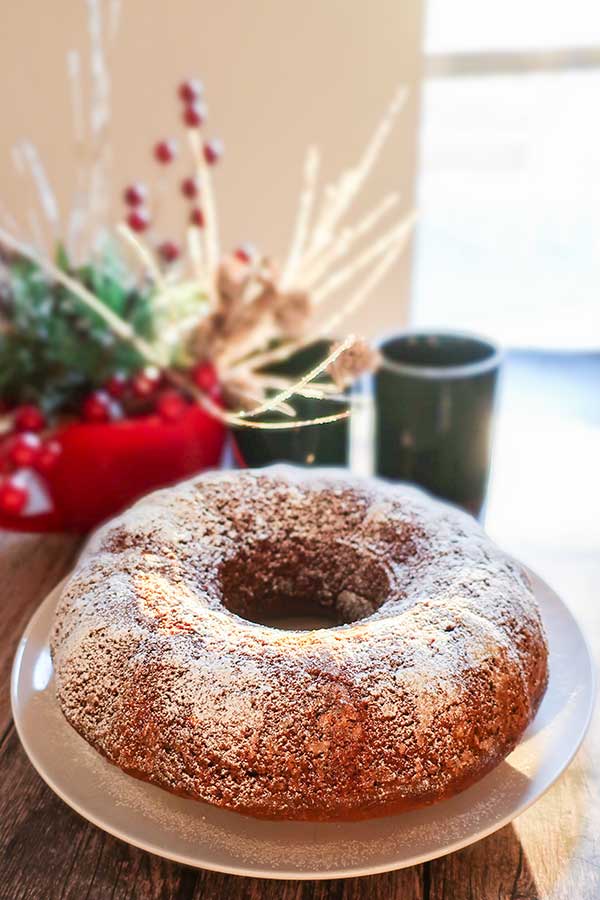 What is kuglof?
Kuglof, also spelled kugelhopf or kougelhoup, is a popular cake in Austria, Germany, and France prepared during Christmas holidays. It is also popular in other parts of Europe and has become a favorite in many cultures.
The coffee cake is usually served for breakfast, afternoon tea or coffee. Kuglof is traditionally made in a unique mold with a central tube, then inverted onto a platter and decorated with powdered sugar or a glaze.
Kuglof VS Pound Cake
Kuglof is light and airy and is typically made with oil. Pound cake is rich and buttery and is made with butter. Check out of popular Gluten-Free Rice Flour Pound Cake.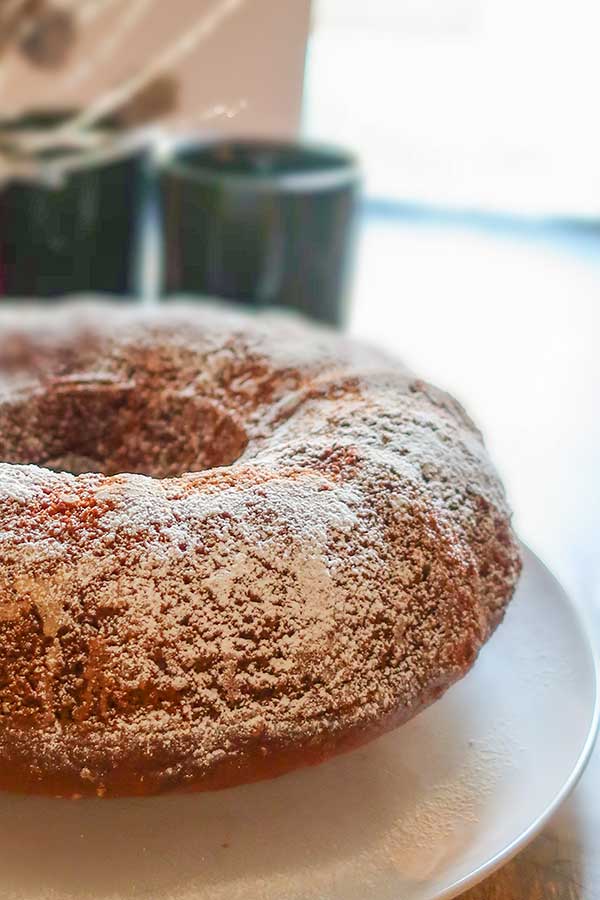 FAQs about marble kuglof
Q: Is kuglof gluten free?
A: The classic kuglof recipe is not gluten free. And this is why this gluten free recipe is perfect for those who are celiac, have gluten intolerance or are allergic to wheat.
Q: How do you make kuglof?
A: The process of making kuglof begins with mixing eggs with sugar, oil, milk and vanilla. Once the dry ingredients are mixed, they are added to the egg mixture and combined to create a thin batter. At this point, you can add in your mix-ins. The mixture is then poured into a well-greased and floured kuglof mold (Bundt pan) and baked.
Q: How do you get the marble effect?
A: The key to getting the perfect marble effect is dividing the batter into two bowls. Then add cocoa powder to one, creating chocolate batter. The chocolate batter is then swirled through the white batter.
Q: How long does gluten free marble kuglof last?
A: The gluten free version lasts up to 3 – 4 days when stored in an airtight container at room temperature or 7 days when refrigerated.
Q: Can gluten free kuglof be frozen?
A: Yes, once the cake has cooled, wrap it tightly in plastic wrap and place it in a freezer bag for up to 2 months in the freezer.
3 popular versions of kuglof
You can add various mix-ins to kuglof. The most popular three are chocolate marble, apple, or raisins with walnuts. It can be baked in a variety of shapes, including as a loaf, Bundt, or ring cake.
When is kuglof served?
Kuglof is traditionally served for breakfast during the Christmas holidays. Or as a dessert with afternoon coffee or tea.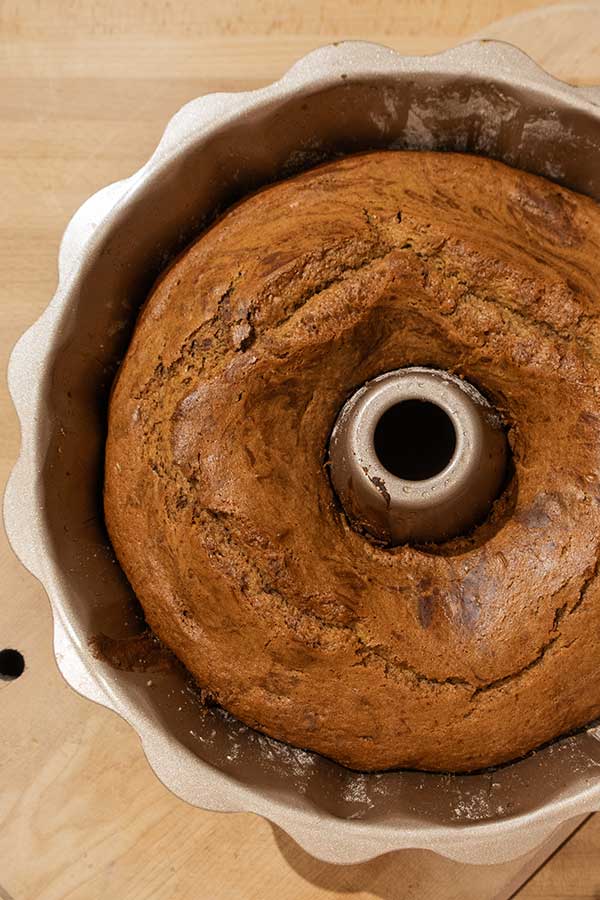 Recipe tips
-When working with gluten-free flour, the batter will need extra moisture because the flour is more absorbent. So don't panic if your batter is thin.
-be sure to check for doneness by using a toothpick. If the cake is underbaked, it will deflate.
-Allow the kuglof fully cool before dusting it with powdered sugar and slicing.
notes on gluten free ingredients
Gluten free flour blend – use one with xanthan gum or add 1 teaspoon. You can use any 1 : 1 gluten free blend except one that includes bean flour.
Tapioca starch – you can also use gluten free cornstarch, arrowroot starch or potato starch.
Baking powder – not all baking powder is gluten free. I used this gluten free baking powder.
Cocoa powder – use pure cocoa powder and ensure it is gluten free. Sometimes cocoa powder is packaged in factories where they process wheat and can be contaminated with gluten.
tools you will need
2 bowls
Measuring cups
Measuring spoons
Electric mixer
Spatula
Kuglof pan, Bundt pan or loaf pan
how to take kuglof out of the bundt pan
To take the gluten free kuglof out of a bundt pan, start by generously greasing the pan with butter or non-stick cooking spray and dusting it with gluten free flour before pouring in the batter.
After baking the cake, let it cool in the pan for 15 minutes. Then, carefully run a butter knife around the edges of the pan to loosen the cake.
Place a plate or cake stand upside-down on top of the pan and flip it over. Tap the bottom of the pan lightly until the cake releases.
3 traditional kuglof bund pans
2. Nordic Ware Anniversary Bundt Pan
3. Kaiser La Forme Plus Bundt Pan
storing gluten free kuglof
To store, let the cake cool completely. Then wrap it tightly in plastic wrap and keep it at room temperature for 3 – 4 days.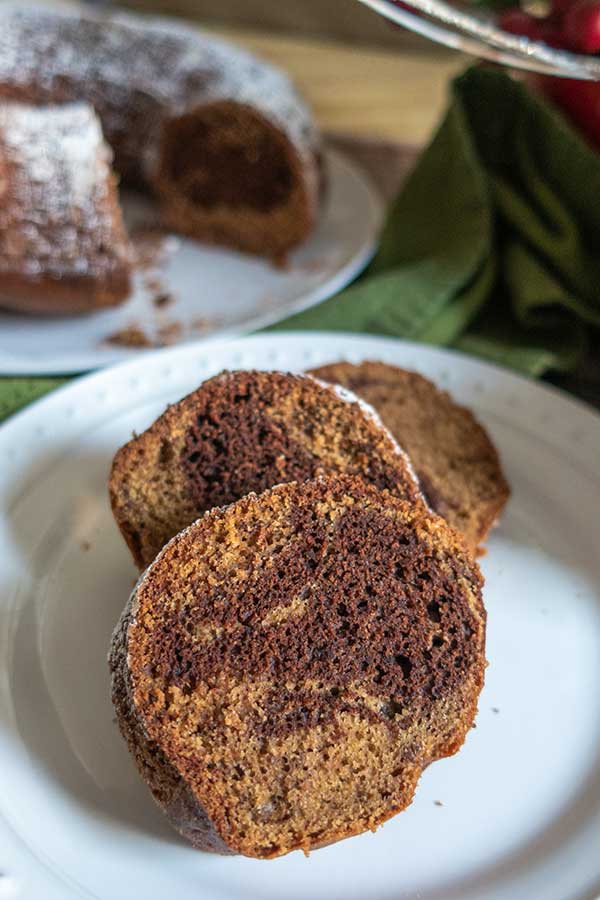 serving suggestions
There are many ways to enjoy this gluten free marble kuglof. For breakfast, serve it as is. Or get creative and top it with a dollop of whipped cream or ice cream, fresh fruit, chocolate shavings, or a drizzle of your favorite sauce. The sky's the limit!
Whether you're celebrating Christmas or a special occasion or you are craving something sweet and gluten free to go along with your coffee, this marble kugflof is a cake to try.
Let's Connect!
Be sure to FOLLOW US on FACEBOOK and PINTEREST.
Many thanks!
Kristina xx
Gluten Free Marble Kuglof Recipe
Published on Dec 12, 2022
by
Kristina Stosek
Instructions
1.

Preheat the oven to 350 F. Generously grease a kuglof pan or bundt pan with butter or cooking oil and sprinkle with flour. Shake off any excess flour

2.

In a large bowl, using an electric mixer beat the eggs and sugar until fluffy. Add olive oil, milk, vanilla and lemon zest and mix until combined

3.

In a separate bowl, whisk the flour, tapioca starch, baking powder, baking soda and salt. Slowly add to the mixing bowl and mix until just combined

4.

Transfer about 1/3 of the batter into the other bowl and whisk in the cocoa powder

5.

Pour the chocolate batter into the white batter and, using a knife, briefly swirl through the batter. Do not mix it together

6.

Pour the batter evenly into the prepared pan and bake for 45 minutes or until a toothpick inserted in the cake comes out clean

7.

Cool in the pan for 15 minutes, then carefully run a butter knife around the edges of the pan to loosen the cake

8.

Place a plate or cake stand upside-down on top of the pan and flip it over. Tap the bottom of the pan lightly until the cake releases. 
Leave a Comment
can't wait to try it, my mom always made this at Christmas time, it is so great to find a recipe for gluten free kuglof!
I made this kuglof last night, it tastes just like my grandmas :-)