Squash With Pesto Cream Sauce Pasta (Gluten-Free)
Prep Time
10 Minutes
Difficulty
Easy
Cook Time
20 Minutes
Serves
6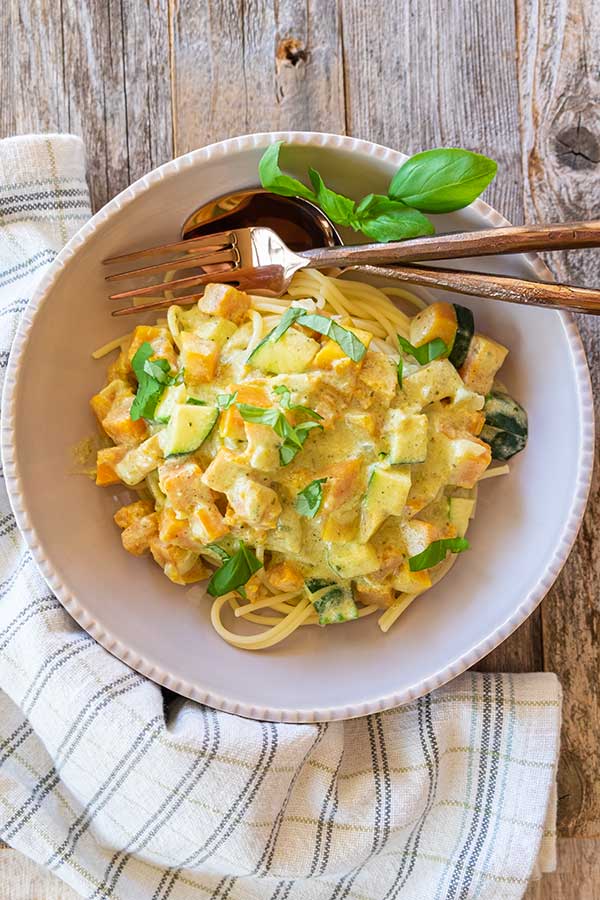 Be the first to rate this recipe.
Start the weekend with this healthy gluten-free Squash With Pesto Cream Sauce Pasta. Seasonal butternut squash with tender young zucchini and only a handful of ingredients makes this dish easy. You start with the velvety pesto cream sauce, add the butternut squash, and at the very end, add the zucchini. Then all you do is toss your personal favourite gluten-free pasta with the saucy squash. In this recipe, I used spaghetti, but short cut pasta works well with the small cubed squash smothered in a pesto cream sauce. This is one of the gluten-free pasta meals you can make when you are short on time and want something healthy for your family. Every bite is filled with deliciousness, it is perfect, and the entire meal takes only 20 minutes to cook. 
Two of my favourite squashes are butternut because of its nutty flavour and dense texture and zucchini because when properly cooked, it is soft in the middle and has a bit of crunch on the outside. When it comes to zucchini, you don't want to overcook it. You can eat it raw if you wanted to. Using young zucchini will give you the best flavour and texture. Butternut squash is known to have the highest level of vitamin A of any squash and is rich in B complex group. Zucchini is low in calories and carbs and is rich in vitamins and minerals that include potassium, calcium and vitamin C
Every season I use squash in different ways, from salads to soups to desserts. Squash is super simple to use in cooking, low in calories and is rich in fiber. Butternut squash can be tedious to peel and cut, so if you are short on time, you can buy a pre-cut butternut squash. You will find that many supermarkets carry them ready to go. Including a variety of squashes in your diet will promote a healthy body.
Ingredients
2 Tbsp. Extra virgin olive oil
2 shallots, diced
2 garlic cloves, sliced
1/3 cup cream cheese
2 cups cream
6 cups peeled, cubed butternut squash. The cubes should be no bigger than 1/2 inch in diameter
2 small (young) zucchini, cut into the same size as the squash (do not peel the zucchini)
3/4 tsp. Himalayan salt or to taste
1/2 tsp. GF ground black pepper
Optional; fresh basil for serving
This post may contain affiliate links to products I use and highly recommend. You can read my full disclosure here
Instructions
Sauté shallots with garlic in olive oil until translucent. About 3 minutes
Add pesto sauce and cream cheese and cook until the cheese has melted. Slowly add the cream and stir until mixed
Add squash and season with salt and pepper. Bring the mixture to a simmer, cover and cook until the squash is tender. About 10 - 12 minutes, stirring often.
Add zucchini and cook for 2 more minutes. Remove pot from the heat and rest for 10 minutes. Keep in mind that the squash and zucchini keep cooking while resting.
Toss with freshly cooked hot pasta and top with fresh basil if you wish
Similar Recipes
4-Ingredient Double Stuffed Butternut Squash
This 4 Ingredient Double Stuffed Butternut Squash is incredibly tasty, cheesy and super easy to make. This is a gluten-free vegetarian butternut squash dish, made with only four ingredients plus spices. The stuffing is made with yogurt, cheddar cheese, and green onions. For flavour I used turmeric, a spice with powerful antioxidants. The reason I […] Read More
Prep Time
10 Minutes
Difficulty
Easy
Cook Time
50 Minutes
Serves
4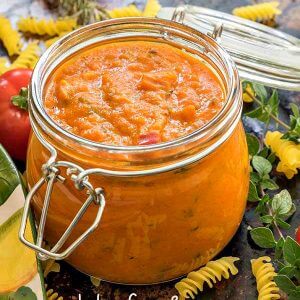 Creamy Butternut Squash Pasta Sauce
This deliciously seasoned creamy pasta sauce recipe is super easy to make and is acceptable for a gluten free, vegan and paleo diet. Butternut squash is a favourite winter squash with a slightly nutty taste packed with healthy nutrients. This tasty squash is ideal for sauces such as this creamy pasta sauce because of its […] Read More
Prep Time
15 Minutes
Difficulty
Easy
Cook Time
75 Minutes
Serves
4-6
Gluten Free Tex-Mex Squash Casserole
Not only is this the easiest and quickest squash casserole, but it's healthy and scrumptious. The tender, delicate squash is baked with onions, tomatoes and jalapeno in a cheesy sauce flavoured with Mexican spices. I highly recommend making this warming dish, packed with loads of A, B6 & C vitamins. Serve with a light salad […] Read More
Prep Time
15 Minutes
Difficulty
Easy
Cook Time
35 Minutes
Serves
6