Maple Glazed Baked Salmon Steaks
Prep Time
10 Minutes
Difficulty
Beginner
Cook Time
10 Minutes
Serves
4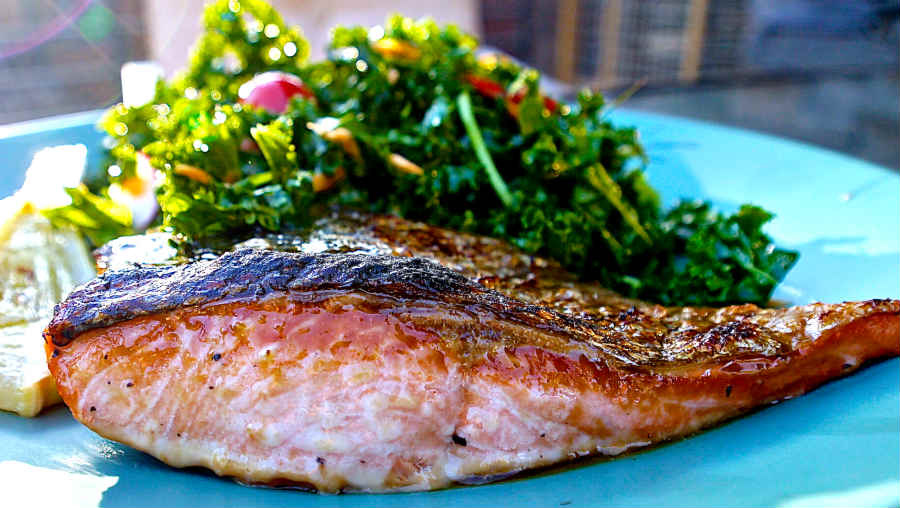 Average Rating: 5 | Rated By: 5 users
When it comes to cooking fish, you don't want the seasoning to overpower the delicate flavour of the fish. In this recipe, the salmon steaks are coated in a light maple tamari and black pepper marinade and then broiled to perfection. Serve with a light kale salad with ginger dressing or a side of simply roasted fennel and carrots.
Ingredients
4 wild salmon steaks with skin on, about 1/3 lb. each
2 Tbsp. GF tamari sauce
2 Tbsp. pure maple syrup
1 tsp. cracked GF black pepper
1 Tbsp. melted coconut oil
Instructions
Combine tamari sauce, maple syrup and black pepper
Place salmon on a baking pan lined with foil skin side down and brush with maple mixture. Refrigerate for one hour. After an hour flip the salmon and brush with more maple mixture. Refrigerate for 1 more hour
Preheat oven to broil
Add coconut oil into remaining maple mixture and mix. Brush salmon with the coconut oil mixture.
Place salmon in the oven about 8 inches from the broiler skin facing up and broil for 8 to 10 minutes or until salmon is cooked. The internal temperature should be 145 F in the thickest part of the salmon steak
Similar Recipes
Easy Baked Herbed Salmon Recipe
This salmon recipe is one of the easiest fish recipes to make. The fresh herbs add plenty of delicious flavours, so you don't have to make a sauce. When cooking beautiful fish such as wild salmon, you do not want to over power it with herbs and spices. In this recipe, the herbs are mild […] Read More
Prep Time
10 Minutes
Difficulty
Beginner
Cook Time
15 Minutes
Serves
4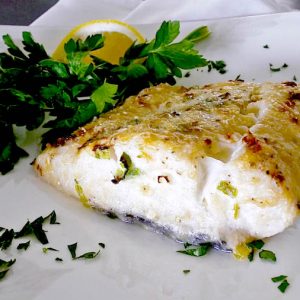 Easy Parmesan Crusted Halibut Recipe
Cooking fresh fish doesn't get any easier than this. The tender halibut is coated with delicious crispy Parmesan crust and cooked to perfection. Serve with cabbage salad or one of our delicious rice dishes Read More
Prep Time
10 Minutes
Difficulty
Easy
Cook Time
15 Minutes
Serves
4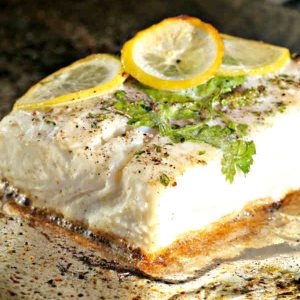 Grilled Halibut –Easy Recipe
Halibut is a firm white fish that contains very little oil. In this recipe, the mild flavour of halibut is infused with cilantro marinade and lemon thyme, keeping the fish moist and still keeping its delicate taste. This is a healthy super easy recipe to make Read More
Prep Time
5 Minutes
Difficulty
Easy
Cook Time
12 Minutes
Serves
2