Low Carb Zuppa Toscana – Dairy Free
Published on Jan 14, 2023
by
Kristina Stosek
Prep Time:

15 minutes
Cook Time:

45 minutes
Serves:

6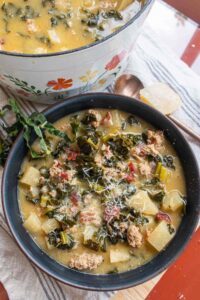 ​This post may contain affiliate links, please see our
privacy policy
for details
Soup season is upon us, and this low-carb, dairy-free Zuppa Toscana is the perfect cozy dish to curl up with. Packed with well seasoned sausage, Tuscan kale, and Jicama, this soup is hearty and creamy with a hint of smokiness from the bacon. And the best part? This Italian-style soup is low-carb and gluten free.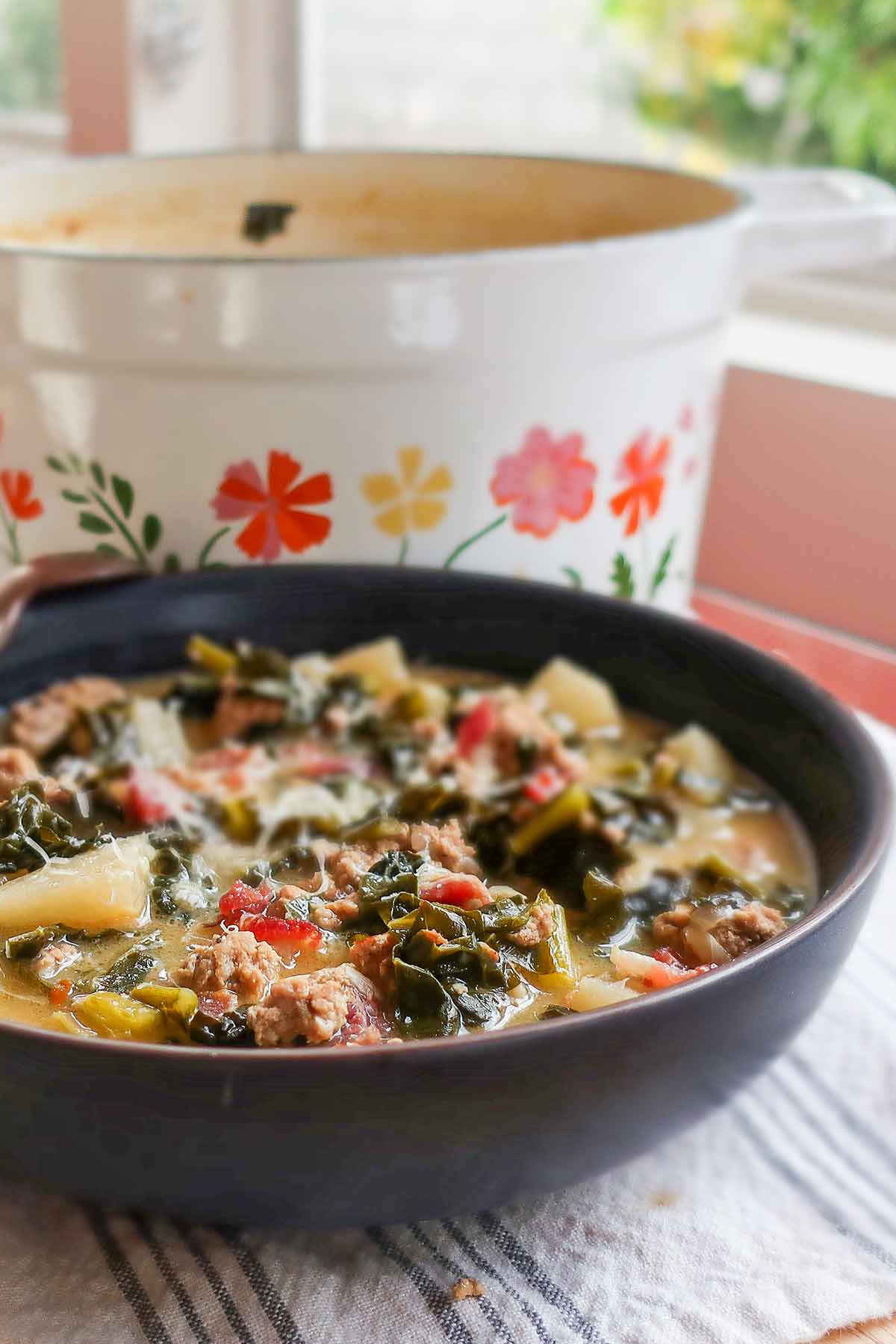 What is Zuppa Toscana or Tuscan soup?
Zuppa Toscana is a hearty and flavorful soup traditionally made with Tuscan kale, Italian sausage, bacon, potatoes, and a creamy broth. It's the perfect comfort food for a chilly day! This soup is also known as Tuscan Soup or Tuscan Style Soup.
Where does Zuppa Toscana originate from?
There are many conflicting stories about where Zuppa Toscana originates from. Some say that it was created by Tuscan peasants who needed to make a filling meal with whatever ingredients they had on hand. Others claim that it was invented by Italian-American immigrants who were homesick for the soup they used to eat back in Italy.
No matter where it came from, Zuppa Toscana has become a popular soup worldwide, thanks to its simple ingredients and easy-to-follow recipe.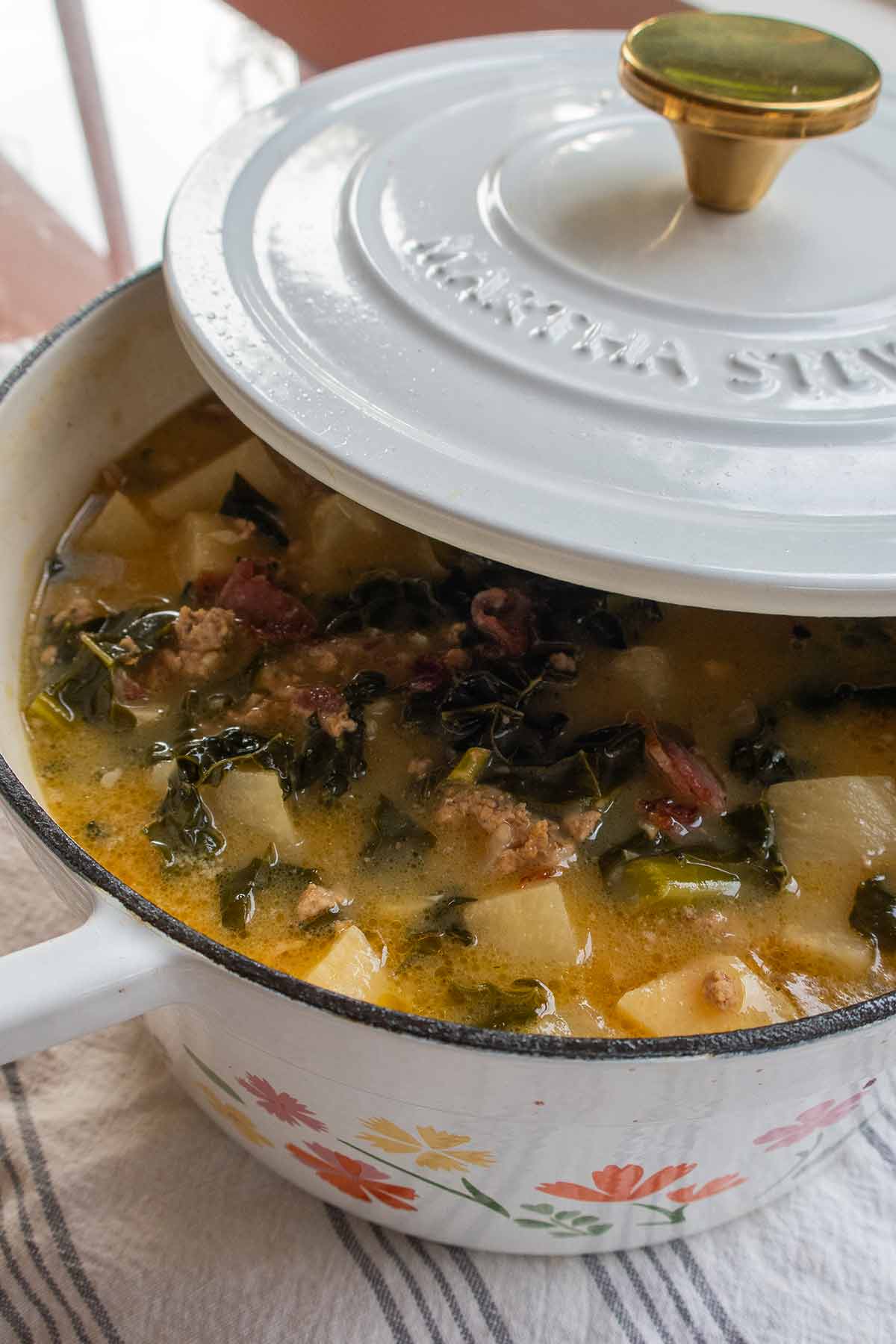 What greens can you add to Zuppa Toscana soup?
There are a variety of greens that you can add to the Italian-style soup to give it an extra boost of flavor and nutrition. Some good choices include:
-Tuscan kale, also known as Italian kale, lucinato kale, dinosaur kale, kale, flat back kale, palm tree kale, or black Tuscan palm
–Collard greens, this leafy vegetable would be our second choice for this soup recipe
-Mustard greens
-Turnip greens
-Spinach
-Swiss chard
Each of these greens will add a slightly different flavor and texture to the soup, so feel free to experiment until you find the combination that you like best.
But keep in mind some greens cook faster and should be added at the very end such as spinach and Swiss chard.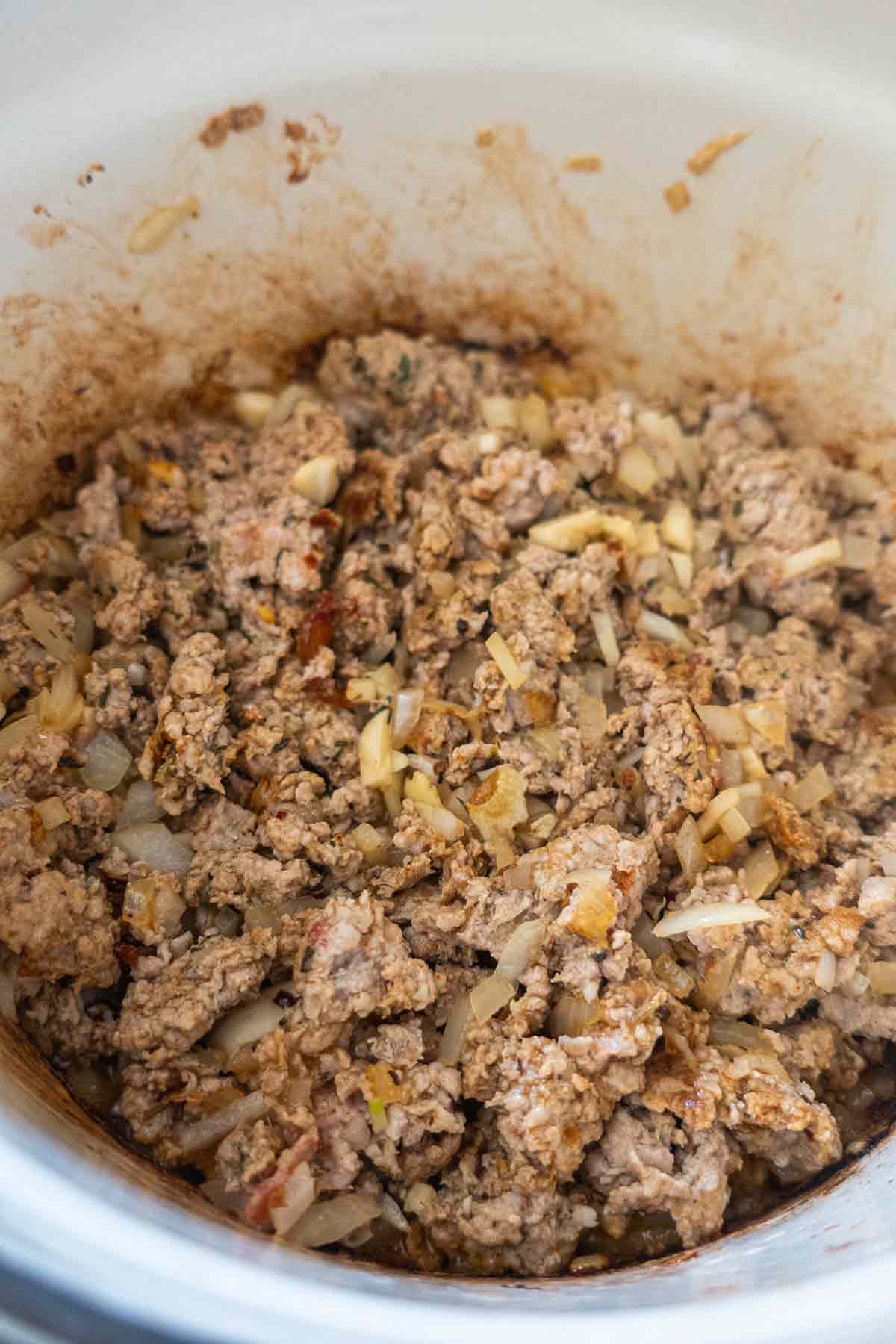 spices for homemade gluten free Italian sausage
Seasoning is a critical component of any sausage, and Italian sausage is no different. The most important seasoning in Italian sausage is fennel, which gives it its characteristic flavor. Other common seasonings include garlic, paprika, basil, oregano, salt, black pepper, and red pepper flakes.
Sometimes it can be challenging to find gluten free Italian sausage. This is why I made the Italian sausage meat from scratch, keeping the recipe gluten free.
tools you will need to make Zuppa Toscana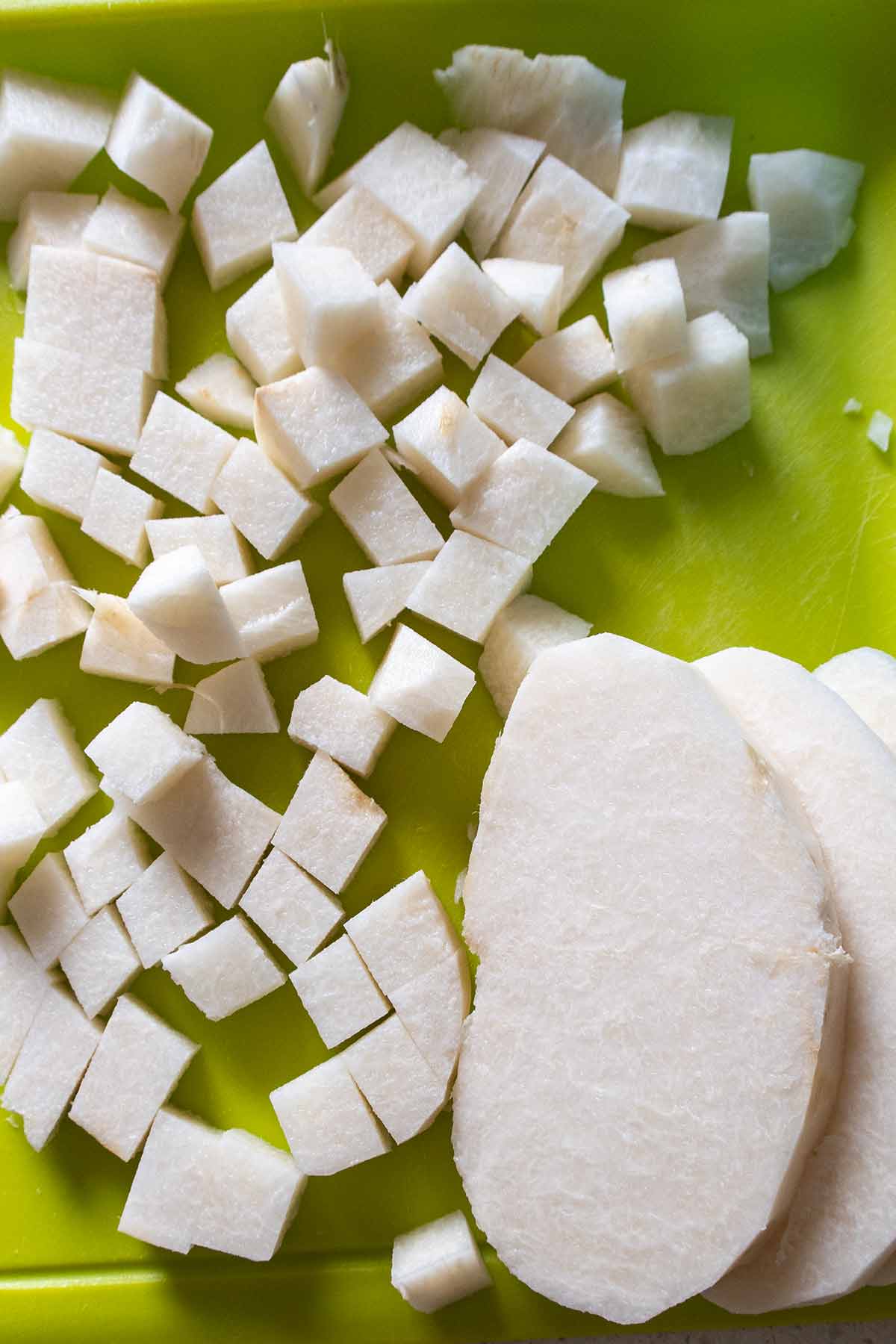 What does Jicama taste like?
Jicama is a root vegetable, and the texture is a cross between a raw potato and a turnip. And it has a crisp starchy taste with a hint of sweetness that adds flavor to soups and stews.
You can also eat Jicama raw in salads, or make baked fries by tossing them in olive oil and seasoning them before baking.
How to peel Jicama?
First, rinse the root vegetable under cool water, scrubbing to remove any dirt or debris.
Use a sharp knife to cut the top and bottom ends. Place the vegetable flat on the cutting board, and use a vegetable peeler to remove the skin.
Or, you can peel the skin off by hand. To do this, use the knife to cut down about 1 inch of skin, then use your fingers to pull the rest off towards the opposite end.
keeping the soup dairy free
This low-carb Tuscan soup is packed with flavorful ingredients like spiced pork, kale, and Jicama, and it can easily be made dairy-free.
For this dairy-free version, I used canned coconut milk. However, you can substitute the cream usually used in the Zuppa Toscana recipe with almond milk, rice milk or another non-dairy milk of your choice.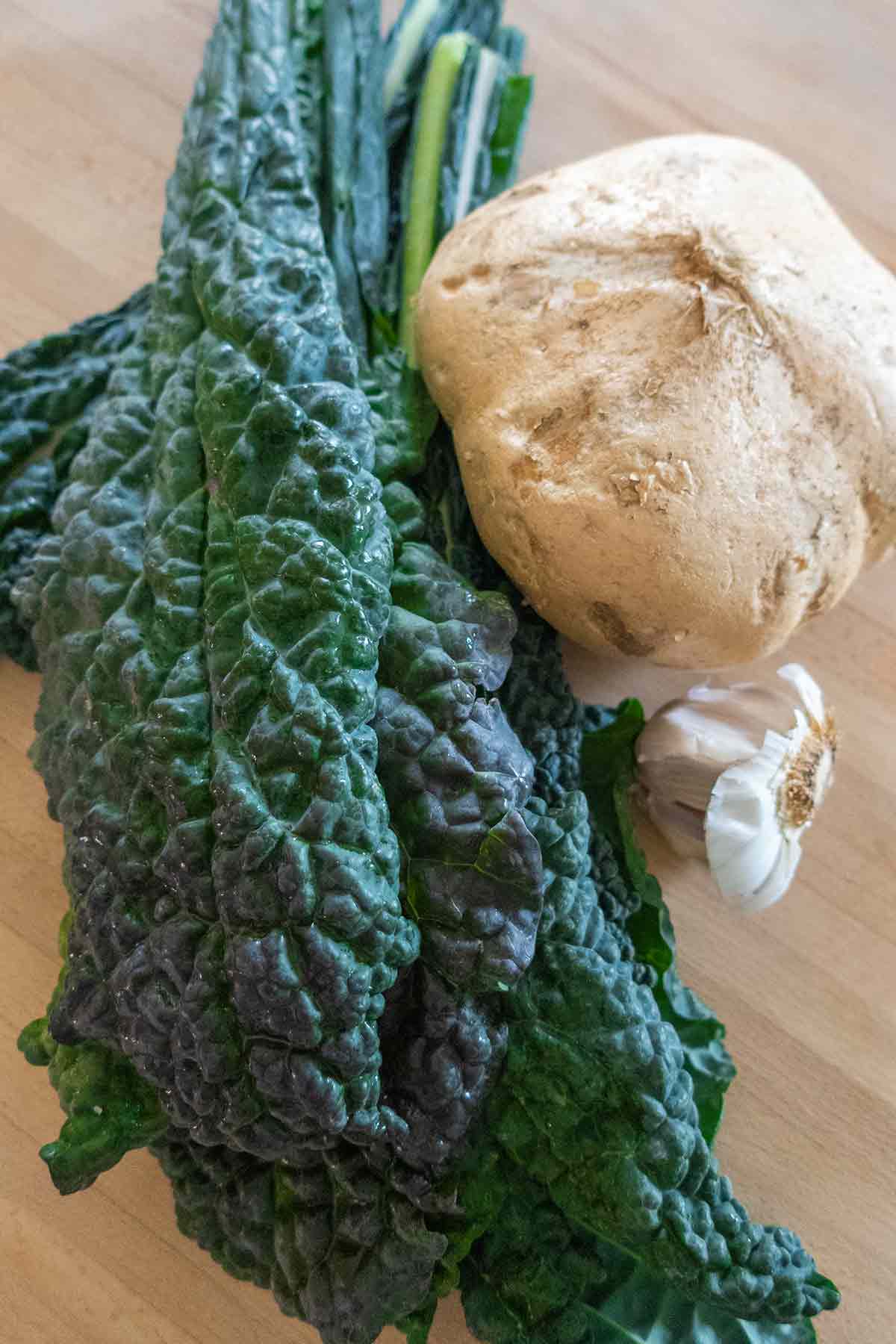 How to keep Zuppa Toscana soup low carb?
To keep this soup low-carb, omit the potatoes. This soup contains flavorful sausage, kale, and creamy goodness so you won't miss the carbs.
Since I wanted to make the soup heartier and keep it low-carb, I replaced the potatoes with Jicama. Jicama is a root vegetable much lower in carbs than a potato and is closest in texture and flavor to a potato than any other vegetable.
A medium size jicama (659 g) has only about 26 grams of net carbs. On the other hand, an equal amount of potatoes have about 100 grams of net carbs.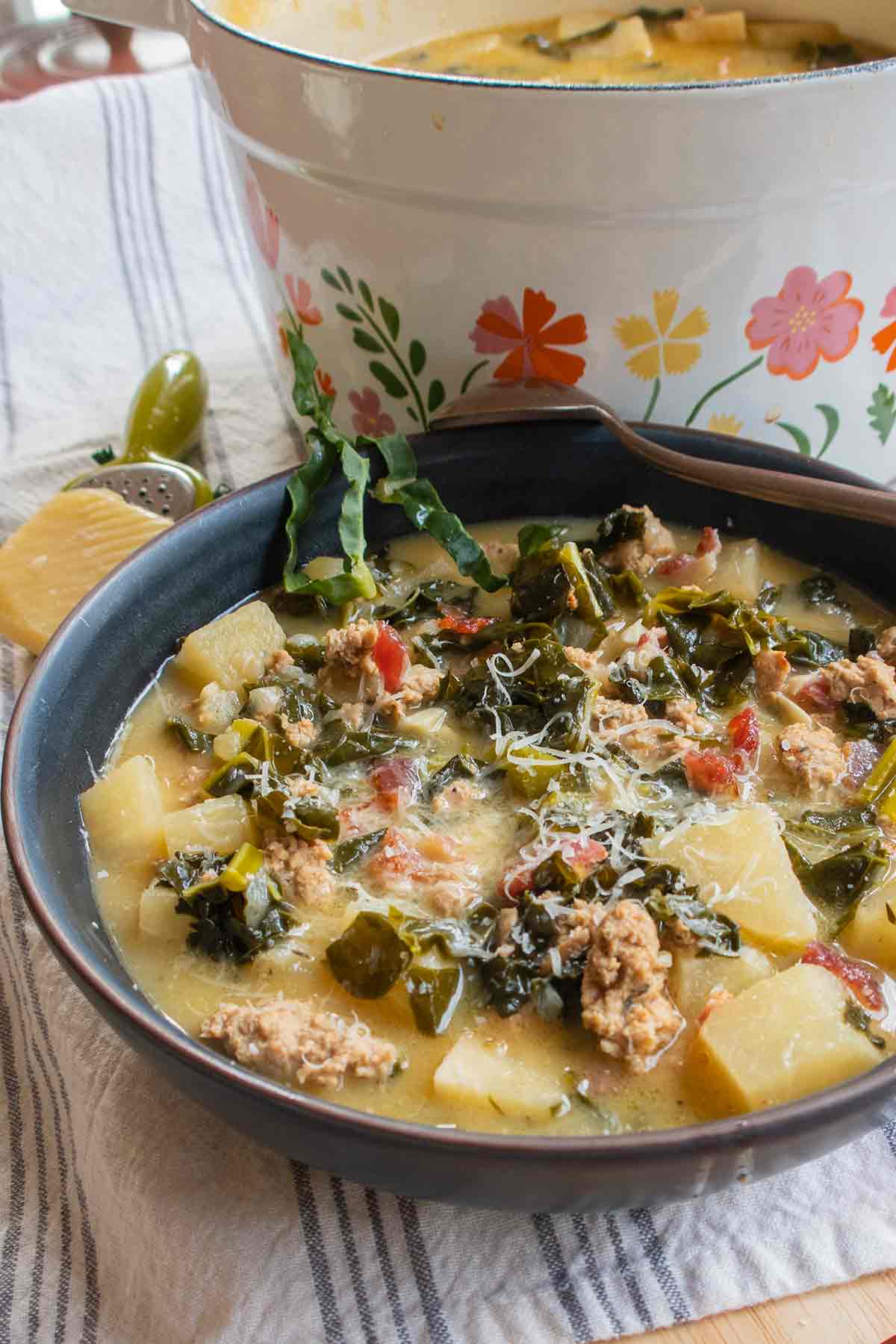 Is this Italian recipe healthy?
This soup is hearty and filling and is a meal on its own, But is it healthy?
The four ingredients that add healthiness to this low-carb Tuscan soup are kale, Jicama, onions and garlic. So overall, this soup does contain healthful ingredients.
If you are following a plant-based diet you may enjoy this Tuscan Vegan Minestrone Soup, or the Tuscan White Bean Salad.
what to serve with Zuppa Toscana soup
There are a few things that go great with this soup. One is a gluten free crusty Italian loaf of bread. Or a slice of delicious gluten free garlic bread.
the takeaway from Zuppa Toscana's recipe
If you're looking for a hearty low-carb Italian-style gluten-free soup that is also dairy-free, this Zuppa Toscana recipe is the perfect option. Packed with spiced sausage, kale, and Jicama, this soup is sure to satisfy even the pickiest of eaters. Plus, it's simple to make with just a few ingredients plus spices.
Do you love Italian food? Why not check out or complete list of gluten free Italian recipes.
Let's Connect!
Be sure to FOLLOW US on FACEBOOK and PINTEREST.
Many thanks!
Kristina xx
Low Carb Zuppa Toscana – Dairy Free
Published on Jan 14, 2023
by
Kristina Stosek
Instructions
1.

In a large bowl, mix pork, paprika, basil, red pepper flakes, oregano, thyme, pepper, fennel, apple cider vinegar and 1 1/2 teaspoons of salt. Set aside for 15 minutes

2.

Meanwhile, heat a large dutch oven or soup pot over medium heat. Once hot, add bacon and cook until crispy. Remove the bacon and place it on paper towels to drain.

3.

To the same pot with bacon drippings, brown seasoned pork, onions and garlic, break it up as it cooks. About 5 minutes. (if your bacon had a lot of fat, drain some of the fat off)

4.

Add broth, Jicama, and kale and season with salt. Cover and simmer for about 30 minutes or until Jicama is tender

5.

Whisk coconut milk with tapioca starch and stir it into the soup. Add the cooked bacon, and cook over low heat until the soup thickens. About 5 minutes

6.

To serve, ladle the soup into bowls and sprinkle with parmesan cheese if you wish