Greek Lamb Meatballs With Yogurt Dip {Gluten-Free}
Published on Mar 16, 2019
by
Kristina Stosek
Prep Time:

15 minutes
Cook Time:

25 minutes
Serves:

16 meatballs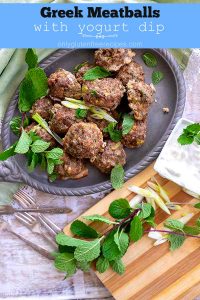 ​This post may contain affiliate links, please see our
privacy policy
for details
Greek Lamb Meatballs With Yogurt Dip – tender and moist meatballs made with lamb, goat cheese, mint and cumin. Hands down, these gluten-free meatballs are my favourite!
Serving small bites when inviting friends for afternoon drinks takes the pressure of a traditional dinner party. This is why serving small meals with big flavour is always a big hit, for your guests, and you 🙂
♥

Who doesn't love lamb meatballs?

In this gluten-free recipe, I used lamb, not only because lamb is often used in Greek cuisine, but because lamb adds more flavour. Italian meatballs are always popular – however, Greek lamb meatballs make for a nice change. I have also added goat cheese, mint and cumin to this recipe. They all work well together. The cheese adds a beautiful flavour and keeps the meatballs nice and moist. And what goes better with Greek meatballs – yogurt. I have added a simple yogurt dip made with mint and garlic, a perfect clean-flavoured accompaniment.

This lamb recipe is easy to throw together, and if you are not a lover of lamb, you can use chicken, beef, pork or turkey. Greek lamb meatballs are typically served with pita bread, but I found that they make a great small plate with a simple yogurt dip. If you are following a low-carb diet, toss the gluten-free meatballs in a salad for added protein and drizzle with the tasty yogurt dip.

Are you planning an afternoon entertaining guests, and want to keep things simple but impressive. Check out our list of gluten-free food to share recipes. From simple dips to hot appetizers, you will find something for every occasion. Irresistible nibbles are an integral part of entertaining because they are packed with flavour and are excellent for large gatherings. I want to mention that our Hot Camembert Dip recipe has been a huge hit!
Greek Lamb Meatballs With Yogurt Dip {Gluten-Free}
Published on Mar 16, 2019
by
Kristina Stosek
Instructions
1.

Preheat oven to 425 F and line a baking tray with parchment paper

2.

Place all the ingredients in a large bowl and mix together

3.

Coat your hands with a bit of olive oil and shape the mixture into 16 meatballs

4.

Place meatballs about 1 inch apart onto prepared baking pan. Bake for 20 - 25 minutes until meatballs are browned and cooked through

5.

For the yogurt dip, in a medium bowl mix everything together