Grain-Free Meatball Stroganoff
Prep Time
15 Minutes
Difficulty
Easy
Cook Time
35 Minutes
Serves
6
Be the first to rate this recipe.
This Grain-Free Meatball Stroganoff is probably my all-time favourite comfort food. The tender meatballs and mushrooms are simmered in the creamiest flavourful sauce made with fresh thyme and sage.  All this deliciousness is served over hot gluten-free noodles or rice. For keto diet serve over zucchini noodles.
The meatballs in this gluten-free stroganoff are made with grated zucchini. This healthy squash adds moisture and lightness to the meatballs without using bread or bread crumbs, making the meatballs grain-free.
grain-free meatballs – the details…
The meatballs are first briefly baked and not fried, keeping this stroganoff on the healthier side. The meatballs will have a nice roasted flavour, they have less fat, and they are soft and delicious on the inside.
While the meatballs are baking, you can prepare the mushroom sauce. The sauce is made with shallots, garlic, fresh herbs, Worcestershire sauce, balsamic vinegar, beef broth, cream and sour cream.
I like to add extra pepper to my stroganoff sauce, it gives the sauce a gentle peppery flavour. However, if you make this meatball stroganoff dish for a younger family, cut back on the black pepper. 
For the stroganoff sauce,
First, the mushrooms are briefly sautéed with shallots, garlic and herbs. Then the baked meatballs and broth are added, and everything is simmered for about 10 minutes. In the end, the creamy sauce is added and cooked until the sauce thickens. Super simple!
Tips:
Start boiling the water for the pasta or cooking the rice as you place the meatballs in the oven. This way, the pasta or the rice will finish cooking at the same time as the stroganoff.
If you want to make this a dairy-free stroganoff, replace the cream and sour cream with 1 1/2 cups of coconut milk and add two teaspoons of apple cider vinegar.
If you are sensitive to eggs, you can replace them with flax eggs.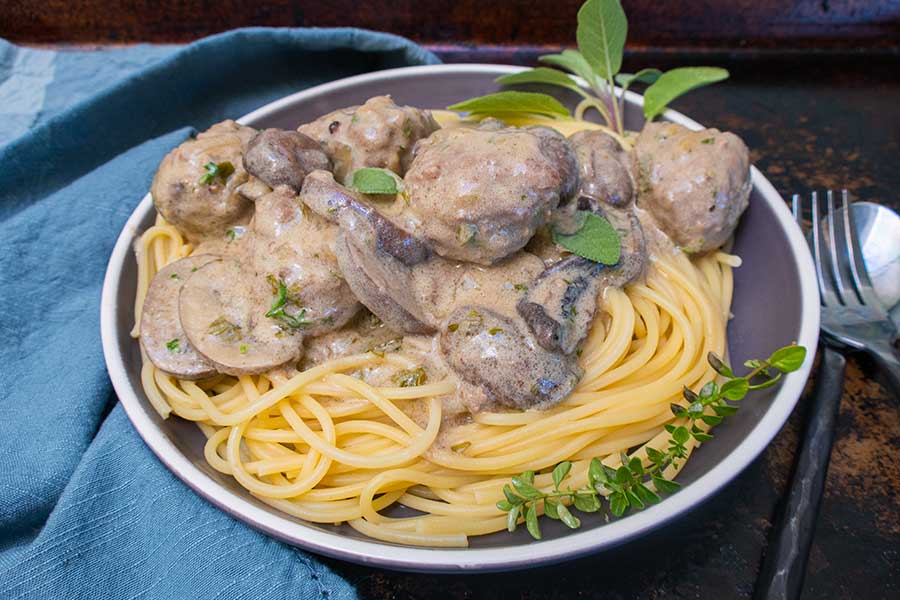 Meatball stroganoff is excellent for feeding a crowd 🙂 
By substituting meatballs for other cuts of beef, the stroganoff is more economical to make. Typically you would use sirloin or rump steak to make beef stroganoff. Plus, the meatballs are always tender, and the kids love meatballs.
The great thing about meatball stroganoff is, it tastes even better the next day as the flavours further develop. So if you have any leftovers, take them to work the next day and heat them in a microwave.
Or make the stroganoff a day in advance and have dinner ready for the next day. You know the days when you are too busy to make a healthy meal. Since meatballs stroganoff is more economical, this hearty meal is an excellent dish to make when feeding a crowd.
What to serve with grain-free meatballs stroganoff?
I love the stroganoff over gluten-free spaghetti or short cut noodles. Sometimes to mix things up, I serve the delicious meatballs over rice with steamed broccoli. YUM! If you want to keep this meatball stroganoff keto-friendly serve with zero carb noodles.
You will love this beef recipe because it is super simple to makes and is an excellent meal to serve when your family craves hearty comfort food. Need more beef recipes? Check out our selection of delicious gluten-free stew recipes.
Ingredients
MEATBALLS
1 1/2 lb. lean ground beef
1 small zucchini, skin on, grated (should make 1 cup)
2 large eggs
1 tsp. GF marjoram
1/2 tsp. GF garlic powder
1/2 tsp. GF ground black pepper
1/2 tsp. Sea salt
MUSHROOM SAUCE
2 Tbsp. Extra virgin olive oil or butter
1 large shallot, thinly sliced
2 cloves garlic, grated or minced
2 Tbsp. Fresh thyme leaves or 1 tsp. GF dried thyme
1 Tbsp. Fresh sage leaves or 1/2 tsp. GF dried sage
1 lb. sliced mushrooms
1 1/2 cups beef broth
1 cup cream
1/2 cup sour cream
1/4 cup fresh parsley, chopped
2 tsp. Balsamic vinegar
1 Tbsp. Arrowroot or tapioca powder
Sea salt and GF ground black pepper to taste
To serve: Hot cooked gluten-free noodles or rice and fresh herbs. egg noodles are especially popular with stroganoff
*As an Amazon Associate and member of other affiliate programs, I earn from qualifying purchases. Please check out my sponsorship and disclosure policy page for more details
Instructions
Preheat oven to 425 F
In a large bowl, combine meatball ingredients. Shape into balls about the size of a walnut. I used a small cookie scoop to have even sized meatballs. Place meatballs on a rimmed baking sheet and bake for 15 minutes
Meanwhile, heat the olive oil/butter in a large skillet over medium-high heat. Add the shallots and cook for 2 - 3 minutes until the shallots start to soften. Add the garlic, thyme, sage and mushrooms. Season with salt and pepper and cook for 2 -3 minutes, stirring occasionally. Add the broth and meatballs. Cover, reduce heat to medium-low and cook for 10 minutes until the meat is no longer pink.
In a medium bowl, whisk the cream, sour cream, parsley, Worcestershire sauce, balsamic vinegar and arrowroot powder. Add cream sauce to the skillet and stir. Season with salt and pepper and cook until the sauce starts to thicken. (Do not boil)
Divided noodles or rice among plates and top with meatball stroganoff. Top with fresh thyme, sage leaves or parsley
Similar Recipes
Keto Baked Meatballs in Tomato Cream Sauce
This Keto Baked Meatballs in Tomato Cream Sauce recipe is an easy Keto Italian meal that is almost effortless. first the keto meatballs First, you make the meatballs, bake them and then add the sauce and bake a little longer. then the sauce The sauce is deliciously spiced, creamy and takes less than 10 minutes to […] Read More
Prep Time
15 Minutes
Difficulty
Easy
Cook Time
60 Minutes
Serves
6