Grain-Free Rhubarb Cobbler with Macaron Topping
Published on May 17, 2021
by
Kristina Stosek
Prep Time:

15 minutes
Cook Time:

35 minutes
Serves:

6 - 8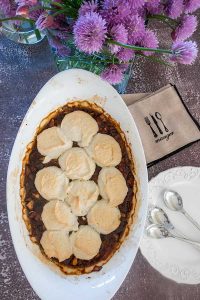 ​This post may contain affiliate links, please see our
privacy policy
for details
Juicy Grain-Free Rhubarb Cobbler with hidden apples, a hint of cinnamon…topped with light macarons that are beyond delicious. Every bite is filled with lightly sweetened tender rhubarb, apples, extra juice and light, just a little chewy, and soft macarons. Add whipped cream, vanilla ice cream or Greek yogurt for the best rhubarb cobbler to celebrate the warmer days ahead!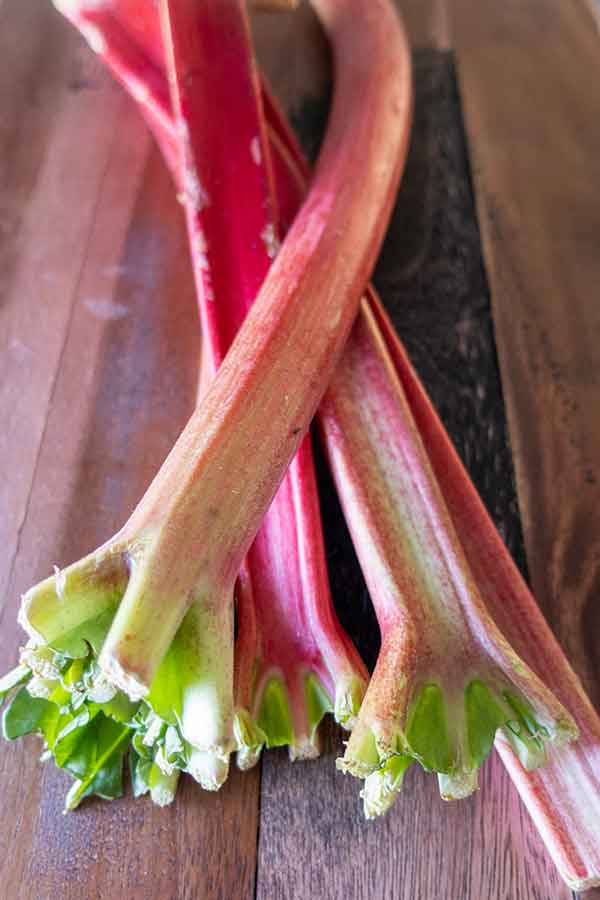 what is a cobbler…
Cobbler can be sweet or savoury, but more often, it is served as a dessert. The dessert is made with a fruit filling in a large baking dish or a skillet and topped with biscuits, batter, or dumplings. The cobbler is then baked and consists of tender fruit, juices and a biscuit-like topping. Some southern recipes are made with a thick-crusted pie crust with a bottom and top.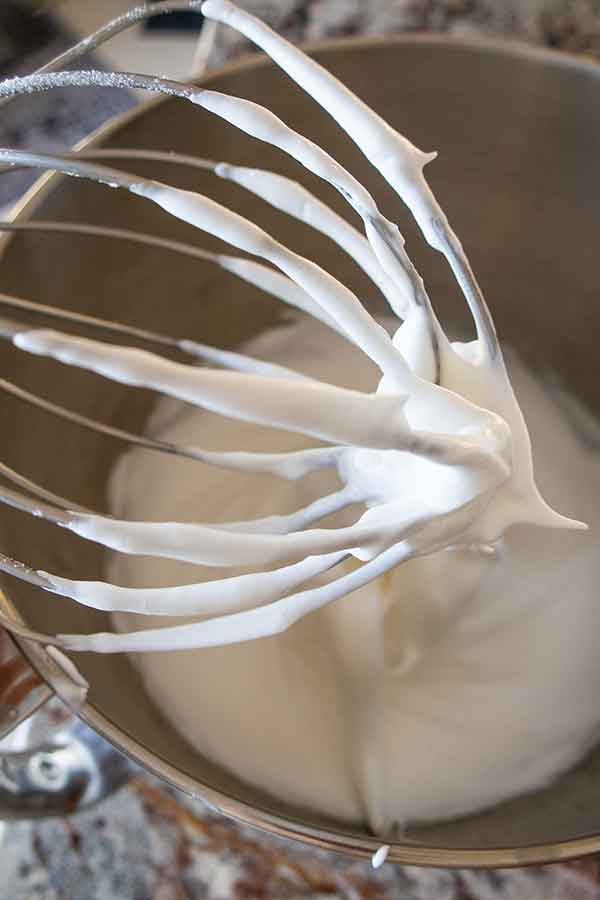 grain-free macaron…
I am super excited about this macaron topped grain-free rhubarb cobbler recipe. I mean, who doesn't love macarons. Macarons were first introduced to France by an Italian chef. But have since been popular in France since the 17th century. Macarons are made with almond flour making them grain-free and acceptable for a gluten-free diet.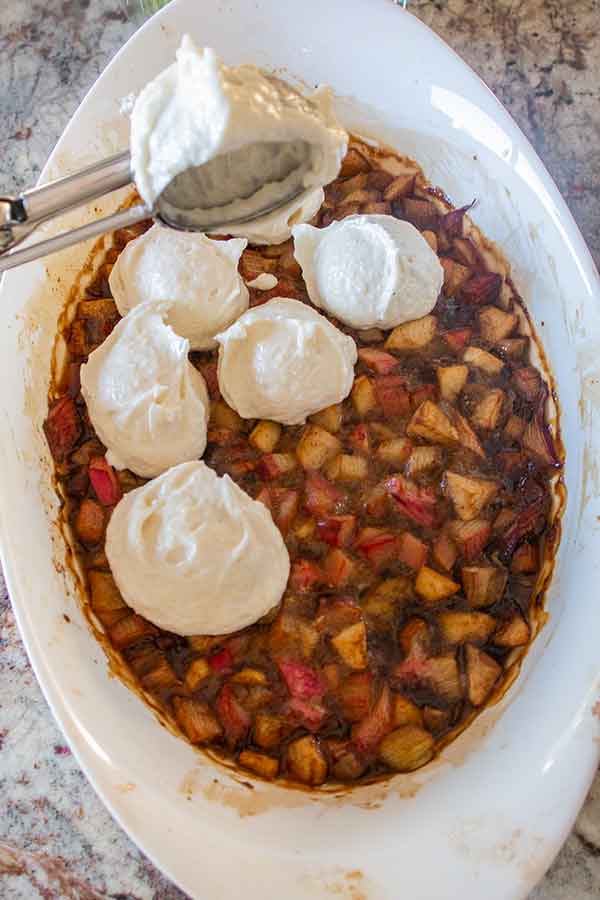 grain-free cobbler with macarons…
How did I come up with the idea of macarons over a cobbler? First, I love macarons. They are light, making them a perfect dessert. All you need is one to satisfy a sweet craving at any time of the day. And why not use them as a topping?
Macarons are also grain-free, making them ideal for a gluten-free dessert. Although making authentic macarons with a cream filling is tedious — using macarons as a topping for cobbler is easier than any other topping you would use for a rhubarb cobbler. The three main ingredients to make macarons are almond flour, sugar and egg whites – simple.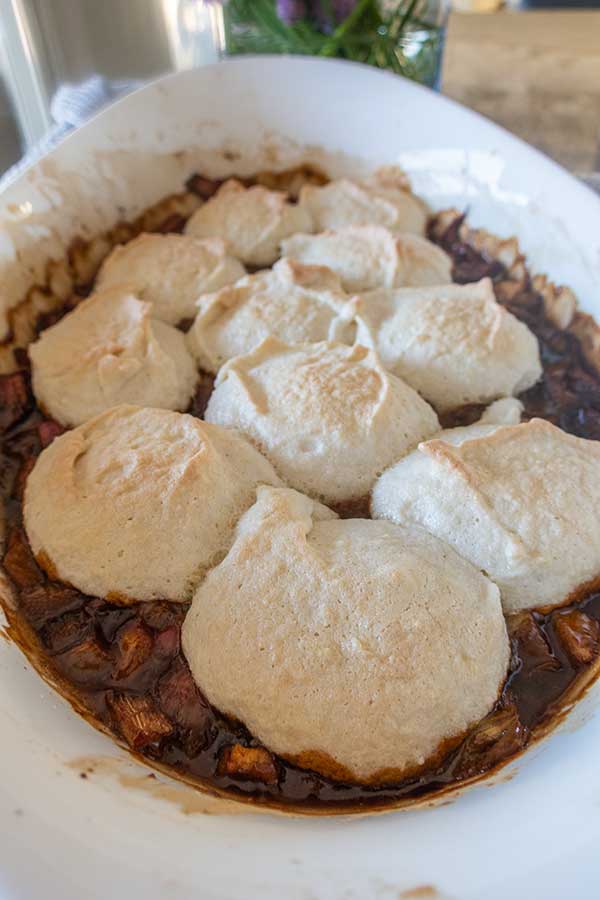 macaron vs macaroon…
The two versions were confusing to me at first. So, macarons are airy meringue sandwiches filled with cream. They come in various colours, and they are divine! The French refer to them as macarons, and they are prevalent in France.
On the other hand, macaroons are a type of cookie made with shredded coconut with a golden crust. This version is very popular with the European Jewish community. Both versions are made with almost the same ingredients, except one has almond flour the other shredded coconut.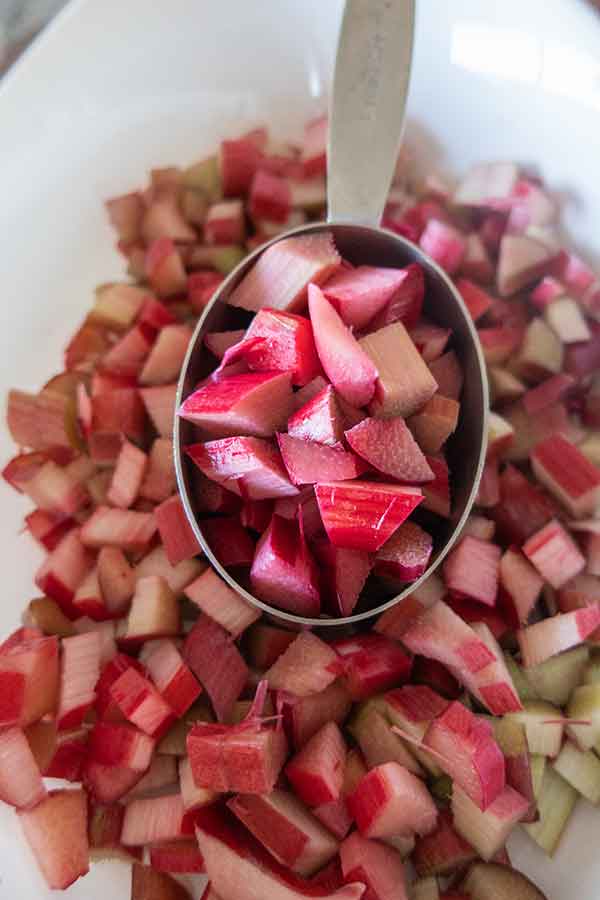 best fruit for cobblers…
For this grain-free rhubarb cobbler, I used in-season rhubarb. One of my favourite rhubarb recipes is the Gluten-Free Rhubarb Apple Coffee Cake or have you tried our Gluten-Free Rhubarb Strawberry squares? I love using fresh fruit in my recipes. Seldom I will use frozen fruit, although you can use frozen rhubarb. I have also added apples. The apples add sweetness and a lovely texture to the cobbler.
Other popular fruits to use in cobblers are stone fruits such as peaches, plums, apricots, nectarines and cherries. I found that mixing two or three fruits give you the best texture and flavour. Berries, apples and pears are also loved in cobbler recipes.
the details…
Fruit cobbler is a popular dessert, especially during the warmer weather! The reason is, the recipe is super easy, and you get to use fresh in-season fruit. To make the fruit filling, chop your favourite fruit into small pieces, add some flavours like cinnamon, lemon juice, vanilla and a sweetener. Some fruits release a lot of juice, so adding starch like tapioca starch, arrowroot starch, or even corn starch is necessary to thicken the juice.
Once you have the fruit ready, you can simmer it on the stove or bake it in the oven. Just like you would when making a pie. What makes some cobblers better than others are the toppings.
In this grain-free rhubarb cobbler recipe, I used macaron topping. I can honestly tell you — this is the best gluten-free cobbler I have tasted. The macarons are light and airy, so they don't overpower the juicy fruit. You can taste the fruit, the delicious juices and enjoy the macarons. Pretty cool, what do you think?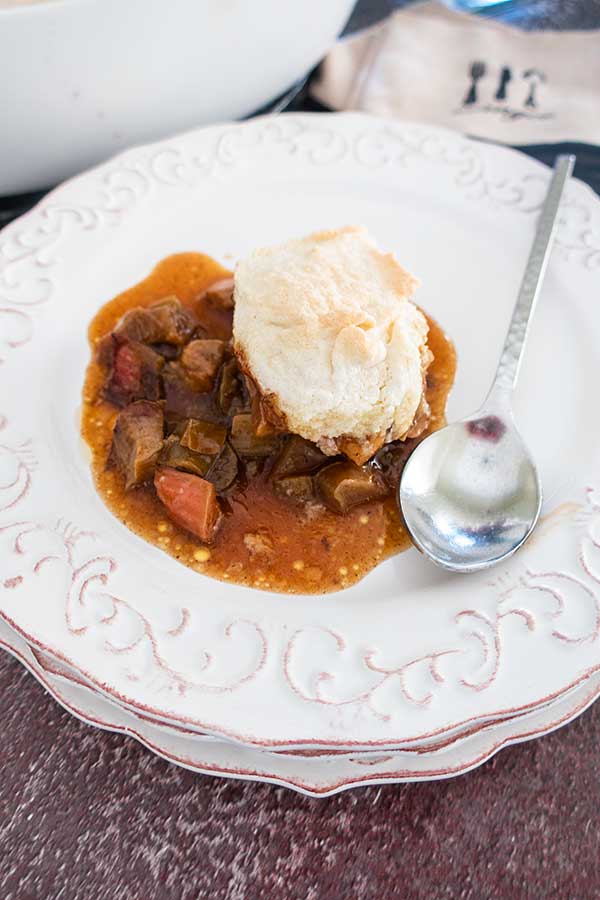 how to serve rhubarb cobblers…
This grain-free cobbler is sooo good that you will enjoy it just as is. Often cobblers are served with whipped cream, vanilla ice cream or yogurt. What I love about this gluten-free cobbler, you can serve it for breakfast with a dollop of plain Greek yogurt. I like my cobbler at room temperature, but serving it warm is absolutely divine. YUM!
Grain-Free Rhubarb Cobbler with Macaron Topping
Published on May 17, 2021
by
Kristina Stosek
Instructions
1.

In a large ovenproof skillet, combine rhubarb, apples, coconut sugar, butter and cinnamon; cover and simmer until the rhubarb is tender. About 10 - 15 minutes.

2.

Combine tapioca/arrowroot starch with water until smooth and add to the fruit mixture. Cook until thickened. About 3 minutes. You can also use a saucepan for cooking the fruit, then transfer the mixture into an ovenproof dish. Set aside

3.

4.

While the fruit is cooking, using a handheld mixer or stand mixer fitted with a whisk attachment, beat the egg whites with cream of tartar and vanilla until very soft peaks form

5.

Gradually add the granulated sugar and beat on medium-high speed until the whites have smooth sharp points. Set aside

6.

In a separate bowl, whisk together almond flour, confectioners sugar, cinnamon and salt until well mixed. Gradually fold in the egg white mixture until combined

7.

Spoon the macaron batter using a large spoon or a cookie scoop about 1/2-inch apart over the fruit. Bake for 15 - 17 minutes. The macarons should turn a light golden colour. 

8.

Serve warm or at room temperature.