Gluten-Free Rhubarb Apple Coffee Cake
Published on May 30, 2020
by
Kristina Stosek
Prep Time:

15 minutes
Cook Time:

60 minutes
Serves:

15 squares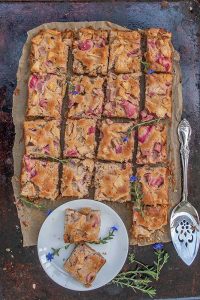 ​This post may contain affiliate links, please see our
privacy policy
for details
Gluten-Free Rhubarb Apple Coffee Cake that will knock your socks off. Incorporating rhubarb with apples into the body of this two-layer coffee cake with a subtle cinnamon essence.
The base of this gluten-free coffee cake is a buttery crumble topped with a light sponge cake filled with rhubarb and apples. When you combine the two layers, every bite is filled with so much deliciousness. This gluten-free cake is sooo good and moist, with rhubarb and apples throughout.
Why rhubarb and apples combination?
Rhubarb stalks taste like green apples, and when raw, they are very sour. Apples are sweet and go hand in hand with the tart rhubarb. When rhubarb is cooked, it tastes sweeter and makes for a delicious dessert.
did you know rhubarb is a vegetable?
Rhubarb is one of the earliest crops in the springs and is a vegetable. It looks similar to the celery, and the colours vary from crimson red, light pink or mostly green. The taste of the rhubarb is not usually affected by the colour.
The various colours make desserts look pretty. In this rhubarb apple coffee cake, I used red and pink colours…because they look pretty 🙂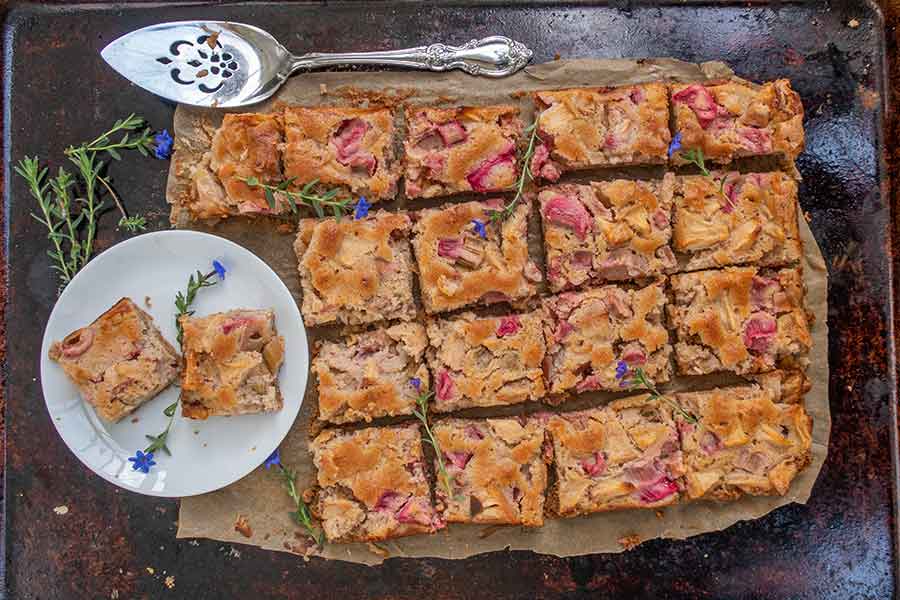 Is rhubarb healthy?
Rhubarb is a low-calorie vegetable and is an excellent source of vitamin K. Half a cup of rhubarb provides more than one-third of recommended dietary intake of vitamin K.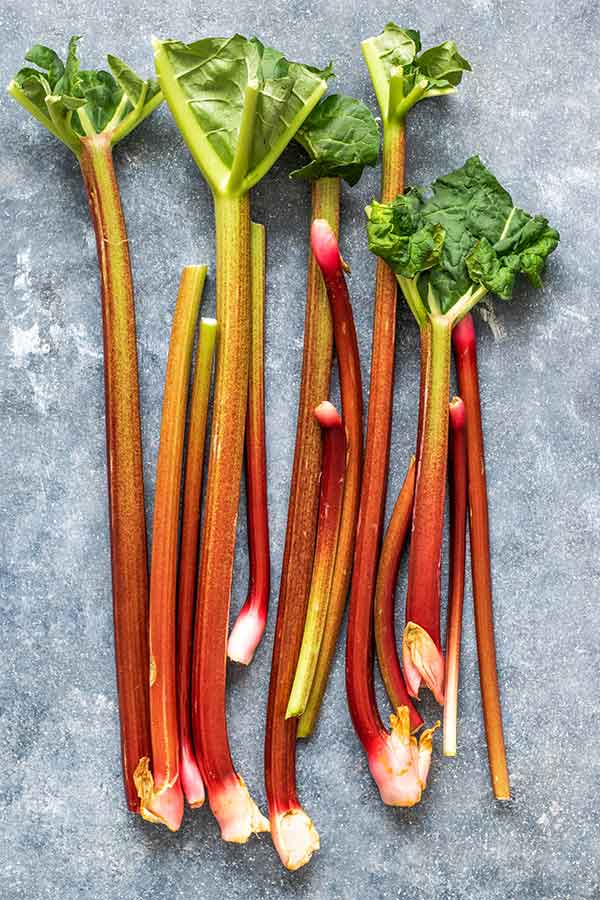 This vegetable is also known for its powerful antioxidant properties and fiber. Add the apples to the mix, and this coffee cake has many health benefits.
I must confess this recipe originated in my grandmother's kitchen, and I always have fond memories enjoying this cake. To make this coffee cake, I followed my grandmother's recipe, except I made it gluten-free. The gluten-free rhubarb apple coffee cake turned out exactly the same as I remember it 😀
Need more rhubarb recipes? Check out our selection of gluten-free recipes made with rhubarb. Enjoy!
Gluten-Free Rhubarb Apple Coffee Cake
Published on May 30, 2020
by
Kristina Stosek
Instructions
1.

Preheat oven to 350 F and line an 8x12-inch baking pan with parchment paper. The paper should hang over the sides. This will make it easier to remove the cake from the pan.

2.


Mix the crust ingredients and press into the prepared pan. Bake for 15 minutes

3.

While the crust is baking, whisk the eggs with coconut sugar, vanilla and cinnamon. Add flour and salt and mix to combine. Stir in rhubarb and apples and pour onto the hot crust. Bake for another 45 - 50 minutes. The cake should be golden brown.

4.

Let the cake cool in the pan and then remove using the parchment paper. Cut into squares.
Leave a Comment
Kristina
so happy to hear, thank you
The best rhubarb coffee cake ever!!! And so easy :-) Thank you for sharing