Grain Free Apricot Banana Loaf
Prep Time
15 Minutes
Difficulty
Easy
Cook Time
50 Minutes
Serves
8 pieces
Be the first to rate this recipe.
This gluten free, paleo apricot banana loaf is made without added sweeteners or grains. The apricots and bananas are all that was needed to sweeten this healthy loaf. The loaf is topped with raw walnuts giving it a tasty, crunchy topping. This delicious snack is high in protein and fiber keeping you full and energized for hours. What a wonderful addition to your kid's lunch box or a late afternoon snack. For breakfast, add some cheese or jam making it a nice change to a simple muffin
Ingredients
1 ½ cups dried apricots, cut into small pieces
¾ cup buttermilk or non-dairy milk, at room temperature
½ cup extra virgin olive oil or melted coconut oil
2 eggs, at room temperature and whisked or 2 flax eggs
1 Tbsp. apple cider vinegar
1 tsp. pure vanilla extract
3 medium size super ripe bananas
2 Tbsp. fresh lemon juice
1 tsp. GF ground cinnamon
1 cup almond flour
½ cup coconut flour
1 Tbsp. GF aluminum free baking powder
1 tsp. xanthan gum
½ tsp. sea salt
1 cup chopped raw walnuts
*As an Amazon Associate and member of other affiliate programs, I earn from qualifying purchases. Please check out my sponsorship and disclosure policy page for more details
Instructions
Preheat oven to 350 F and line an 8x4-inch loaf pan with parchment paper
In a medium size bowl, combine apricots, buttermilk, oil, eggs, apple cider vinegar, and vanilla. Set aside
Add bananas, lime juice, and cinnamon into a food processor and process until smooth. If you do not have a food processor, mash the bananas with a fork and mix with lemon juice and cinnamon
Using a large bowl, mix almond flour, coconut flour, baking powder, xanthan gum and sea salt
Add apricot mix and banana mix into dry ingredients and mix well
Transfer batter into prepared loaf pan and scatter with walnuts. Using a spoon slightly press the walnuts into the batter. Bake for 50 - 55 minutes or until a toothpick inserted in the middle of the loaf comes out clean.
Cool in the loaf pan
Similar Recipes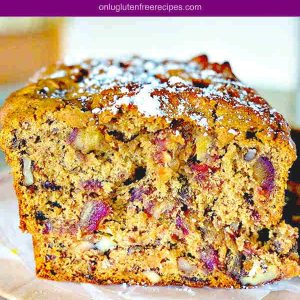 Gluten Free Classic Walnut Date Loaf
Preserving the past in this Classic Walnut Date Loaf without gluten is magical. Made with dates, flax seeds, fresh lemon juice, vanilla, coffee, egg, walnuts and sweet sorghum is what gives this gluten-free walnut date loaf the beautiful flavour and that perfect texture. For a boost of energy or a healthy breakfast, have a slice […] Read More
Prep Time
15 Minutes
Difficulty
Easy
Cook Time
55 Minutes
Serves
10 slices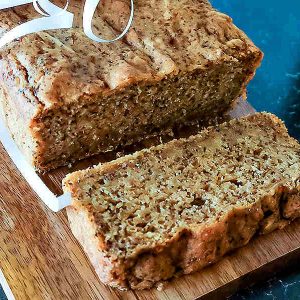 Gluten Free Lemon Poppy Seed Loaf
This gluten-free vegetarian lemon poppy seed loaf will compliment most diets. It is gluten free, egg free, dairy free and nut free. This incredibly moist loaf has a subtle lemon flavour and a delicate crumb texture making it very popular. Poppy seeds are a good source of minerals, so enjoy! Read More
Prep Time
15 Minutes
Difficulty
Easy
Cook Time
45 Minutes
Serves
10 slices
Chai Pumpkin Cake with Spiced Buttercream Frosting (Gluten-Free)
This is a double layer gluten-free chai pumpkin cake with spiced buttercream frosting. The cake is nothing short of deliciousness! I am very excited how this cake turned out, it's truly a Thanksgiving dessert. I know traditionally it is pumpkin pie or pecan pie, but this year I wanted to go all out, so I […] Read More
Prep Time
20 Minutes
Difficulty
Easy
Cook Time
30 Minutes
Serves
6-8