Gluten Free Sweet Potato Breakfast Casserole
Published on Nov 27, 2022
by
Kristina Stosek
Prep Time:

15 minutes
Cook Time:

105 minutes
Serves:

6 - 8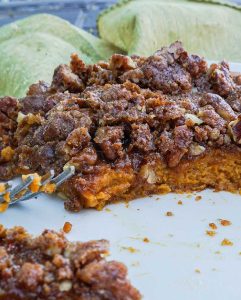 ​This post may contain affiliate links, please see our
privacy policy
for details
This vegetarian, gluten-free sweet potato breakfast casserole is perfect for a holiday brunch or lazy weekend morning. It's made with a delicately flavored fluffy sweet potato base and has a crispy, buttery pecan topping that will have everyone asking for seconds.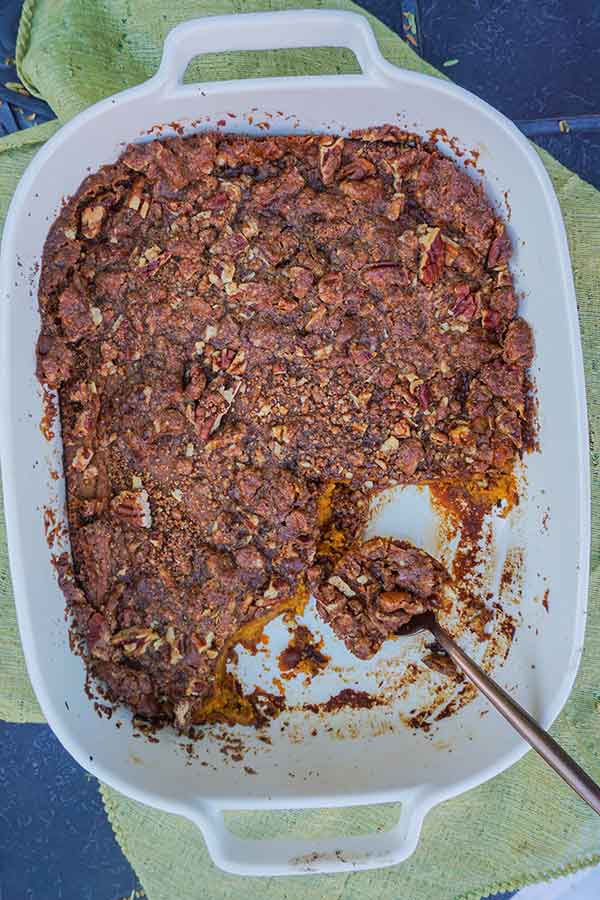 What is a sweet potato casserole?
This gluten free sweet potato casserole is a baked dish made with mashed sweet potatoes, eggs, butter, vanilla, cinnamon, cardamom or nutmeg, and is lightly sweetened with coconut sugar.
The casserole has a crispy pecan pie-style topping that makes a simple sweet potato casserole into the most delicious breakfast dish.

FAQs about sweet potatoes
A: What are sweet potatoes?
Sweet potatoes are a type of root vegetable packed with vitamins and minerals, making them a healthy vegetable to add to recipes. The flesh color varies from orange, yellow, and white to light purple. And there are more than 30 varieties.
Q: Why are sweet potatoes good for you?
Sweet potatoes are an excellent source of vitamins A and C and a good source of fiber. Additionally, sweet potatoes can aid in reducing insulin resistance and stabilizing blood sugar.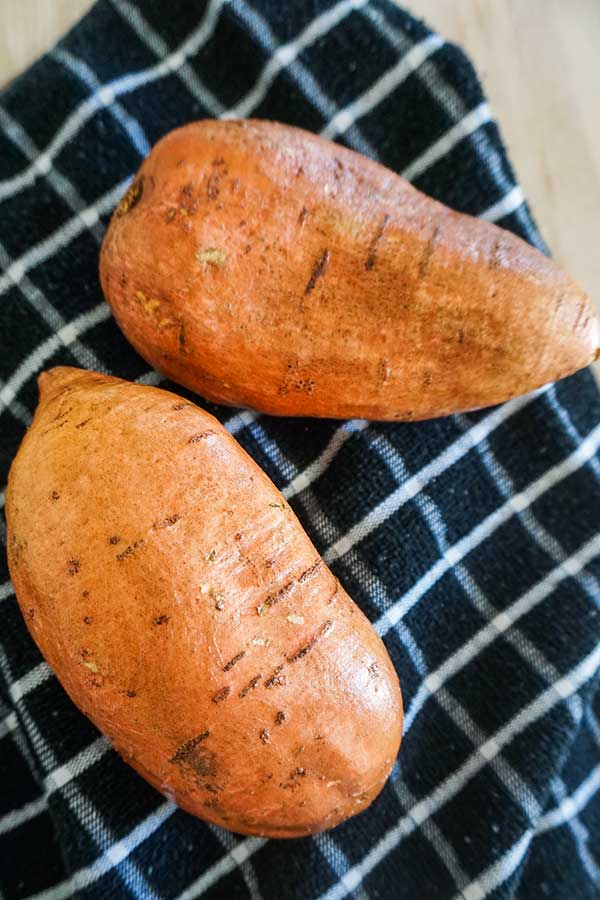 Q: How to store sweet potatoes?
Sweet potatoes last for a couple of weeks to one month at room temperature and about three months in the fridge.
Q: How to cook sweet potatoes?
There are many different ways to cook sweet potatoes. You can bake them, roast them, or fry them. Sweet potatoes can also be mashed or pureed and used in soups such as the Instant Pot Buffalo Sweet Potato Soup, stews, and desserts, such as this gluten free Jamaican Sweet Potato Pie.
When cooking sweet potatoes, remember that they cook faster than regular potatoes, such as russet potatoes.
Q: What dishes can I make with sweet potatoes?
Sweet potatoes can be used in various dishes. They make a great addition to salads or roasted vegetables. They can also be used as a base for soups or stews.
Additionally, many recipes make mashed or pureed sweet potato an excellent replacement for mashed white potato such as this Yam And Sweet Potato Mash With Coconut Milk.
And they are exceptional to use in desserts such as this gluten free sweet potato casserole. They are already sweet, so you can cut back on sugar, making them a healthier option in dessert recipes.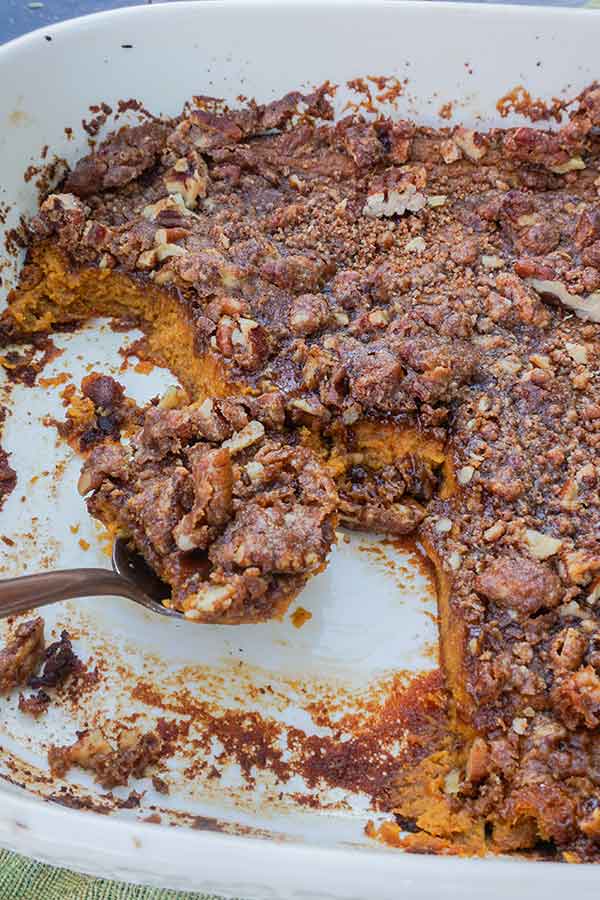 How do you firm up sweet potato casserole?
The last thing you want is a watery casserole. This is why the eggs are used as a binder. The eggs enrich and stiffen the sweet potato mixture, keeping it light and fluffy. Just be sure to cool the mash slightly before adding the eggs, so they don't scramble.
gluten free breakfast whole family can enjoy
This gluten free sweet potato breakfast casserole is perfect for a holiday or weekend morning! It's nutritious and easy to make ahead of time so that you can enjoy a stress-free breakfast!
The best part, if you love something sweet and delicious for breakfast that is also nutritious, this vegetarian recipe is a good choice, and the whole family will love it!
dairy-free healthy breakfast for people with food allergies
If you're looking for a dairy-free breakfast, simply replace vegan butter such as earth balance for butter. The casserole will be just as delicious.
What to serve with sweet potato casserole?
First, this sweet potato casserole can be served at room temperature or cold, straight out of the fridge. And you don't need to add anything because it is sooo good!
However, if you would like to spruce it up or turn it into a dessert, you can add a dollop of plain or vanilla Greek yogurt, a dollop of whipped cream, vanilla ice cream, or apple compote.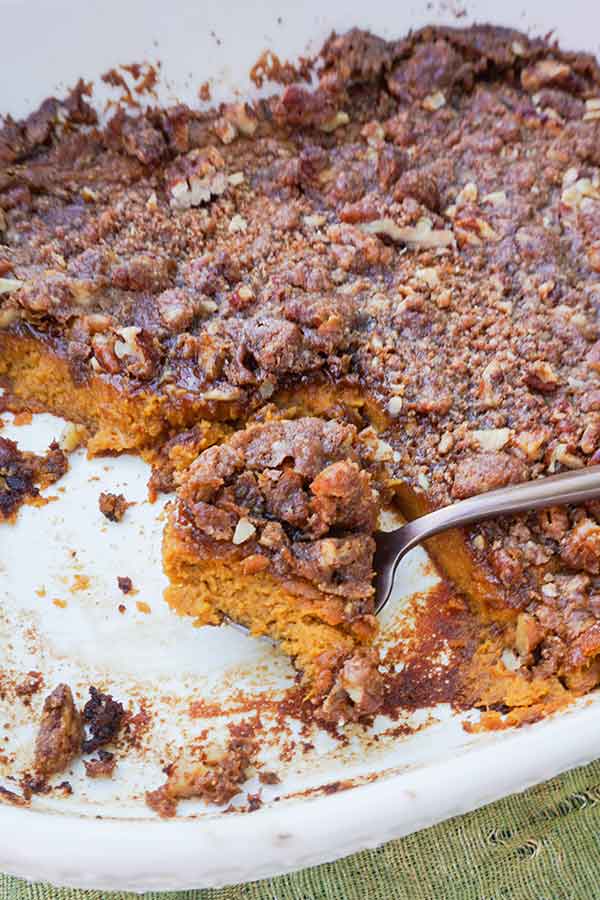 Why are breakfast casseroles popular?
There are a few reasons breakfast casseroles are so popular. First, they can be made ahead of time, which is ideal for busy mornings.
Breakfast casseroles are usually packed with nutrient-rich ingredients like eggs, vegetables, fruit and nuts.
And last but not least, they are delicious and satisfying.
This gluten-free sweet potato breakfast casserole is an excellent example of a delicious and nutritious, hearty breakfast.
So next time you want a show-stopping gluten free breakfast casserole that everyone will enjoy and will also impress your guests, try this recipe. The sweet potatoes give it a lovely sweetness, while the pecan topping takes it over the top – it's so crisp, buttery and delicious!
Let's Connect!
Be sure to FOLLOW US on FACEBOOK and PINTEREST.
Many thanks!
Kristina xx
Gluten Free Sweet Potato Breakfast Casserole
Published on Nov 27, 2022
by
Kristina Stosek
Instructions
1.

Preheat oven to 400 F and grease a 2 quart baking dish (8 x 8 inch) with butter

2.

Rinse and scrub the potatoes, and using a small sharp knife pierce the tops 3 to 4 times

3.

Place potatoes on the middle rack in the oven. Place a piece of foil paper on the lower rack below the potatoes to catch any drippings. Bake 50 - 60 minutes until easily pierced with a toothpick or a small sharp knife. Set the potatoes aside until cool enough to handle, then peel.

4.

Reduce oven temperature to 375 F. Place potatoes in a large mixing bowl. Add butter, sugar, vanilla, cinnamon, cardamom/nutmeg and salt. Mix with an electric mixer until smooth

5.

Add one egg at a time and beat until fluffy

6.

Spread the mixture evenly into prepared baking dish and bake for 35 minutes. The casserole is slightly jiggly in the middle and the sides start to brown

7.

Meanwhile, combined pecans, sugar, flour and salt. Drizzle melted butter in the mixture and using a fork toss until combined

8.

Sprinkle pecan mixture over the casserole and continue baking for 10 minutes until the topping starts to brown

9.

Let cool for 30 minutes before scooping into serving bowls. Or serve cold with your favorite toppings. See notes in the post.