Gluten-Free Sausage Rolls
Prep Time
20 Minutes
Difficulty
Easy
Cook Time
50 Minutes
Serves
12 rolls
Average Rating: 5 | Rated By: 5 users
These Gluten-Free Sausage Rolls are best for nights when you are craving a small meal or finger food. When I had sausage rolls in mind, I wanted them to be gluten-free and healthier than the classic buttery puff pastry sausage roll recipe.
This gluten-free sausage rolls version is made with rice paper, making them super light and lower in fats and calories. The stuffing is made with lean ground meat. You can use pork, chicken, turkey or beef. I used a combination of pork and chicken. Then the meat is seasoned with herbs such as thyme, marjoram, rosemary, nutmeg and fresh parsley. In addition there are sautéed onions, garlic and bacon, so much flavour going on in these sausage rolls.
♥

Easy steps to make gluten-free sausage rolls!

The recipe is pretty straight forward. First, you saute the onions, garlic and bacon, which are then added to the meat with herbs and gluten-free bread crumbs. Once the meat filling is done, the rice papers are super easy to make. Soak them in water for 3 minutes, that's it! Now you are ready to wrap the meat stuffing with the soft rice paper wrappers. Place the rolls on a baking tray generously brushed with olive oil and bake. That's it. This recipe is a lot easier than the traditional puff pastry sausage rolls version.

Using rice paper is a great way to make sausage rolls and easy enough to serve any night of the week or for your next cocktail party. I am not the biggest fan of buttery puff pastry, so I steered clear from making sausage rolls. However, after a few moments of brainstorming, I created this gluten-free sausage roll version, which has become one of my favourite gluten-free appetizers to serve at a cocktail party.

Just imagine, deliciously spiced sausage filling made from scratch wrapped in light rice paper and baked to perfection. The sausage rolls come out light with a crispy wrapper, and they are incredibly delicious!
Ingredients
1 Tbsp. extra virgin olive oil or coconut oil
1 medium size brown onion, finely chopped
2 garlic cloves, minced
1 strip of GF bacon, finely chopped
1/3 cup water
1 ½ lb. lean ground pork or (turkey, chicken, beef)
1 Tbsp. fresh chopped parsley
2 tsp. GF thyme
1 tsp. GF marjoram
1 tsp. pure sea salt
½ tsp. GF dried rosemary
½ tsp. GF ground nutmeg
½ tsp. GF coarsely ground black pepper
1 large egg
3/4 cup gluten-free panko or regular breadcrumbs
12 x (8-inch) GF rice paper wrappers
Extra virgin olive oil for brushing
*As an Amazon Associate and member of other affiliate programs, I earn from qualifying purchases. Please check out my sponsorship and disclosure policy page for more details
Instructions
Preheat oven to 375 F and line a large baking sheet with parchment paper
Heat oil in a pan over medium heat. Add onions, garlic and bacon and cook for 3 minutes. Add water and cook until all the water evaporates about 5 minutes. Set aside to cool
In a large bowl combine meat, spices, egg and breadcrumbs. Add cooled onion mixture, wet your hands and lightly mix until combined
Fill a pie dish with 1-inch of water. Place rice paper wrapper in the water and soak for about a minute or until the wrapper is soft. I usually soak 3 at a time, to save time
Place soft wrapper on a work surface and fill with about ½ cup of meat mixture formed into a sausage. Fold one end of the wrapper over the roll and roll about ¼ way, then fold over both sides tucking the ends in as you roll. Place on prepared baking sheet seam side down. Brush generously with oil including the ends
Bake for 35 minutes, then increase temperature for 400 F and bake 5 more minutes until golden. Serve warm or at room temperature
Note: the filling can be made a day in advance
To reheat, microwave 20 seconds or 10 min at 400 F in the oven
Similar Recipes
Authentic Hungarian Cabbage Rolls
Robust Authentic Hungarian Cabbage Rolls braised to perfection. Fermented cabbage leaves filled with the most flavourful meat filling that will melt in your mouth. To achieve flavourful cabbage rolls, you can't rush the process. It takes time to develop flavours of slowly braised well seasoned meat in fermented cabbage leaves. These Hungarian cabbage rolls are […] Read More
Prep Time
20 Minutes
Difficulty
Intermediate
Cook Time
180 Minutes
Serves
12 rolls
Curried Roasted Veggie Collard Wraps
Ditch the traditional flour or corn wraps and bring on collard greens. This delightfully tasty wrap is filled with lightly flavoured roasted veggies and cashew spread. Roasting intensifies the flavour of veggies giving this wrap another dimension. Collard greens are high in nutrition and low in calories.     This green leaf vegetable contains protein, […] Read More
Prep Time
15 Minutes
Difficulty
Easy
Cook Time
12 Minutes
Serves
4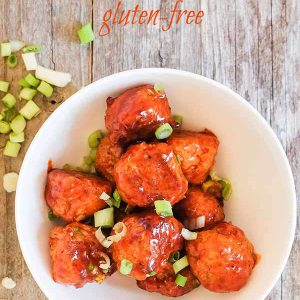 Gluten-Free Firecracker Chicken & Mozzarella Meatballs
Meatballs are always popular appetizers. These gluten-free firecracker chicken and mozzarella meatballs are tender, cheesy spiced up meatballs, making them a big hit at any party! This gluten-free meatball recipe requires very little work and you can make them a day in advance. This is why these firecracker chicken and mozzarella meatballs are so popular […] Read More
Prep Time
10 Minutes
Difficulty
Easy
Cook Time
15 Minutes
Serves
20