Gluten-Free Sausage Rolls Recipe
Published on Oct 11, 2020
by
Kristina Stosek
Prep Time:

25 minutes
Cook Time:

35 minutes
Serves:

12 - 14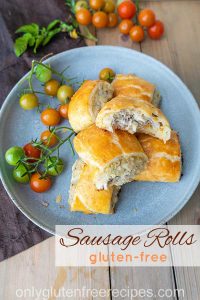 ​This post may contain affiliate links, please see our
privacy policy
for details
These Sausage Rolls are a true classic, puffed and golden with a mildly flavoured meat filling and are made from scratch. The gluten-free shortcrust pastry is light and flaky, and the filling is minced pork seasoned with onions, garlic and fresh herbs such as sage and parsley.
Serve warm right out of the oven as an appetizer, a snack or add a light salad and serve the sausage rolls for brunch. The savoury rolls are like mini meat pies.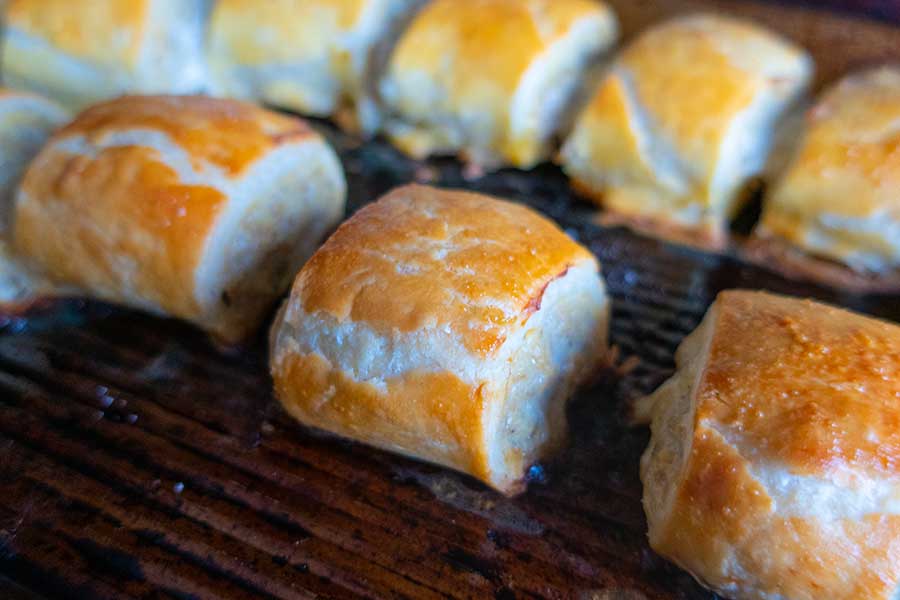 Gluten-Free Sausage Rolls are a great appetizer!
With holidays quickly approaching, I wanted to add another true classic like these Sausage Rolls. What's great about these gluten-free sausage rolls is that they work well at cocktail parties. People can easily graze on them, making the sausage rolls a great appetizer.
In Britain, serving Sausage Roll is a boxing day tradition. I love them when they are hot straight out of the oven, but they are often served at room temperature.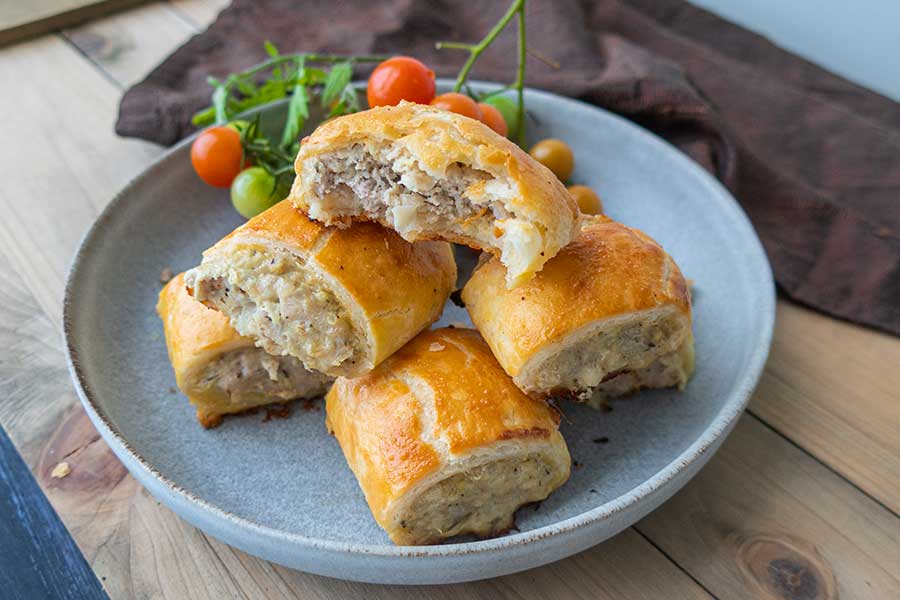 GLUTEN FREE FILLING FOR SAUSAGE ROLLS
When I started developing this Gluten-Free Sausage Rolls recipe, I wasn't sure how they would turn out. First, I had to make sure that the gluten-free pastry was flaky and light.
Then, I wanted to avoid using sausage meat from the butcher, mostly because I like to add my flavours, and I find most sausage meat is super salty.
You can find gluten-free sausage meat at most butcher stores these days; however, I like everything as fresh as possible. This is why I made the meat filling fresh and from scratch.
If you want to save time, you can replace gluten-free sausage meat for the filling in this recipe.
To keep the meat filling light, I added a handful of oats. The oats are replacing breadcrumbs, an ingredient that is often used in sausage roll meat filling.
If you prefer to use gluten-free bread crumbs, replace the oats with 1/3 cup of gluten-free bread crumbs mixed with one tablespoon of water.
I used oats because they are healthier, and they include fiber. Most gluten-free bread crumbs are made with fats, table salt, starch and honestly, and in my opinion, as of yet, I have not found gluten-free bread crumbs that taste all that good.
GLUTEN FREE SAUSAGE ROLLS RECIPE DETAILS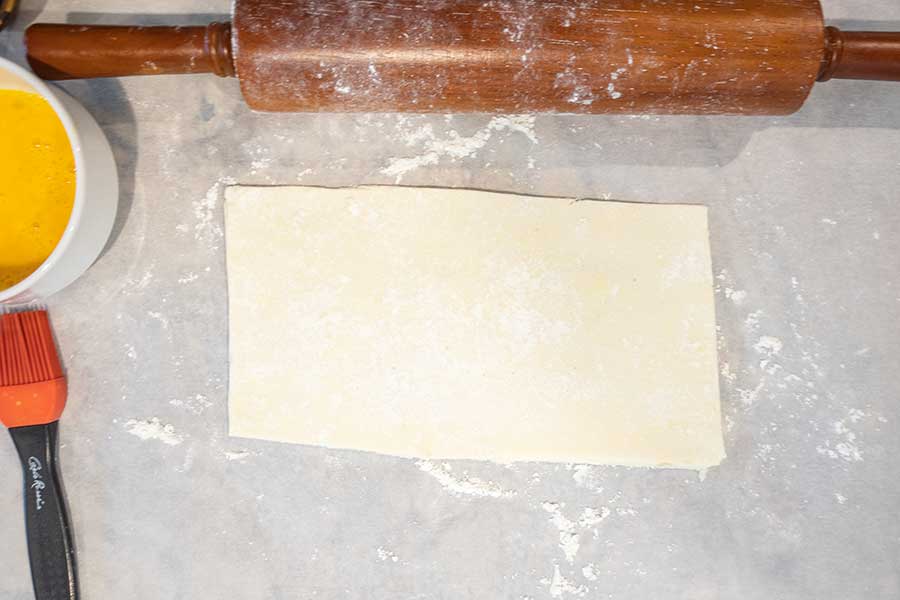 STEP ONE: roll out the chilled pastry dough to a rectangle about 1/8-inch thick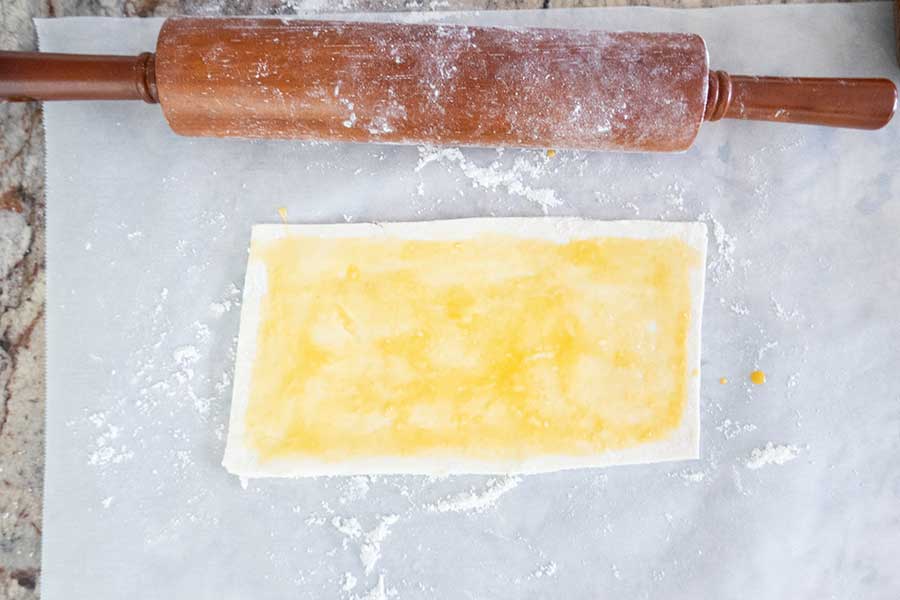 STEP TWO: brush the pastry with an egg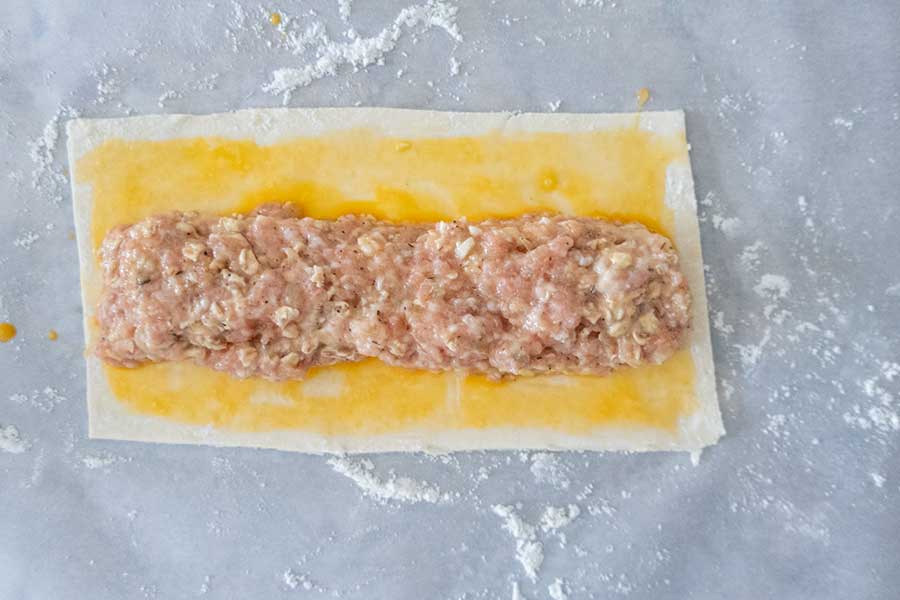 STEP THREE: In the center of each pastry, form the meat mixture into a long sausage the length of the pastry strip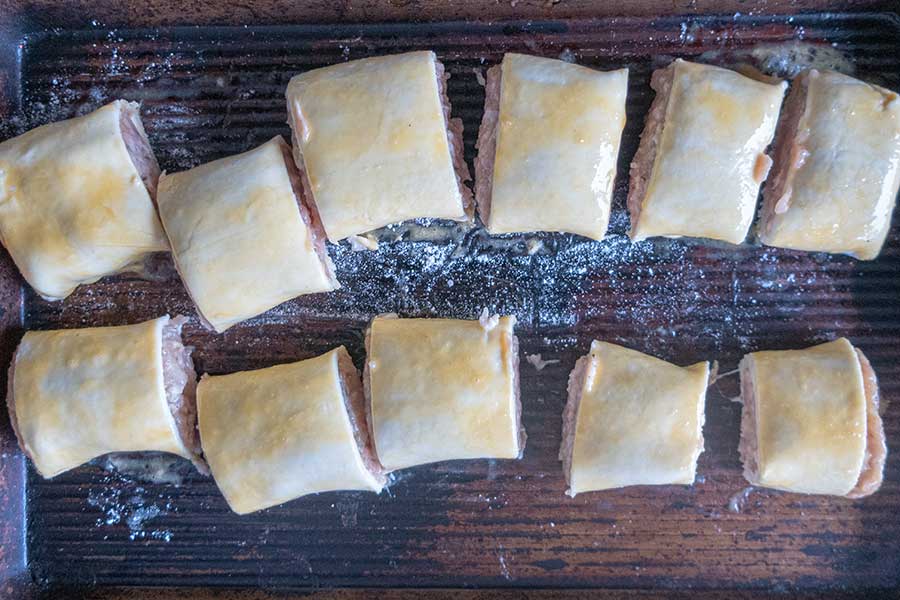 STEP FOUR: Using the parchment paper, fold the pastry over the meat filling to form a log and pinch to seal — chill. Brush the top surface of each roll with remaining egg mixture. Using a sharp knife, cut the rolls into desired lengths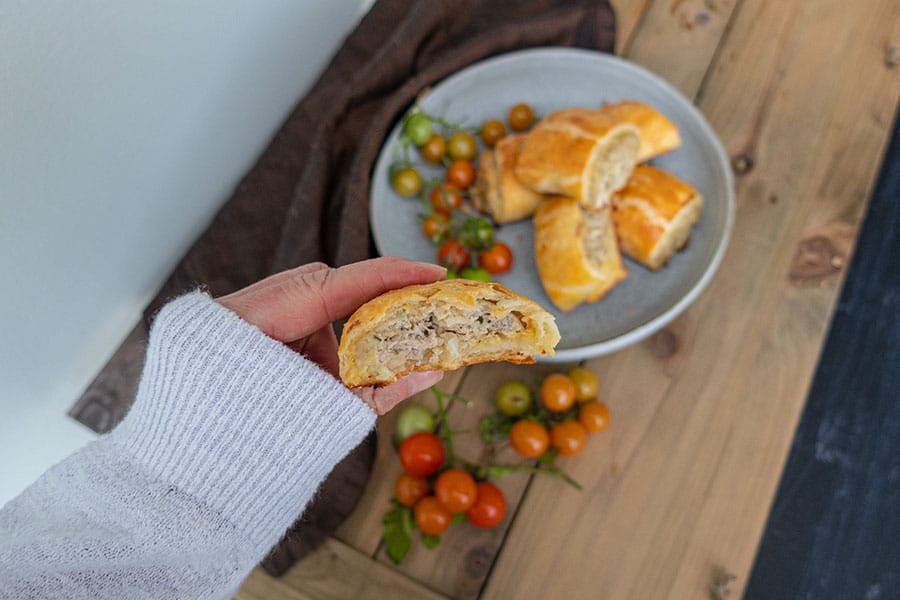 bake and join me for a bite 🙂
I hope you enjoy these Gluten-Free Sausage Rolls. Please leave a comment for any tips or suggestions or your version of sausage rolls. If you are looking for an appetizer recipe or inspiration, check out our list of gluten-free appetizers. Do you like British food? You will find more Gluten-Free British Inspired Recipes here!
Let's connect
Meet Kristina. Passionate about creating delicious, innovative gluten free recipes, and author of two gluten free cookbooks, "Entertaining The Gluten Free Way" and "Small Bites The Gluten Free Way".
Be sure to FOLLOW US on FACEBOOK or, check us out on PINTEREST. And don't forget to sign up for our newsletter. We always have something new and exciting for you!
Many thanks!
Kristina x
Gluten-Free Sausage Rolls Recipe
Published on Oct 11, 2020
by
Kristina Stosek
Instructions
1.

2.

Using a small bowl, mix oats with water and set aside for 30 minutes allowing the oats to soften. If using bread crumbs mix with 1 tablespoon of water and set aside

3.

Saute onions in olive oil until soft. About 5 - 7 minutes. Stir in garlic and sage and cook until fragrant—about 30 seconds. Remove from the heat and bring to room temperature

4.

In a bowl, mix meat, onion mixture, parsley, 1 beaten egg, softened oats or bread crumb mixture and generously season with salt and pepper. Refrigerate for 30 minutes or 15 minutes in the freezer. The meat filling can be made a day in advance and placed in the fridge

5.

Meanwhile, prepare the pastry; In a large bowl, whisk together dry ingredients.

6.

Using a box grater, grate the cold butter into dry ingredients. Using a fork, mix to coat the butter with the flour. Using your fingers, work the butter into the flour until just crumbly

7.

Add sour cream and using a spatula mix to combine. The dough will still be a bit dry. At this point, add one tablespoon of ice water at a time and using your hands, knead the dough until it begins to stick together. I used 3 tablespoons. It will depend on which flour blend you are using

8.

Transfer dough onto a plastic wrap and form a compact disk. Wrap the dough with plastic wrap and refrigerate for 30 minutes. (The pastry dough can be made up to 2 days in advance. Bring to room temperature for 15 minutes before using)

9.

10.

Divide the dough in half. Place a sheet of parchment paper on your working surface and lightly sprinkle with flour. Roll out each pastry into about 5 by 10-inch rectangles that is about 1/8-nch thick, using flour as needed to avoid sticking

11.

Working with one strip at a time, brush the pastry with the remaining whisked egg. In the center of each pastry, form the meat mixture into a long sausage the length of the pastry strip. Using the parchment paper, fold the pastry over the meat filling to form a log and pinch to seal. Flip the sausage roll over so the seam is underneath and place on a baking tray lined with parchment paper. Continue with the other remaining strip. Place the tray in the freezer for 15 minutes or refrigerate for 30 minutes. This will make it easier to cut the rolls into smaller pieces.

12.

13.

Brush the top surface of each roll with remaining egg mixture. Using a sharp knife, cut the rolls into desired lengths. I cut mine into 1 3/4-inch length.

14.

Bake for 30 - 40 minutes, depending on the size, until golden brown. Enjoy warm or at room temperature. To reheat, pop them in the microwave for 20 seconds or in a hot oven for 10 minutes
Leave a Comment
I went online to Amazon to purchase the Cup4Cup flour and it is no longer available. Any other recommendations for flaky pastry flour?
Kristina
chicken sounds delicious, I will try that next time. Thank you
I can't believe that someone has actually created a delicious gluten-free sausage roll recipe. I have tried many versions, but this one is by far the best one. The only thing I changed is I used ground chicken and I did use GF bread crumbs...super delicious!
Kristina
thank you for your comment, and I am so pleased that you enjoyed them.
I made these yesterday these sausage rolls are the best gluten-free sausage rolls I have ever tasted. Had a couple leftover for this morning, I microwaved them for a few seconds and they are just as delicious. THANK YOU THANK YOU! I can finally have the back on my favourite foods to eat :-)