Gluten-Free Sacher Torte Recipe

Published on Jan 14, 2022
by
Kristina Stosek
Prep Time:

20 minutes
Cook Time:

35 minutes
Serves:

8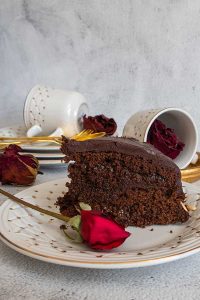 ​This post may contain affiliate links, please see our
privacy policy
for details
This Gluten-Free Sacher Torte is made up of four chocolate cake layers with dried apricots marinated in amaretto liqueur, fillings of apricot preserves, chocolate sauce and finished with more chocolate. Honestly, this Viennese culinary specialty is so delectably delicious!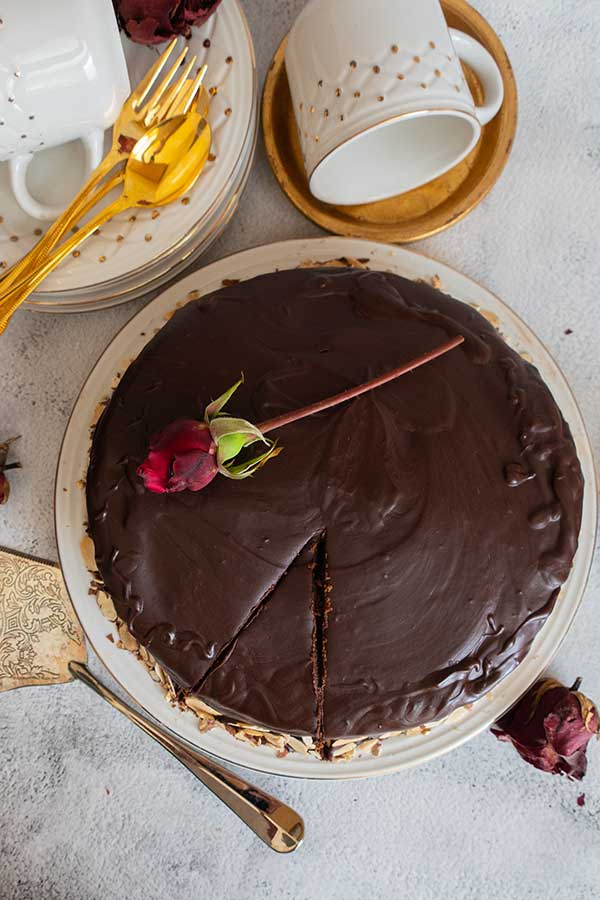 What is a Sacher torte?
There are a few versions of this Austrian dessert, but they all have two things in common—apricot preserves and chocolate. Sacher torte is the most famous Viennese dessert made with layers of cake filled with apricot preserves and topped with chocolate glaze.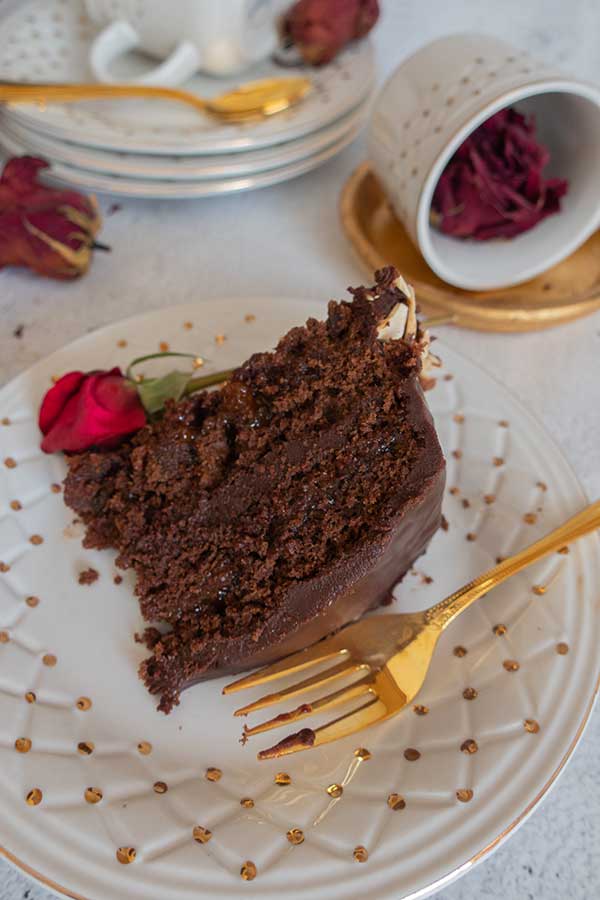 The cake may look complicated, but it is an easy gluten-free cake recipe even for novice bakers.
With Valentine's day approaching, I wanted to make this gluten-free sacher torte extra special. So I made the Viennese dessert with four layers instead of the classic two. I also added dried apricots marinated in amaretto to the chocolate cake layers. OMG, this dessert is outstanding!
Special Ingredients You Need To Make Sacher Torte
Most ingredients you probably already have in your gluten-free pantry. However, you will need to add apricot preserves, dried apricots, amaretto liqueur, gluten-free chocolate chips and 1 cup of whipping cream.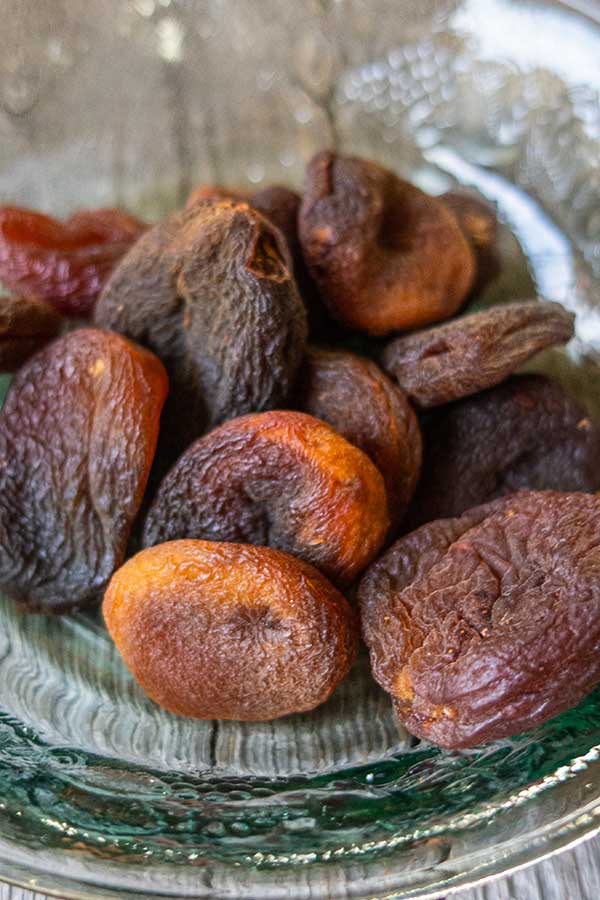 Are dried apricots healthy?
By adding dried apricots to the sacher torte, I added flavour, texture and healthiness. Dried apricots are higher in most nutrients than fresh apricots. This delicious stone fruit is packed with fiber, potassium, calcium and iron. Research suggests that apricots may help prevent liver damage because of their naturally high antioxidant content.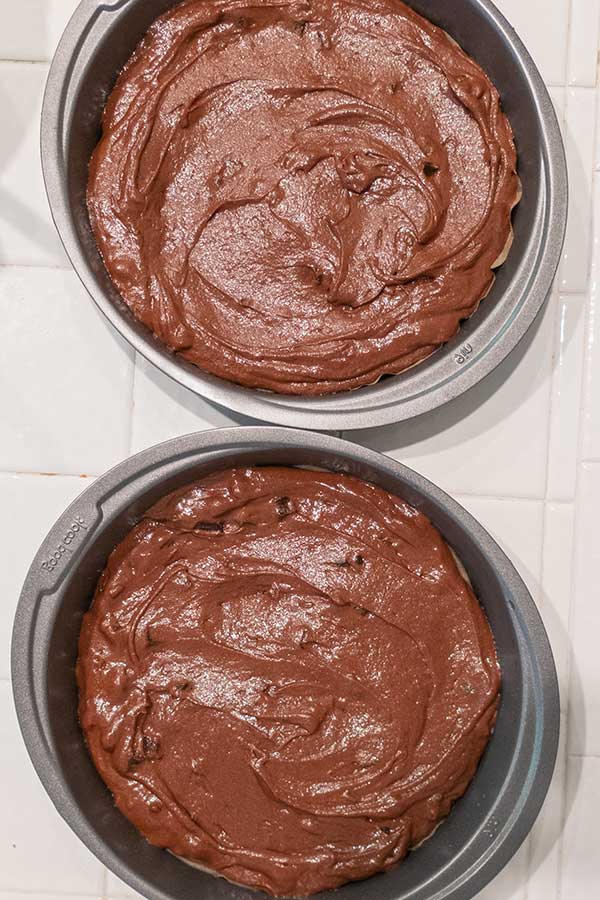 Sacher Torte Recipe Overview
To start, soak the dry apricots in amaretto liqueur. While the apricots are marinating in the flavourful amaretto, prepare the batter for the sacher torte cake layers.
To keep this Viennese dessert a little healthier, I made the cake layer with olive oil. I used a basic measure for measure gluten-free flour blend, eggs, pure cocoa powder, some sugar and baking powder and baking soda—pretty basic ingredients.
Once the cake is baked and cooled, slice each cake horizontally. This will give you four layers of cake.
While the cake is cooling, make the apricot filling, this takes about three minutes. And at the same time, make the chocolate filling, which is also used as a glaze for the cake.
The chocolate filling is made by melting chocolate chips with whipping cream, a little butter and vanilla extract. Again, this takes about 5 minutes to do.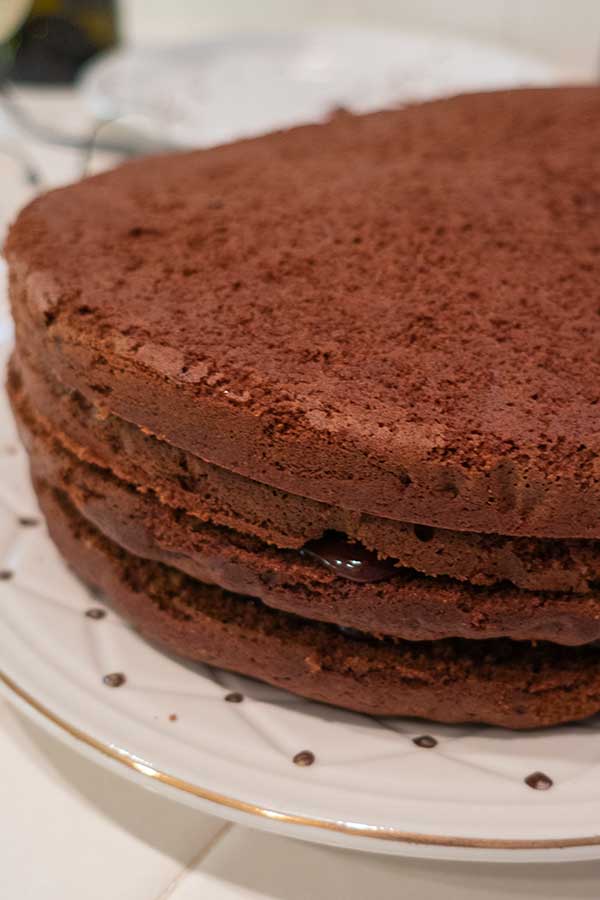 Assembling Sacher Torte
Now that you have the cake layers and the fillings, the sacher torte is easy to assemble by spreading the fillings between the cake layers and finishing with chocolate—nothing to it. And yet, this gluten-free version of the famous Austrian dessert is so exquisite.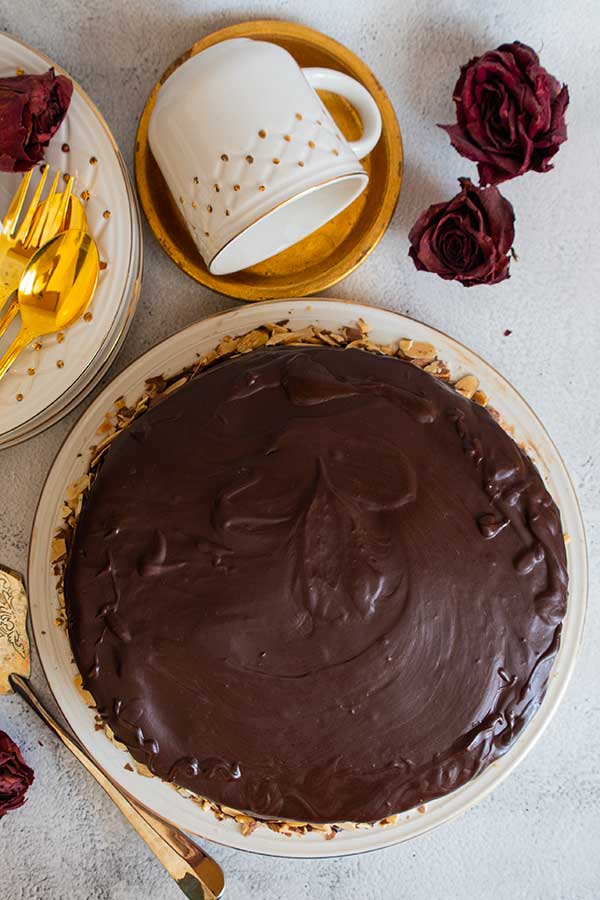 Can you make sacher torte without liqueur?
It is not a problem if you want to avoid amaretto liqueur in this gluten-free dessert. Replace the 1/2 cup of amaretto with 2 teaspoons of vanilla and water to make up the 1/2 cup of liquid. For the preserves, add a tablespoon of water to replace the liqueur.
Do you love chocolate cakes? Check out these gluten free chocolate desserts.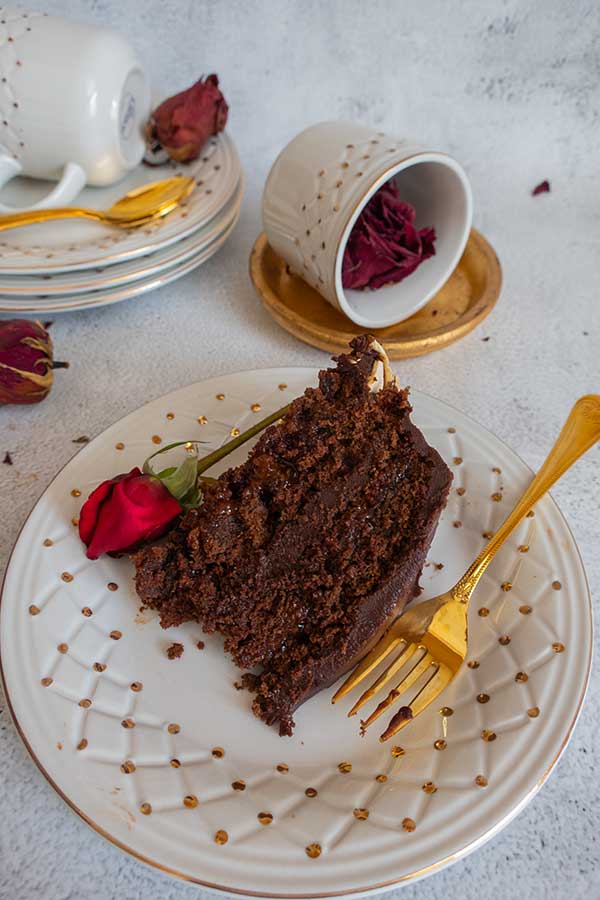 How to store sacher torte?
Sacher torte is stored at room temperature for the best taste and freshness. The best part, this gluten-free version of the Viennese dessert will keep for up to five days. Do not freeze this dessert.
However, you can wrap the cake layers separately in cling wrap and freeze them. Then, assemble the torte, bring the cake to room temperature and fill the layers with apricot preserves and chocolate glaze.
Another Austrian gluten-free dessert made with apricot preserves you may enjoy is the Linzer Cake.
Gluten-Free Sacher Torte Recipe

Published on Jan 14, 2022
by
Kristina Stosek
Instructions
1.

Preheat oven to 350 F and lightly spray 2 x (9-inch) round cake pans with cooking oil and line the bottom with a circle of parchment paper.

2.

Combine apricots and amaretto and set aside for 15 minutes

3.

In a medium bowl, whisk together flour, cocoa powder, baking powder, baking soda and salt

4.

Using a large bowl, beat together olive oil and sugar for 2 minutes. Add eggs and beat until fluffy. Add apricot and amaretto mixture and mix to combine

5.

Add dry ingredients 1/3 at a time to the wet mixture. Mix just until all the ingredients are blended. Do not over mix

6.

Pour batter evenly into prepared pans and bake for 20 - 23 minutes until the cake passes the toothpick test. Set aside to cool

7.

8.

Heat apricot preserves and amaretto on low in a small saucepan, stirring occasionally until preserves are melted; set aside to cool

9.

CHOCOLATE FILLING AND GLAZE

10.

Heat chocolate chips, butter and whipping cream on low in a small saucepan, stirring as needed, until the chocolate has melted and is smooth. Remove from the heat and stir in vanilla.