Gluten-Free Apricot Linzer Squares
Published on Jan 25, 2021
by
Kristina Stosek
Prep Time:

20 + minutes
Cook Time:

35 minutes
Serves:

16
​This post may contain affiliate links, please see our
privacy policy
for details
Delicious and easily made Gluten-Free Apricot Linzer Squares. These melt in your mouth apricot linzer squares are made with half the sweetener, reduced-sugar apricot preserves and a buttery almond shortbread crust. This gluten-free dessert or a snack is super easy to make and is made with only a few ingredients.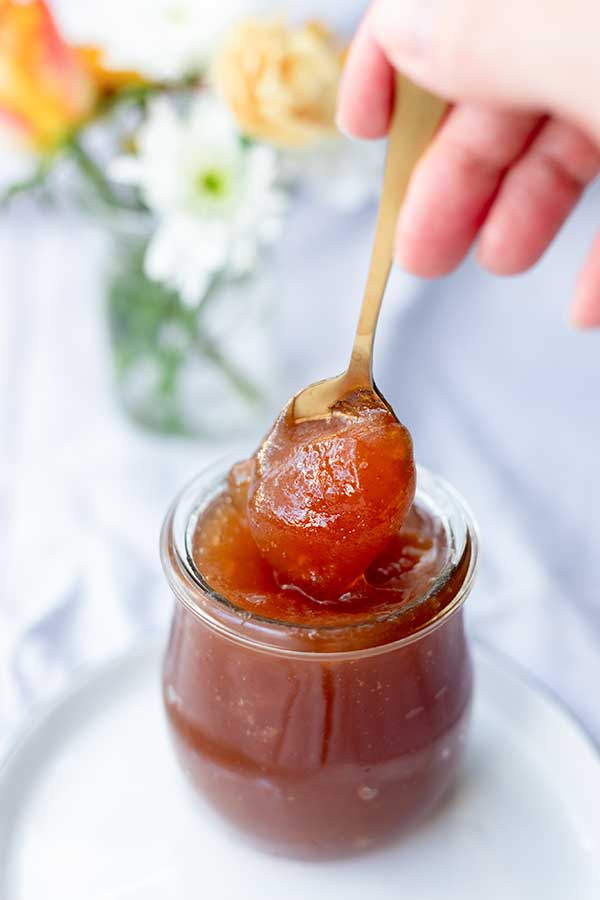 there couldn't be an easier recipe as this gluten-free apricot linzer squares dessert,
To make this casual gluten-free dessert, you will need only two flours, butter, spices, eggs, vanilla, orange zest and reduced sugar apricot preserves. You probably have most of these ingredients in your pantry.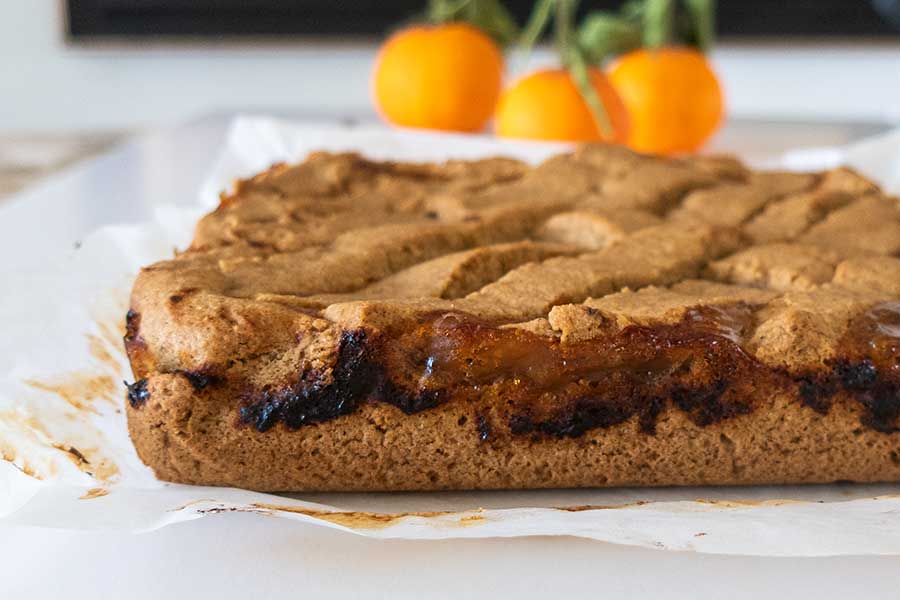 Apricot linzer squares – the details
These gluten-free apricot linzer squares are super easy to whip up. The only thing that takes time is you have to chill the dough for 40 minutes. The dough is all about mixing dry ingredients, creaming the sugar with the eggs, and then mixing everything together—nothing unusual here.
The dough is a bit stiff and sticky but easy enough to spread in the baking pan. You will use about 2/3 of the dough for the base. Now comes the waiting time. Place the pan and the remaining dough in the fridge for 40 minutes.
After the dough has chilled, spread the apricot preserves over the base. The other third of the dough is rolled out into a square and cut into strips. The strips are laid across the preserves in a lattice pattern, and the cake is ready for the oven.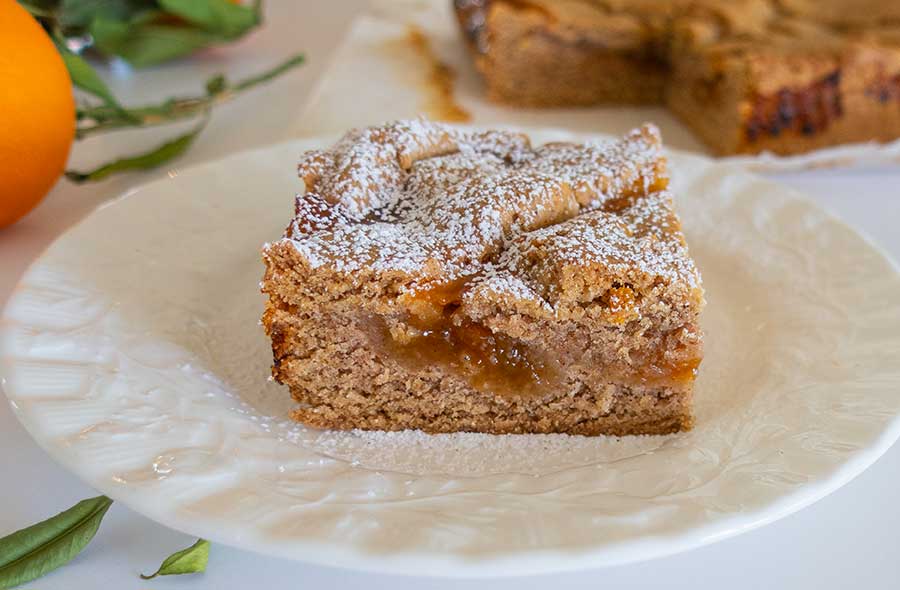 difference between preserves and jam
Preserves have whole or larger pieces of fruit. Jam is made with mashed fruit. However, when more delicate fruits such as raspberries or blackberries are used in preserves, they will not stay whole after processing, giving them a jam texture.
As you can see, there is nothing complicated about this gluten-free apricot linzer squares recipe. Once the cake has chilled, cut it into squares. I cut the cake into 16 squares.
However, if you like to serve these apricot linzer squares at a larger gathering, you can slice them into smaller squares. They are sweet and satisfying, so all you will need is just a small taster.
And the best part, this tasty gluten-free dessert is made with half the sugar typically used in desserts.
To make these gluten-free apricot linzer squares extra pretty, I added a sprinkle of cinnamon sugar. The cinnamon sugar is a mixture of 2 tablespoons powdered sugar with 1/4 teaspoon ground cinnamon and sprinkle away. Enjoy!
If you are looking for easier to make gluten-free desserts, you may enjoy the gluten-free pecan shortbread squares or the gluten-free apple sponge cake with almond topping.
Let's Connect!
Be sure to FOLLOW US on FACEBOOK and PINTEREST.
Many thanks!
Kristina xx
Gluten-Free Apricot Linzer Squares
Published on Jan 25, 2021
by
Kristina Stosek
Instructions
1.

Whisk together flours, cinnamon, nutmeg, baking soda and salt

2.

In a large bowl using an electric mixer, cream together butter and sugar. Beat in eggs, vanilla and orange zest

3.

Add dry ingredients to the wet mixture one third at a time, mixing after each time until combined. The batter will be thick and sticky but easy enough to spread in the pan

4.

Line an 8 by an 8-inch baking pan with parchment paper. Spread approximately 2/3 of the batter on the bottom of the pan and smooth the top. Cover the remaining dough with plastic wrap and place the pan and the dough in the refrigerator for 40 minutes

5.

6.

Spread preserves evenly over the dough in the pan. 

7.

Roll out the remaining dough between two sheets of parchment paper to 8 by 8-inch square. Cut into about 3/4 inch strips and lay across the top in a lattice pattern.

8.

Bake for 35 - 38 minutes until the pastry is golden and the jam is bubbling

9.

Cool, and dust with powdered sugar if you wish. Just before serving, cut into 16 squares
Leave a Comment
delicious and super easy to make, thank you!