Gluten-Free Raspberry Linzer Cake
Prep Time
20 + Minutes
Difficulty
Easy
Cook Time
35 Minutes
Serves
16
Average Rating: 5 | Rated By: 8 users
Today I am sharing my Holiday festive Gluten-Free Raspberry Linzer Cake. A classic Austrian dessert made with a perfectly sweet almond shortbread crust scented with orange zest, a layer of raspberry jam, lattice pattern shortbread topping and a dusting of confectioners sugar.
This Linzer cake is a melt in your mouth delicious gluten-free dessert!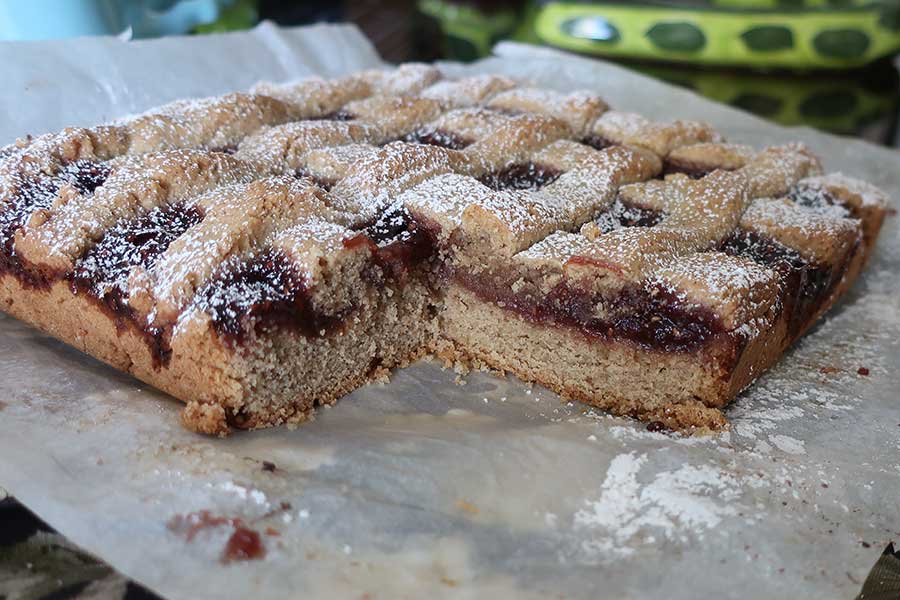 Growing up in Europe, our Holiday desserts weren't complete unless my mom made the classic Raspberry Linzer Torte. This year I wanted to re-create this delicious Austrian dessert into an easier gluten-free recipe with all the bells and whistles that I remember.
Gluten-Free Raspberry Linzer Cake – recipe details
You will find that this delicious gluten-free Austrian dessert recipe is easier to make than a gluten-free fruit pie. The gluten-free shortbread crust takes just minutes to whip up, so easy!
I used only two flours, almond flour and a gluten-free all-purpose flour blend, butter, sugar, eggs, vanilla, baking soda, and orange zest to make the shortbread crust.
The orange zest makes all the difference in flavour and is a must in this gluten-free shortbread crust. The only other ingredient you will need is a good quality raspberry jam, or sometimes I use apricot jam.
Once the shortbread crust is prepared, spread 2/3 of the dough in a pan, chill the remaining dough, then roll it out between two sheets of parchment paper and cut into strips. These strips are used for the lattice pattern topping.
The strips don't have to be perfect. This Austrian dessert should have a rustic look. What I love about this gluten-free shortbread dough, it is super easy to work with.
the second layer
The second layer of this Linzer Cake recipe is the raspberry jam. Using a spoon, spread the jam over the shortbread crust. How simple is that? Then, top with the shortbread strips and bake.
Once the Raspberry Linzer Cake is cooled, you can add a dusting of confectioners sugar if you like. I add a pinch of cinnamon in my confectioner's sugar for extra flavour.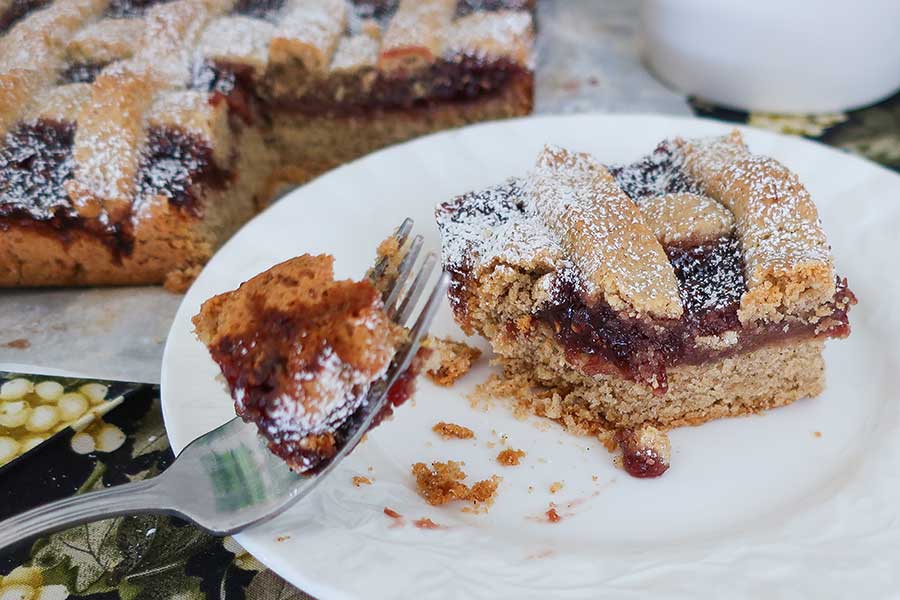 One of the things I love about this Gluten-Free Raspberry Linzer Cake dessert is that it tastes better the next morning. The reason is, the raspberry jam soaks into the shortbread crust, making this dessert outstanding.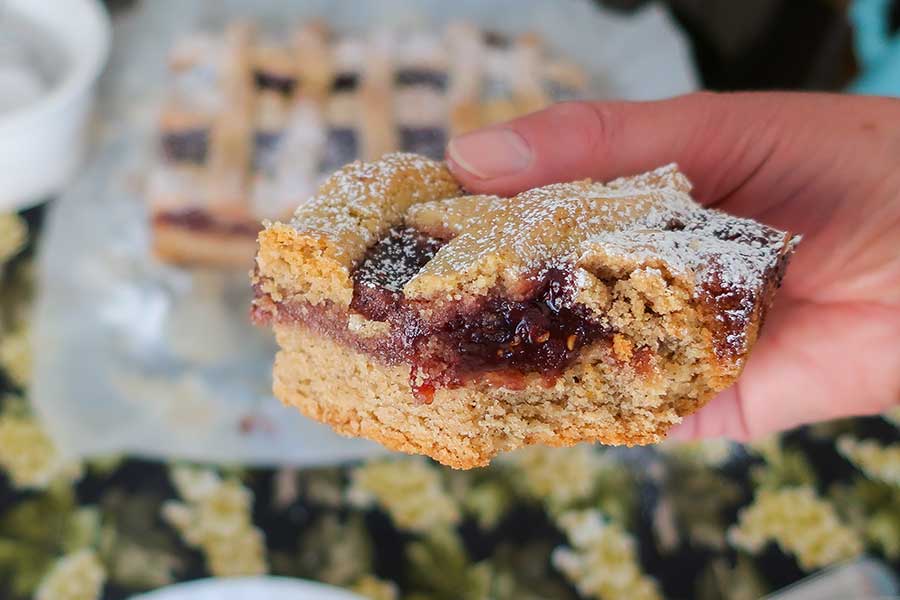 How to store Linzer Cake?
It is important to wrap the cake well, so it doesn't dry out and store at room temperature. The cake will keep for up to one week. Another way to store this delicious Austrian dessert is by freezing it.
This gluten-free dessert can be frozen before or after baking. I often make two batches and freeze one before baking. Always bring the Linzer Cake to room temperature for 30 minutes before baking.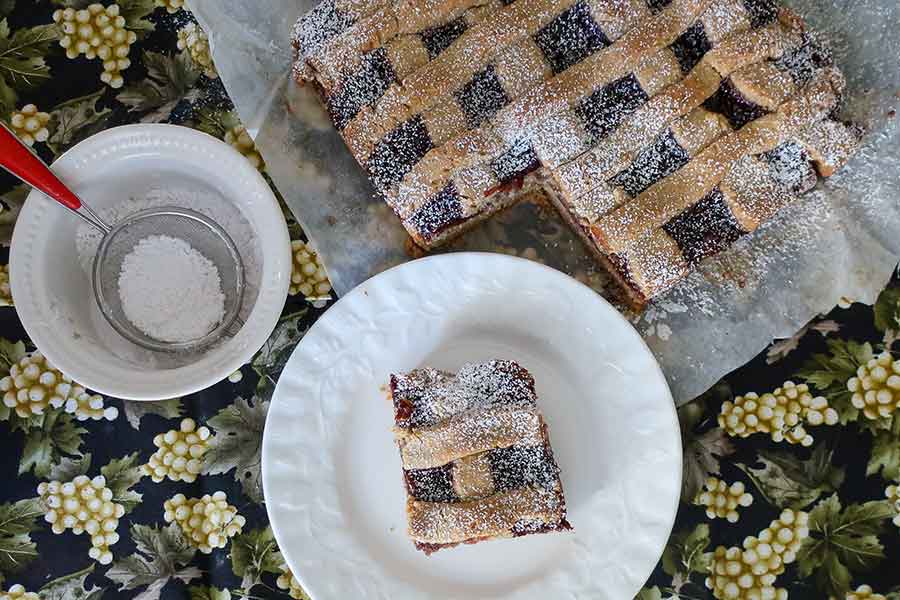 Three of my favourite Austrian dishes are Schnitzel, Stewed Red Cabbage with Apples, and Potatoes with Parsley and Garlic. And the dessert, this Gluten-Free Raspberry Cake. Enjoy!
Let's Connect!
Be sure to FOLLOW US on FACEBOOK and PINTEREST.
Many thanks!
Kristina xx
Ingredients
1 1/2 cups gluten-free all purpose flour with xanthan gum, or add 3/4 tsp. ( I used this GF flour)
1 1/2 tsp. GF ground cinnamon
1/2 tsp. Baking soda
1/4 tsp. Sea salt
3/4 cup unsalted buttter, softened
2/3 cup coconut or brown sugar
2 large eggs, at room temperature
1 tsp. Pure vanilla extract
Zest of 1 orange
*As an Amazon Associate and member of other affiliate programs, I earn from qualifying purchases. Please check out my sponsorship and disclosure policy page for more details
Instructions
Whisk together flours, cinnamon, baking soda and salt
In a large bowl using an electric mixer, mix butter with sugar until fluffy, until the sugar has dissolved. Beat in eggs, vanilla and orange zest
Add dry ingredients one third at a time, mixing each time with the butter mixture until combined. The dough will be sticky
Line an 8 by an 8-inch baking pan with parchment paper. Spread approximately 2/3 of the batter on the bottom of the pan and pat it to make it even. Cover the remaining dough with plastic wrap and place the pan and the dough in the refrigerator for 40 minutes
Preheat oven to 350 F
Spread raspberry jam evenly over the dough in the pan
Roll out the remaining dough between two sheets of parchment paper to 8 by 8-inch square. Cut into about 3/4 inch strips and lay across the top in a lattice pattern.
Bake for 35 - 38 minutes until the pastry is lightly browned and the jam is bubbling
Cool, and dust with powdered sugar if you wish. Just before serving, cut into 16 squares
Similar Recipes
Gluten-Free Apple Pie Bars
A perfect fall deliciousness, Gluten-Free Apple Pie Bars. Delicious cinnamon apples with a hint of nutmeg and vanilla nestled between a shortbread crust and topped with lightly sweetened crunchy almonds. YUM!     This apple pie bar recipe is probably one of the easiest gluten-free snack recipes using healthy apples. I used honey crisp apples […] Read More
Prep Time
15 Minutes
Difficulty
Beginner
Cook Time
45 Minutes
Serves
9
Grain-Free Pumpkin Pie Bars
If there is one thing we should all try this fall is Grain-Free Pumpkin Pie Bars. Fall is time to start talking pumpkin. With Thanksgiving just around the corner, it's time to add delicious gluten-free pumpkin recipes. Grain-free pumpkin pie bars… lightly sweetened, smooth, perfectly spiced with warming pumpkin spices with an almond buttery shortbread […] Read More
Prep Time
15 Minutes
Difficulty
Easy
Cook Time
60 Minutes
Serves
12
Chocolate Pecan Shortbread Squares (Gluten-Free)
Gluten-Free Chocolate Pecan Shortbread Squares never tasted this good! A two-layer dessert made of a buttery shortbread crust and a layer of sticky, chocolaty topping packed with pecans.  I love to serve this gluten-free dessert for special occasions such as Thanksgiving or Easter because these chocolate pecan shortbread squares are exceptionally delicious. The perfect squares […] Read More
Prep Time
15 Minutes
Difficulty
Easy
Cook Time
55 Minutes
Serves
9