Gluten-Free Pumpkin Cranberry Scones With Nutmeg Glaze
Published on Sep 30, 2019
by
Kristina Stosek
Prep Time:

10 minutes
Cook Time:

25 minutes
Serves:

6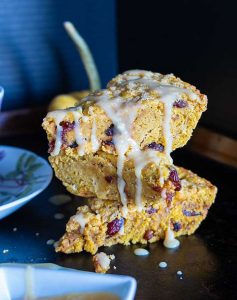 ​This post may contain affiliate links, please see our
privacy policy
for details
These gluten-free pumpkin cranberry scones are soft, buttery, filled with cranberries and finished with the most delicious nutmeg glaze. These pumpkin cranberry scones are undoubtedly my favourite fall snack, especially during pumpkin season 🙂
I love making scone recipes because there is nothing complicated about them. In this recipe, I used a pie dish to bake them in. So, instead of forming a circle and then cutting the dough into separate wedges, I baked the scones in a pie dish – less mess, super easy, and they turned out perfectly shaped.
For the glaze, I wanted to flavour the glaze with a spice that goes well with pumpkin. So I made a buttery nutmeg glaze. Suppose you prefer gluten-free scones without a glaze, no problem. The pumpkin cranberry scones taste yummy even without the glaze.
When it comes to gluten-free scones, they are the best when they come right out of the oven. Lovely warm and buttery…so good. If you have any leftover scones for the next day, briefly warm them up in the oven or a few seconds in the microwave.
What is a scone?
The famous scone originated in Britain. Typically a scone is made with wheat flour and sometimes oats. And, scones can be served with or without a glaze. My preference is definitely with a glaze. The glaze adds extra sweetness and makes the scones hearty and most satisfying.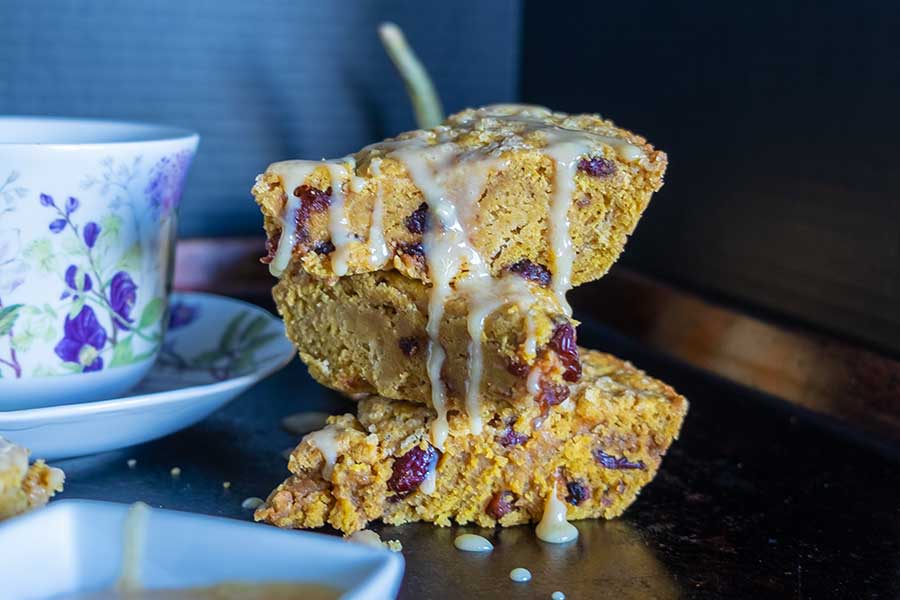 What is the difference between a scone and a biscuit?
There is only one ingredient that separates the two, and it is the egg. The traditional English scone is round and not triangular. It is dense and served with afternoon tea with jam and clotted cream. In America, we have adapted the scone to a biscuit, which is lighter and fluffier. Biscuits can also be served with savoury dishes such as soups and stews.
What I love about scones you can be creative with the recipe such as these pumpkin cranberry scones. You can add dried fruits, fresh berries, pumpkin, sweet potatoes, or crisp apples to sweet scones. Savoury scone variations include cheese, bacon, ham, onions, chives, sun-dried tomatoes, and herbs.
In today's recipe, I included millet flour. Although millet is often called a grain because of its grain-like consistency, millet is technically a seed, and a good gluten-free flour to use in gluten-free baking. Millet has a slightly nutty taste making it a good addition to sweet or savoury recipes. This tiny seed is also a powerhouse of nutrients. It has a chock full of protein and minerals such as manganese, phosphorus, magnesium, iron and zinc. So by using millet flour in these gluten-free pumpkin scones, we have some added health benefits. But wait, we have more gluten-free scone recipes here->
Gluten-Free Pumpkin Cranberry Scones With Nutmeg Glaze
Published on Sep 30, 2019
by
Kristina Stosek
Instructions
1.

2.

Whisk together dry ingredients (flour to cranberries). Add butter and toss together

3.

In a separate bowl whisk together pumpkin, buttermilk, egg and vanilla. Add to the dry ingredients and mix until a dough forms, do not overmix. If the dough seems too dry add 1 - 2 tablespoon buttermilk

4.

Transfer dough into the prepared pie dish. Using a spatula press the dough into the dish and smooth out the top. Dip a sharp knife in oil and slice the dough into six wedges

5.

Brush the top with buttermilk and sprinkle with 1 tablespoon of coconut sugar — Bake for 25 - 30 minutes until the scones are golden brown and firm to touch.

6.

While the scones are baking make the nutmeg glaze; Add butter to a saucepan and heat until melted and starts to foam. Remove from the heat and whisk in powdered sugar, maple syrup, vanilla, and nutmeg

7.

When the scones are finished baking, cool in the pie dish for 15 minutes, then using a knife separate the scones and drizzle with nutmeg glaze. They are best when served warm!
Leave a Comment
Kristina
thank you, they sound delicious!
These scones were amazing! So easy due to putting the dough in the pie pan. I made a few tweaks, like using fresh cranberries, used monkfruit to make them sugar free, & King Arthur G-F flour to replace the 3 flours (sorghum, millet and rice). King Arthur Measure for Measure flour already includes the xanthan gum. I froze Myokos dairy free butter for 30 minutes and grated it. Perfect! Used hemp milk and added 1/4 tbsp. apple cider vinegar to make the buttermilk. For the glaze I used Lakanto Powdered sugar and Lakanto Maple Syrup. All the changes I made were so these would be G-F, D-F and sugar-free. Oh my goodness...that glaze! So yummy!