Gluten-Free Pumpkin Cranberry Scones With Nutmeg Glaze
Prep Time
10 Minutes
Difficulty
Easy
Cook Time
25 Minutes
Serves
6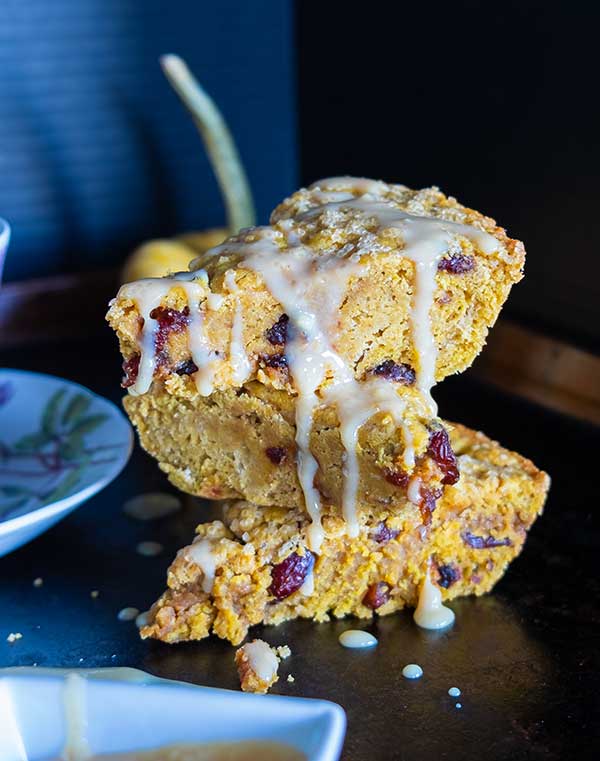 Be the first to rate this recipe.
These gluten-free pumpkin cranberry scones are soft, buttery and finished with the most delicious nutmeg glaze. In this recipe, I have also added cranberries which makes these fall scones extra tasty. These pumpkin cranberry scones are undoubtedly my favourite fall snack. I love making scones because they are easy. In this recipe, I made them in a pie dish. So, instead of forming a circle and then cutting the dough into separate wedges, I baked them in a pie dish. So, less mess, super easy, and they turned out perfect. I wanted to add a glaze to this gluten-free scone, one that compliments the pumpkin flavour. So I made a nutmeg buttery glaze because it highlights the pumpkin flavour. If you don't want to use a glaze, don't worry, they are so good without it, especially warm right out of the oven.
What is a scone? First, it is British and more often made with flour, sometimes oats and is slightly sweetened and sometimes glazed. What is the difference between a scone and a biscuit? There is only one ingredient that separates the two, and it is the egg. The traditional English scone is round and not triangular, is dense and served with afternoon tea with jam and clotted cream. In America, we have adapted the scone to a biscuit which is lighter and fluffier. Biscuits are usually served with savoury dishes such as soups and stews. What I love about scones you can be creative with the recipe. For sweet scones, you can add dried fruits, fresh berries, pumpkin, sweet potatoes or crisp apples. Savoury scone variations include cheese, bacon, ham, onions, chives, sun-dried tomatoes, and herbs.
In today's recipe, I included millet flour. Millet, technically a seed although it is often called a grain because of its grain-like consistency, is an excellent option in gluten-free baking. It has a very slight nutty taste. This ancient seed can increase energy, boost your immune system and improve muscle and nerve health. This tiny seed is packed with protein, and minerals such as manganese, phosphorus, magnesium, iron and zinc. Now you see why I love this pumpkin cranberry scone! But wait, we have more gluten-free scone recipes here->
Ingredients
1/2 cup sweet sorghum flour
1/2 cup rice flour
1/2 cup arrowroot flour/starch
1/4 cup coconut sugar or brown sugar, plus some for topping
1 Tbsp. GF aluminum-free baking powder
1 tsp. Xanthan gum
1/2 tsp. Himalayan fine sea salt
1/2 tsp. GF ground cinnamon
1/4 tsp. GF ground nutmeg
1 stick (1/2 cup) cold unsalted butter, grated on a box grater just like cheese
1/4 cup buttermilk, plus more for brushing
1 large egg
1 tsp. Pure vanilla extract
NUTMEG GLAZE
2 Tbsp. unsalted butter
1/3 cup powdered sugar
1/4 cup pure maple syrup
1/2 tsp. Pure vanilla extract
1/4 tsp. GF ground nutmeg
Instructions
Whisk together dry ingredients (flour to cranberries). Add butter and toss together
In a separate bowl whisk together pumpkin, buttermilk, egg and vanilla. Add to the dry ingredients and mix until a dough forms, do not overmix. If the dough seems too dry add 1 - 2 tablespoon buttermilk
Transfer dough into the prepared pie dish. Using a spatula press the dough into the dish and smooth out the top. Dip a sharp knife in oil and slice the dough into six wedges
Brush the top with buttermilk and sprinkle with 1 tablespoon of coconut sugar — Bake for 25 - 30 minutes until the scones are golden brown and firm to touch.
While the scones are baking make the nutmeg glaze; Add butter to a saucepan and heat until melted and starts to foam. Remove from the heat and whisk in powdered sugar, maple syrup, vanilla, and nutmeg
When the scones are finished baking, cool in the pie dish for 15 minutes, then using a knife separate the scones and drizzle with nutmeg glaze. They are best when served warm!
Similar Recipes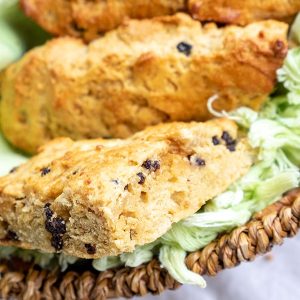 Easy Gluten-Free Currant Scone Recipe
Indulge in these gluten-free currant scones for Sunday brunch or anytime snack. The recipe comes together fast and easy, making it perfect for everyday baking. I used currants in this recipe, but you can use raisins or dried fruit of your choice. The best way to serve gluten-free scones is when they are slightly warm. […] Read More
Prep Time
15 Minutes
Difficulty
Easy
Cook Time
15 Minutes
Serves
4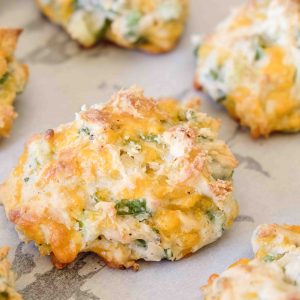 Gluten Free Cheesy Scones – Easy Recipe
Sure to be a hit at breakfast, these gluten free scones are super cheesy with a hint of rosemary and green onions. These delicious scones make a perfect addition to Sunday brunch or an afternoon snack. To make this easy recipe, all you need is one bowl for easy cleanup. Serve the scones with eggs […] Read More
Prep Time
10 Minutes
Difficulty
Easy
Cook Time
25 Minutes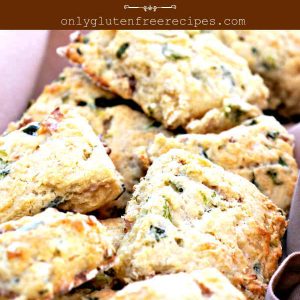 Gluten Free Rustic Bacon And Cheese Scones
Savoury Gluten Free Rustic Bacon and Cheese Scones are always a big hit at our house. When it comes to gluten free baking, there is nothing simpler to make than gluten free scones. In this recipe, the three basic ingredients are bacon, cheddar cheese and green onions. The incredibly cheesy scones have just the right […] Read More
Prep Time
15 Minutes
Difficulty
Easy
Cook Time
15 Minutes
Serves
12