Gluten Free Pop Tarts Recipe
Published on Apr 28, 2023
by
Kristina Stosek
Prep Time:

20 minutes
Cook Time:

17 minutes
Serves:

8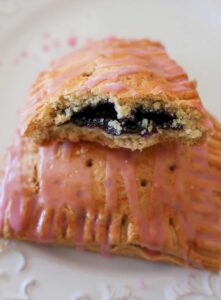 ​This post may contain affiliate links, please see our
privacy policy
for details
The Very Best Homemade Gluten Free Pop Tarts. This is an easy recipe for gluten free pop tart pastry filled with blueberry jam and topped with a light glaze. These pop tarts are extra flakey, hinted with butter, perfectly sweet, and baked until toasted. And by far better than store-bought!
In the last little while, gluten-free pop tarts are one of your most requested recipes – my readers. So, today I have made homemade blueberry pop tarts. And, I promise you, they are insanely delicious!
The cust is extra flaky, hinted with butter, the filling is a five-minute homemade blueberry jam, and the glaze has a hint of pretty color created with fresh juice.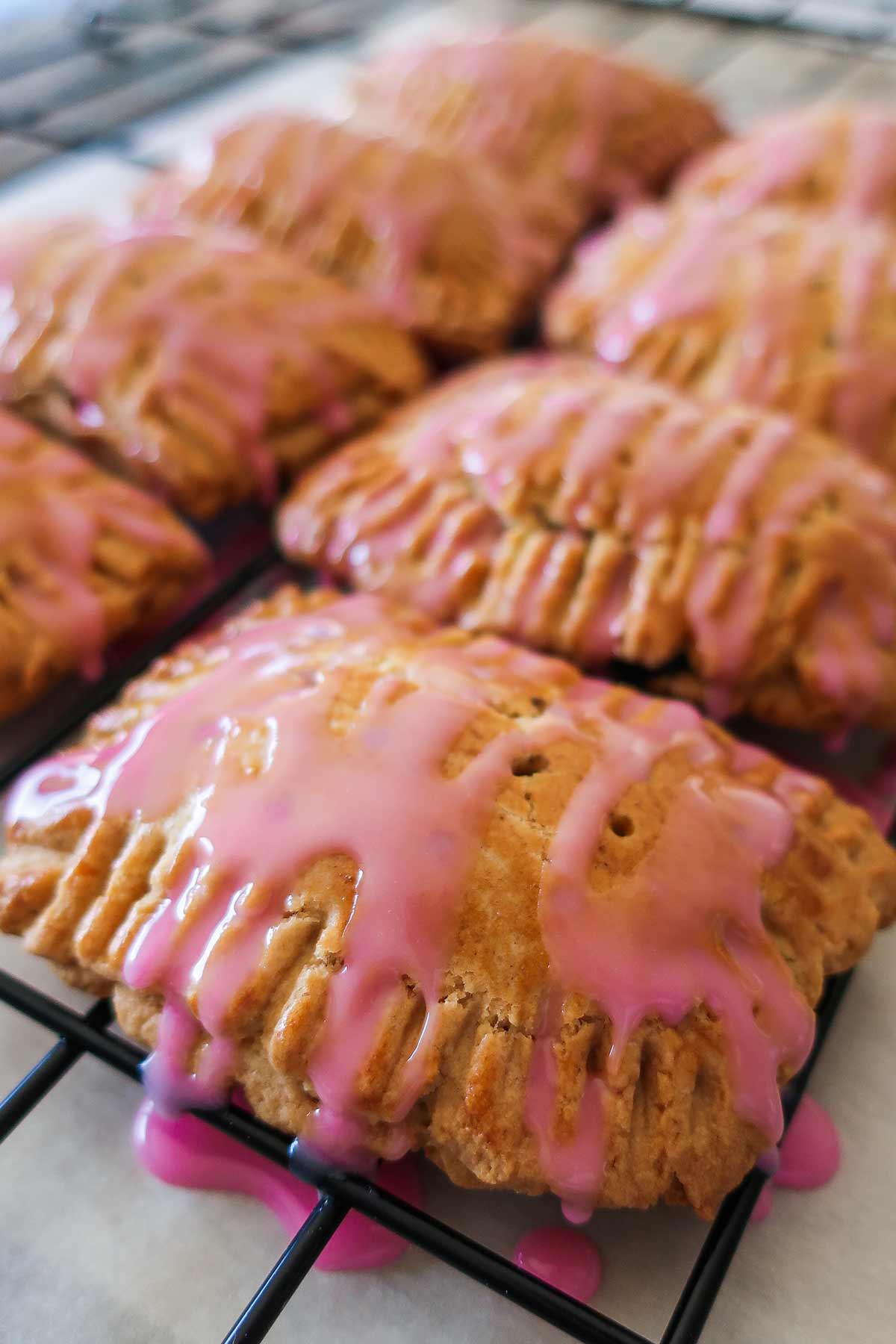 What is a gluten free pop tart?
Pop tarts are America's favorite breakfast pastries. They are made with two layers of pastry filled with various fillings and topped with either frosting, glaze, or chocolate sauce, to name a few. Traditionally pop tarts are served warm for breakfast. But you can enjoy them anytime as a snack when you crave something sweet.
What type of dough is used for pop tarts?
The type of dough used is crucial for perfect texture and flavor when making pop tarts. Traditionally, pop tarts are made with flaky pastry dough. For this recipe, I kept the dough extra flaky and gluten free, making these pop tarts acceptable for gluten free diet.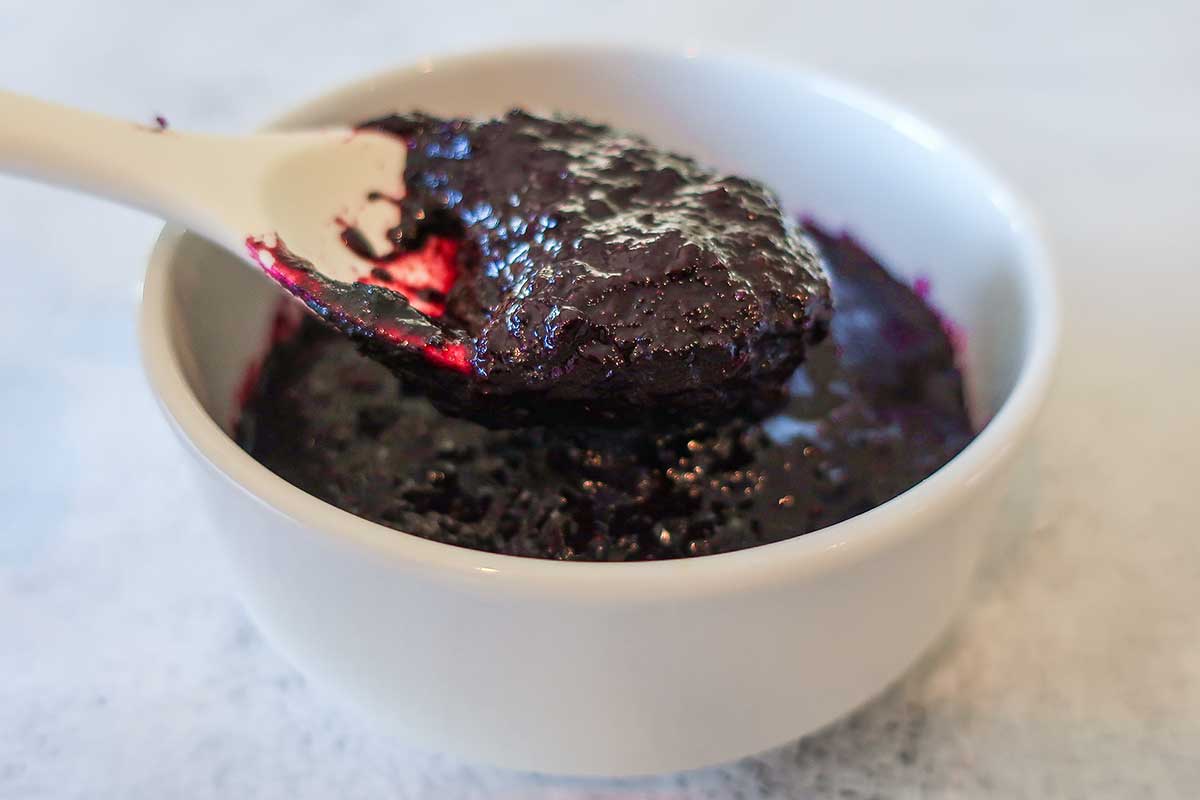 favorite fillings for pop tarts
There's no denying that pop tarts are a breakfast classic loved by people of all ages. One of the best things about pop tarts is that you can fill them with sweet fillings of your choice. Here are our favorites.
1. Strawberry or Blueberry Jam: Classic, sweet, and perfect for anyone who loves fruit-filled pastries. Use your favorite brand or homemade jam for maximum flavor.
2. Nutella: This hazelnut spread is gluten free and adds a rich, chocolatey taste to your pop tart filling – perfect for those with a sweet tooth!
3. Apple Cinnamon: A fall-inspired flavor that works year-round; mix fresh, finely chopped apples with cinnamon sugar.
4. Brown sugar cinnamon: A classic childhood favorite is brown sugar, butter, cinnamon, tapioca flour, and vanilla.
helpful tips on rolling gluten free pastry dough
Rolling gluten-free pastry dough can be a challenge; here are some frequently asked questions about rolling the dough:
1) How do I prevent my gluten-free pastry dough from sticking to the surface when rolling?
A: Chill the dough for 30 minutes or dust your working surface with gluten free flour or starch and sprinkle some over the top of the dough. It will help you roll out your dough without sticking.
2) My gluten-free pastry dough keeps cracking around the edges while rolling. What should I do?
A: This is common in gluten-free baking due to a lack of elasticity in the dough. Adding an egg yolk will give you a better structure. However, it wasn't necessary in this gluten free pop tart pastry dough.
3) Can I use a regular rolling pin for my gluten-free pastry dough?
A: Avoid using wooden ones because they tend to absorb moisture and leave sticky residue behind. I use a stainless steel rolling pin and highly recommend it for pastry dough.
4) Can you freeze gluten free pop tart pastry dough?
A: Yes, the pastry dough can be frozen. Wrap the dough in plastic wrap, and place it in a plastic freezer bag. The dough can be frozen for up to 3 months. Then, defrost the frozen dough in the refrigerator overnight.
Why are store-bought pop tarts banned in some European countries?
As per Mashed Reviews publication, Pop-Tarts are banned or come with a warning in some European countries due to their use of food dyes such as Yellow 5 and Red 40. Concerns range from cancer, hyperactivity, and other behavioral issues.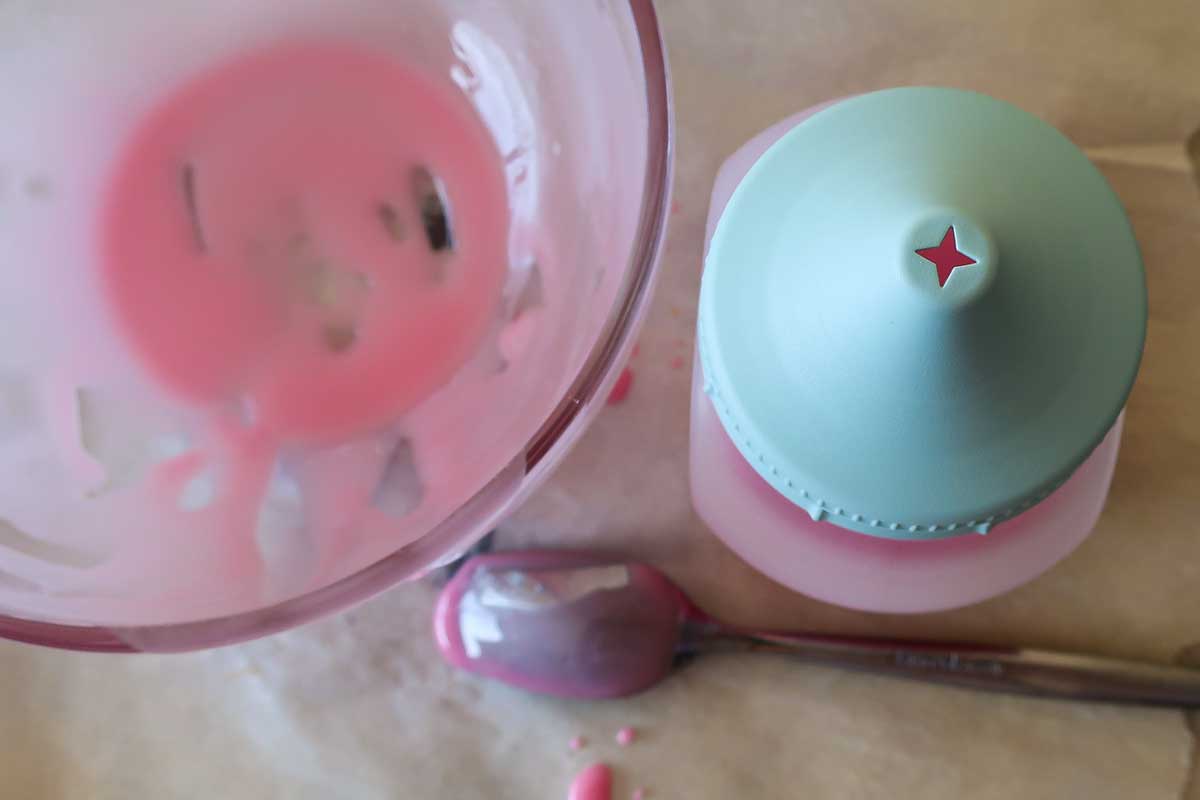 Should you use icing or glaze on a pop tart?
You have two main options when topping your gluten-free pop tarts: icing or glaze. Both are delicious and add something extra to your breakfast pastry. But which one should you choose?
First, let's define the difference between icing and glaze. Icing, also called frosting, is thick and creamy, often made with powdered sugar and butter or cream cheese. Glaze, on the other hand, is thin and glossy, usually made with powdered sugar and milk, juice, or water.
If you prefer a sweeter option that adds richness to your pop tart, go for icing. It's perfect if you want to indulge in a decadent treat occasionally.
However, if you're looking for something lighter that doesn't overpower the flavor of the filling inside your pop tart but still gives it some sweetness – then go for the glaze, such as in this recipe.
Ultimately both toppings are popular options depending on what you prefer.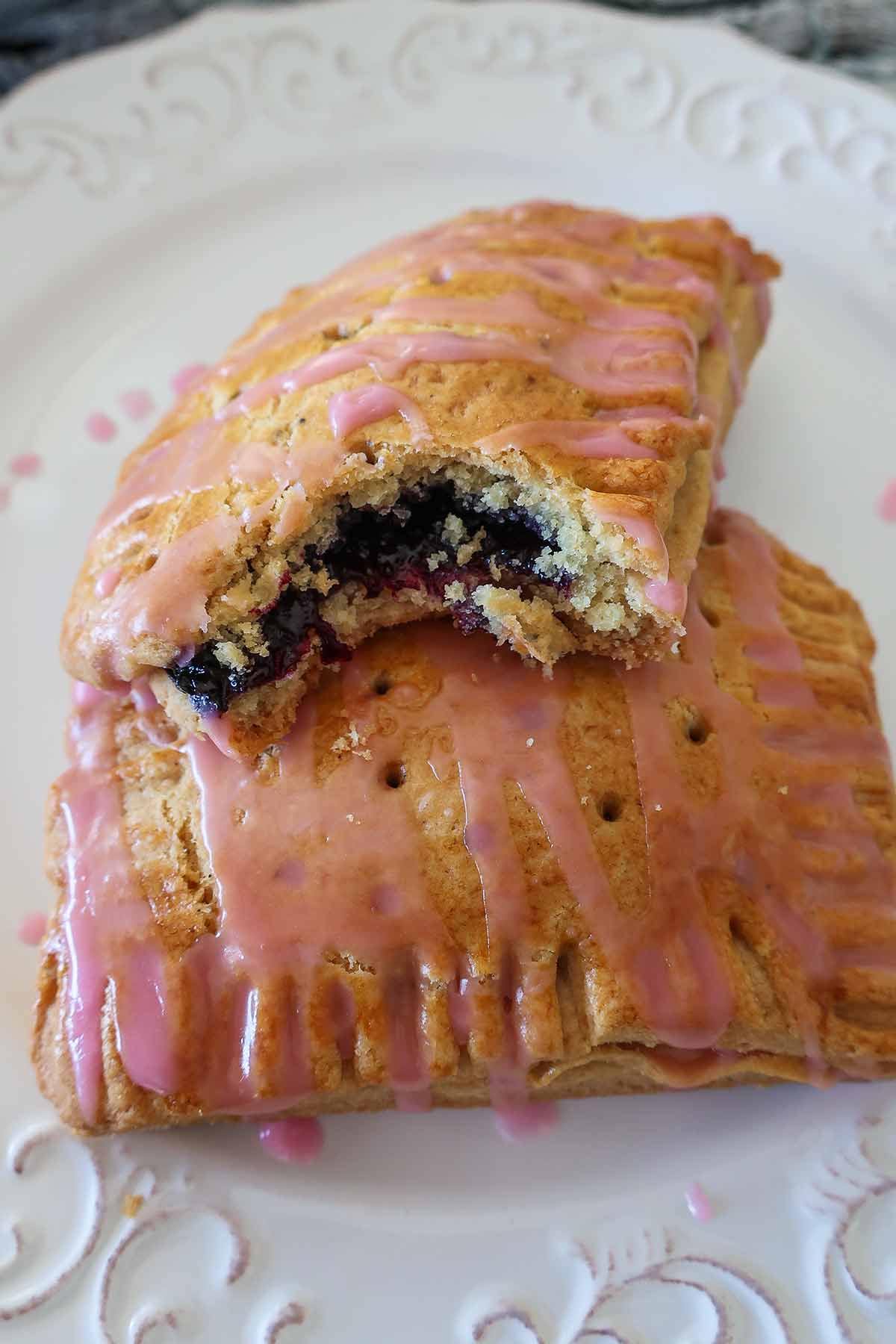 step-by-step gluten free pop tart recipe details
STEP ONE
To get that perfect gluten free flaky pop tart pastry, you will need a food processor. And what a great gift idea for mother's day or a birthday!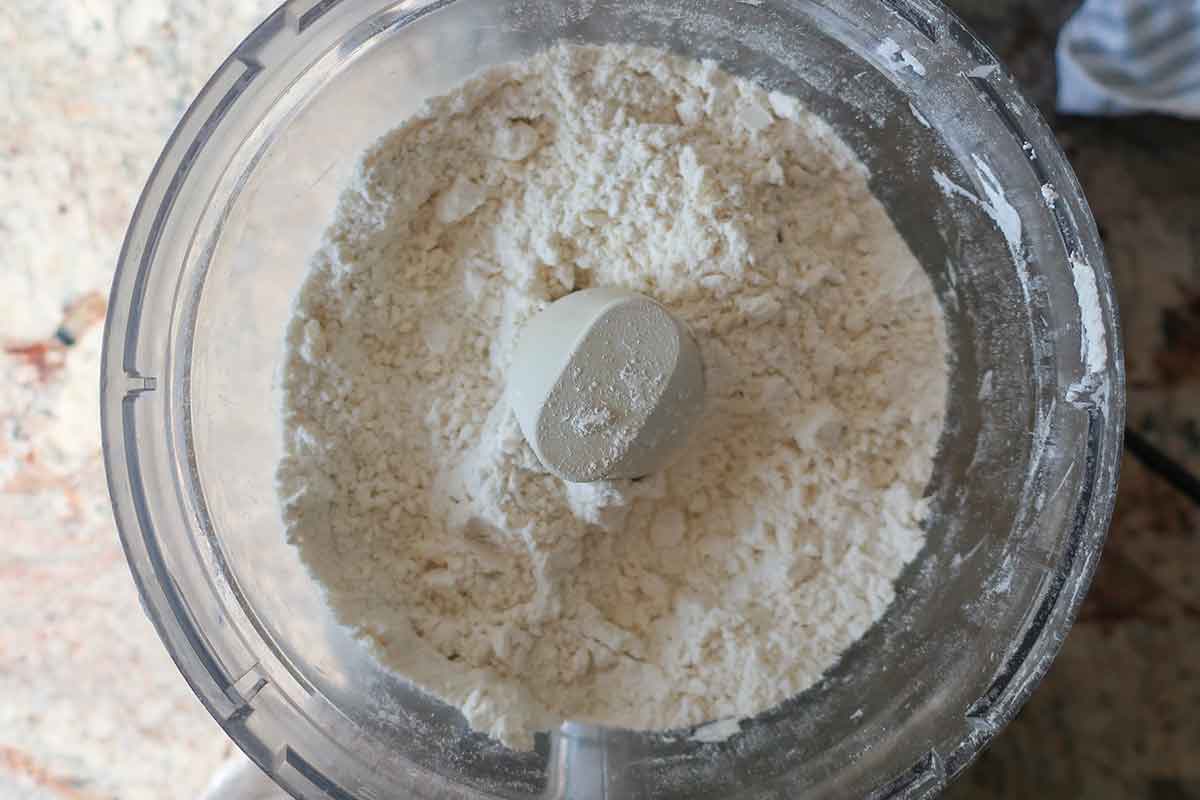 STEP TWO
Mix all the dry ingredients for the pastry in a food processor, then add chunks of cold butter and pulse until you reach a texture of rice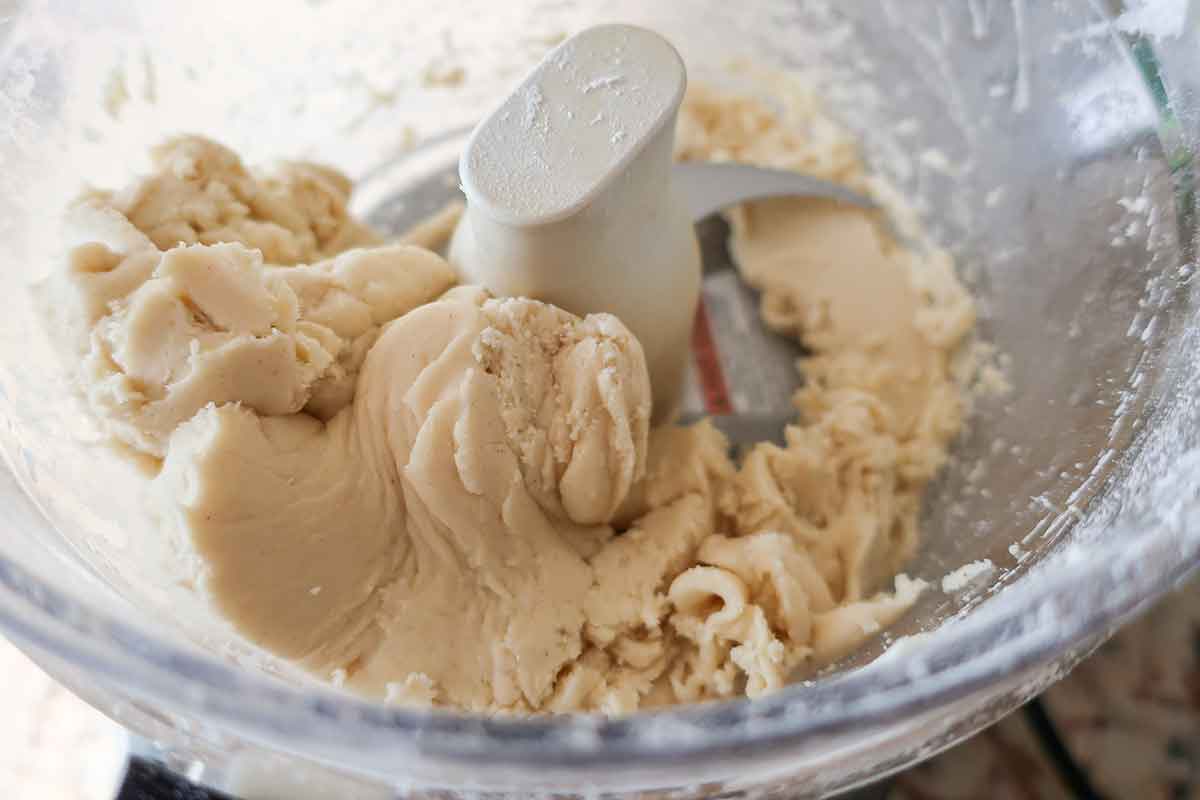 STEP THREE
Add the liquids to dry ingredients, cold cream and apple cider vinegar or lemon juice and process until you reach pastry dough. About 2 – 3 minutes. Chill the dough fo 30 minutes.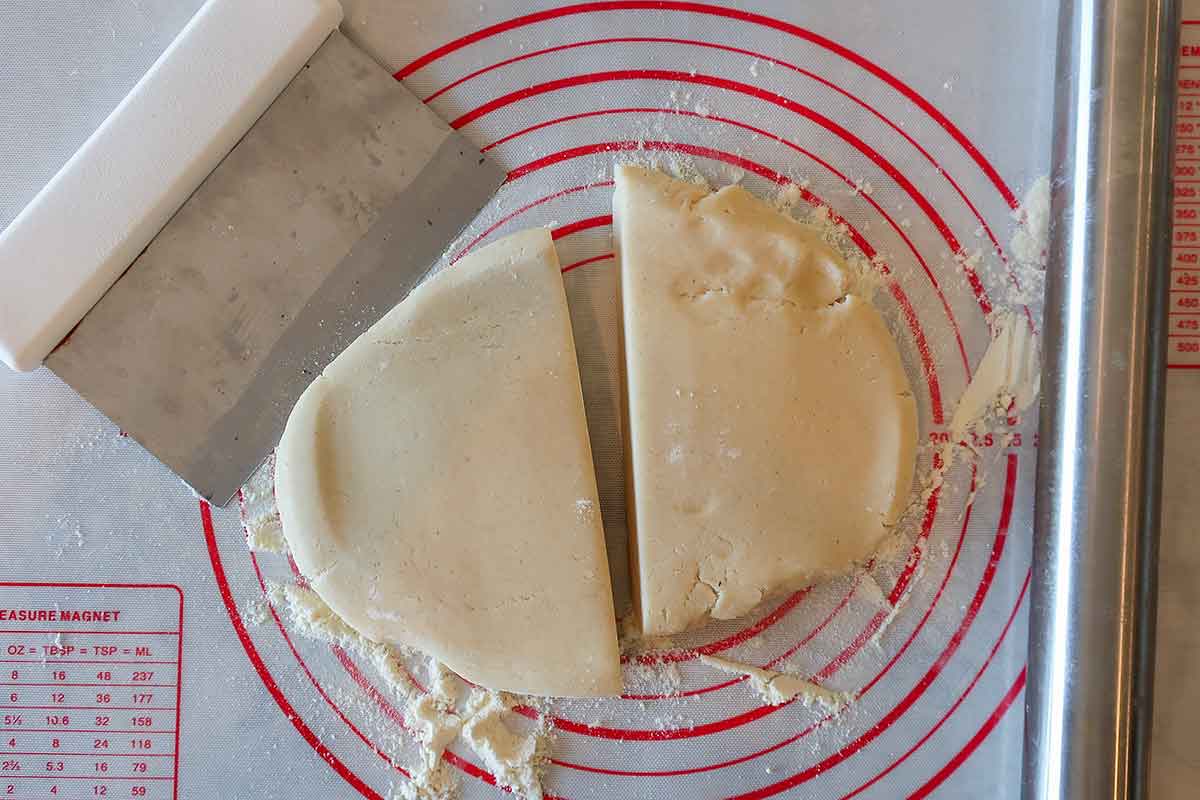 STEP FOUR
Once the dough has chilled, divide it into equal halves.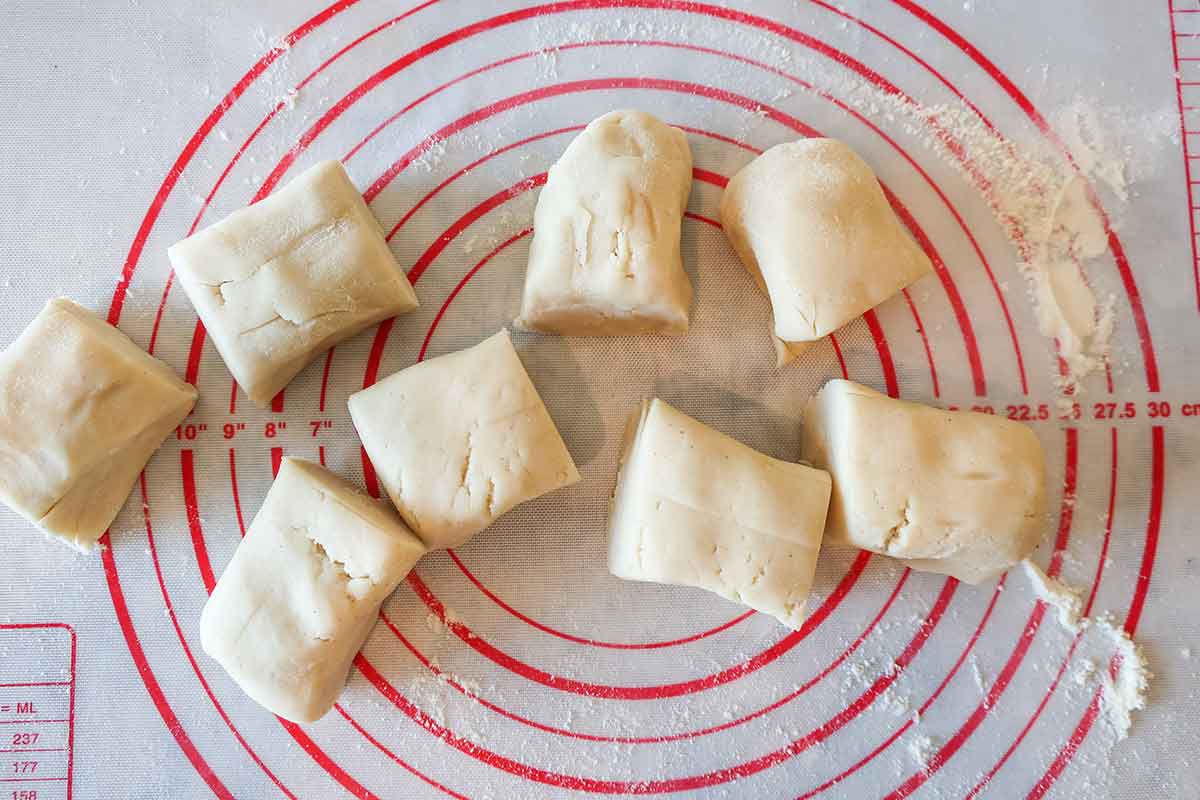 STEP FIVE
roll each half into an 8-inch log, then cut each into 4 equal pieces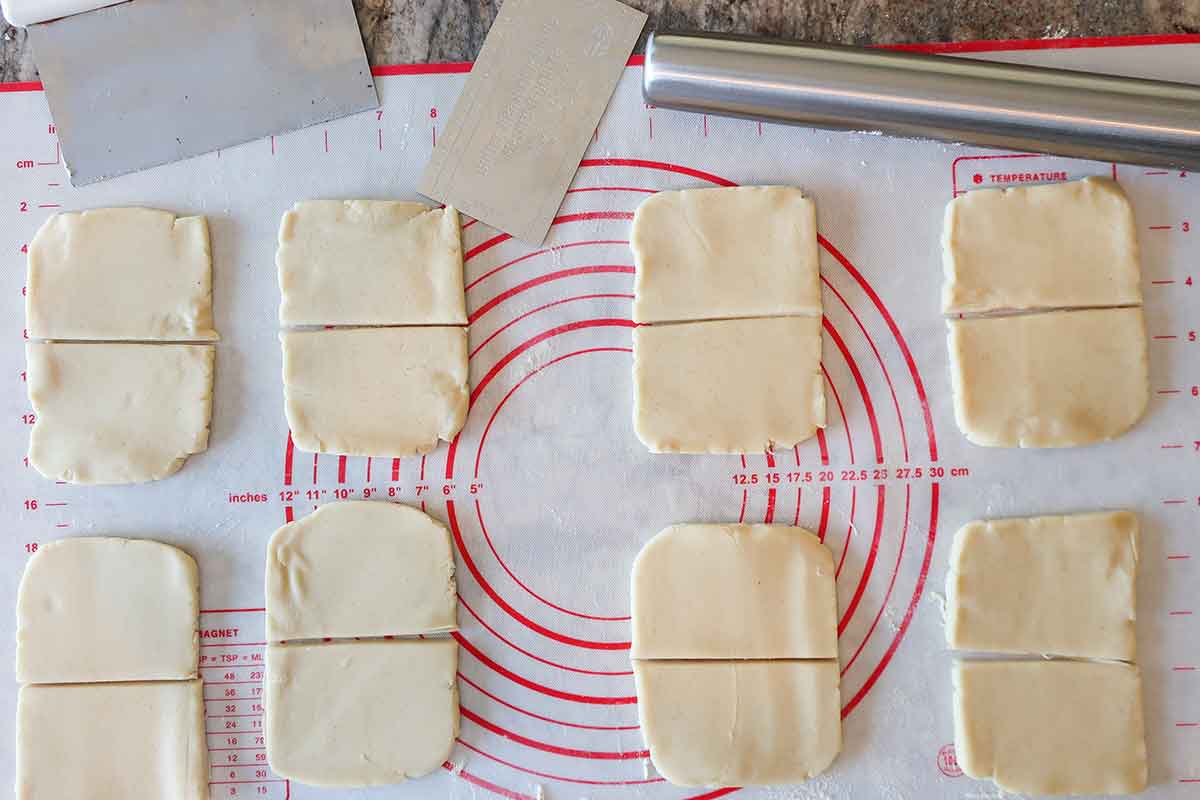 STEP SIX
Roll each piece into a rectangle, then cut into equal halves. The size doesn't matter as long as both halves are the same size. I used a ruler.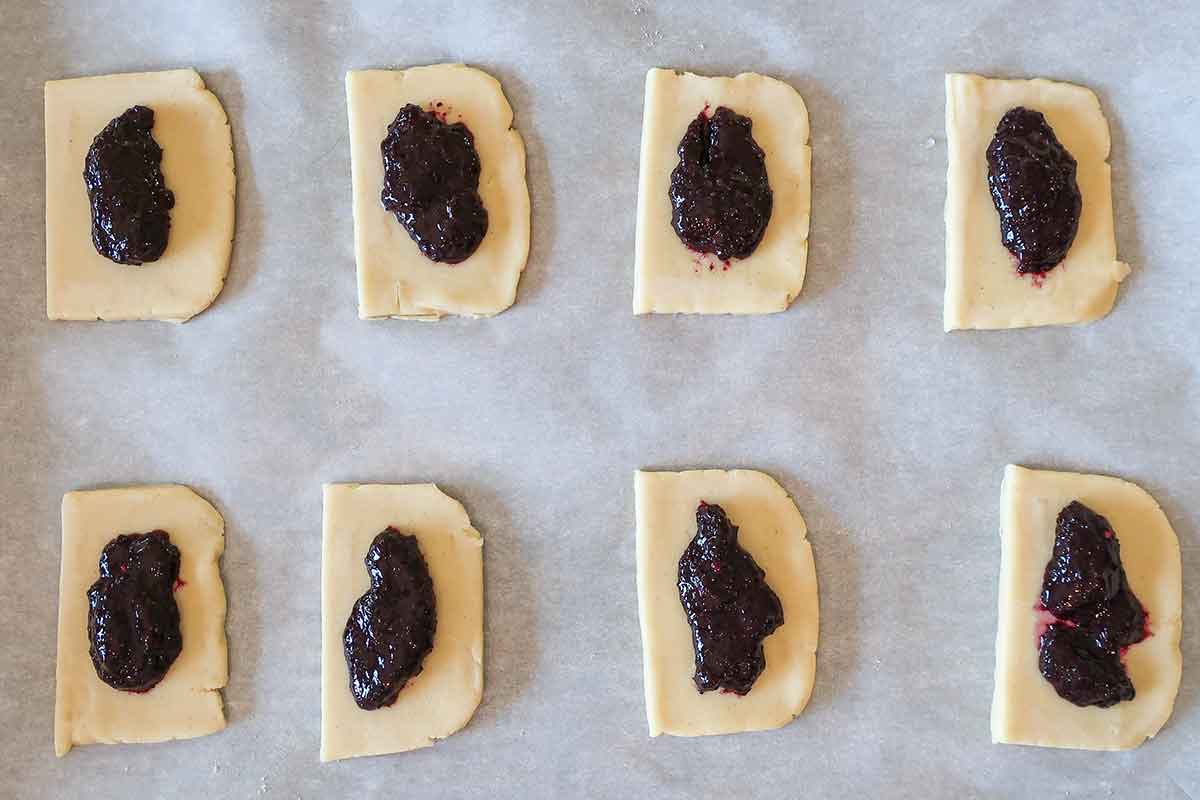 STEP SEVEN
Top each pastry with blueberry jam leaving a 1/2-inch border for sealing.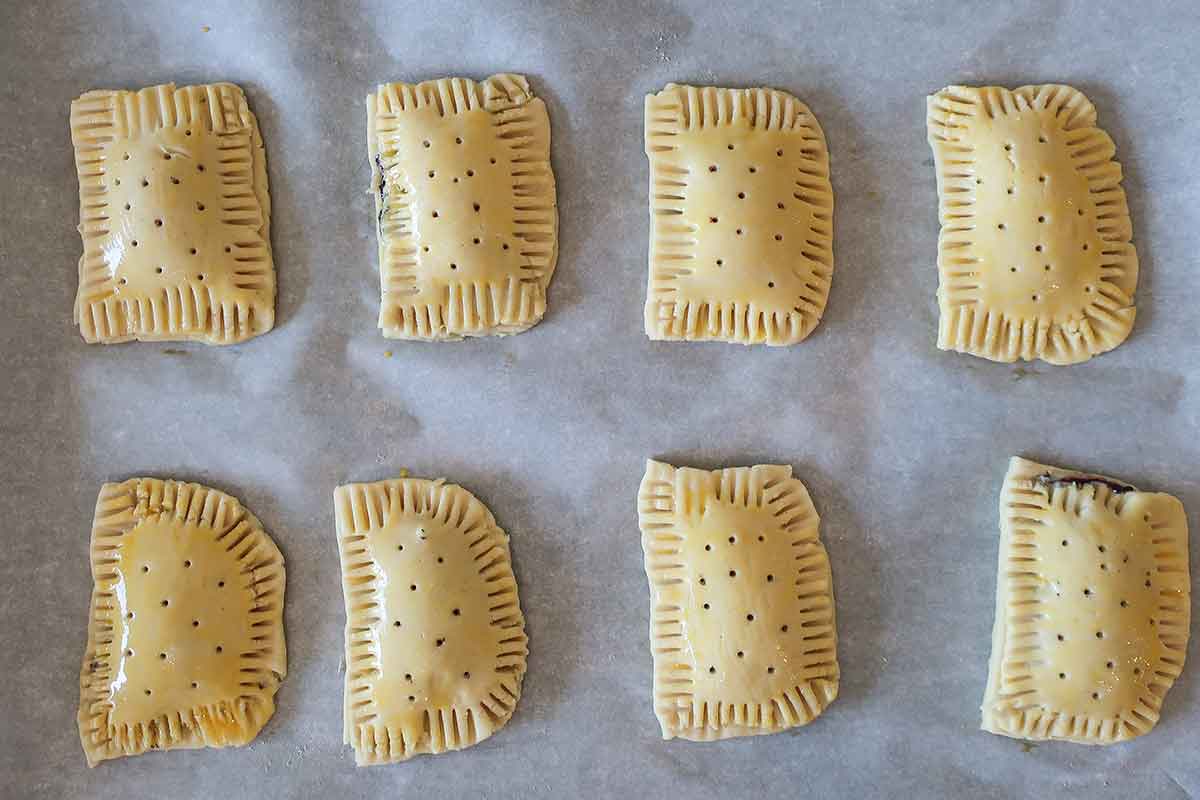 STEP EIGHT
Lay the other rectangle on top and, using a fork crimp the edges to seal the dough. Using a toothpick, poke a few holes in each pastry, then brush with egg wash.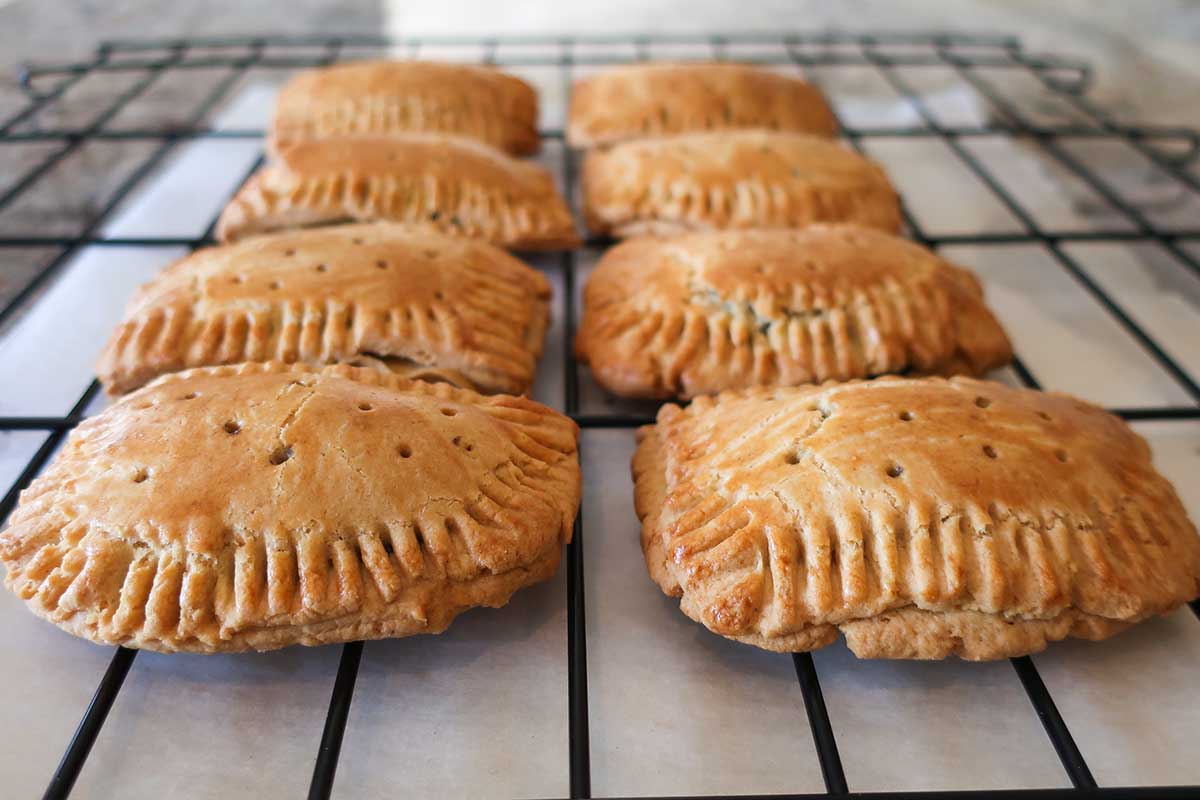 STEP NINE
Bake pop tarts for 15 – 18 minutes.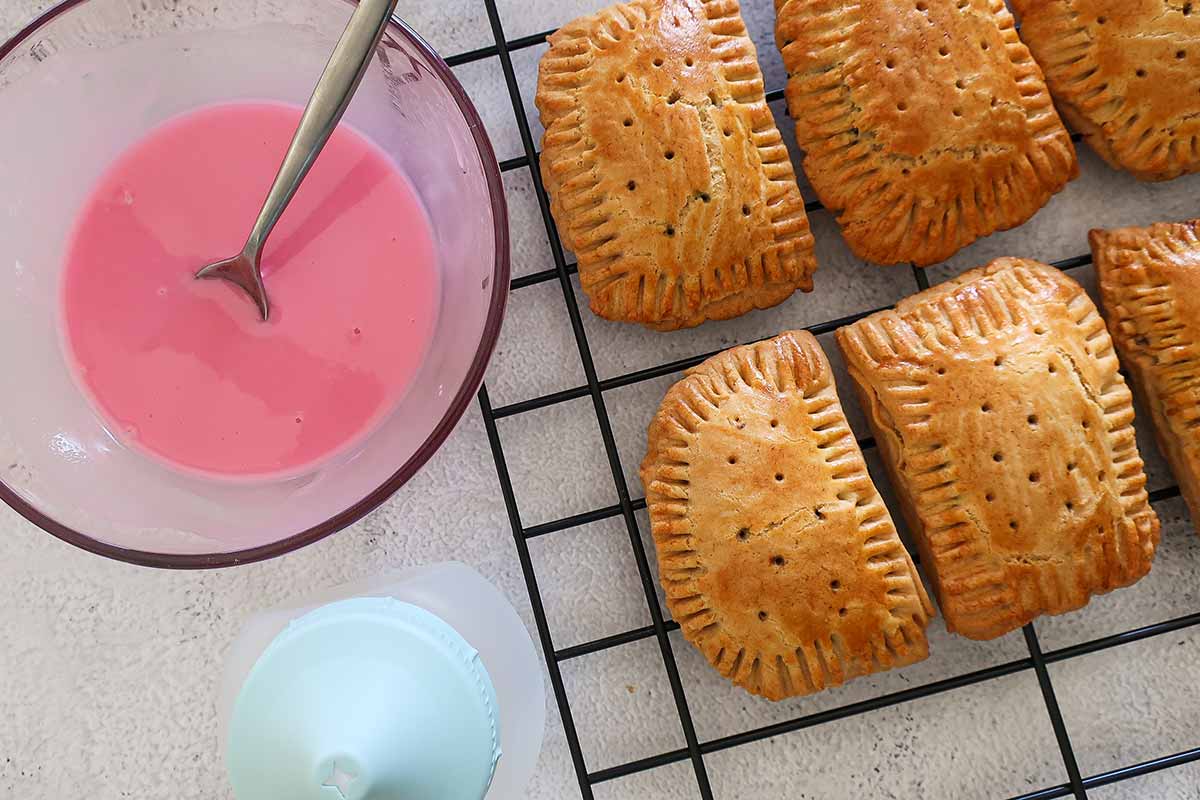 STEP TEN (OPTIONAL)
Glaze cooled pastries with blueberry glaze. I like to use a squeeze bottle for glazing.
storing
If you plan on eating your pop tarts within a day or two, store them at room temperature and cover them with a towel. In our house, they last only a day, haha.
However, if you want to keep them for longer than that, it's best to freeze them. To freeze the pastries, place them on a baking sheet in the freezer for 15 minutes, then wrap each individually in plastic wrap and put them in sealed freezer bags. They should last up to two months when stored properly in the freezer.
To thaw the pop tarts, remove them from plastic wrap and thaw them at room temperature. Then, reheat briefly in the oven for that fresh-out-of-the-oven taste.
Are you looking to make some homemade gluten free childhood favorites? Try some of these.
My take on gluten free pop tarts recipe.
Making gluten-free pop tarts is a fun and delicious way to enjoy a classic treat while accommodating dietary restrictions. Whether you choose the traditional strawberry filling or chocolate, you will find that there are endless possibilities for fillings and toppings that will satisfy even the pickiest eaters.
By following these tips and tricks, you will find that anything with gluten you can make gluten free that tastes even better, such as these gluten free pop tarts.
With some creativity in the kitchen, you'll enjoy this homemade timeless breakfast pastry in no time!
Let's connect
Meet Kristina. Passionate about creating delicious, innovative gluten free recipes, and author of two gluten free cookbooks, "Entertaining The Gluten Free Way" and "Small Bites The Gluten Free Way".
Be sure to FOLLOW US on FACEBOOK or, check us out on PINTEREST. And don't forget to sign up for our newsletter. We always have something new and exciting for you!
Many thanks!
Kristina x
Gluten Free Pop Tarts Recipe
Published on Apr 28, 2023
by
Kristina Stosek
Instructions
1.

2.

Place all the dry ingredients (flour to baking soda) into a food processor and mix to combine

3.

Add chilled butter and pulse until the texture looks similar to rice. Add the cream mixture and process until a dough forms. The mixture will start fairly dry, but after about 2 - 3 minutes, it forms a dough

4.

Wrap the dough with plastic wrap and place in the fridge for 30 minutes. You can also refrigerate it for up to 2 days, then when ready, bring it to room temperature for 2 hours before using

5.

6.

Preheat the oven to 400 F

7.

Divide the dough into equal halves

8.

Roll each half into an 8-inch log and cut it into 4 equal pieces. I used a ruler to do this

9.

Roll each piece into a 4 1/2 x 6-inch shape, then cut the rectangle into equal halves, giving you a 4 1/2 x 3-inch rectangle. Size is not important as long as both are the same

10.

Cover a large baking sheet with parchment paper and place half the rectangles on the baking sheet about 1/2-inch apart

11.

Spoon about 1 tablespoon of filling into the middle of each rectangle, leaving a 1/2-inch border around each rectangle for sealing. Don't put too much filling, or it will seep out

12.

Dip your finger in water and dampen the edges of the pastry. Lay the other rectangle on top and, using a fork crimp the edges to seal the dough. You can also use egg wash for this

13.

Using a toothpick, poke a few holes in each pastry, then brush with egg wash

14.

Bake for 15 - 18 minutes until they start to brown. Careful not to burn them, then transfer to a wire rack to cool

15.

- BLUEBERRY FILLING - Place everything to the same food processor as the dough and process until you form small grain-like pieces (no need to clean it first), then transfer into a saucepan and cook over medium heat, stirring often, until thickened. 2 - 3 minutes. Cool in the fridge before using

16.

FOR THE GLAZE, whisk powdered sugar with juice until smooth and drizzle over cooled pastry
Leave a Comment
The recipe is much easier than I thought it would be, and the pop tarts are better than the once I remember with gluten. A ***** 5 star recipe!
omg, these pop tarts are so good!
these pop tarts turned out so good and easy recipe too, thank you.