Gluten-Free Plum Skillet Country Cake
Published on Sep 01, 2018
by
Kristina Stosek
Prep Time:

15 minutes
Cook Time:

45 minutes
Serves:

8 slices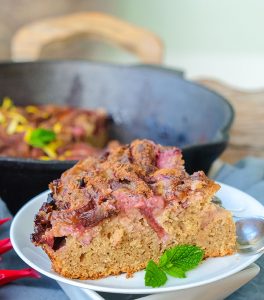 ​This post may contain affiliate links, please see our
privacy policy
for details
We are starting the summer on a high note! This gluten-free plum skillet cake is tender, moist and tasty, with a light cinnamon hue.
Unlike traditional coffee cakes, this cake is made with healthy buckwheat flour and topped with juicy plums flavoured with cinnamon.
This summer country cake is hard to beat and perfect for a special brunch or a healthy gluten-free snack!
Gluten-Free Plum Skillet Country Cake
Published on Sep 01, 2018
by
Kristina Stosek
Instructions
1.

Preheat oven to 375 F and spray an 8-inch cast-iron skillet with cooking oil. Lightly dust with gluten-free flour. If you don't have a cast-iron use ovenproof skillet

2.

Whisk together flours, baking powder, 1 teaspoon of cinnamon and salt

3.

In a separate bowl beat eggs, 1/2 cup coconut sugar and olive oil until creamy. Beat in milk and lemon extract. Add dry ingredients and stir to combine

4.

Pour batter into prepared skillet. Fan plums on top, sprinkle with 1 teaspoon of cinnamon and 2 tablespoons of coconut sugar

5.

Bake for 45 - 50 minutes until a toothpick inserted in the center comes out clean. Cool before cutting