Gluten-Free Mini Tourtiere
Published on Oct 28, 2022
by
Kristina Stosek
Prep Time:

30 minutes
Cook Time:

35 minutes
Serves:

9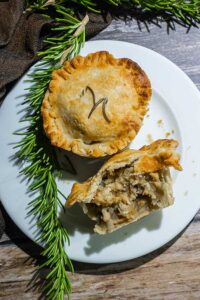 ​This post may contain affiliate links, please see our
privacy policy
for details
This mini tourtiere is a French Canadian meat pie made with the most delicious spiced meat and potato filling baked in a flaky gluten-free shortcrust pastry. The meat pie is so good! The best part is you can't tell the tourtiere is gluten-free.
meat pie vs tourtiere
Is it a meat pie or a tourtiere? Both are meat pies. A meat pie is made with spiced ground meat filling baked in a flaky double crust. A tourtiere is a meat pie that uses more than one kind of meat and often includes potatoes. To me, they are both meat pies.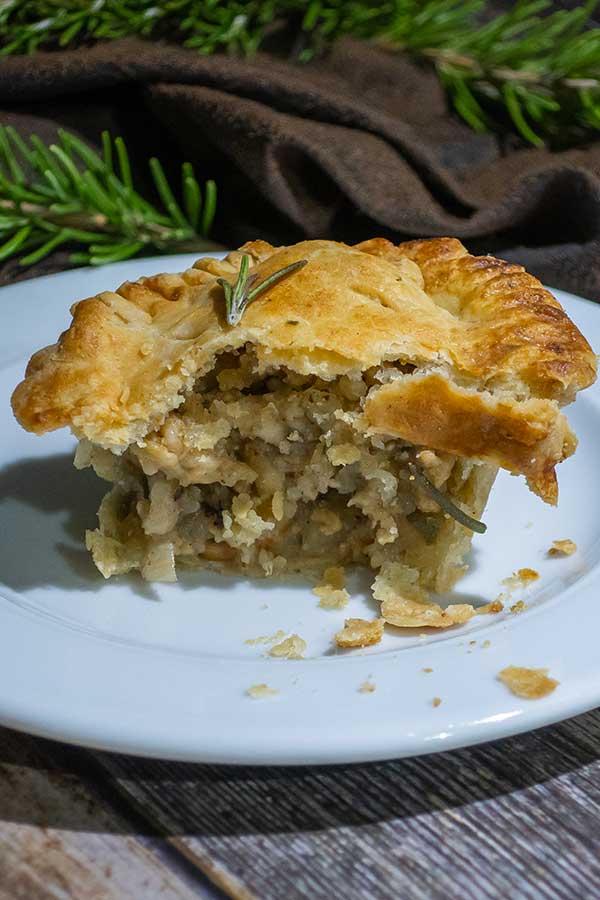 What is a mini tourtiere?
It is a small handheld meat pie filled with a savory ground meat mixture and then covered in a pastry crust. This type of pie is popular in the UK, Australia and New Zealand, and they are often served as a snack or appetizer.
A tourtiere is a traditional French Canadian meat pie served around Christmas and New Year. However, because these savory pies are so popular, they are often eaten for lunch or dinner with an added side of salad or vegetables.
easy meat pie recipe using a muffin pan
The best way to shape mini pies is to use a muffin pan. It makes individual meat pies that are the perfect size.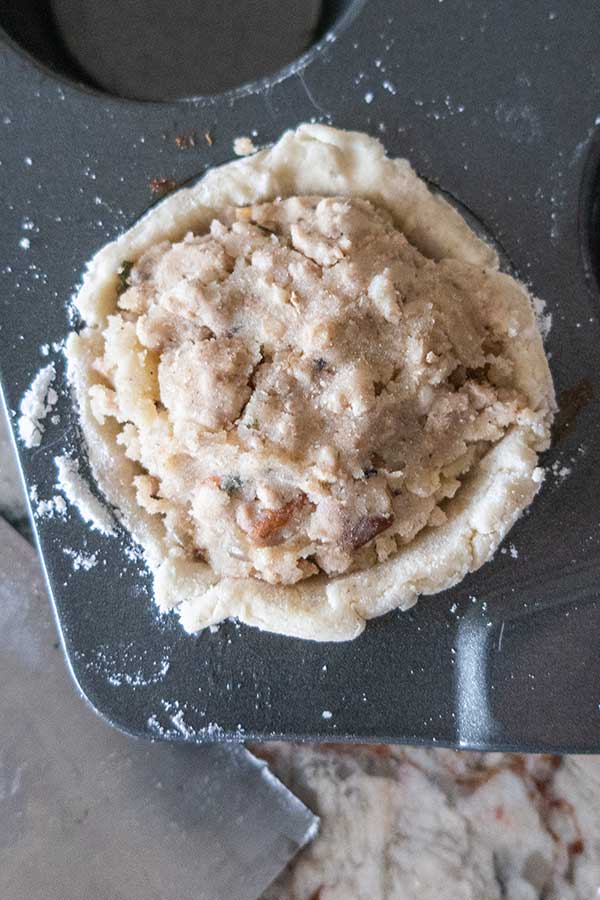 The key to making perfect mini meat pies is to get the proportion of filling to crust just right – you want enough filling to make the pies satisfying but not so much that they become difficult to eat.
the best meat for gluten-free mini tourtiere
When it comes to meat pies, there are a lot of different options out there. But which type of meat is the best for making a meat pie?
There are a few factors to consider when choosing the best type of meat for your pie. First, you must decide what flavor you want your pie to have. Do you want it to be rich and savory, or light?
Next, you need to consider the texture of the meat. You want the filling to be moist but not too wet or mushy.
The best meats for meat pies are usually ground or minced, as they hold together well and don't get too soggy when cooked. Some good meat options include beef, pork, lamb, chicken, turkey, and veal.
Chicken or turkey will be a good choice if you're looking for a leaner option. However, for a richer flavor, beef or lamb would be better. And if you want a hearty pie, go for pork!
We found that the best combination of meats is pork and beef for the best flavour and richness.
Do you have to use ground meat in a tourtiere recipe?
No, the meat does not have to be ground. However, ground meat will cook faster.
If you do use cubed meat, make sure it is cut into small cubes, and you must cook the meat until tender before filling the pastry.
This means that you will have to add a small amount of liquid and cook it covered as a stew. In the end, remove the lid and cook until most liquid evaporates. However, since this is a mini tourtiere, I recommend using ground meat.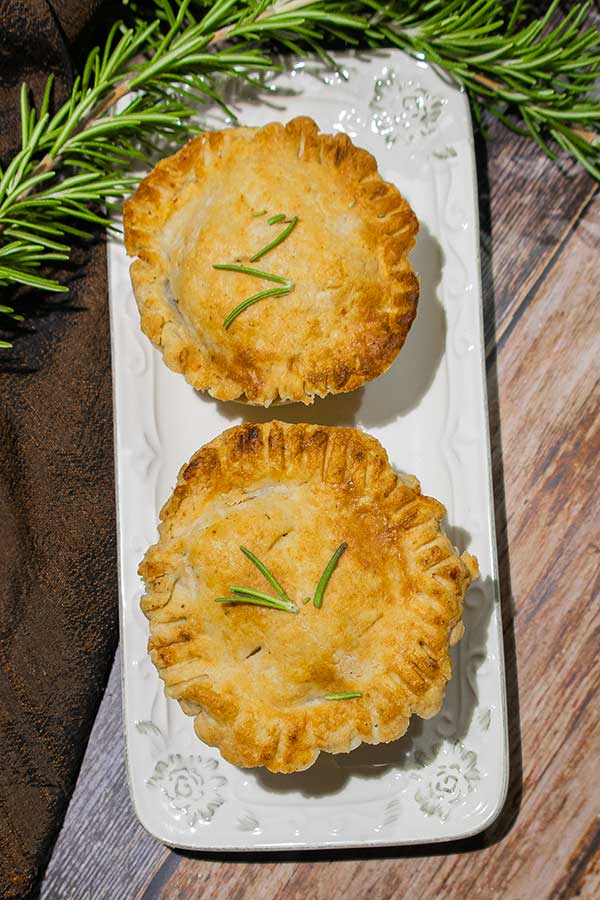 the best temperature for baking gluten-free mini tourtiere
The best temperature to use is 375 degrees Fahrenheit. This moderate temperature will ensure that your crust is flaky and golden.
However, if your crust is browning too quickly, loosely cover the mini pies with foil paper, the shiny side facing out.
Why are mini pies more popular than regular pies?
In general, people tend to prefer miniaturized versions of things over their regular-sized counterparts. This is likely because minis are seen as cuter and bite-sized, making them more appealing and easier to eat.
Additionally, since mini pies are smaller, they are easily packed for lunches or served at large gatherings.
best spices for meat pie recipe
A few key spices bring out the flavor of a meat pie. However, when it comes to the meat, you'll want to use a combination of ground beef and pork for the best flavor.
To season the meat, there are many options. Our favorites are sage, cumin, oregano, marjoram, thyme, paprika, garlic powder, black pepper and rosemary.
How to make the pastry tops shiny and golden?
Gluten-free shortcrust pastry does not bake to a golden color. This is why brushing the pastry with an egg wash is essential to add golden color and make the tops glossy and pretty.
Egg wash can be made with egg yolk, whole egg, or heavy cream. For gluten-free shortcrust pastry, the best egg wash is a combination of an egg yolk beaten with 1 teaspoon of water.
The whole egg and heavy cream also work, but they will not give you that beautiful glossy golden colour.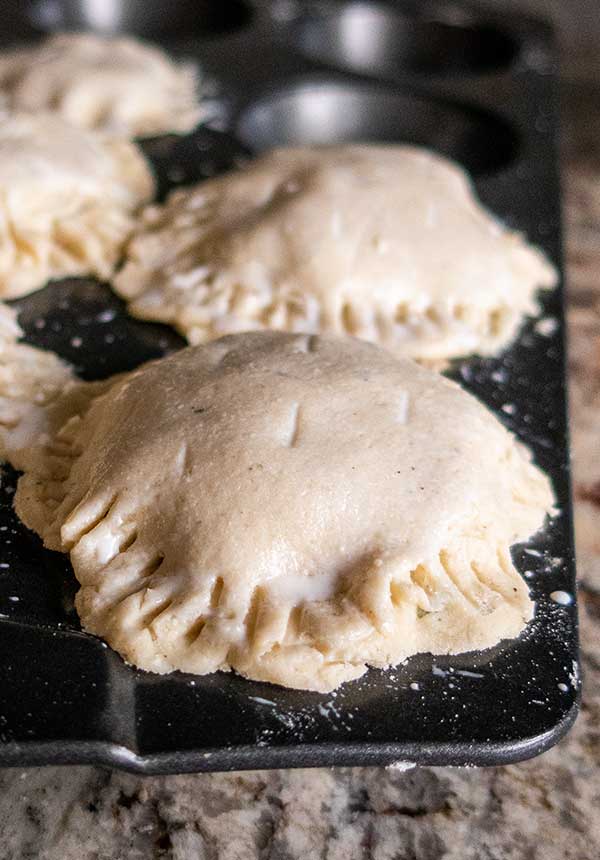 Can you freeze gluten-free pie before baking?
Yes, you can freeze gluten-free pie before baking it. This is a great way to ensure you have a delicious pie ready to bake when you want it.
First, wrap the muffin pan with the pies tightly with cling wrap. Then freeze in the pan. When ready, thaw the pastry before baking, or it will not cook evenly. Just before baking brush with egg wash.
Can you make the mini tourtiere in advance, and bake it the next day?
Yes, you can. First cover the muffin pan with plastic wrap or foil so it doesn't dry out, and always preheat your oven before baking. Always brush the tops with egg wash just before baking.
If you have leftovers, you can reheat them in the microwave or oven.
Serve warm or at room temperature?
When it comes to serving a tourtiere, you have few options. You can enjoy warm pies right out of the oven or at room temperature.
Our recommendation is always to serve the meat pies warm.
best sides to mini tourtiere
Regarding meat pies, there are endless possibilities for delicious sides. Here are some of the best sides to accompany your mini meat pies:
1. Yam And Sweet Potato Mash – a healthy side dish that goes great with meat pies. Make it plain or flavoured with herbs or cheese.
2. Green Beans with Maple Bacon – a tasty side dish with smoky flavor that pairs well with meat pies.
3. Roasted Fennel With Carrots – carrots are another nutritious vegetable that goes well with meat pies. They can be cooked in many ways and offer a sweetness that compliments the savoury pies.
4. Roasted Butternut Squash – squash is always a favourite and delicious when paired with meat pies. It can be boiled, grilled, or roasted and provides a lovely sweetness and crunch to the meal.
5. Salad – if you're looking for a lighter option to serve alongside your mini meat pies, a salad is always a good choice.
storing gluten-free shortcrust pie
The best way to store leftover mini tourtiere is in the fridge. Put them on a plate or in a Tupperware container, cover them with cling film or a lid, and they will last in the refrigerator for 2-3 days.
You can also freeze cooked mini meat pies, and they will keep for 2-3 months. To reheat, pop them in the oven (180C/350F) for 10-15 minutes or until heated.
In conclusion, this mini meat pie recipe is a great way to enjoy a delicious and nutritious meal without worrying about gluten. The recipe is also straightforward, so you can make these pies in no time, even if you are a novice cook.
Let's Connect!
Be sure to FOLLOW US on FACEBOOK and PINTEREST.
Many thanks!
Kristina xx
Gluten-Free Mini Tourtiere
Published on Oct 28, 2022
by
Kristina Stosek
Instructions
1.

2.

In a large bowl, whisk together flour, xanthan gum and salt

3.

Grate the butter into the bowl. (I use the large blade on a cheese grater). Mix the flour with a fork to coat the butter. Then, using your fingers, rub the mixture until it resembles coarse bread crumbs

4.

Beat the egg with 2 tablespoons of cold water and add it to the mix. Use your hands to bring the mixture together until you form a ball. If the mixture is still crumbly, add 1 tablespoon at a time of cold water until the dough is pliable

5.

Form the dough into a disc and wrap it with cling wrap. Refrigerate for 30 minutes.

6.

THE FILLING; Meanwhile, prepare the filling. Add the oil, meat and shallots into a large hot skillet and season with salt and pepper. Cook over medium high heat, breaking up any lumps

7.

Add the spices and 2 tablespoons of water and cook 1 more minute. Remove from the heat and stir in mashed potatoes until combined. Set aside to cool before using.

8.

When ready, preheat the oven to 375 F

9.

Place the dough on a floured working surface, sprinkle it with GF flour and cover it with parchment paper. Using a rolling pin, roll the dough out to about 1/4-inch thickness. Then cut 9 circles out using a 3-inch biscuit cutter. Once you have the circle, roll it out some more until it is relatively thin, using flour as needed. Place the circles into a greased muffin pan. It should cover the base and sides. Use your fingers to press the pastry into shape and cut off any excess

10.

Using a cookie scoop or a large spoon, divide the meat mixture evenly between the cups

11.

Using the remaining dough, bring it together until you form a disc. Divide into 9 balls, then roll each into lids big enough to top the pies, about 3 inches in diameter. Press the edge over the cups and crimp them together. Cut off any excess. 

12.

Using a sharp knife, cut a couple of slits in the tops and brush with egg wash. Bake for 35 minutes or until golden

13.

Once baked, remove from the pan and set on a wire rack to cool or serve straight out of the oven
Leave a Comment
Kristina
Abbie, 35 minutes or until golden
Sounds nice, but there's no baking time? So I don't know how long to bake it for