Gluten-Free Milk Chocolate Truffle Brownies
Prep Time
15 Minutes
Difficulty
Easy
Cook Time
30 Minutes
Serves
16
Average Rating: 5 | Rated By: 9 users
Just in time for the holidays with something sweet and delicious such as these Gluten-Free Milk Chocolate Truffle Brownies. Freshly baked, fudgy, crinkle brownies topped with the most delicious nut truffle ganache…yes, this brownie is all about the CHOCOLATE Truffle topping.
Sweet and delicious with plenty of chocolate because this is the season for sweetness and a little indulgence. The Gluten-Free Milk Chocolate Truffle Brownies are easier to make than you may think, and they are guaranteed to be a huge hit….if you love chocolate.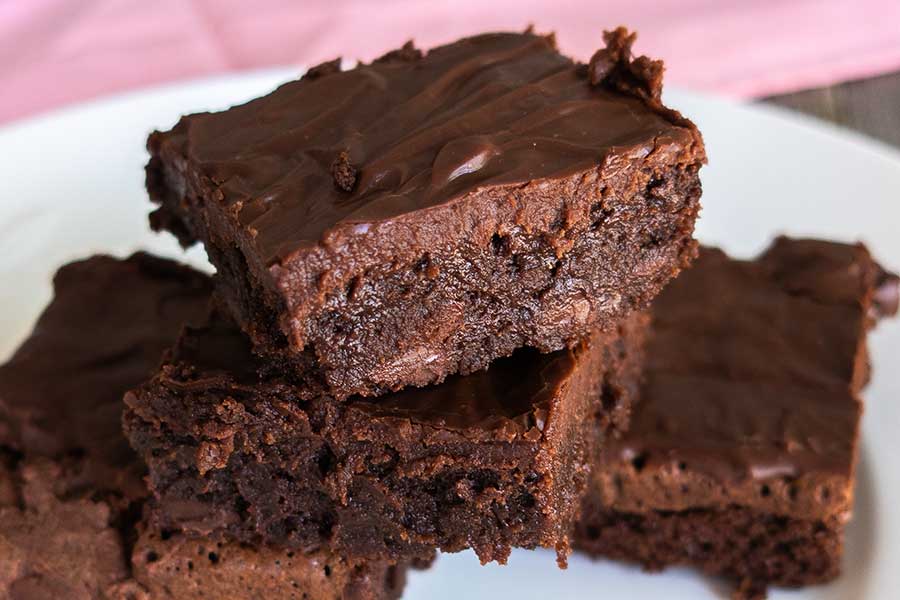 What are truffle brownies?
There is so little time left before Christmas, and this is why I wanted to share only the best of the best desserts for the whole family.
This version of a gluten-free brownie recipe is extra special. The brownie is lighter on chocolate but heavier on truffle topping.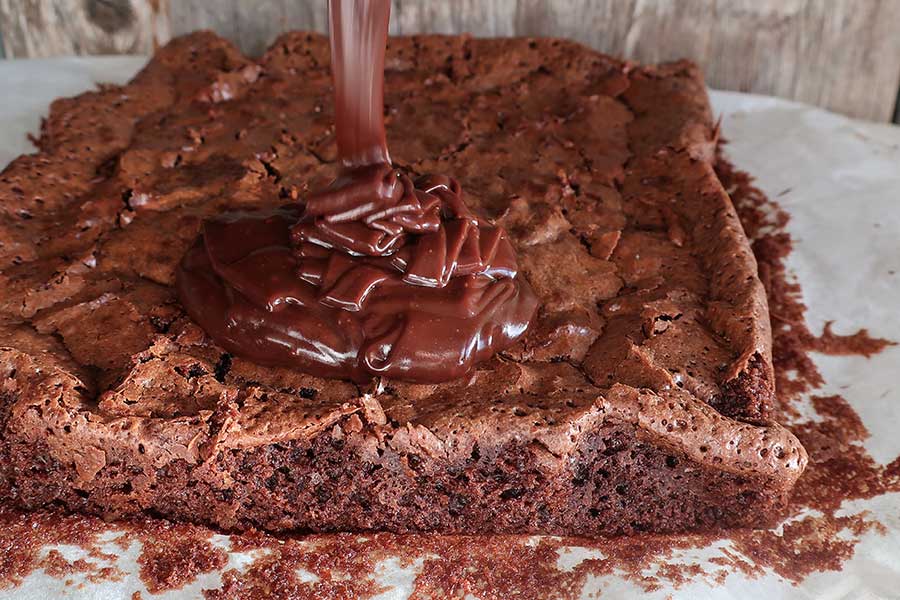 truffle brownies overview
The gluten-free brownie has a crinkle kind of texture, perfect for filling with a creamy nut truffle sauce. The truffle topping is especially decadent and ever so delicious.
The best part, the 10-ingredient brownies are super easy to make, and the truffle topping is a chocolate sauce mixed with your favourite nut butter.
Are Chocolate Chips Gluten-Free?
I often get asked, are chocolate chips gluten-free? This gluten-free brownie recipe is made with chocolate chips, and I wanted to share some of my findings on chocolate chips.
First, most chocolate chips on the market today are gluten-free. I found that Nestle, Hershey's and Enjoy Life brands of chocolate chips are gluten-free.
However, I always recommend reading the labels because ingredients may change. For example, Nestles butterscotch chocolate chips are not gluten-free.
With the busy holidays ahead, I wanted to share a gluten-free dessert that is simple to make and one that the entire family will love. If you are a chocolate lover…and who isn't, these Gluten-Free Milk Chocolate Truffle Brownies will be a huge hit.
This gluten-free brownie recipe is not about perfection – it is about melt in your mouth deliciousness! Enjoy!
Do you need more gluten-free chocolate holiday desserts? Here are our most favourite chocolate desserts —
2 Layer Grain-Free Chocolate Cake (nut-free)
Gluten-Free Chocolate Blackberry Pie
Gluten-Free Chocolate Banana Bundt Cake with Coffee Walnut Glaze
Let's Connect!
Be sure to FOLLOW US on FACEBOOK and PINTEREST.
Many thanks!
Kristina xx
Ingredients
1 1/2 cups salted butter
3/4 cup coconut sugar or sweetener of choice
1 Tbsp. Rum (optional)
2 tsp. Pure vanilla extract
3 large eggs, at room temperature
2 Tbsp. Pure cocoa powder
1/2 tsp. GF baking powder
TRUFFLE TOPPING
3/4 cup GF milk chocolate chips
1/4 cup heavy cream
3 Tbsp. Nut butter (almond, peanut, walnut, hazelnut, chestnut)
*As an Amazon Associate and member of other affiliate programs, I earn from qualifying purchases. Please check out my sponsorship and disclosure policy page for more details
Instructions
Preheat oven to 350 F and line a 9 by 9-inch baking pan with parchment paper
Using a double boiler, melt together butter and 1 cup of chocolate chips until smooth
Remove from the stove and stir in sugar, rum (if using) and vanilla, until the sugar has dissolved.
In a separate bowl, using an electric mixer, whisk the eggs for 1 minute. Stir the eggs into the chocolate mixture
Add flour, cocoa powder and baking powder and mix to combine. Stir in remaining 1/2 cup chocolate chips
Pour the mixture into prepared baking pan and bake for 30 minutes. Until the center is just set. Set aside to cool
TRUFFLE TOPPING
Using a double boiler, melt together chocolate chips with cream until smooth. Stir in nut butter and pour over the brownies. Using a knife, spread the truffle topping evenly over the top
Allow the brownies to set for at least 2 hours at room temperature. Enjoy!
Similar Recipes
Chocolate Filled Cupcakes (Gluten-Free, Egg-Free)
Very Best Gluten-Free Chocolate Filled Cupcakes. It is not very often I will make this statement. Chocolaty, moist, and filled with freshly made chocolate sauce. A chocolate cupcake for chocolate lovers! I believe you can't have too much chocolate, especially when the chocolate is freshly made.  And let's be honest, everyone should have a chocolate […] Read More
Prep Time
20 Minutes
Difficulty
Intermediate
Cook Time
25 Minutes
Serves
12
Flourless Chocolate Ganache Mini Cake
For chocolate lovers, it does not get any better than this flourless chocolate ganache mini cake! When following a gluten-free diet, making flourless desserts can sometimes be challenging. This grain-free mini cake recipe is one of my favourites because it is super easy to make, and the dessert is sooo delicious!     flourless chocolate […] Read More
Prep Time
15 Minutes
Difficulty
Easy
Cook Time
25 Minutes
Serves
6