Gluten Free Easiest Baked Quesadilla
Published on Jun 02, 2015
by
Kristina Stosek
Prep Time:

20 minutes
Cook Time:

30 minutes
Serves:

6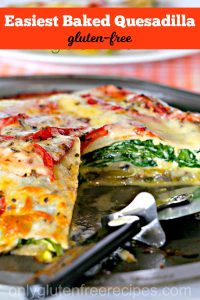 ​This post may contain affiliate links, please see our
privacy policy
for details
You will love this Gluten-Free Easiest Baked Quesadilla. Think three different layers…sautéed onions, bell peppers and mushrooms, then garlicky ricotta, mozzarella and spinach. And for the final layer, a topping made with fresh tomatoes, fresh basil and melted mozzarella. 
This gluten-free quesadilla meal is great because it is quick and hearty for any night of the week. Quesadilla is known to be a Mexican dish, but I combined the gluten-free tortillas with an Italian twist. Sort of like Mexico meets Italy. 
♥

The baked quesadilla details.
The quesadilla is stuffed with enticing layers and then baked. Starting with a typical Mexican mix of sautéed vegetables like onions, bell peppers and mushrooms and topped with cheese. The second layer is made with creamy ricotta and spinach filling seasoned with garlic, a hint of nutmeg, cloves and baby spinach throughout. The creamy ricotta layer would be the Italian half, you know, sort of a lasagna layer. For the topping, again Italian. Tomatoes, basil and gooey yummy mozzarella topping. Once the quesadilla is baked, everything melts together, and it is so tasty.
The gluten-free baked quesadilla is served warm as an entree, maybe add a light green salad if you like. However, it makes a hearty snack any time of the day. If you have any leftovers, they are great the next day, and you don't even have to re-heat the quesadilla. However, I would bring the quesadilla to room temperature. You can also add it to your lunch box or have a piece when the hunger kicks in. You will be hooked after the first bite!
If you are unsure whether you prefer Mexican or Italian food, check our selection of gluten-free Mexican and Italian recipes. I am sure you will find something that may inspire you or become one of your favourite meals. If you would like to make the tortilla from scratch, check out this gluten-free tortilla recipe
If you do make this recipe, don't forget to tag me on Instagram! I love looking through the photos of recipes you all have made:-) or join me on my Facebook page!
Gluten Free Easiest Baked Quesadilla
Published on Jun 02, 2015
by
Kristina Stosek
Instructions
1.

2.

Heat olive oil over medium heat in a non-stick pan. Add peppers, mushrooms and green onion and stir-fry for 3 minutes. Remove from the heat and season with salt

3.

Combine ricotta, eggs, nutmeg and garlic in a large bowl and vigorously mix. Fold in spinach and 1 cup of mozzarella, and mix to combine

4.

Place one tortilla on a 12-inch pizza pan and top with pepper mixture. Scatter with 1 cup of mozzarella. Add another tortilla and top with spinach mixture. Add another tortilla and top with tomato, basil and remaining mozzarella cheese

5.

Bake for 25 – 30 minutes or until cheese is golden

6.

Rest for 10 minutes before slicing