Easy Gluten-Free Tortilla Recipe
Published on Apr 20, 2019
by
Kristina Stosek
Prep Time:

5 minutes
Cook Time:

4each minutes
Serves:

4 - 6
​This post may contain affiliate links, please see our
privacy policy
for details
Without question, this is the easiest gluten-free tortilla recipe – tortilla is an unleavened, thin flatbread served with a savoury filling. Typically tortilla is made from wheat or corn and is undeniably a staple in Mexican cuisine. The tortilla varies in sizes; larger for burritos and smaller for tacos, it all depends on what you are making.
Best and easiest gluten-free tortilla recipe!
This tortilla tastes authentic, and it is soft and easily folded. When I decided to create this gluten-free tortilla recipe, I also wanted the tortilla to be healthier than one made from just wheat or corn flour
What's in this tortilla recipe that makes it healthier?
To keep this recipe on the healthier side, I used two flours, millet and chickpea flour. Both flours are enriched with the goodness of nature. They are an excellent source of fiber, iron, protein, calcium zinc and minerals. However, it is the millet flour that adds that authentic Mexican flavour and makes this recipe into perfect gluten-free tortillas.
What I love about this gluten-free tortilla recipe is not only that it is healthier than a typical Mexican tortilla but, all you need is three ingredients, with the addition of salt and water.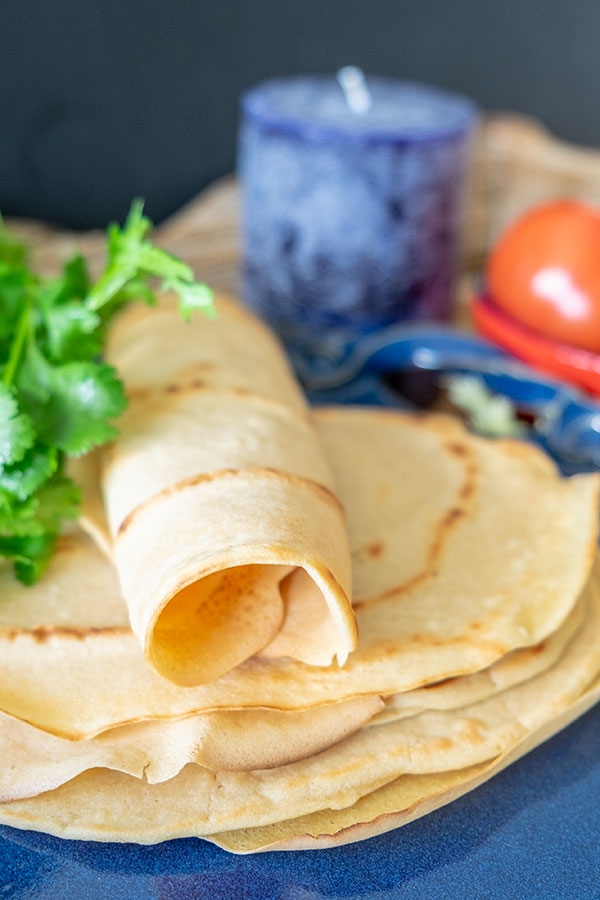 How to serve this soft, thin flatbread?
There are many ways you can use the flatbread in recipes. One of my favourites is the quesadilla, such as the Black Bean Quesadilla. Burritos are also extremely popular, such as the Gluten-Free Baked Vegetarian Burrito. This burrito is made with leftover rice and without beans. YUM!
But don't stop there, you can make pizzas, wraps, or cut the tortilla into small pieces and bake them until you reach desired crispness and use them like chips with dips. This is why this versatile flatbread is so prevalent in Mexican cuisine.
Love Mexican food? Then you must check out these gluten-free Mexican recipes 🙂
Easy Gluten-Free Tortilla Recipe
Published on Apr 20, 2019
by
Kristina Stosek
Instructions
1.

Using a large bowl whisk together flours and salt

2.

Add water and whisk until creamy

3.

Pour about 1/3 cup of batter into a non-stick pan. There is no oil needed because they will not stick. Cook for three minutes over medium heat, then flip the tortilla and cook for one more minute

4.

Note; if you are using the tortilla for a wrap or burrito use 1/2 cup of batter. If you are using the tortilla for a pizza do not spread the batter in the skillet leaving it a bit thicker. If you want to make tortilla chips, cut the cooked tortilla into pieces and bake at 375 F for a few minutes until you reach desired crispness.
Leave a Comment
Kristina
it may work, however I have not tried it with only millet flour
Can I just use 1 cup of millet flour if I don't have chickpea flour?
Kristina
thank you Nancy for sharing, I love the idea of more cumin
These tortillas were delicious. I added a little bit more water to the recipe because I wanted them thin and crunchy but for making tortillas, the consistency was perfect. I also added a little bit of cumin powder to the recipe so I could just cut them up and eat them as a snack.
Kristina
You can make them ahead, wrap them in foil and refrigerate.
Curious if I make ahead as to how to save them. Or, are they only good if made and eaten right away? Thanks!