Easy Gluten-Free Tortilla Recipe
Prep Time
5 Minutes
Difficulty
Easy
Cook Time
4 each Minutes
Serves
4 - 6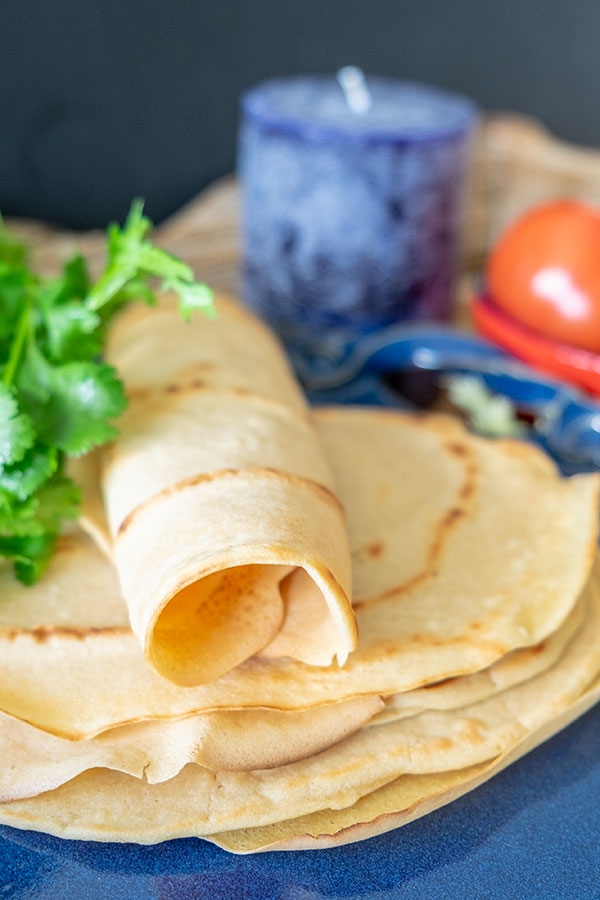 Be the first to rate this recipe.
There is no better and easier gluten-free tortilla recipe than this. The tortillas taste is authentic, they are soft and easily folded. When I decided to create this gluten-free tortilla recipe, I also wanted the tortilla to be healthy. I used millet, and chickpea flour both are enriched with the goodness of nature. They are an excellent source of fiber, iron, protein, calcium zinc and minerals. It is the millet flour that adds that authentic flavour and makes these into perfect gluten-free tortillas. Did I mention that all you need is 3 ingredients plus salt and water and no oil? How wonderful is that 🙂 I hope you enjoy them as much as my family does. You can use them for a quesadilla, soft taco, pizza, wrap, burrito or make them into chips for dips. Enjoy!
Ingredients
1/2 cup tapioca flour/starch
1/4 tsp. Himalayan salt
1 cup + 2 Tbsp. water
Instructions
Using a large bowl whisk together flours and salt
Add water and whisk until creamy
Pour about 1/3 cup of batter into a non-stick pan. There is no oil needed because they will not stick. Cook for three minutes over medium heat, then flip the tortilla and cook for one more minute
Note; if you are using the tortilla for a wrap or burrito use 1/2 cup of batter. If you are using the tortilla for a pizza do not spread the batter in the skillet leaving it a bit thicker. If you want to make tortilla chips, cut the cooked tortilla into pieces and bake at 375 F for a few minutes until you reach desired crispness.
Similar Recipes
Gluten Free Tortilla Vegetarian Pizza
This gluten-free vegetarian tortilla pizza is made up of three tortilla layers. The layers are filled with peppers, mushrooms, cheesy spinach stuffing and fresh tomatoes. This gluten-free tortilla pizza puts a twist on a classic. Serve warm as a main or a snack. The pizza is especially delicious without re-heating the following day […] Read More
Prep Time
20 Minutes
Difficulty
Moderate
Cook Time
30 Minutes
Serves
6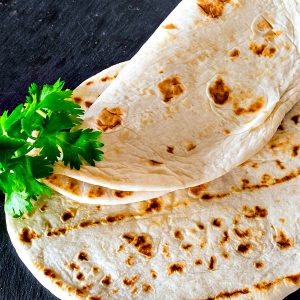 Gluten Free Naan Bread Recipe
Naan bread is an Indian-style flatbread that is soft and served with Indian curry dishes and dips. This amazing gluten free naan bread version is fairly easy to make as long as you allow time for the dough to rise. I especially love to incorporate naan bread with hearty soups or stews; the bread is […] Read More
Prep Time
30 Minutes
Difficulty
Intermediate
Cook Time
30 + 2 hr rising Minutes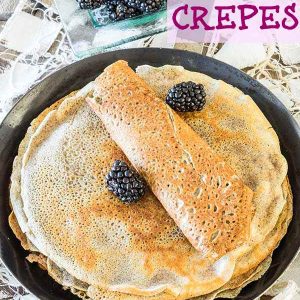 Gluten Free Easy Buckwheat Crepe Recipe
Gluten-Free buckwheat crepes can be served with a sweet or savoury filling. The tasty crepes are ultra-thin pancakes that are low in calories. Serve them up with yogurt and berries for breakfast or spinach with cheese for lunch or light dinner. The delicious crepes are satisfying and light with a mild nutty flavour. One of […] Read More
Prep Time
5 Minutes
Difficulty
Easy
Cook Time
35 Minutes
Serves
10-12 crepes