Gluten-Free Crispy Baked Ranch Chicken
Published on May 22, 2021
by
Kristina Stosek
Prep Time:

20 minutes
Cook Time:

35 minutes
Serves:

8 pc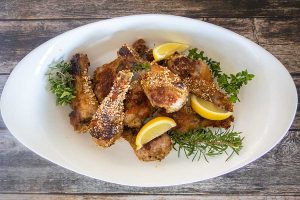 ​This post may contain affiliate links, please see our
privacy policy
for details
Keeping this weekend fun and easy in the kitchen with this Gluten-Free Crispy Baked Ranch Chicken recipe. Tender chicken coated with homemade ranch crumbs, oven-baked, then drizzled with fresh lemon juice. This chicken is for grown ups and kids alike. And not only is the chicken extra delicious but also healthier because the chicken is baked, not fried. Serve with baked crispy sweet potato fries or a zesty vegan summer potato salad for an easy dinner that's packed with flavour.
the ingredients…
Crispy ranch coating made with gluten-free puffed rice, parmesan cheese and homemade gluten-free ranch seasoning is what makes this chicken so different. I know the list of ingredients is long, but it is all about the spices. I bet you have most of them in your pantry already. The recipe itself is pretty easy.
If you check out some of my chicken recipes, you'll find the gluten-free chicken nuggets or the gluten-free chicken schnitzel or check out our complete list of gluten-free chicken recipes. You will find several delicious gluten-free chicken recipes. For some reason, at my house, chicken is always popular.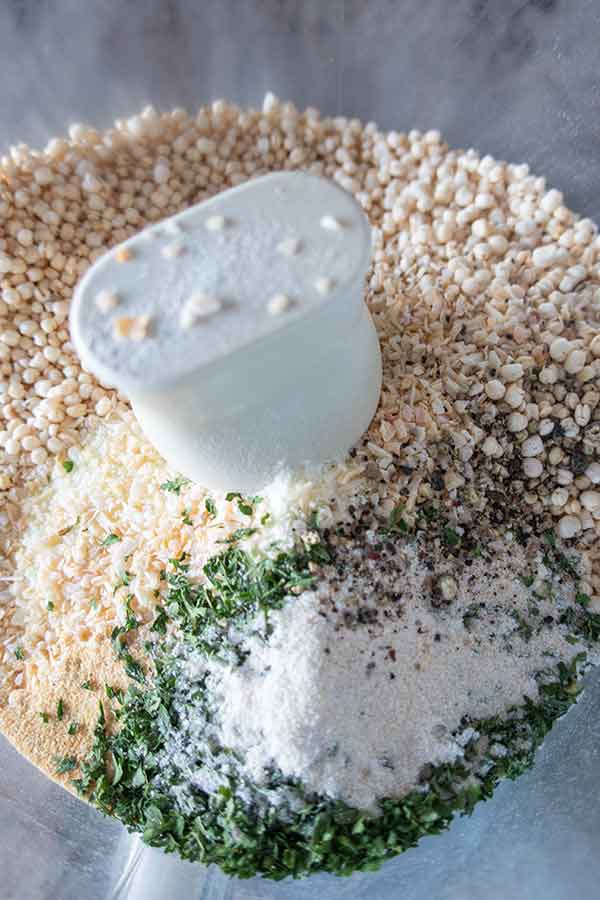 the steps…
First, make the ranch coating. This recipe is not made with bread crumbs. I thought I would try something different, so I used puffed rice. To make the ranch crumb mixture, place all the ingredients into a food processor and pulse until the mixture resembles bread crumbs—nothing to it.
next…
Now prepare the chicken. The chicken is dipped in egg whites for the crumbs to adhere to the chicken, then rolled in the ranch crumb mixture and baked. Nothing to it!
If you want to keep dinner simple, add your favourite gluten-free dipping sauce and enjoy the flavourful crispy baked chicken pieces as finger food.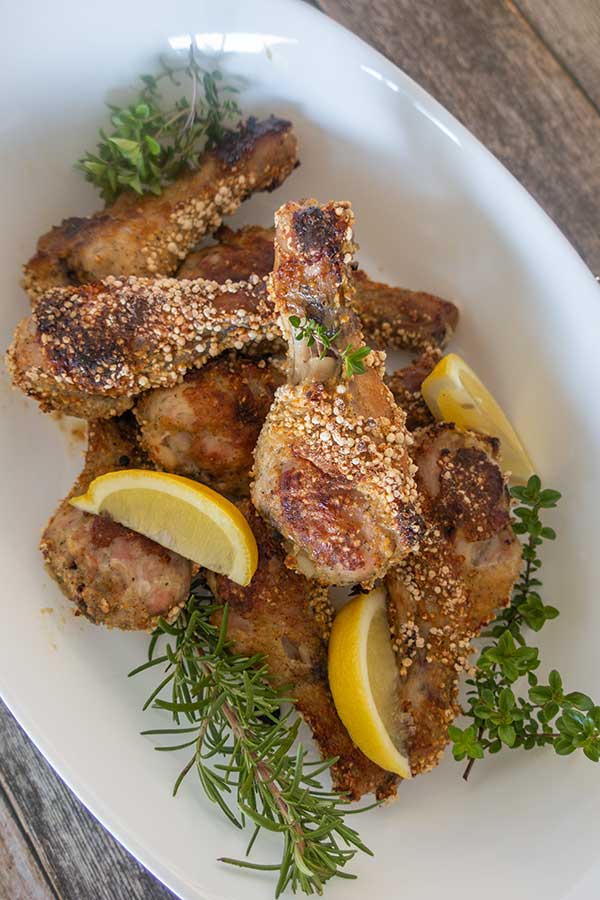 what I love about this crispy baked ranch chicken…
The gluten-free ranch coating is extra crispy and super flavourful, and it is a nice switch up from roast chicken. But what I love even more is how simple this gluten-free recipe is, making weekend cooking easy.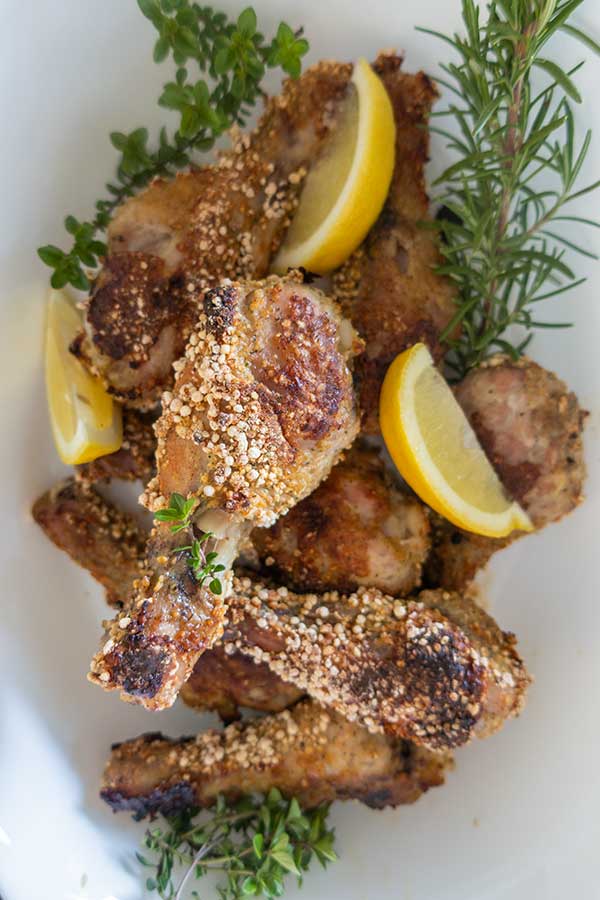 This is a family-friendly extra special chicken dinner recipe that is healthier than fried chicken and is just as delicious. If you want to keep younger kids happy, serve it up with gluten-free creamy macaroni and cheese made in an instant pot. You can't go wrong with two of their favourite foods. Enjoy!
Gluten-Free Crispy Baked Ranch Chicken
Published on May 22, 2021
by
Kristina Stosek
Instructions
1.

Preheat oven to 400 F and spray a rimmed baking sheet with cooking spray

2.

Place crumb ingredients into a food processor and pulse until the mixture resembles bread crumbs

3.

Using two bowls in one bowl, whisk together the egg whites. Place the ranch crumbs in the second bowl

4.

Using a paper towel, dry the chicken pieces. Dip each piece in the egg whites, and dredge through the ranch crumbs, pressing gently to adhere. Place on the prepared baking sheet. Repeat until all the chicken has been coated. Make sure not to crowd the pan. Lightly spray the chicken with cooking oil or brush with olive oil

5.

Transfer to the oven and bake for 35 - 40 minutes until the chicken is cooked through. The internal temperature of the chicken should be 165 F

6.

Transfer the chicken on a serving platter, and while still hot, squeeze fresh lemon juice all over the chicken pieces. Garnish with fresh herbs and serve with lemon wedges.

7.

Note: Store leftover crumbs in a freezer bag and keep in the freezer for future use.