Instant Pot Gluten-Free Mac & Cheese With Ham
Published on Apr 04, 2019
by
Kristina Stosek
Prep Time:

5 minutes
Cook Time:

5 minutes
Serves:

4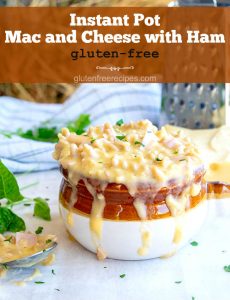 ​This post may contain affiliate links, please see our
privacy policy
for details
The creamiest Instant Pot Gluten-Free Mac & Cheese With Ham – This is the easiest, fastest gluten-free Mac and cheese recipe by far, but most of all the best I have tasted. The cheesy mac and cheese with added saltiness of ham is truly the best combo.
Mac and cheese is the ultimate comfort food. Most of us had mac and cheese growing up. Whether your mom made it out of a box or fresh with dry macaroni and fresh cheddar cheese with butter and milk it was a staple in most homes.
Mac and Cheese under 10 minutes…
With today's fast pace of living, often we don't have the time to stand by the stove and keep cooking this simple mac and cheese dish. Because, we rather spend time doing things that are more important to us.
This is why this instant pot gluten-free mac and cheese with ham is a perfect solution to quick and easy everyday meals. The cheesy gluten-free pasta dinner takes only 5 minutes to cook from start to finish.
The best part, it is made with real cheese, not the powdered kind, real butter and milk. The smokey ham adds extra flavour making this mac and cheese outstanding.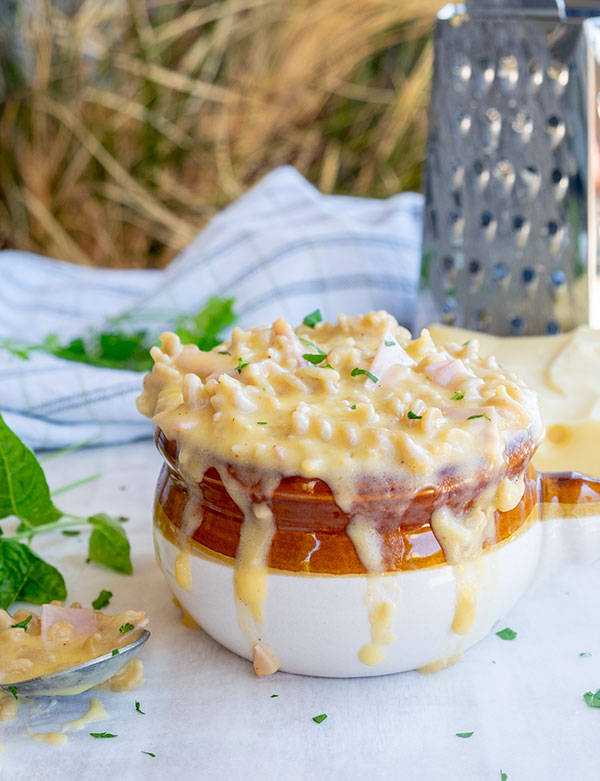 How to make Mac and Cheese in an Instant pot?
The recipe is easy, just cook the pasta in the Instant Pot for 4 minutes with butter and broth, then all you add is milk, cheese, ham and a pinch of nutmeg. That's it, how easy is that?
The best part is, the kids love Mac & Cheese, so it's a win-win all the way. Once again, why cook store-bought Mac & Cheese? It takes longer, and you can't control unwanted ingredients like yellow dye or table salt.
I promise you, the kids will love this Mac & Cheese meal. And why not add a salad or veggies and the dinner is ready for the entire family 🙂 I have also included a stovetop version.
For more gluten-free quick dinner recipes, check out our gluten-free Instant pot recipes. Especially the instant pot spaghetti bolognese recipe
Instant Pot Gluten-Free Mac & Cheese With Ham
Published on Apr 04, 2019
by
Kristina Stosek
Instructions
1.

Add dry pasta, chicken broth, butter, and salt to the Instant Pot. Cover, select the manual setting and cook on high pressure for 4 minutes. Once done cooking, do a quick release to release the steam


2.

Stir in the milk, cheese, ham, and nutmeg until cheese is melted and smooth. If you find the sauce is too thick add a little more milk or broth. Turn the instant pot off and serve immediately

3.

4.

In a large pot add the butter, pasta, chicken broth, and salt. Bring to a boil over high heat. Boil for 10 -15 minutes, this depends on the pasta you are using. Stir as needed until the pasta is al dente. Reduce the heat to low, and stir in milk, cheese, ham and nutmeg stirring until the cheese is melted, about 3 minutes. Serve immediately