Gluten-Free Cheesy Gnocchi With Cherry Tomatoes and Basil
Published on May 05, 2022
by
Kristina Stosek
Prep Time:

15 minutes
Cook Time:

10 minutes
Serves:

4
​This post may contain affiliate links, please see our
privacy policy
for details
Quick and easy Gluten-Free Cheesy Gnocchi With Cherry Tomatoes and Basil recipe! This is a gluten-free Italian meal made in under 30 minutes. The gnocchi is made with leftover mashed potatoes, flour, cheese and an egg. The fresh and delicious sauce is cherry tomatoes, garlic, basil, extra virgin olive oil and Parmesan cheese.
What is gnocchi?
Classic Gnocchi is an Italian dumpling made of mashed potatoes, flour and eggs. I used a gluten-free flour blend to keep this gnocchi recipe simple and gluten-free.
Gnocchi can be flavoured with cheese, herbs and vegetables and are cooked in water, the same as any pasta.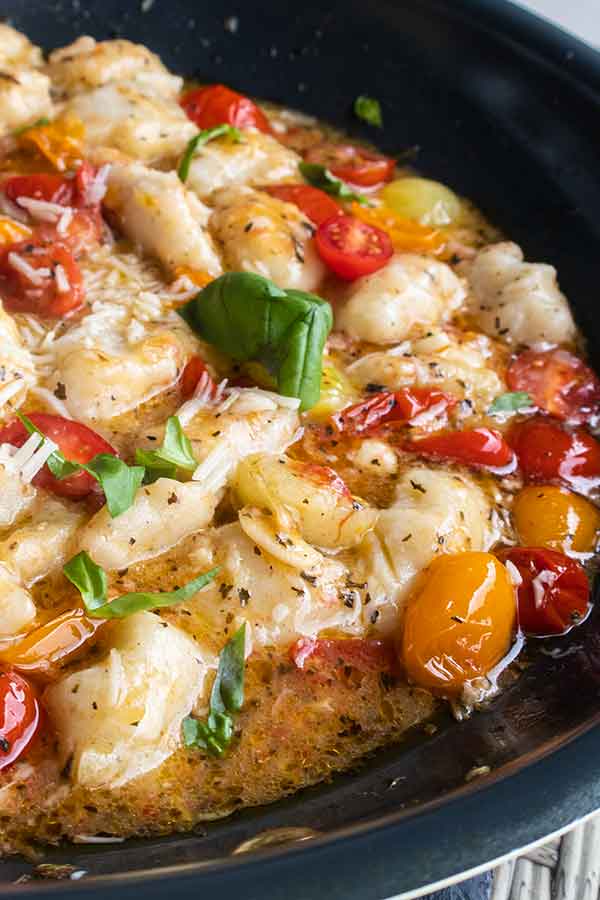 What does gnocchi taste like?
Potatoes are bland, so the taste between gnocchi and pasta is very similar. They are shaped like small dumplings with a similar texture.
What is the difference between gnocchi and pasta?
Gnocchi is made with potatoes, flour and eggs and shaped into dumplings. Pasta is made with wheat flour and water and rolled into various shapes, such as noodles, rigatoni, macaroni etc. Both make an excellent addition to tasty sauces.
What is healthier gnocchi or pasta?
Gnocchi is lower in carbs, lower in calories and higher in fiber. In addition, because of the potatoes and eggs, gnocchi is higher in nutrients and more satisfying as a meal.
Is gnocchi budget-friendly?
Homemade gnocchi is super simple to make. You will need only three ingredients plus seasoning: leftover mashed potatoes, an egg and some flour. So yes, it is for the budget savvy. Unfortunately, store-bought gluten-free pasta can be pricey.
Another sauce I often use with gnocchi is the easy walnut pesto or homemade marinara sauce. The sauces are packed with flavour, adding deliciousness to the dumplings.
How to make gluten-free gnocchi with cherry tomatoes, the details.
I know you may be surprised by how easy this gnocchi recipe is. It took (me) ten minutes to whip up gnocchi for four.
Get a large bowl, and add the gnocchi ingredients — mashed potatoes, flour, egg and cheese
Use your hands to knead a ball of dough. This takes about 1 minute.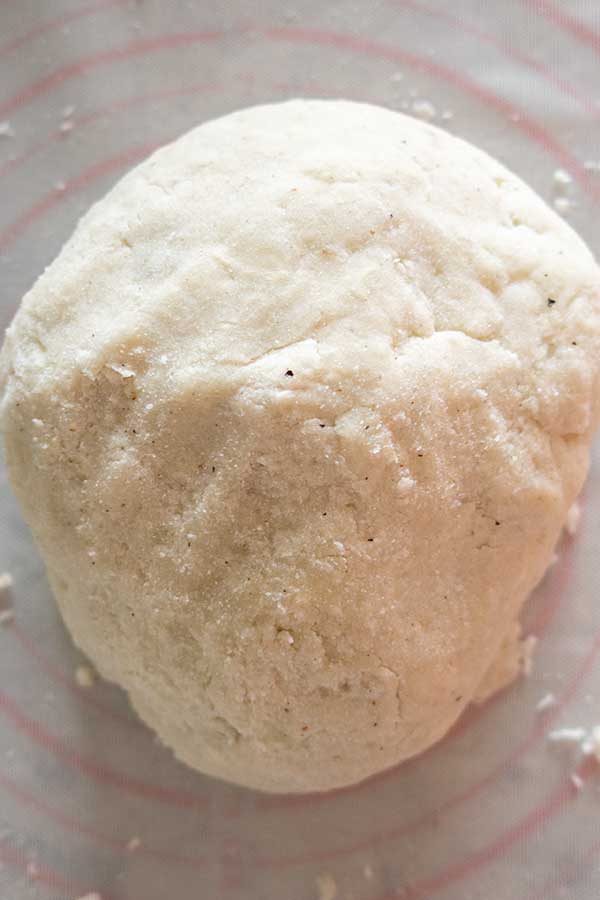 I don't roll the dough out, there is no need.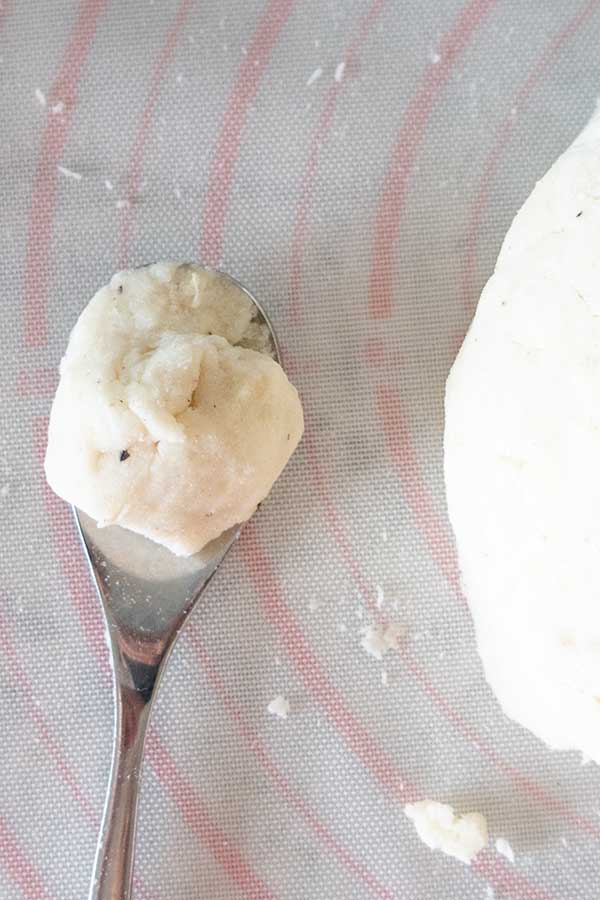 Get a teaspoon of dough and squeeze each portion in your palm to compress. Now, the dumplings are ready for cooking! How easy is that??
Boil a large pot of salted water and drop the dumplings in to cook. Depending on how large your dumplings are, they take about 2 – 3 minutes.
That's all it takes to make gluten-free gnocchi.
While the gnocchi is cooking, start the sauce. Be sure that the cherry tomatoes and garlic are sliced and ready to go.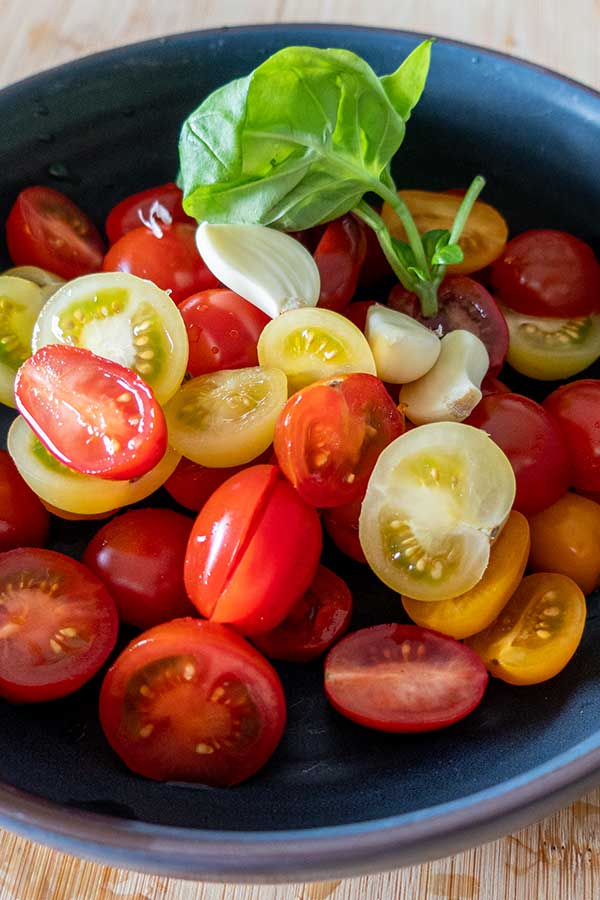 Add extra virgin olive oil into a large pan and cook the garlic until it becomes fragrant—about a minute. Be sure not to burn the garlic.
Add the tomatoes, dry basil, season with salt and pepper, and cook until the tomatoes are well heated through. The tomatoes should keep their shape. About 2 – 3 minutes.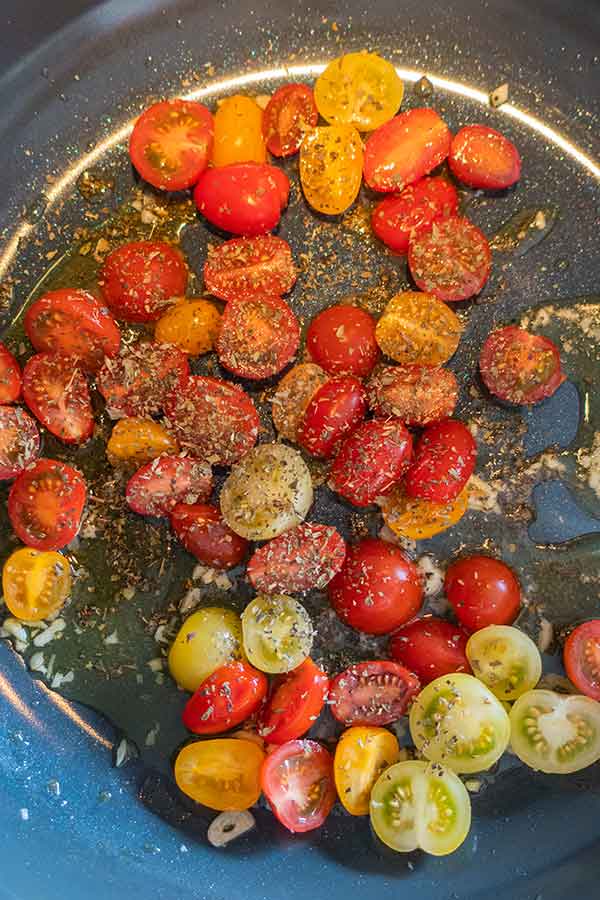 At this point, using a slotted spoon add the gnocchi directly to the cherry tomatoes.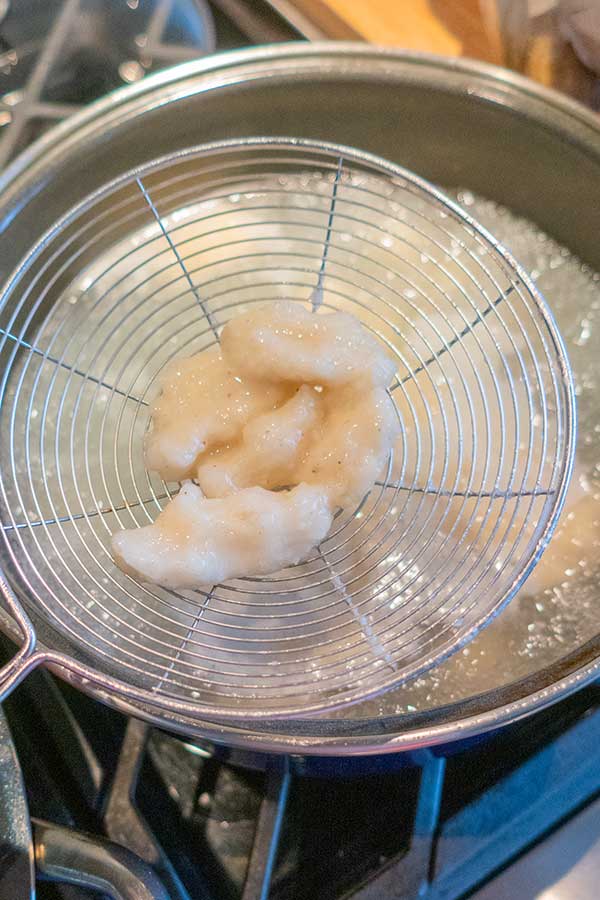 Add the remaining cheese, some dumpling water and gently mix to create a tasty cheesy sauce.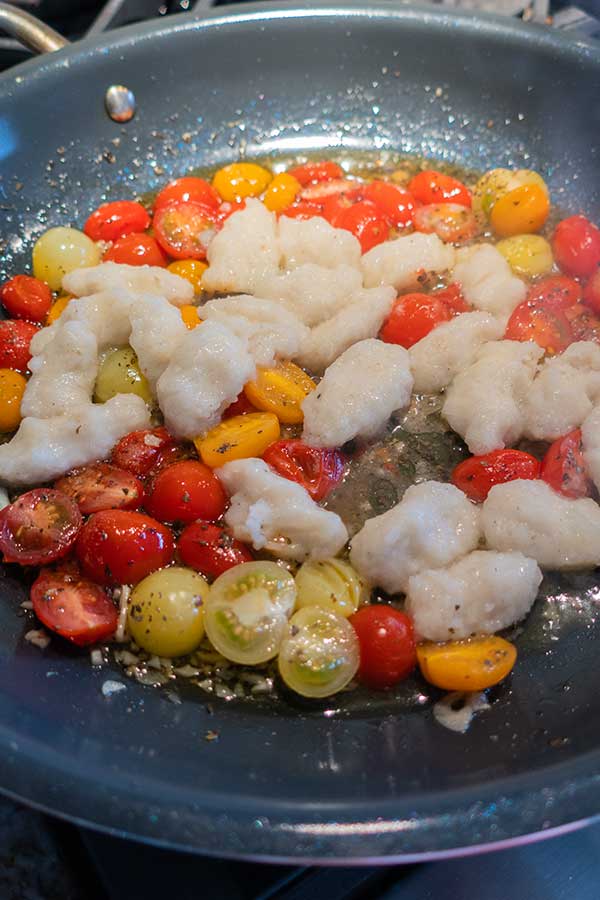 Can you freeze gluten-free gnocchi?
These small dumplings freeze exceptionally well. After shaping the dumplings, place them on a baking sheet and freeze them. Then, transfer them into a freezer bag and freeze for up to 3 months.
Do not thaw them before cooking, or they will stick together. Instead, to cook them, drop the frozen gnocchi directly into the boiling salted water without thawing. As a result, their cooking time will be slightly longer.
How to serve gnocchi with cherry tomatoes and basil?
Serve hot, with fresh basil, a sprinkle of Parmesan and a drizzle of good quality olive oil.
Serve the dumplings as a main or as a side. For example, if you serve gnocchi as a side, you can serve them with gluten-free crispy baked ranch chicken or maple glazed salmon steaks.
Serving gnocchi as a main, I like to add a green salad or gluten-free garlic pizza bread.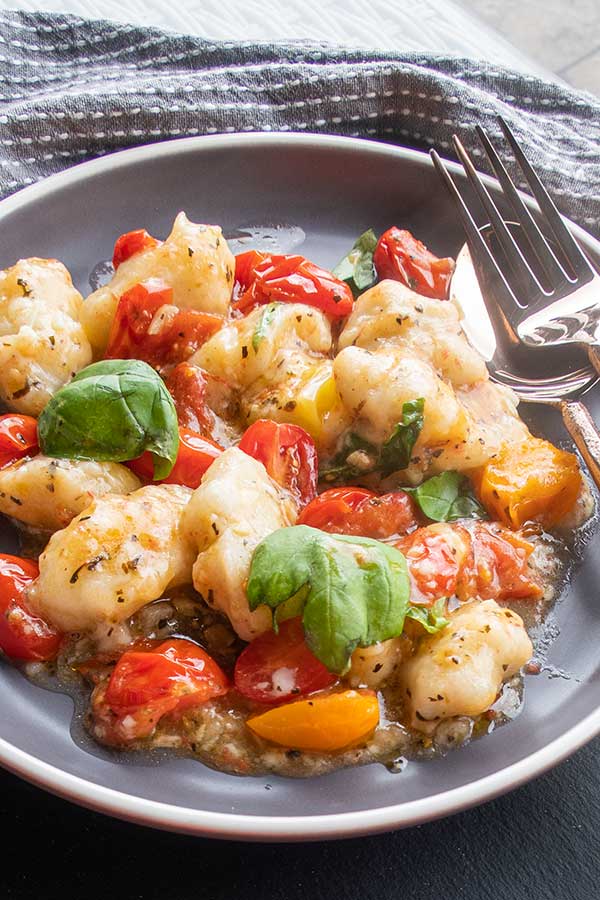 I love this gluten-free Italian dish with fresh cherry tomatoes, basil and Parmesan, because you can whip up a hearty, flavourful meal in under thirty minutes. And, use up leftover mashed potatoes.
Or, if you have unexpected company dropping by, this easy-to-make gluten-free gnocchi recipe will impress your guests every time.
The freshness from the cherry tomatoes, a hint of garlic, basil and a good sprinkle of Parmesan make these Italian dumplings insanely delicious!
Gluten-Free Cheesy Gnocchi With Cherry Tomatoes and Basil
Published on May 05, 2022
by
Kristina Stosek
Instructions
1.

Bring a large pot of salted water to a boil

2.

Combine mashed potatoes, flour, 1/2 cup Parmesan, egg, and season with salt and pepper in a large bowl. Knead until you form a ball of dough

3.

Take a teaspoon of dough and, using your hands, squeeze each in your palm to compress into small dumplings. Set aside until ready to cook. Then drop into the boiling water for 2 - 3 minutes, or until they float

4.

Meanwhile, heat olive oil in a large pan over medium heat. Add garlic and cook until fragrant, about 1 minute. Add tomatoes, dried basil and season with salt and pepper. Cook until tomatoes are heated through, stirring as needed. About 2 - 3 minutes. Do not overcook the tomatoes. They should hold their shape

5.

Use a slotted spoon, add the gnocchi straight into the pan. Add remaining Parmesan cheese and about 1/4 - 1/3 of a cup of hot gnocchi water to create a sauce. Gently stir to combine until the sauce starts to thicken. About 1 minute

6.

Serve hot with fresh basil leaves, a sprinkle of Parmesan and a drizzle of olive oil. Enjoy!