Feijoada ~ Black Bean Meat Stew
Published on Apr 02, 2015
by
Kristina Stosek
Prep Time:

15 minutes
Cook Time:

300 minutes
Serves:

6 - 8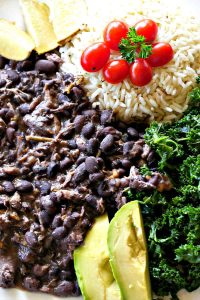 ​This post may contain affiliate links, please see our
privacy policy
for details
Feijoada is a slowly simmered stew made with black beans, beef and or pork. It is a typical dish made in Portugal and Brazil and is considered their national dish. There are many versions of this stew, depending on the region, but this version of feijoada is my favourite.
♥

Feijoada takes time to make, here is why!

This rich and robust stew is often served with rice, greens, fresh tomatoes and avocado. I especially love the feijoada with collard greens. This warming dish is not something you throw together. First, the beans are soaked overnight. For the meats, the best flavours come from a combination of beef and pork, and you must have bones. This is why I used ribs. For the pork, I added chorizo sausages. The chorizo adds an enormous amount of flavour to this thick and hearty dish. The stew is also well spiced, adding even more flavour. For the feijoada to have the perfect balance of flavours and textures, it is slowly simmered for hours. The meat should be falling off the bones.

The delicious stew is presented on a large platter with rice, greens, fresh tomatoes, avocado and a good squeeze of fresh lime juice. This dish is outstanding!
♥

Here are our 5 most popular stews for you to check out.

Turkey and Chickpea Moroccan Stew
Feijoada ~ Black Bean Meat Stew
Published on Apr 02, 2015
by
Kristina Stosek
Instructions
1.

Using a large pot, heat olive oil over medium heat. Add onions and cook until translucent, stirring as needed

2.

Stir in garlic, paprika, cayenne pepper, black pepper, bay leaves and bell peppers. Cook for 2 minutes, stirring frequently

3.

Add ribs, sausages, salt. Fill with water 1 inch past the beans. Bring to boil, reduce heat to low and simmer for six hours. Add water as needed to keep the beans covered. Ideally, at the end of cooking, the water level should be the same as the beans and meat.

4.

Drizzle with lime juice just before serving.