Caribbean Chicken Stew
Published on Feb 14, 2018
by
Kristina Stosek
Prep Time:

10 minutes
Cook Time:

55 minutes
Serves:

4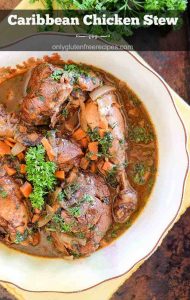 ​This post may contain affiliate links, please see our
privacy policy
for details
This Caribbean chicken stew is the perfect cooler weather meal. It's hearty and filling but still light and packed with flavor. Plus, it's a naturally gluten-free chicken dinner recipe.
The flavors of the Caribbean inspire this chicken meal. A mix of sweetness and spice that will warm you up from the inside out.
Caribbean chicken stew is the perfect recipe for experimenting with spices. Most of the spices used in this Caribbean-inspired chicken recipe, such as nutmeg, cinnamon, and cloves combined with honey, are most frequently used in dessert.
However, in this chicken dish, the exotic spices make the chicken rich tasting and packed with flavor, rather than sweet.
What is Caribbean chicken stew?
Caribbean chicken stew is a traditional dish that many people in the Caribbean enjoy. It is made with chicken, vegetables, and spices and is usually served over rice.
The chicken is cooked in a flavorful light tomato broth made with fresh tomatoes, onions, garlic, spices, and coconut milk's creaminess.
This dish is naturally gluten-free and an excellent option for those looking for a healthy and hearty meal.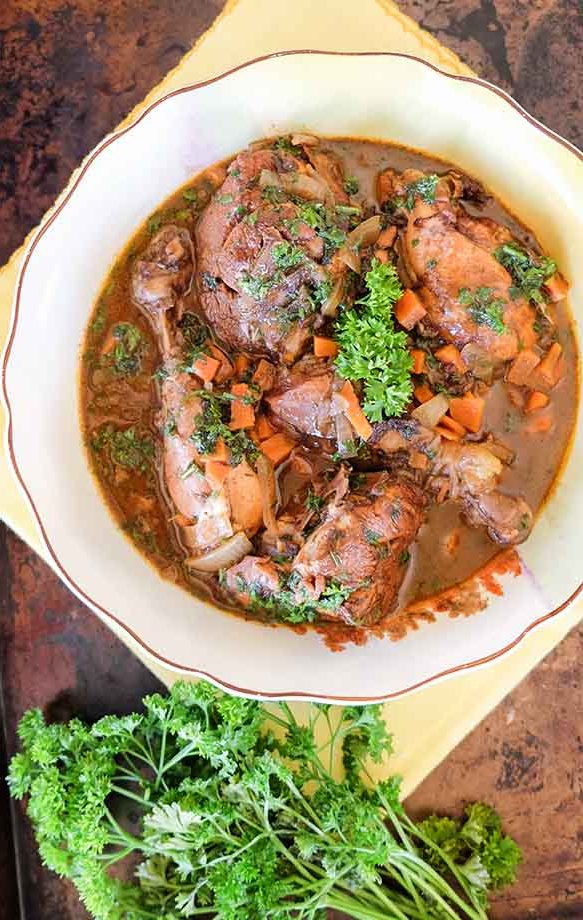 What to serve with Caribbean chicken stew?
When it comes to Caribbean chicken stew, a few things always come to mind. First and foremost, rice is a must.
Whether you opt for white rice, brown rice, or even cauliflower rice, make sure to have plenty on hand to soak up all that delicious gravy.
It's also great with some crusty bread like the gluten-free French baguette, or our favorite the gluten-free homemade Italian bread on the side for soaking up all of the delicious broth.
And, of course, no Caribbean chicken stew would be complete without some green vegetables. So whether you go for sautéed spinach, steamed broccoli, or roasted kale, get your greens in!
Best vegetables in a chicken stew?
Many different types of vegetables can be used in the chicken stew. However, some vegetables work better than others. Here are some of the classics to use in chicken stew:
Carrots: Carrots add sweetness and depth of flavor to chicken stew.
Potatoes: Potatoes are another great option for thickening the stew. They also add heartiness to the dish and help thicken the stew.
Tomatoes: Tomatoes add acidity, flavor and brightness to the stew. They can also help to thicken the sauce.
Green Beans: Green beans add a pop of color, freshness to chicken stew, and another texture.
What makes this a Caribbean recipe?
There are many reasons why this recipe could be considered the Caribbean. First, the chicken is stewed in a tomato-based sauce with various spices.
This combination of flavors in this stew is common in Caribbean cuisine.
Additionally, the dish is served with rice, a staple in many Caribbean cultures. Serve it with plain rice or one of our exotic gluten-free rice dishes.
If you're looking for a hearty and comforting stew that's also gluten-free, this Caribbean chicken stew is a great option. It's packed with flavor from the various spices, and the chicken and veggies make it a filling meal. And, don't for get the Caribbean dessert, the gluten-free rum cake.
Plus, it's easy to make in one pot, so cleanup is a breeze. So give this chicken stew a try the next time you're looking for a dinner recipe made with chicken into a satisfying meal. Since chicken is often used when making dinner, you can never have enough good chicken recipes!
If this recipe isn't for you, check out our complete list of gluten-free chicken recipes for inspiration.
Let's Connect!
Be sure to FOLLOW US on FACEBOOK and PINTEREST.
Many thanks!
Kristina xx
Caribbean Chicken Stew
Published on Feb 14, 2018
by
Kristina Stosek
Instructions
1.

Place first 15 ingredients (chicken to cayenne pepper) in a large bowl and mix. Cover and refrigerate for one hour or overnight

2.

In a large pot saute onions in coconut oil for 5 minutes

3.

Add chicken with marinade, carrots and half the coconut milk. Cover and cook over medium-low heat for 45 minutes

4.

Mix remaining coconut milk with arrowroot or tapioca starch and add to the stew. Increase the heat to medium-high and cook while stirring until the sauce thickens about 2 - 3 minutes

5.

Stir in fresh parsley or cilantro. Enjoy!