Easy Thai Cashew Chicken Ramen (Gluten-Free)
Prep Time
15 Minutes
Difficulty
Easy
Cook Time
25 Minutes
Serves
4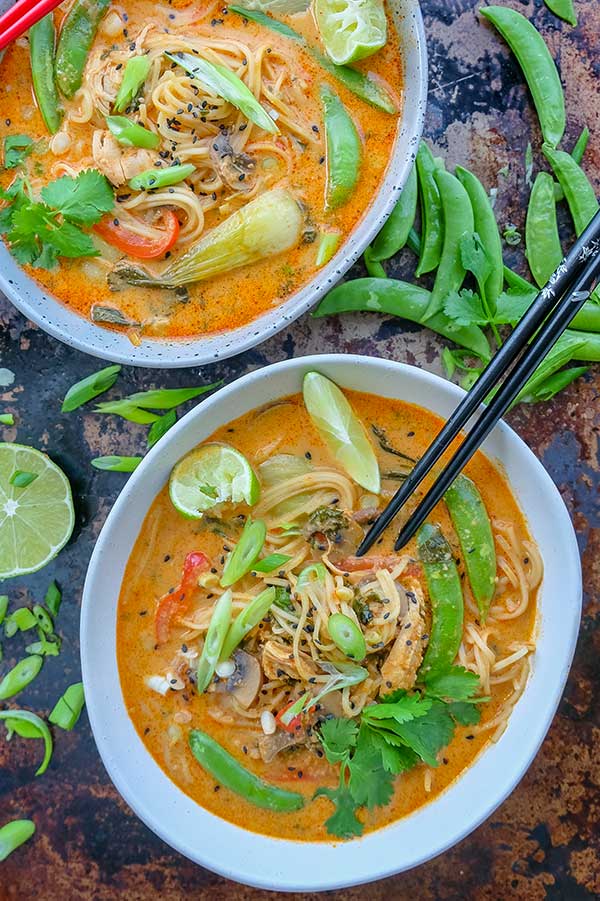 Average Rating: 5 | Rated By: 4 users
By now the fall weather has set in and making healthy easy to prepare comfort food such as this Thai Cashew Chicken Ramen is a favourite at my house. Just imagine tasty creamy broth with loads of tender veggies and noodles, it doesn't get any better than this. In this recipe I have explored with a new flavour and added cashew butter, adding rich flavour bringing this gluten-free ramen to another level. Thai recipes traditionally use peanut butter, but too many people have severe allergies to peanuts, so I do not use peanut butter in any of my recipes. Honestly, this ramen is so delicious and so simple to make. After a long week or at the end of a busy day it is nice to sit down to the most flavourful hot bowl of Thai Cashew Chicken Ramen. 
Ingredients
4 cups low sodium GF chicken broth
2 Tbsp. Sweetener such as honey or pure maple syrup
1 Tbsp. Fish sauce
1/4 cup GF Thai red curry paste
1/4 cup raw cashew butter
1 lb. boneless, skinless chicken breast
1 red or yellow bell pepper, sliced
8 oz. mushrooms of choice, sliced
1 Tbsp. Fresh minced ginger (1-inch)
2 garlic cloves, minced
1 can (14 oz.) coconut milk
Juice of 1 large lime
1 Tbsp. GF Sriracha (spicy) sauce or to taste (optional)
2 small Bok Choy, quartered lengthwise
8 oz. snow peas
1/3 cup roughly chopped cilantro or fresh basil
Optional toppings; cilantro, basil, sliced green onions, sesame oil, sesame seeds, chopped cashews, fresh lime juice
Instructions
Place first 11 ingredients in a large soup pot and bring to boil. Cover, then reduce heat to low and simmer for 20 minutes. Then shred the chicken
Add Coconut milk, lime juice, sriracha and bring to boil. Stir in bok choy, peas, cilantro and noodles. Remove from the heat, cover and rest for 5 minutes until the noodles are softened
Divide soup into 4 bowls and top with your favourite toppings. It's that easy, enjoy!
Similar Recipes
Basil and Lime Chicken Ramen Soup
Vietnamese Pho meets classic chicken soup. This gluten free soup is light and nourishing filled with light veggies and tender chicken. This is the kind of clean, uncomplicated chicken soup you long for in cold winter months. This soup relies on basil and fresh lime juice to bring out the delicious flavour Read More
Prep Time
15 Minutes
Difficulty
Easy
Cook Time
15 Minutes
Serves
4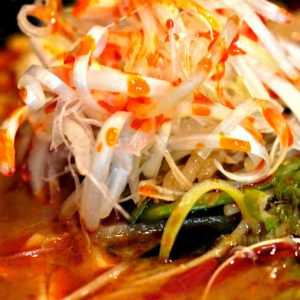 Easy Spicy Chicken Ramen Soup
This is a hearty noodle soup served in Japan often as a main course. Ramen is a staple noodle in Japanese cuisine. This is an easy beginner gluten free ramen soup recipe. Add as much or as little spice as you like Read More
Prep Time
15 Minutes
Difficulty
Moderate
Cook Time
10 Minutes
Serves
4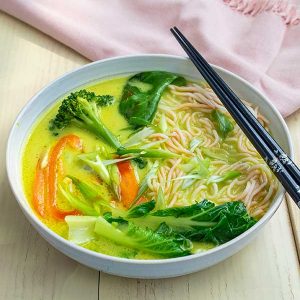 Easy Vegan Coconut Curry Ramen
Ramen is a Japanese noodle soup dish that is becoming very popular in Northern America. In this easy gluten-free recipe, I added coconut curry flavour making the broth rich and tasty. Ramen can be served just in a broth, but also with vegetables, soft boiled eggs, pork or chicken slices. This recipe is a quick […] Read More
Prep Time
10 Minutes
Difficulty
Beginner
Cook Time
25 Minutes
Serves
4