Cauliflower With Cheese And Chives Sauce
Prep Time
10 Minutes
Difficulty
Easy
Cook Time
25 Minutes
Serves
6
Average Rating: 4 | Rated By: 1 users
A simple gluten-free vegetarian cauliflower dish with a light cheese and chives sauce makes a nice side to any main. In this vegetarian recipe, the cheese sauce is on the lighter side made with cauliflower broth and milk and is still creamy and delicious. This cauliflower dish can be made in advance, just reheat in the oven before serving. Enjoy!
Ingredients
1 medium size cauliflower, remove the green outer leaves and break off to small pieces
1 Tbsp. butter
1 Tbsp. extra virgin olive oil
2 Tbsp. tapioca flour
1 tsp. GF ground mustard seed
1 cup milk
1 cup sharp cheddar cheese, cut into small chunks
2 Tbsp. fresh chopped chives
Sea salt and black pepper to taste
*As an Amazon Associate and member of other affiliate programs, I earn from qualifying purchases. Please check out my sponsorship and disclosure policy page for more details
Instructions
Preheat oven to 400 F
Place cauliflower into a pot of boiling water with a pinch of sea salt, cover and cook for 3 minutes. The cauliflower should be slightly crisp. Drain and keep 1 cup of the cauliflower broth
Melt butter in a large saucepan over medium-low heat, add olive oil, flour, and mustard. While stirring cook for 1 minute
Whisk in cauliflower broth, milk, cheese and chives and while stirring cook over low heat until the sauce slightly thickens. Season with salt and pepper. If the sauce is too thick you can add a little more broth or milk.
Place cauliflower in an ovenproof casserole dish, and pour cheese sauce over top. Bake for 15 minutes
Similar Recipes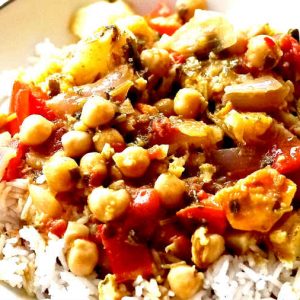 Cauliflower and Chickpeas In Light Curry Sauce
This tasty gluten-free vegetarian curry dish takes only minutes to prepare. The cauliflower and chickpeas with added yams and red peppers are cooked in a light coconut curry sauce. This tasty vegetarian curry dish is a budget-friendly, low-fat and low-cal recipe. Enjoy with one of our many gluten-free rice side dishes Read More
Prep Time
20 Minutes
Difficulty
Easy
Cook Time
20 Minutes
Serves
4
Cauliflower Mash with Chives Recipe
[wysija_form id="1"] This creamy cauliflower mash recipe is so simple to make, not to mention super healthy! There are many versions of cauliflower mash, but this recipe has a little more flavour than most. The creaminess comes from sour cream and for extra flavour fresh chives. The cauliflower mash is so creamy and keto friendly […] Read More
Prep Time
10 Minutes
Difficulty
Beginner
Cook Time
10 Minutes
Serves
4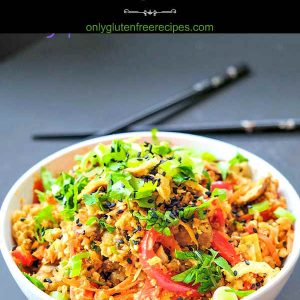 Low Carb Singapore Cauliflower Rice
This flavour packed low carb Singapore cauliflower rice dish is a healthy cauliflower recipe. If you are on the hunt for low carb ethnic food, this recipe is for you. This vegetarian Singapore inspired dish is made with an array of spices and medley of vegetables, making this a mouthwatering healthy dish. This recipe comes […] Read More
Prep Time
15 Minutes
Difficulty
Easy
Cook Time
14 Minutes
Serves
4