Split Pea Soup with Ham Bone
Prep Time
15 Minutes
Difficulty
Easy
Cook Time
90 Minutes
Serves
4 - 6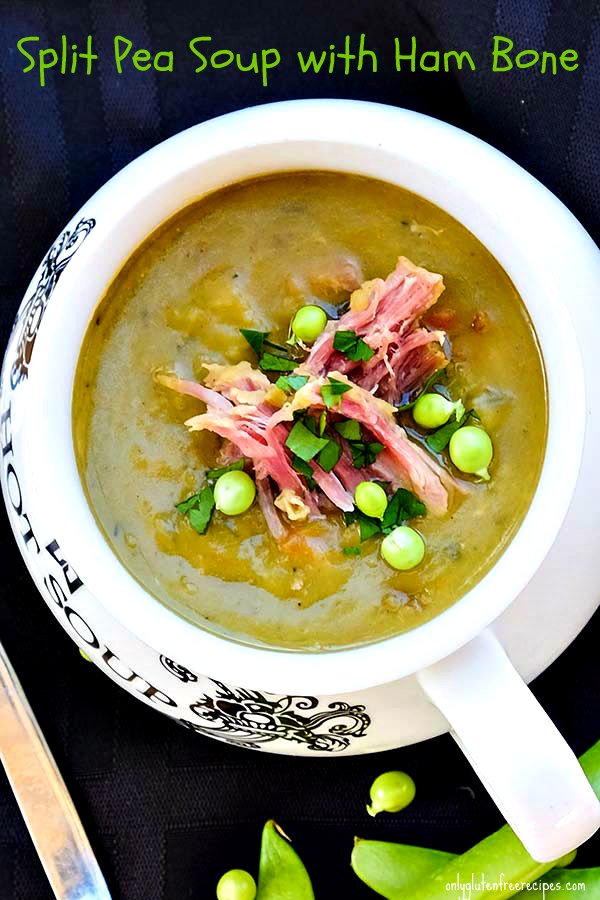 This hearty, stick to your ribs pea soup was introduced in New England during the 19th Century by French Canadian millworkers. The slow cooking of split peas with vegetables and spices enhances the soup's earthy flavour. Serve as a main with gluten free crusty bread or as a starter. Pea soup is particularly popular during the cold season because it is comforting, and lower in calories than other hearty soups.
Split peas are well known for their health benefits. They are high in fiber, protein many vitamins and minerals, and are low in fat. Including legumes such as split peas in your diet promotes good health
Ingredients
1 ½ cups dried split green peas
1 Tbsp. extra virgin olive oil
1 medium onion, chopped
2 celery stalks, diced
1 tsp. dried thyme leaves
4 cups gluten free beef stock + 2 cups water
1 small gluten free ham bone (get one from your local butcher)
1 bay leaf
½ tsp. coarsely ground black pepper
½ tsp. sea salt
2 medium carrots, diced
2 garlic cloves, minced
Instructions
Soak peas in hot water for 10 minutes, then drain
In a large pot over medium heat sauté onions and celery in olive oil for 5 minutes
Stir in thyme, and then add beef stock, water, ham bone, bay leaf, black pepper and sea salt. Bring to boil, and then reduce heat to simmer, cover and cook for about 1 ½ hours, stirring occasionally. Add the carrots and garlic for last 15 minutes of cooking time
Remove the ham bone and cut off remaining ham into bite size pieces and return to soup. Discard bay leaf
Adjust seasoning, and if the soup is too thick add more water to desired consistency
Similar Recipes
Chilled Mint Pea Soup – Gluten-Free
This is a refreshing chilled pea soup with a hint of mint making it a perfect choice for a hot summer evening. This soup can be served in shooter glasses as mint pea shooters, instead of typical appetizers Read More
Prep Time
10 Minutes
Difficulty
Easy
Cook Time
15 Minutes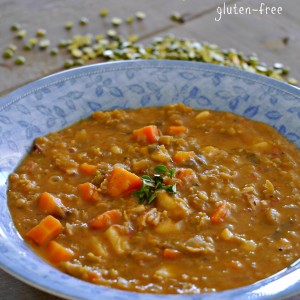 Country Split Pea Soup Recipe
This lip-smacking hearty split pea soup will warm your soul every time. This is a vegetarian gluten free split pea soup that commands a lot of flavour. The peas are slowly simmered with vegetables and spices creating that perfect texture and flavour. Split peas are high in fiber, protein, magnesium and iron making them a healthy […] Read More
Prep Time
10 Minutes
Difficulty
Beginner
Cook Time
60 Minutes
Serves
4
Cream of Carrot Soup With Peas
This soup takes only few minutes to prepare; it is full of flavour and nutrition. It can be served hot on cold chili nights or room temperature on hot days. I like to top this yummy soup with a scoop of yogurt but you can add chopped cilantro or basil instead. Read More
Prep Time
5 Minutes
Difficulty
Easy
Cook Time
15 Minutes
Serves
4
© Copyright 2017 Only Gluten Free Recipes. All Rights Reserved.