Split Pea Soup with Ham Bone
Prep Time
15 Minutes
Difficulty
Easy
Cook Time
90 Minutes
Serves
4 - 6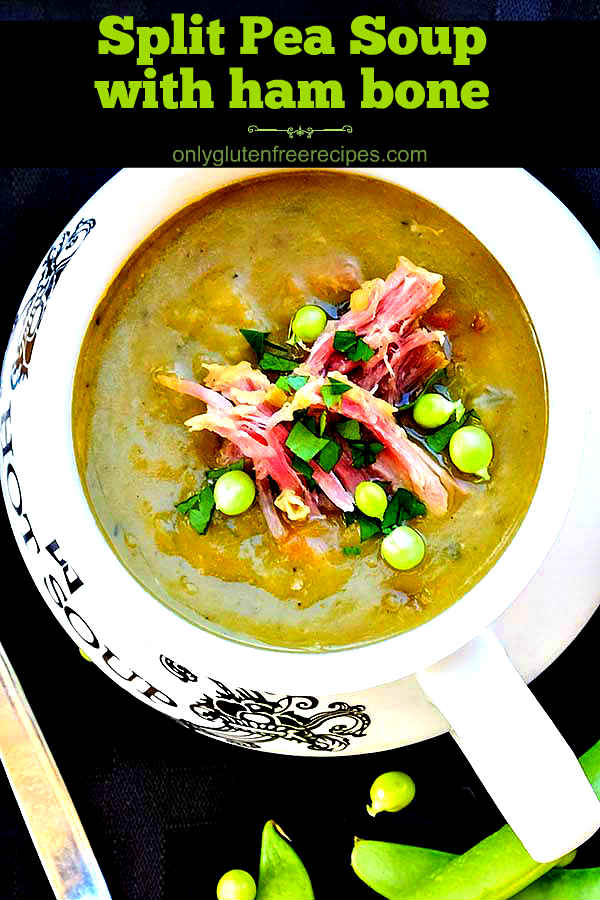 Average Rating: 5 | Rated By: 15 users
This hearty, stick to your ribs Split Pea Soup with Ham Bone was introduced in New England during the 19th Century by French Canadian mill workers. It is nutritious, hearty and economical. Like all soups, they improve with age, particularly split pea soup. It gets thicker and creamier with each day.
This incredibly tasty soup includes veggies such as celery and carrots and is mildly flavoured with the smokiness of ham, thyme and bay leaf. What I love about this soup is, you can serve it as a starter or as an entrée.
And for the best part, this wholesome pea soup is lower in calories than most hearty soups
Split peas, are they low in carbs?
Split peas are healthy, high-fibre food and are not shy of protein. Also, they offer significant levels of iron, zinc and phosphorus. This small bright green legume also offers significant anti-inflammatory properties
What about carbs? Let's compare split peas with other legumes
1 cup of cooked split peas has 16 grams of net carbs

1 cup of cooked lentils has 24 grams of net carbs

1 cup of cooked black beans has 26 grams of net carbs

1 cup of cooked kidney beans has 27 grams of net carbs

1 cup of cooked pinto beans has 30 grams of net carbs

1 cup of cooked chickpeas (garbanzo beans) has 33 grams of net carbs
As you can see split peas are the lowest in net carbs. So if you are following a low carb diet you can include split peas in moderation. 
Some of my favourite sides to the split pea soup are gluten-free crusty bread, pull-apart soft rolls or our delicious gluten-free chia soda bread.
Ingredients
1 ½ cups dried split green peas
1 Tbsp. extra virgin olive oil
1 medium onion, chopped
2 celery stalks, diced
1 tsp. dried thyme leaves
4 cups gluten free beef stock + 2 cups water
1 small gluten free ham bone (get one from your local butcher)
1 bay leaf
½ tsp. coarsely ground black pepper
½ tsp. sea salt
2 medium carrots, diced
2 garlic cloves, minced
*As an Amazon Associate and member of other affiliate programs, I earn from qualifying purchases. Please check out my sponsorship and disclosure policy page for more details
Instructions
Soak peas in hot water for 10 minutes, then drain
In a large pot over medium heat sauté onions and celery in olive oil until translucent. Stir in thyme
Add beef stock, water, peas, ham bone, bay leaf, pepper and salt. Bring to boil, cover and reduce heat to low. Cook for 1 hour, stirring as needed. Add the carrots and garlic and cook until peas are tender
Remove the ham bone and cut off remaining ham into bite size pieces and return to the soup. Discard bay leaf
Adjust seasoning, and if the soup is too thick add more water to desired consistency. The soup will thicken with each day
Similar Recipes
Chilled Mint Pea Soup – Gluten-Free
During hot summer months, this chilled mint pea soup is deliciously refreshing. Read More
Prep Time
10 Minutes
Difficulty
Easy
Cook Time
15 Minutes
Serves
4
Country Split Pea Soup Recipe
This pea soup recipe is gluten-free and budget friendly. The peas are slowly simmered with vegetables and spices in a vegetable broth.  Split peas are high in fiber, protein, magnesium, and iron making them a healthy addition to a well-balanced diet. Read More
Prep Time
10 Minutes
Difficulty
Beginner
Cook Time
60 Minutes
Serves
6
Asian Chicken Soup Recipe
I am very excited about this Asian Chicken Soup Recipe. When we crave comfort, curling up with a hot bowl of delicious chicken soup and a good book is just what we need.  There are many versions of chicken soup depending on the spices, herbs and vegetables used in each recipe. Some even call for […] Read More
Prep Time
15 Minutes
Difficulty
Easy
Cook Time
50 Minutes
Serves
6