Sauerkraut Soup
Prep Time
15 Minutes
Difficulty
Easy
Cook Time
180 Minutes
Serves
6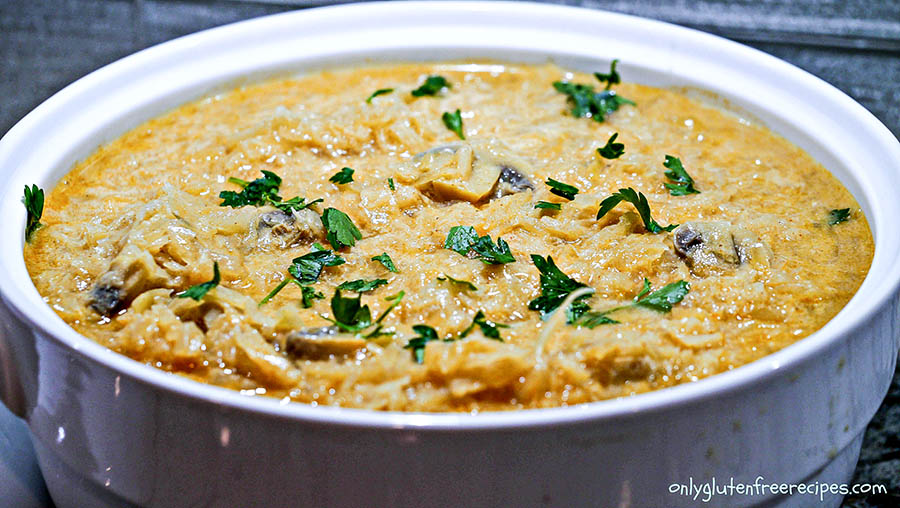 One of the best sauerkraut soups originates from Slovakia. Fermented sauerkraut has many health benefits. It is naturally gluten free, rich in dietary fiber, vitamin C, K and iron, and is low in calories. There are many versions of sauerkraut soup, but this one is the most popular. Because of the health benefits and low calories, this soup is an excellent choice when following a healthy well-balanced diet. The best part is, that it tastes delicious!
Ingredients
2 tbsp. extra virgin olive oil
2 medium size organic yellow onions, chopped
1 tbsp. organic gluten-free smoked paprika (you can use sweet paprika instead if you don't have smoked)
2 organic gluten-free bay leaves
½ tsp. organic gluten-free caraway seeds
6 cups sauerkraut (the only additive it should have is salt) drain and rinse once
1 cup dried wild mushrooms (you can use fresh mushrooms, but dried add a lot more flavour)
2 links of gluten-free chorizo sausage
1 large potato
3 garlic cloves, minced
½ cup sour cream
Chopped organic parsley for garnish
Instructions
Heat olive oil in a large soup pot and add onions, sauté onions until slightly golden.
Then stir in paprika, bay leaves and caraway until just fragrant.
Add in sauerkraut and stir until onions and spices are well combined with sauerkraut.
Add mushrooms, chorizo sausage and water. The water should be two inches above the sauerkraut.
Bring to low simmer cover and cook for 2 hours, then add in grated peeled potato and cook for another hour. The potato will thicken the soup.
At the end stir in minced garlic.
The soup should rest for 24 hours in a cool place to enhance the delicious flavour, reheat slowly before serving.
To serve, remove bay leaves and slice chorizo sausage into bite size pieces, add a dollop of sour cream and freshly chopped parsley
© Copyright 2017 Only Gluten Free Recipes. All Rights Reserved. Designed & Developed by GuaranteedSEO