Gluten Free Tart Margherita
Prep Time
20 Minutes
Difficulty
Easy
Cook Time
20 Minutes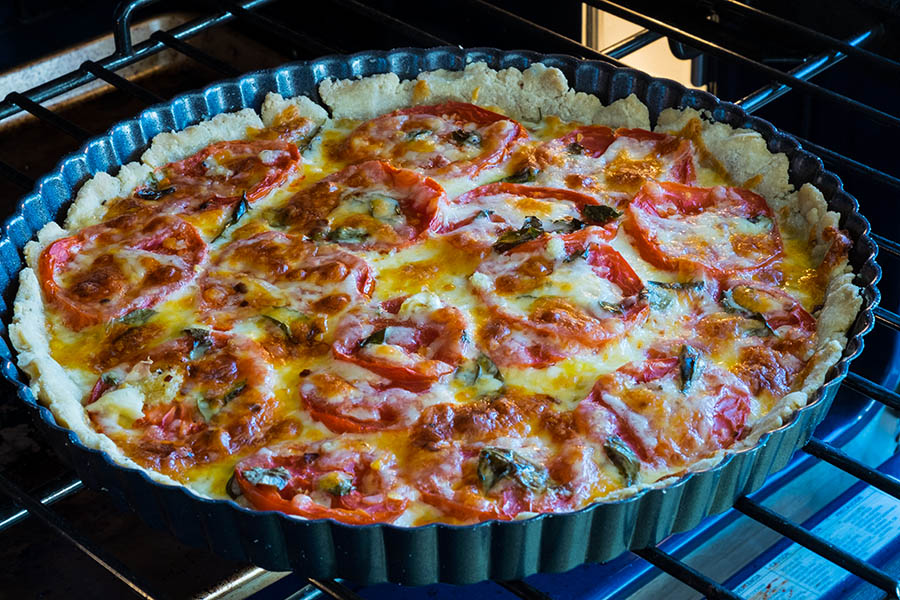 The choices of filling for savoury tarts are endless. A gluten free tart does not have to be complicated. This easy to make tart is made with melt in your mouth crust. Topped with fresh tomatoes, basil and buffalo mozzarella and infused with garlic olive oil. Try this rustic Italian tart Margherita, it outshines pizza any day
Ingredients
CRUST
2/3 cup rice flour (white or brown)
½ cup sweet sorghum flour
½ cup tapioca starch
2 Tbsp. almond flour
½ tsp. sea salt
½ tsp. garlic powder
½ tsp. dried oregano
¼ cup unsalted butter, cut in pieces
2 large eggs
1 Tbsp. cold water
TOPPINGS
1 ½ cups shredded mozzarella cheese (preferably buffalo mozzarella), divided
½ cup fresh basil leaves
2 large tomatoes, sliced
1 tbsp. extra virgin olive oil
1 garlic clove, minced
Hot chili pepper to taste (optional)
Instructions
Crust
In a large bowl combine dry ingredients. Cut in the butter until the whole mixture has a rough, crumbly texture leaving a few larger pieces of butter
In a separate bowl, whisk the eggs and water. Add to the flour mixture and stir until the dough comes together. Shape the dough into a disc, wrap it and chill for just 20 minutes
Preheat oven to 400 F
Line your counter with parchment paper dust with gluten free flour and put your dough on top, sprinkle with some more flour. Roll out into a circle to fit your tart pan. Press the pastry onto the bottom and up the sides of an ungreased 9-inch tart pan with removable bottom
Toppings
Spread ½ cup of mozzarella cheese over the bottom. Scatter over half the basil. Top with tomato slices
Mix olive oil and garlic and brush the tomatoes with the oil and sprinkle with hot chili pepper.
Scatter over the other half of the basil and top with remainder of the cheese. Bake for 20 minutes
Serve immediately with scattered fresh basil leaves
Similar Recipes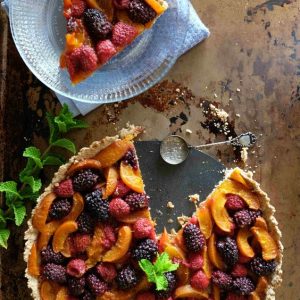 Gluten Free Fresh Fruit Tart
Fresh fruit offers excellent taste and nutrition, making this a wonderful, simple healthy dessert. Fruit tart is especially popular on hot summer days. Serve as is or with a dollop of coconut ice cream and indulge in this modestly magical gluten free dessert Read More
Prep Time
15 Minutes
Difficulty
Easy
Cook Time
30 - 35 Minutes
Serves
6 - 8
Gluten-Free Vegetarian Pizza
When it comes to pizza it is all in the crust, sauce and cheeses. Our simple yet flavourful sauce makes it all come together and the vegetables are particularly tasty when they are teamed with your favourite cheese. Makes two 16 inch pizzas Read More
Prep Time
15 Minutes
Difficulty
Intermediate
Cook Time
20 Minutes
Gluten Free Margherita Pizza
Margherita pizza is everyone's favourite, all you need is fresh basil, organic tomatoes and good quality bocconcini cheese. But if you want more than just gluten free Margherita pizza, personalise your pizza with a selection of healthy toppings. Such as spinach, mushrooms, onions, artichokes, olives, mozzarella the choices are endless. The secret to a delicious pizza […] Read More
Prep Time
10 Minutes
Difficulty
Moderate
Cook Time
15 Minutes
© Copyright 2017 Only Gluten Free Recipes. All Rights Reserved.