Gluten-Free Mexican Inspired Quinoa
Prep Time
5 Minutes
Difficulty
Easy
Cook Time
20 Minutes
Serves
6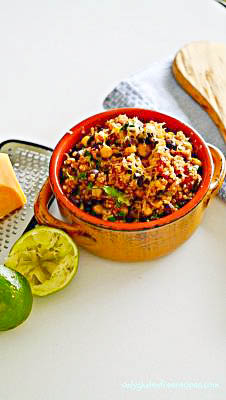 Discover flavours of Mexico in this deliciously spiced gluten-free quinoa recipe. This dish makes an excellent addition to chicken or pork but can also be served as a main for a vegetarian option. This is a budget friendly quinoa recipe packed with healthy nutrients rich in fiber and protein. Quinoa never tasted this good before! Enjoy!
Ingredients
1 tbsp. extra virgin olive oil
3 garlic cloves, chopped
1 tbsp. chili powder
1 tsp. ground cumin
1 small organic jalapeno seeded and finely chopped; do not add (if making this for young kids)
1 ½ cups quinoa
1 ½ cups gluten free chicken or vegetable stock
2 large tomatoes cut to small pieces
1 ½ cup frozen organic corn
1 (19 oz) can black beans, drained and rinsed well
Juice of 1 lime
1 bunch cilantro, chopped
Toppings; shredded cheddar cheese, sour cream
Instructions
Heat olive oil in a large skillet over low heat, add garlic, chili powder, cumin and jalapeno, cook until fragrant about a minute.
Stir in quinoa, stock, tomatoes, corn and beans. Cover and cook on low heat for 20 minutes.
Remove from the heat and stir in cilantro and lime juice, cover and rest for 15 minutes before serving.
To serve, top with cheddar cheese and a dollop of sour cream.
Similar Recipes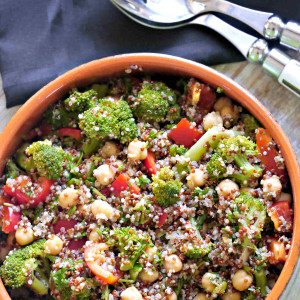 Broccoli, Quinoa and Chickpea Salad
This hearty salad is deliciously flavoured with light vinaigrette and fresh herbs. Serve as a side with your favourite main, or as a vegetarian entree. Read More
Prep Time
15 Minutes
Difficulty
Easy
Cook Time
10 Minutes
Serves
4
Gluten Free Broccoli Quinoa Cheese Casserole
This easy to make gluten free casserole is ideal for cool windy nights. Comfort food is the word when making this delicious recipe. The combination of broccoli quinoa, corn and cheese, topped with lean bacon makes this into an outstanding weeknight meal Quinoa and broccoli are well known for their health benefits making this delicious […] Read More
Prep Time
10 Minutes
Difficulty
Easy
Cook Time
45 Minutes
Serves
4
Gluten Free Quinoa Pork Risotto
Not sure if you like quinoa? Try this easy to make risotto. This packed with flavour gluten free quinoa pork risotto is made with pork tenderloin, black beans, red pepper and parsley. With all of the ingredients combined this quinoa recipe is a winner! Quinoa is a well known superfood, not only it is gluten […] Read More
Prep Time
15 Minutes
Difficulty
Easy
Cook Time
35 Minutes
Serves
4
© Copyright 2017 Only Gluten Free Recipes. All Rights Reserved.