Gluten Free Chicken, Potato and Corn Chowder in 30 minutes
Prep Time
10 Minutes
Difficulty
Easy
Cook Time
25 Minutes
Serves
6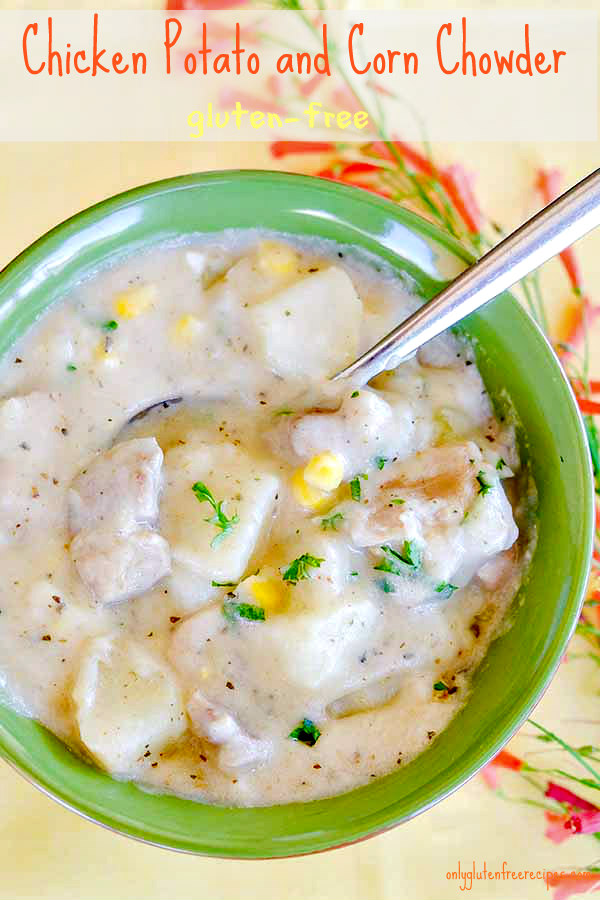 Love the convenience of a one-pot meal simmering on the stovetop? This simple yet wholesomely delicious hearty soup is chunky, creamy mixed with chicken and veggies. Traditionally chowders are made with lots of butter and cream, this is why some of us shy away from these creamy soups. This gluten free chicken potato and corn chowder is made from scratch without butter and very little cream.
At the end of the day when you have little time to make healthy dinner from scratch make this hearty chowder. Your entire family will love it! After all who doesn't like chicken, potatoes and corn smothered in thick creamy soup. Serve with gluten free crackers or gluten free crusty bread
Ingredients
2 Tbsp. extra virgin olive oil
1 medium onion, halved and cut into ½-inch thick slices
3 celery stalks, diced
2 Tbsp. GF ground coriander
1 tsp. GF dried oregano
1 tsp. GF dried basil
1 ½ tsp. sea salt
½ tsp. GF smoked paprika (you can use sweet paprika)
½ tsp. GF coarsely ground black pepper
1 GF bay leaf
6 cups water
1 ¼ lb. boneless skinless chicken thighs, cut into bite-size pieces
2 lb. Yukon gold potatoes, peeled and cut into 1-inch cubes. These potatoes retain their shape and are excellent for soups
½ lb. frozen or fresh corn kernels
1 cup half and half cream
½ cup less 1 Tbsp. GF white rice flour
2 Tbsp. fresh lime juice
¼ cup fresh parsley, chopped
Instructions
Heat the olive oil over medium-low heat in a large soup pot. Add onions and celery and sauté for 5 minutes
Add coriander, oregano, basil, salt, paprika, black pepper and bay leaf and mix well
Add water and chicken, bring to a boil and cover. Reduce heat to medium-low and cook for 10 minutes
Add potatoes and corn and cook covered for 8 more minutes or until the potatoes are tender
Whisk together cream and rice flour and slowly stir into the soup. Cook until the soup thickens, about 3 – 4 minutes. Remove from the heat and add the lime juice
To serve, ladle the hot soup into soup bowls and top with fresh parsley
Similar Recipes
Vegetarian Three Bean Chowder ~ Revised Recipe
Beans are high in fiber, carbs, potassium, protein, antioxidants and important nutrients. Since dry beans are fairly inexpensive I would consider this chowder also budget friendly and because beans are high in fiber and protein I would include them in my diet friendly recipes. When using dry beans I recommend that you soak them overnight […] Read More
Prep Time
15 Minutes
Difficulty
Easy
Serves
6
Easy Beef Curry With Sweet Potatoes
This is a hearty delicious chowder bursting with ethnic spices….sooo delicious! Serves 4 Read More
Prep Time
15 Minutes
Difficulty
Easy
Cook Time
60 Minutes
Serves
4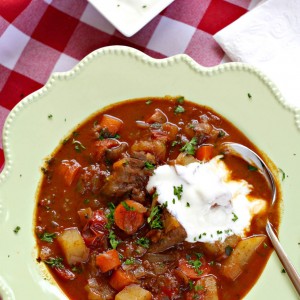 Authentic Hungarian Goulash
Hungarian goulash can be served as a stew or as soup, depending how much water you add to the goulash. The traditional Hungarian spices are what give this Goulash authentic and robust flavour. When serving the goulash as a stew traditionally you would add pasta, in this case, gluten free pasta. Enjoy! Read More
Prep Time
15 Minutes
Difficulty
Easy
Cook Time
120 Minutes
Serves
6
© Copyright 2017 Only Gluten Free Recipes. All Rights Reserved.