Easy Baked Herbed Salmon Recipe
Prep Time
10 Minutes
Difficulty
Beginner
Cook Time
15 Minutes
Serves
4
This salmon recipe is one of the easiest fish recipes to make. The fresh herbs add plenty of delicious flavours, so you don't have to make a sauce. When cooking beautiful fish such as wild salmon, you do not want to over power it with herbs and spices. In this recipe, the herbs are mild enough to allow the wonderful flavours of delicate salmon shine. Serve with our amazing gluten free Vietnamese rice noodle salad or a light green salad.
Wild salmon is well known for its many health benefits. Salmon is one of the best sources of Omega-3 fatty acids. Omega-3 fats are essential, and you must get them from your diet because your body can't create them. Omega-3 fats have powerful health benefits for your body and brain. These fatty acids help with depression, anxiety, inflammation eye health and improve risk factors for heart disease to name a few. In conclusion, Omega-3 fatty acids found in wild salmon are vital for optimal health
Ingredients
1 wild salmon fillet with skin on, about 1 1/5 lb. (6 oz. per person) I used wild Alaskan sockeye salmon
2 Tbsp. roughly chopped fresh Italian flat leaf parsley
2 Tbsp. roughly chopped fresh cilantro
4 green onions (spring onions) white and green part, thinly sliced
2 Tbsp. extra virgin olive oil
1 Tbsp. fresh lemon juice
1 tsp. lemon zest
Freshly ground black pepper and coarse sea salt to taste
Instructions
In a small bowl mix herbs, green onions, olive oil, lemon juice, lemon zest, black pepper and sea salt
Place salmon skin side down on a baking sheet lined with parchment paper and coat the salmon well on all sides with herb mix. Set aside for 15 minutes
Preheat oven to 400 F
Bake salmon for 15 minutes or until the internal temperature is 145 F. Rest for 10 minutes and serve. The salmon can also be served cold with a light green salad
Similar Recipes
Marinated Salmon Steaks ~ Naturally Gluten-Free
Marinating salmon in a mixture of tamari sauce, pure maple syrup and black pepper is simplicity itself, and the results are sensational. The salmon is juicy and flavourful with perfectly crisp skin. Serves 4 generous portions Read More
Prep Time
10 Minutes
Difficulty
Easy
Cook Time
10 Minutes
Serves
4
Poached Wild Salmon
This is an easy way to cook salmon to perfection every time. The tender salmon is juicy and deliciously flavoured with herbs and lemon. This healthy meal will be loved by your diet savvy friends and family. Serve over brown rice or a light green salad. Read More
Prep Time
10 Minutes
Difficulty
Easy
Serves
4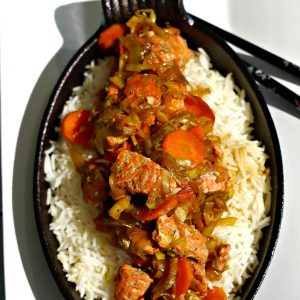 Salmon Hot Pot
This tasty salmon hot pot is made with leek, celery and carrot. This mystical one-pot meal takes only 20 minutes to prepare and easy clean up. Hope you enjoy this healthy salmon meal delivering the maximum flavour and texture Read More
Difficulty
Easy
Cook Time
20 Minutes
Serves
4
© Copyright 2017 Only Gluten Free Recipes. All Rights Reserved.