Country Split Pea Soup Recipe
Prep Time
10 Minutes
Difficulty
Beginner
Cook Time
60 Minutes
Serves
4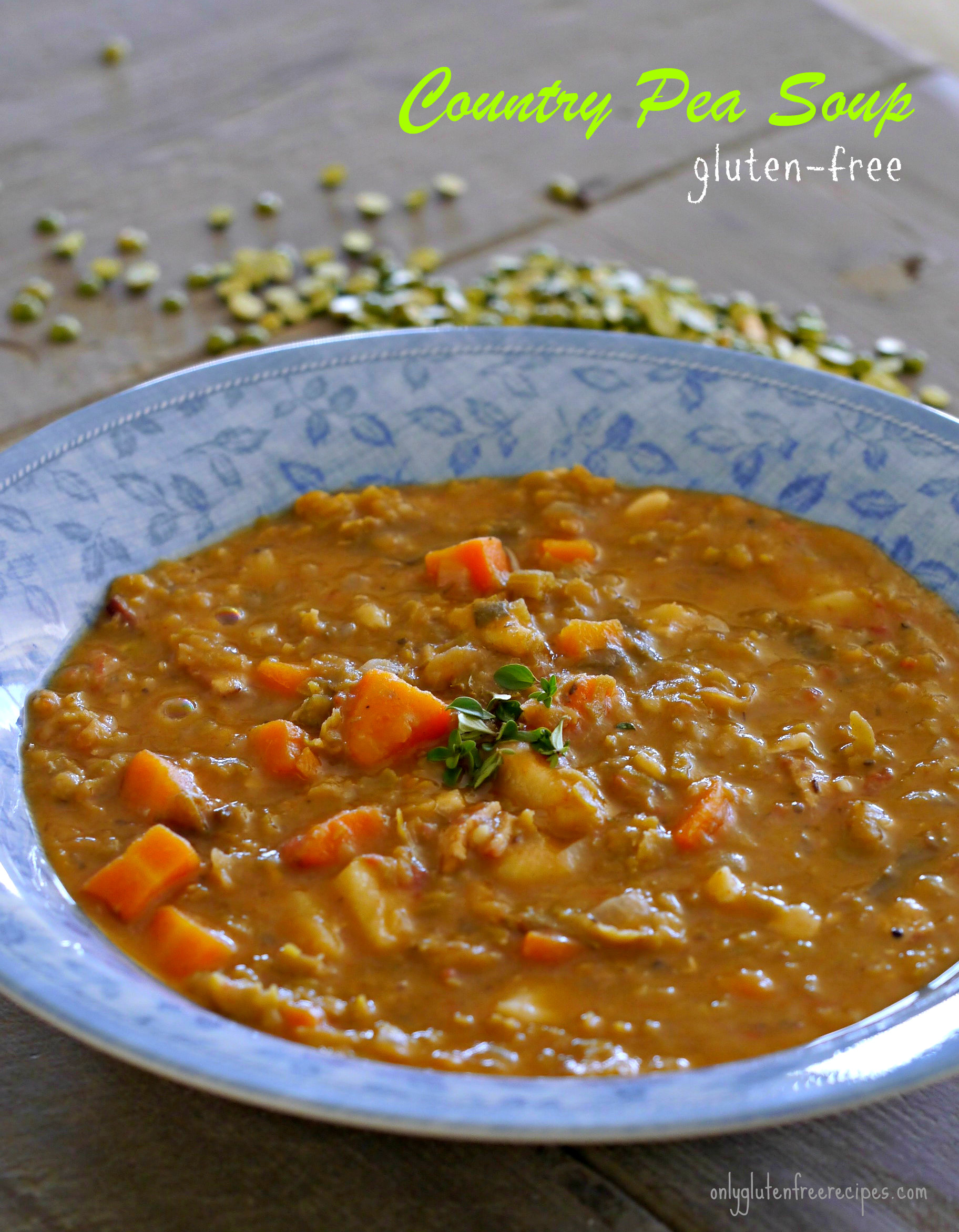 Average Rating: 5 | Rated By: 5 users
This lip-smacking hearty split pea soup will warm your soul every time. This is a vegetarian gluten free split pea soup that commands a lot of flavour. The peas are slowly simmered with vegetables and spices creating that perfect texture and flavour. Split peas are high in fiber, protein, magnesium and iron making them a healthy addition to your diet.
This healthy soup is budget friendly, hearty and will keep up to 5 days when refrigerated. Serve with gluten free crackers or gluten free bread. Enjoy!
Ingredients
1 cup (250 mL) dried split peas (green or yellow)
1 tbsp (15 mL) extra virgin olive oil
1 medium size onion, chopped
2 garlic cloves, crushed
2 tsp (10 mL) paprika
1 tsp (5 mL) dried thyme leaves or 1 sprig of fresh thyme
4 cups (1000 mL) gluten-free vegetable broth + 1 cup of water
1 celery stick, diced
2 carrots, diced
1 sweet potato, cut into 1/2-inch cubes
1 tomato, sliced
Sea salt and ground black pepper to taste
2 tsp (10 mL) gluten-free apple cider
2 gluten-free cooked bacon strips or 1/2 cup (125 mL) gluten-free diced ham (optional)
Garnish: fresh thyme or parsley
Note: always use gluten-free spices and whenever possible use organic produce
Instructions
Soak peas overnight in 3 cups of water, then drain and rinse
Sauté onion and celery in olive oil for 5 minutes, and then add garlic, paprika, thyme and cook for 30 seconds
Add the balance of ingredients including the peas except for apple cider and bacon/ham and simmer on low heat for 1 hour or until peas are cooked. If the soup gets too thick, add a some more water
Just before the soup is finished cooking add apple cider and bacon/ham and cook for 5 more minutes.
Serve in shallow bowls and garnish with fresh thyme or parsley
Similar Recipes
Chilled Mint Pea Soup – Gluten-Free
This is a refreshing chilled pea soup with a hint of mint making it a perfect choice for a hot summer evening. This soup can be served in shooter glasses as mint pea shooters, instead of typical appetizers Read More
Prep Time
10 Minutes
Difficulty
Easy
Cook Time
15 Minutes
Cream of Carrot Soup With Peas
This soup takes only few minutes to prepare; it is full of flavour and nutrition. It can be served hot on cold chili nights or room temperature on hot days. I like to top this yummy soup with a scoop of yogurt but you can add chopped cilantro or basil instead. Read More
Prep Time
5 Minutes
Difficulty
Easy
Cook Time
15 Minutes
Serves
4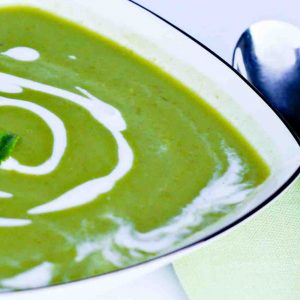 Asparagus Soup With Mint
Did you know that asparagus is loaded with nutrients such as folate, vitamins A, C, E and K, protein and has an abundance of fiber? Asparagus soup is one of the easiest soups to make because this healthy vegetable cooks in minutes. This tasty soup can be served hot or chilled and is also diet […] Read More
Prep Time
15 Minutes
Difficulty
Easy
Cook Time
15 Minutes
Serves
4