The Very Best Vegetarian Lentil Chilli
Published on Jan 10, 2022
by
Kristina Stosek
Prep Time:

15 minutes
Cook Time:

40 minutes
Serves:

6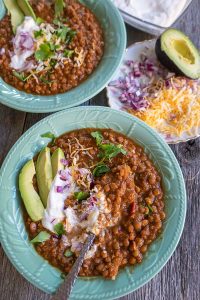 ​This post may contain affiliate links, please see our
privacy policy
for details
This vegetarian lentil chilli is everything we know and love about rich and big flavour chilli, less the meat and beans – a vegetarian meal you can feel good about eating. Delicious, healthy and deceptively simple to make.
I couldn't think of a heartier January dinner than this healthy vegetarian lentil chilli. Nothing beats a slowly simmered chilli on a cold January day. Made with brown lentils, bell peppers, sweet potatoes, carrots, tomatoes and a good mix of spices.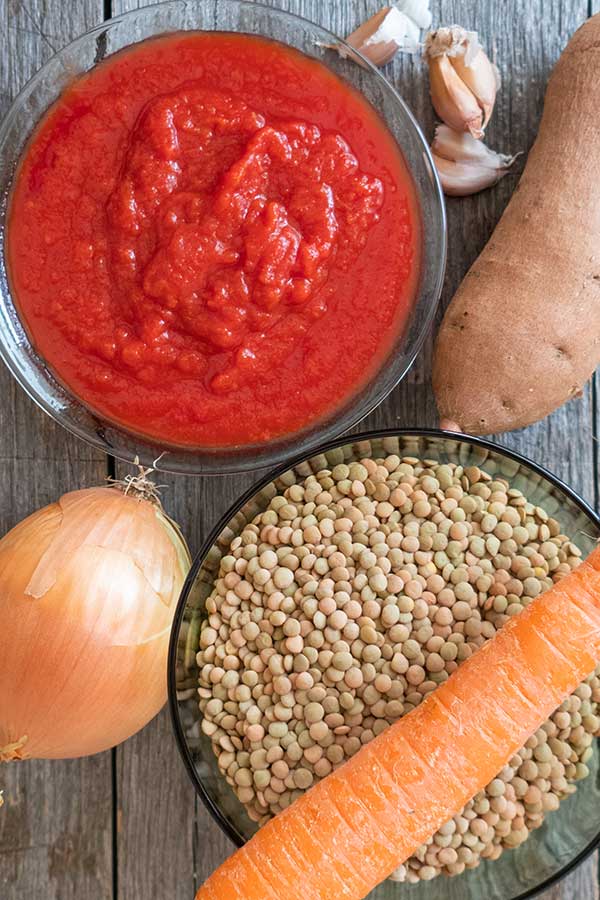 I love when I can combine comfort food with healthy comfort food. This one-pot lentil chilli is a healthy, hearty vegetarian meal in a bowl packed with nutrient rich ingredients.
Are lentils healthy?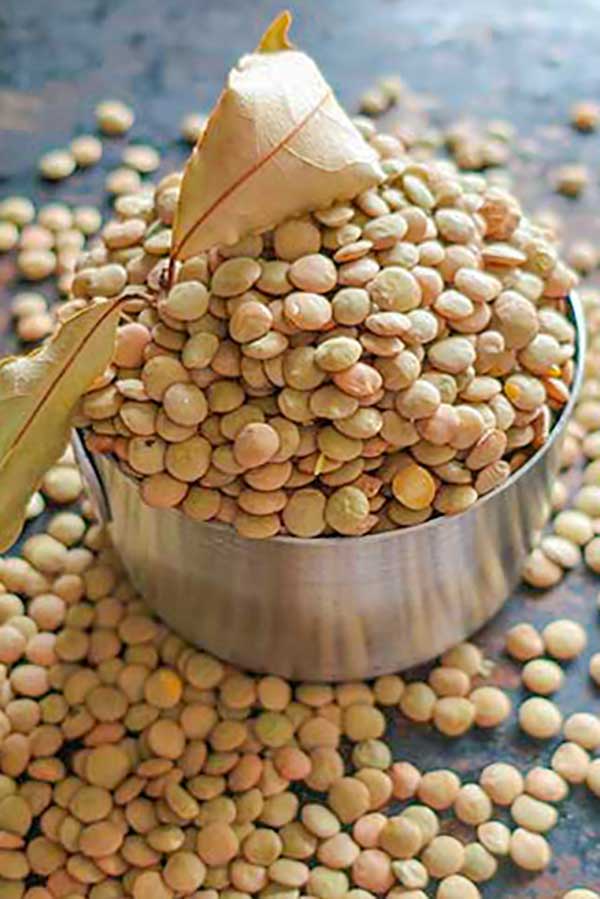 Lentils come in various shades. The most common colours are brown, green, red, yellow and black. Lentils provide a good amount of protein, fiber, calcium, iron and potassium. They also provide antioxidants such as vitamin A and C, making them an excellent addition to any diet.
Should I soak lentils in water before cooking?
Lentils cook relatively quickly, unlike dry beans. So it is not necessary to soak them first. Most lentils cook between 25 – 35 minutes.
Do lentils need to be washed?
I recommend rinsing lentils using a colander in cold water until the water runs clear to remove any dirt and debris. Lentils sometimes pick up small stones when they are picked, so it is advisable to inspect them. The last thing you want is to break a tooth on a stone.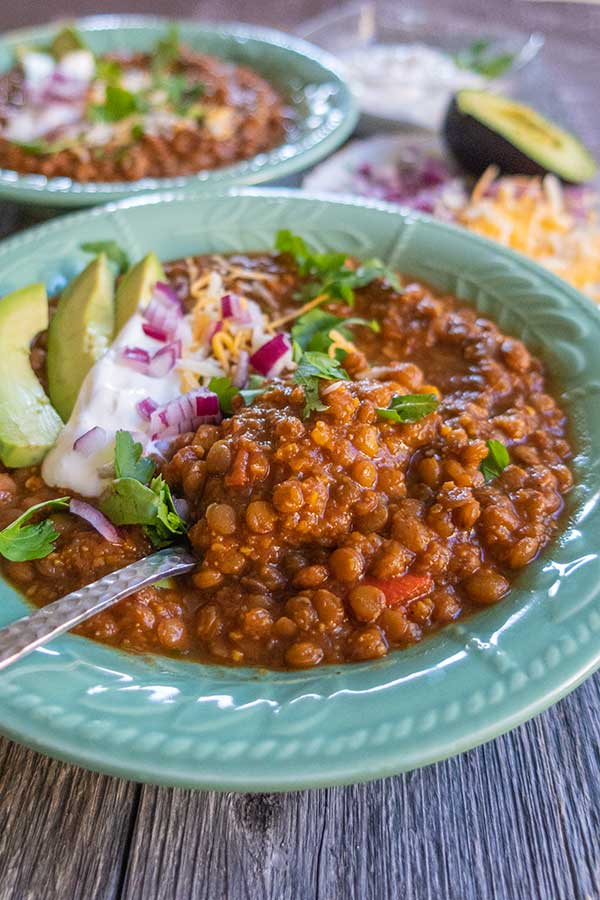 The vegetarian lentil chilli recipe details,
You may wonder how this chilli is so thick and hearty without using meat and starches. The two ingredients that I added to make it thick and rich are healthy sweet potato and carrots.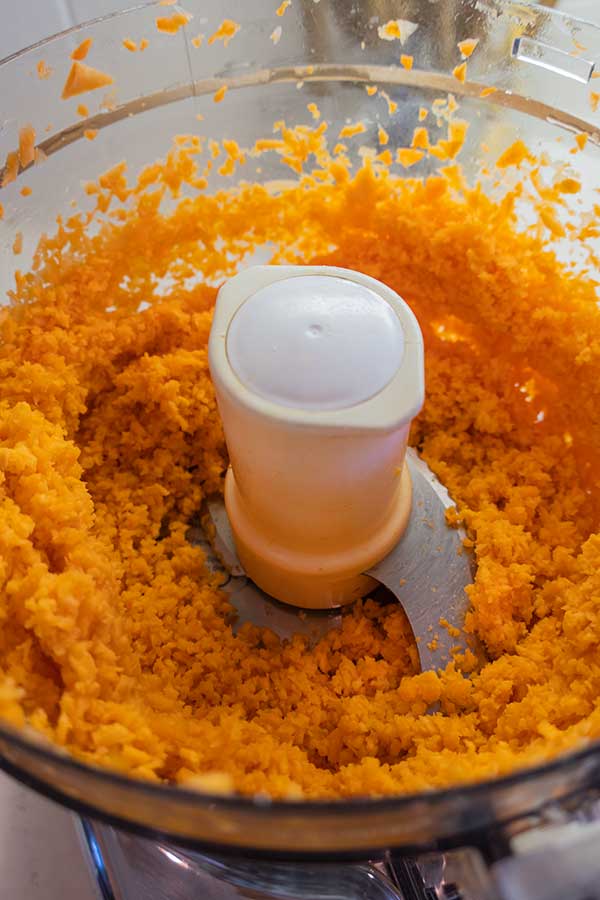 Both are finely shredded in a food processor until the texture is relatively small. Once cooked, the veggies meld into the sauce, adding thickness, texture and flavour you would find in a good chilli.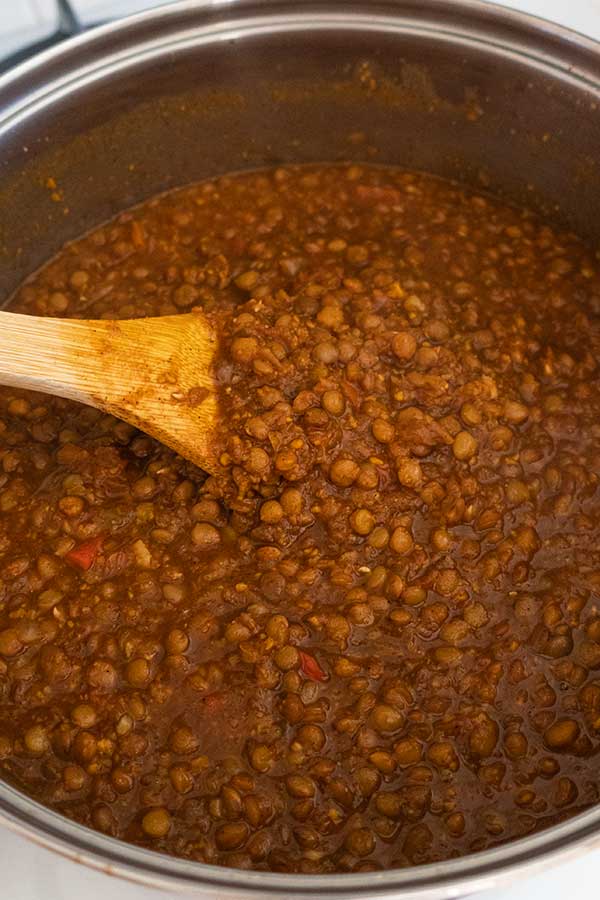 the toppings,
A good chilli must have toppings! I like to use avocado slices and chopped red onion to add a fresh flavour to this vegetarian meal. For creaminess, use sour cream, full-fat Greek yogurt and shredded cheese. Finally, I like to drizzle some chilli oil over the top and sometimes sliced jalapeno peppers to add a bit of heat. YUM!
Best sides for vegetarian chilli,
There is nothing better than dipping a delicious gluten-free cheesy cornbread, a gluten-free garlic bread or baked crispy sweet potato fries into a rich vegetarian lentil chilli.
Vegetarian lentil chilli is not your typical meaty chilli, but it is just as good and a healthy dish to add to a plant-based diet. As a bonus, this is a budget-friendly vegetarian meal that will feed a crowd!
If you are searching for a rich meaty chilli, try our Spicy Cincinnati Black Bean Chili.
The Very Best Vegetarian Lentil Chilli
Published on Jan 10, 2022
by
Kristina Stosek
Instructions
1.

In a large pot, heat olive oil over medium heat. Add onions, garlic, bell peppers, and sauté for 4 - 5 minutes, stirring frequently.

2.

Stir in chilli powder, cumin, coriander, bay leaves and cayenne pepper if using, until fragrant. About 30 seconds. Stir in crushed tomatoes, lentils and 6 cups of water

3.

Place sweet potato and carrot chunks into a food processor and process until you reach a texture of rice.

4.

Add the veggies to the pot and season with salt. Cover and cook over medium-low heat for 25 - 35 minutes until the lentils are tender. You may have to add an extra cup of water to reach desired consistency. While the chilli is cooking, stir it a couple of times so the lentils don't stick to the bottom of the pot

5.

Remove the bay leaves and serve hot with your favourite toppings.