Skillet Greek Chicken with Potatoes, Tomatoes, Peppers and Olives
Published on Aug 12, 2021
by
Kristina Stosek
Prep Time:

15 minutes
Cook Time:

30 minutes
Serves:

4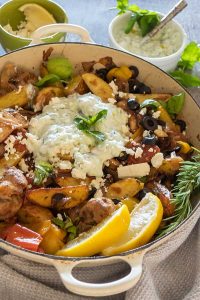 ​This post may contain affiliate links, please see our
privacy policy
for details
This Skillet Greek Chicken with Potatoes, Tomatoes, Peppers and Olives is one of those dinners you will love! It's full of colour, flavour, texture, with deliciously seasoned chicken, roasted potatoes, tomatoes, peppers, onions and olives. Everything is topped with feta, tzatziki and fresh herbs. So much goodness and healthiness in one skillet.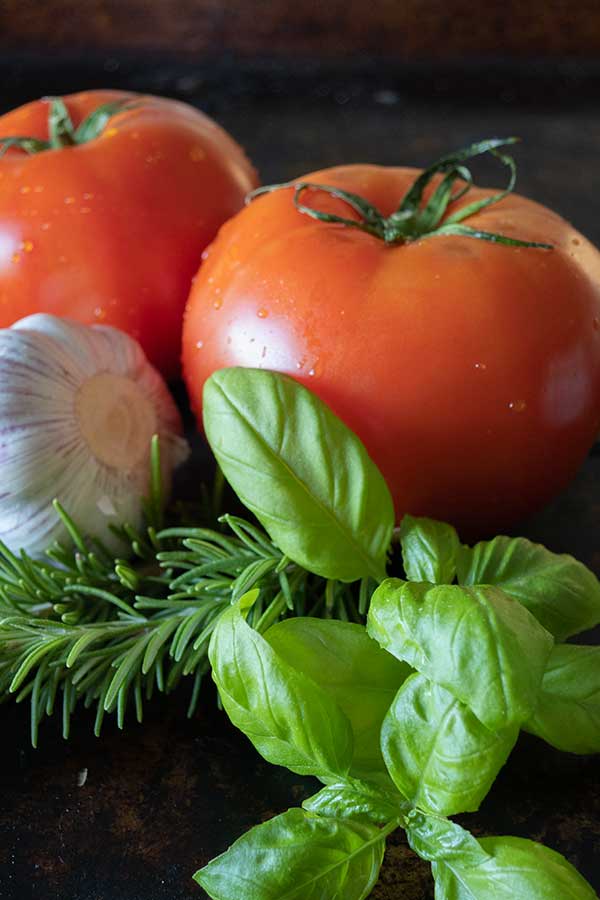 I love skillet dinners. Easy cleanup and everything is cooked in juices flowing from fresh veggies, herbs and tender chicken. In this skillet dinner recipe, I roasted the potatoes separately, keeping them crispy and golden brown. YUM!
Some of our other popular gluten-free skillet dinner recipes are Gluten-Free Skillet Cheese Lasagna Roll Ups and the One Skillet Cheesy Brazilian Chicken Rice Bake.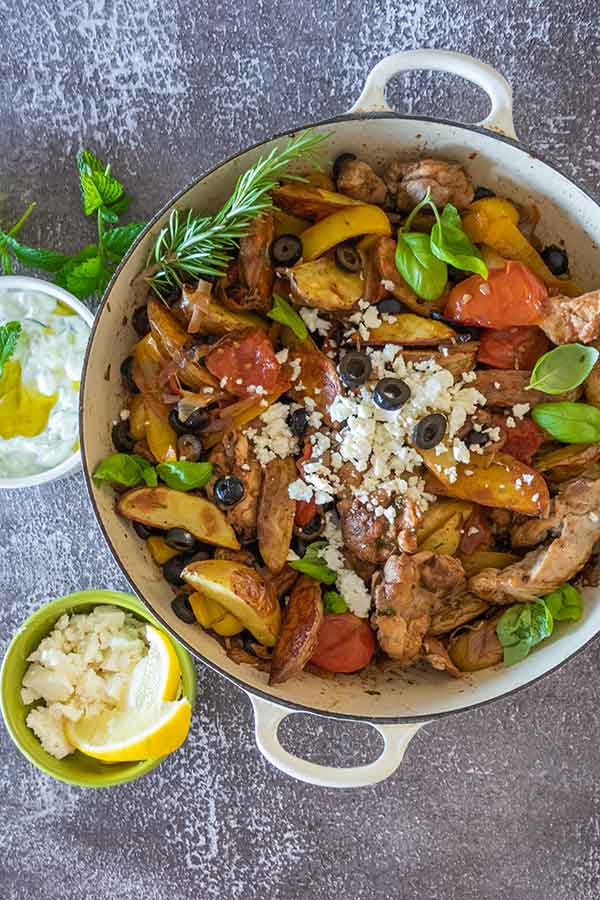 It's all about Greek flavour!
The flavour in this Greek chicken dinner comes from fresh herbs, such as rosemary and oregano. I also added garlic and balsamic vinegar. They truly make this skillet Greek chicken dinner spectacular.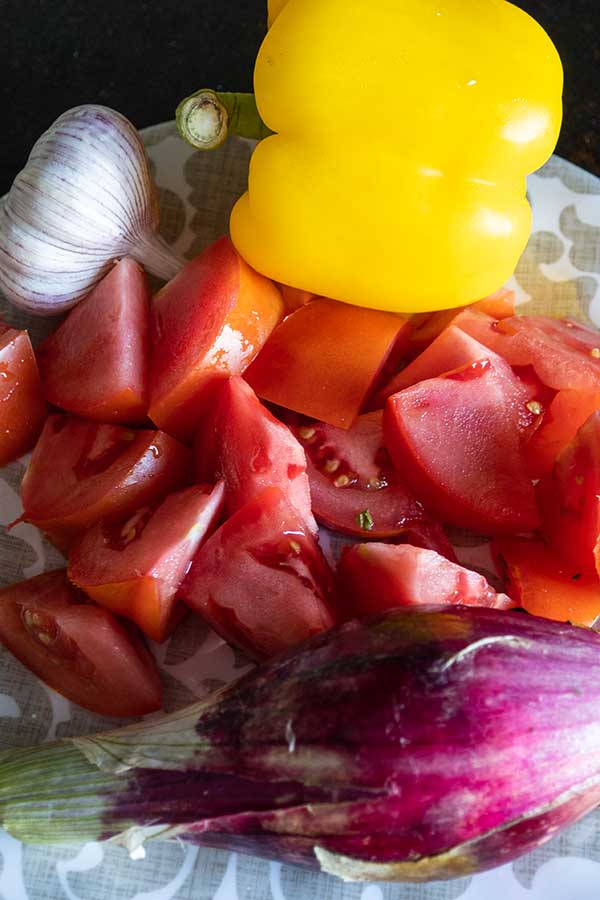 The fresh veggies used in this chicken recipe are as Greek as could be. Red onions, tomatoes, bell peppers and yellow potatoes. The veggies are cooked in the juices and oils from the chicken, making them extra tasty.
For extra richness, I added plenty of healthy olives. So much goodness in one dish!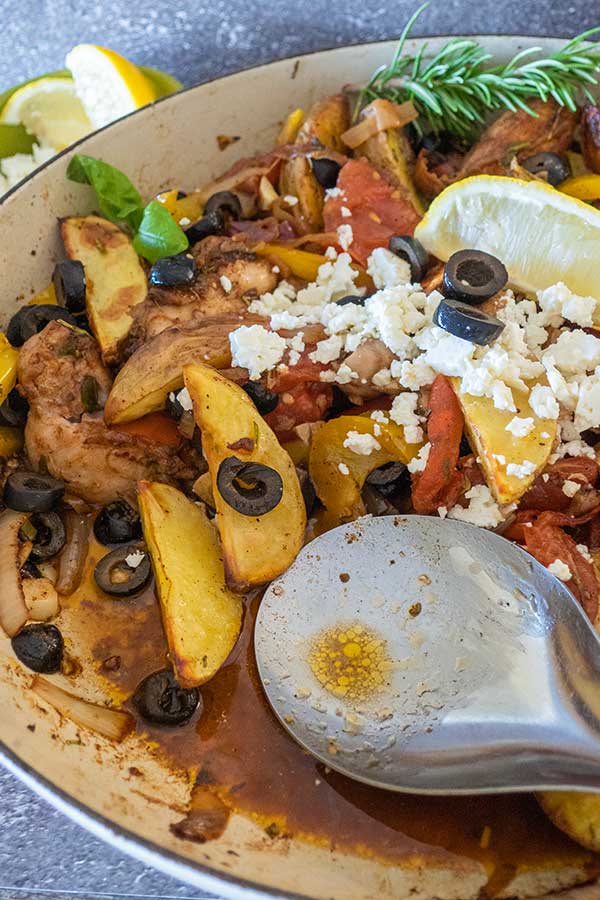 for the Greek chicken dinner we must-have toppings…
Greek dinner wouldn't be complete without tzatziki. Tzatziki is chilled yogurt made with freshly grated cucumber, olive oil, fresh herbs such as mint or dill, garlic, lemon juice and salt. The Greek yogurt dip I would not skip on.
Keeping it Greek, you must also have feta cheese. The saltiness of this cheese just makes everything happen. And, you can never have enough fresh herbs. I have a herb garden which I grow every year; I find fresh herbs is where it's at in terms of flavour. The more, the better.
And let's not forget the lemon wedges. Drizzle fresh lemon juice all over the chicken, potatoes and veggies. It doesn't get any better than this!
In this skillet Greek chicken dinner recipe, I used heirloom tomatoes. I find that the tomatoes hold their shape, even when they are briefly cooked. But, you can use halved Roma tomatoes if you prefer.
the skillet chicken recipe details…
This chicken dinner is a very simple Greek-style recipe. I like to start with roasting the potatoes. They take the longest to cook, and while the potatoes are cooking, you can finish everything else.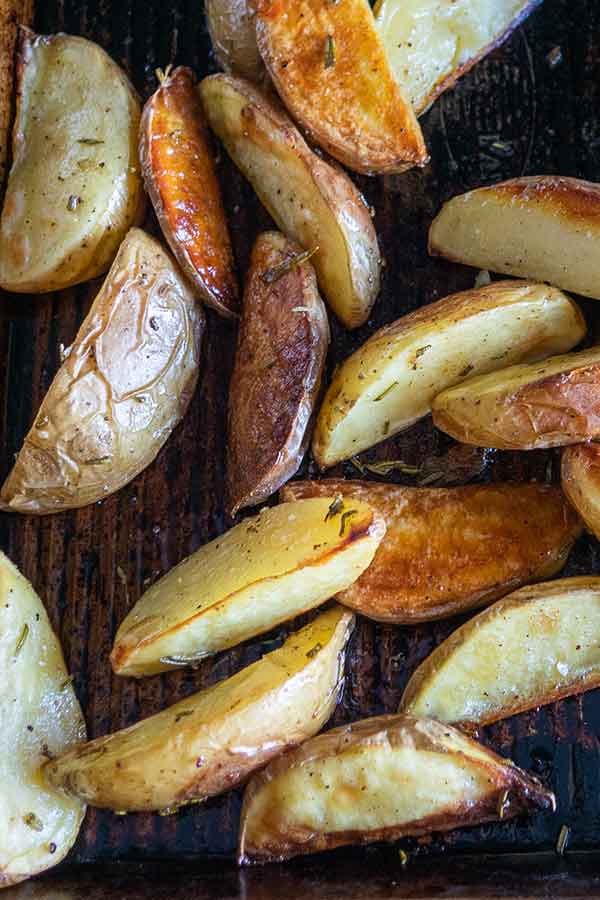 To start, toss the potatoes with a splash of olive oil, rosemary and salt and pepper. Next, scatter the potatoes on a hot, rimmed baking sheet. You want the baking sheet to be hot. The potatoes will not stick to the baking sheet if it's hot.
While the potatoes are roasting, finish everything else in one skillet…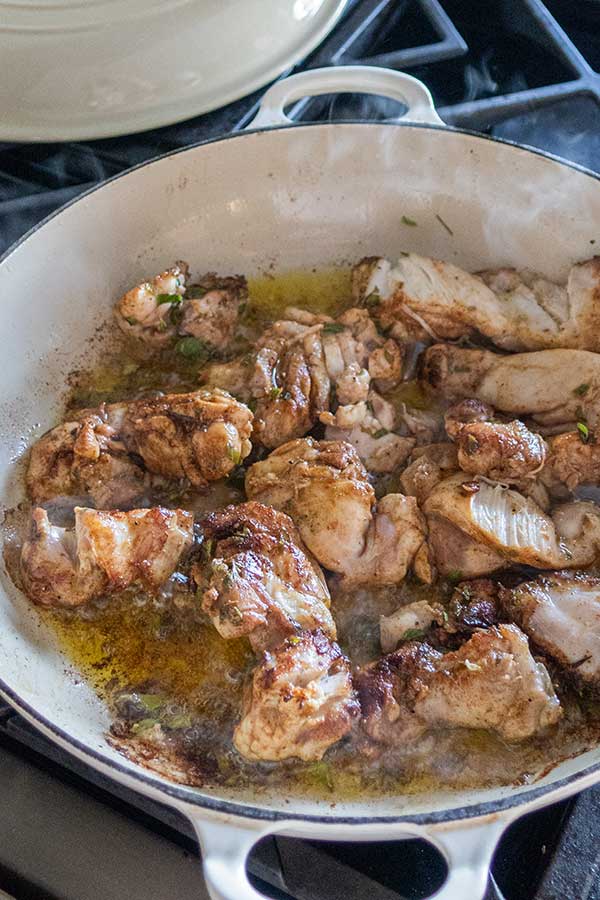 First, mix bite-size chicken pieces with olive oil, oregano, paprika, and salt and pepper in a large skillet. Sear the chicken until cooked through. Set aside.
Next,
Add onions and bell peppers to the same skillet with the delicious juices from the chicken and cook for about three minutes. You don't want the veggies to be soft, just starting to soften.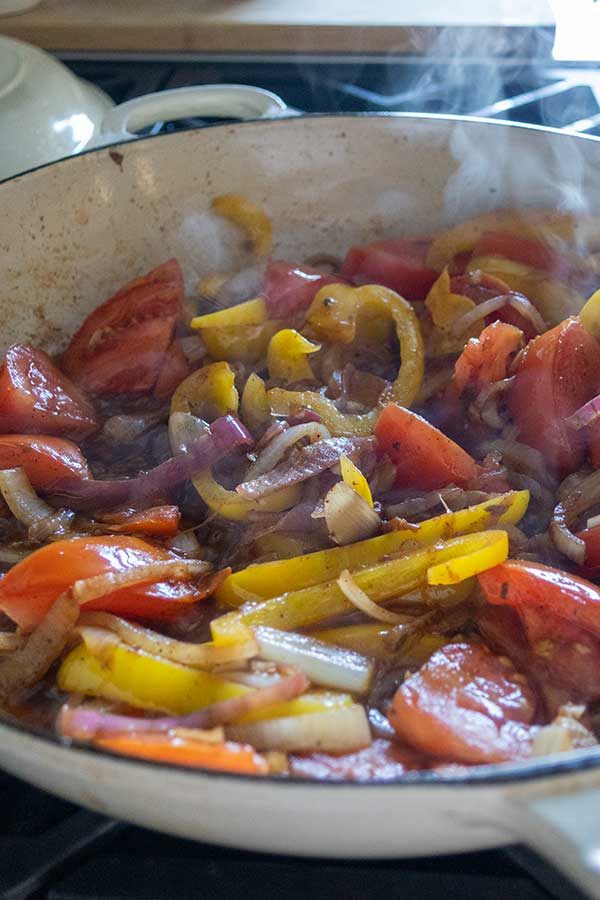 Add garlic, balsamic vinegar and tomatoes, and briefly cook. The tomatoes should start releasing their juices and begin to soften.
Then, return the chicken to the skillet with olives. Cook until the chicken is heated through and flavoured with the tasty juices from the veggies.
At the very end, add the roasted potatoes and give it a gentle stir. Done – simple – nothing to it. The entire Greek chicken dinner is ready in under thirty minutes. All you need to add is the toppings. So so good!
Here is my special tzatziki recipe. (1 1/3 cups)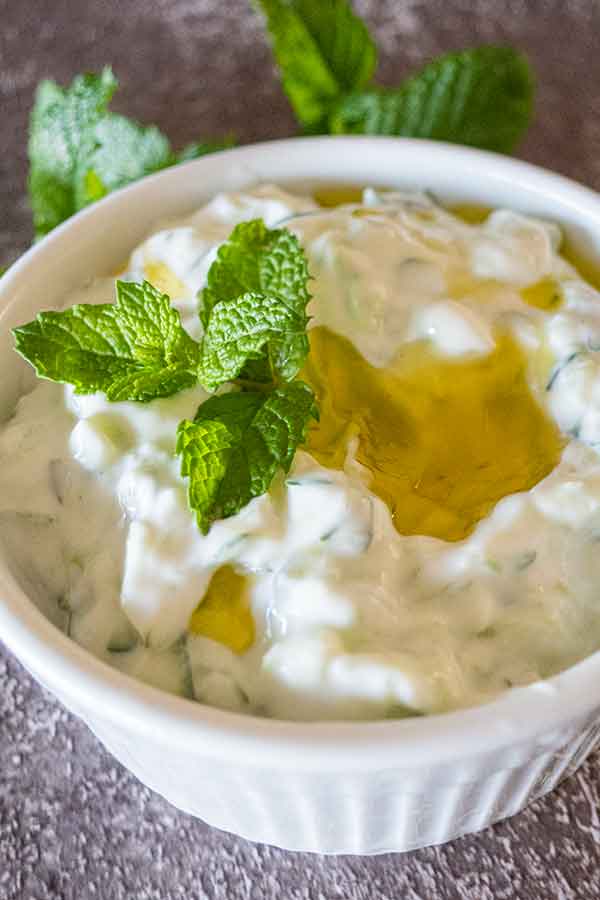 1 cup full fat plain Greek yogurt
1/3 cup grated cucumber ( I used English cucumber, always remove the seeds first)
1 Tbsp. Extra virgin olive oil
1 Tsp. Fresh lemon juice
1 garlic clove, minced
1 Tbsp. Chopped fresh mint
Sea salt to taste
Mix everything until combined
Nothing beats a freshly made tzatziki. The best part, it takes less than five minutes to whip up.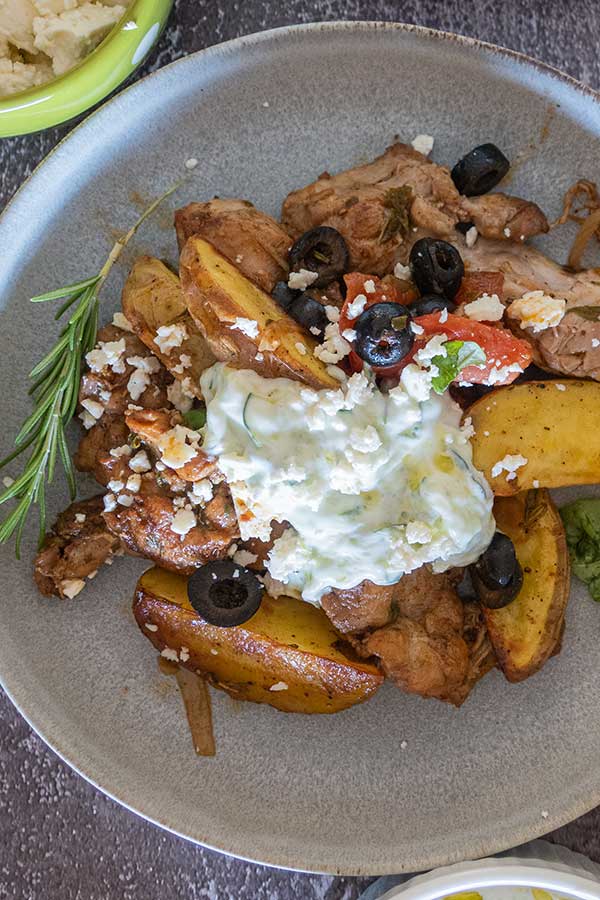 If you are looking for an easy chicken dinner and are short on time, you must try this skillet Greek Chicken with Potatoes, Tomatoes, Peppers and Olives recipe. I promise…you will love it! Enjoy!
Skillet Greek Chicken with Potatoes, Tomatoes, Peppers and Olives
Published on Aug 12, 2021
by
Kristina Stosek
Instructions
1.

Preheat oven to 400 F. Place a rimmed baking sheet in the oven as it heats up

2.

Toss potato wedges with 2 tablespoons of olive oil, rosemary, salt and pepper. Scatter potato wedges on the hot baking sheet and roast for 20 - 30 minutes. Until tender and golden brown

3.

Meanwhile, using a large skillet, toss together chicken, remaining olive oil, oregano, paprika and season with salt. Cook over medium-high heat until the chicken is browned and cooked through. Do not move the chicken around. Sear the chicken on one side for about 4 minutes, then flip the chicken over and cook until the chicken is cooked. Transfer onto a plate

4.

To the same skillet, add onions and peppers and cook for about 3 minutes. Add garlic, tomatoes and balsamic vinegar and season with salt and pepper. Cook until the tomatoes start to release their juices, about 5 minutes

5.

Return chicken with olives to the skillet and cook until the chicken is heated through. Stir in roasted potatoes.

6.

To serve, spoon the chicken with veggies onto plates and top with tzatziki, crumbled feta, fresh herbs and a drizzle of lemon juice.