Plum & Almond Crumble Snacking Cake – Gluten Free
Published on Sep 22, 2022
by
Kristina Stosek
Prep Time:

20 minutes
Cook Time:

35 minutes
Serves:

15 pc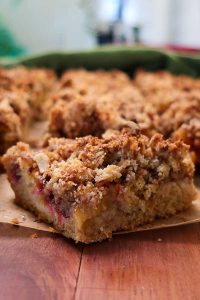 ​This post may contain affiliate links, please see our
privacy policy
for details
The extra moist buttery Plum & Almond Crumble Snacking Cake is addictively delicious and surprisingly light. The tartness of the plums lightly sweetened with coconut sugar, a hint of cinnamon, and the nutty almond crumble make this the best gluten-free snacking cake of the season.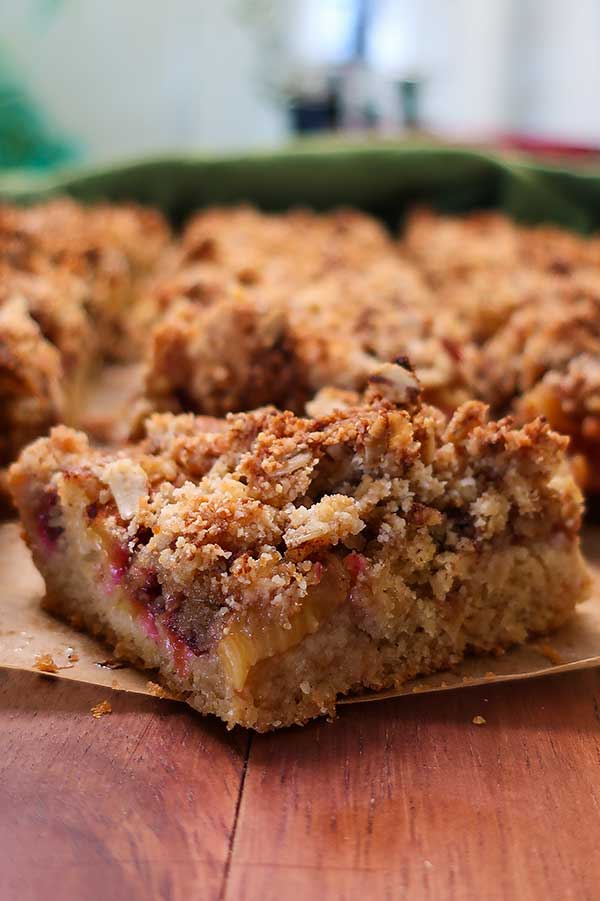 This gluten-free snacking cake recipe is made with fresh plums, almond flour, and a few other simple ingredients. This cake is perfect for breakfast, an afternoon pick-me-up snack, or after-dinner dessert.
best plums for baking?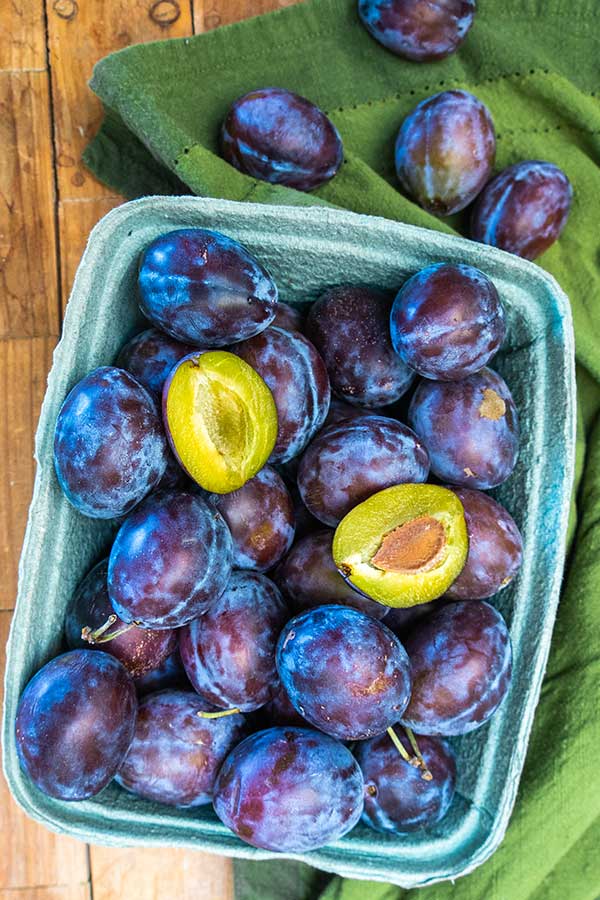 You can't go wrong when picking the right plum for your crumble cake because all plums will work perfectly in this recipe. So feel free to use whatever variety you have on hand.
If you're looking for a specific recommendation, we suggest using Moyer Plum. This plum has purple skin with yellow-orange flesh. The plum is juicy, has a sweet taste, and is ideal for baking.
Are plums considered a superfood?
This is a good question. This humble fruit is packed with nutrients and antioxidants that can benefit your health in several ways.
For starters, plums are a good source of fiber, which can help keep you regular and promote a healthy gut. They're also high in vitamins C and K, potassium, and other minerals.
Plus, they contain polyphenols – plant compounds that have been shown to protect against chronic diseases like heart disease and cancer.
To answer the question, plums are super healthy! So go ahead and enjoy a Plum & Almond Crumble Snacking Cake – it's delicious and healthy-ish!
Baking with plums FAQs
Here are some answers to some of the most frequently asked questions about baking with plums!
Q: What type of plum should I use for baking?
A: You can use any plum you like, but we recommend using Moyer plum, Italian prune plums or Japanese varieties like Shiro or Santa Rosa.
Q: How do I prepare the plums for baking?
A: Wash the plums to remove sprayed pesticides. Use a solution of 1 teaspoon of baking soda to 2 cups of water and soak for 15 minutes. Or, soak in 1 part vinegar to 4 parts water for 20 minutes. Rinse with water afterwards. Remove the pits and slice as required.
Q: Can I use frozen plums for baking?
A: Yes, you can! Just thaw them out before using them. Frozen fruit is a great way to keep fruit for baking when you need it.
Can I use other fruit for snacking cake crumble?
Absolutely! Although fresh plums are available from July through October, sometimes changing the recipe is good. Just make sure to adjust the amount of sugar you use to account for the sweetness of the fruit you're using.
For example, if you're using berries which are generally quite tart, you'll want to add a bit more sweetener. Alternatively, if you're using something like peaches which are quite sweet, you might want to reduce the amount of sugar slightly. But ultimately, it's up to you and your personal preferences!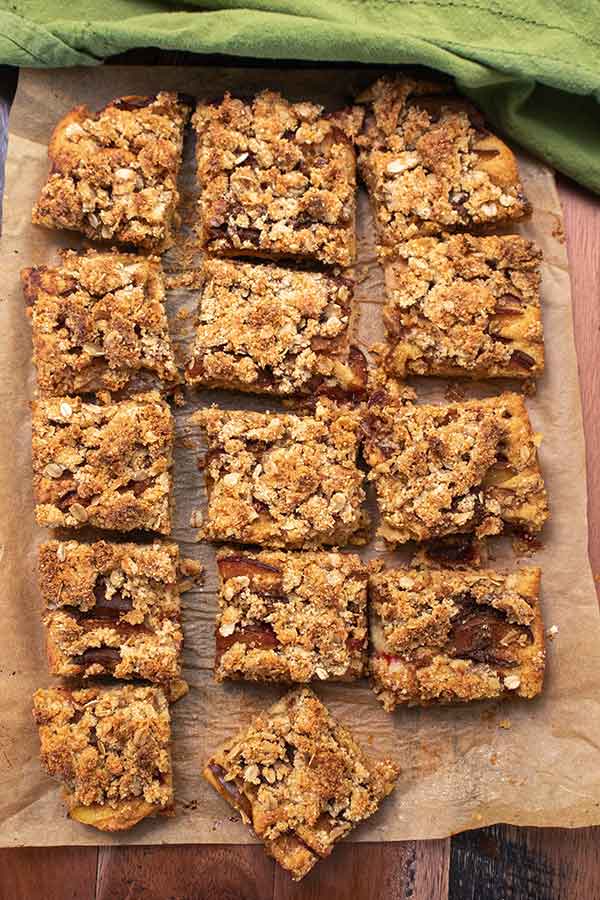 Can I make the plum and almond crumble snacking cake plant-based?
If you are looking to make the plum and almond crumble snacking cake plant-based, there are a few things that you can do.
Substitute the butter in the recipe for vegan margarine like earth balance or coconut oil.
Use plant-based milk like oat, rice, almond or coconut.
Use an egg replacer or a flax egg in place of the eggs called for in the recipe.
Finally, ensure that the gluten-free flour blend doesn't include milk. Several blends do.
These substitutions will make the cake plant-based and still just as delicious!
Can I replace the oats in the crumble topping?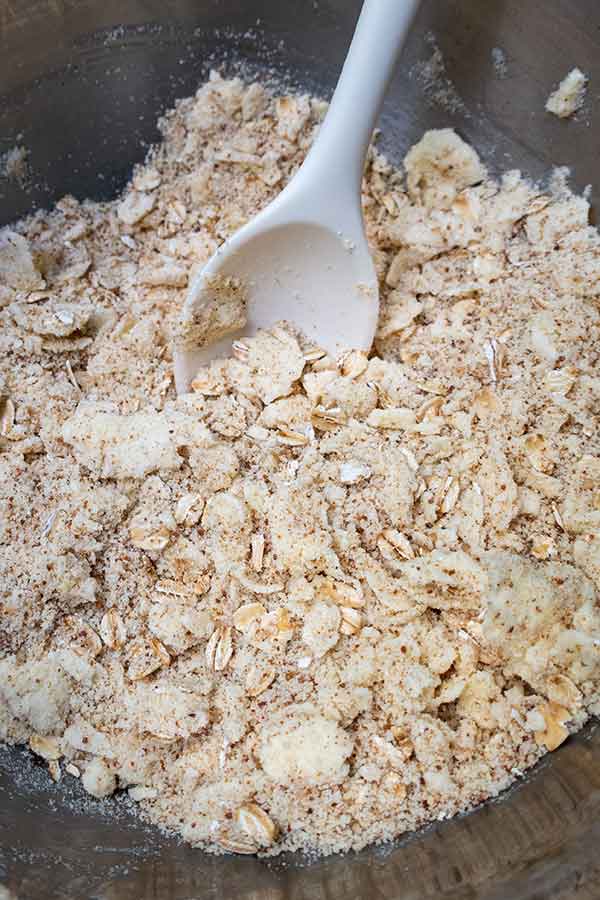 For a gluten-free option for your crumble topping, you can replace the oats with a gluten-free flour blend or buckwheat flour. For this recipe, you would need to use a 1/4 cup.
What are the health benefits of almond flour?
Almond flour is a delicious and nutritious way to add more protein and healthy fats to your diet. This naturally gluten-free flour is made from finely ground almonds, a popular ingredient in many Paleo and low-carb recipes.
Almond flour is a good source of Vitamin E, magnesium, phosphorus, and copper. It's also high in monounsaturated fats, which may promote heart health. This fat can help lower LDL (bad) cholesterol levels and increase HDL (good) cholesterol levels.
Studies have shown that eating foods made with almond flour can help to control blood sugar levels. This is great news for people trying to lose weight or manage diabetes.
Adding almond flour to your diet can help you feel fuller for longer and avoid unhealthy snacks and cravings. Some of our favorite recipes that include almonds are Gluten-Free Apple Sponge Cake With Almond Topping, Gluten-Free Lemon Blueberry Muffins and the plant-based Gluten -Free No Bake Lemon Coconut Bars.
Why is almond flour excellent for gluten-free baking?
Almond flour is excellent for gluten-free baking because it is a light, fine flour that produces baked goods with a soft and moist texture.
Additionally, almond flour is a good source of protein and fiber and has a lower glycemic index than other gluten-free flour.
Snacking cake vs coffee cake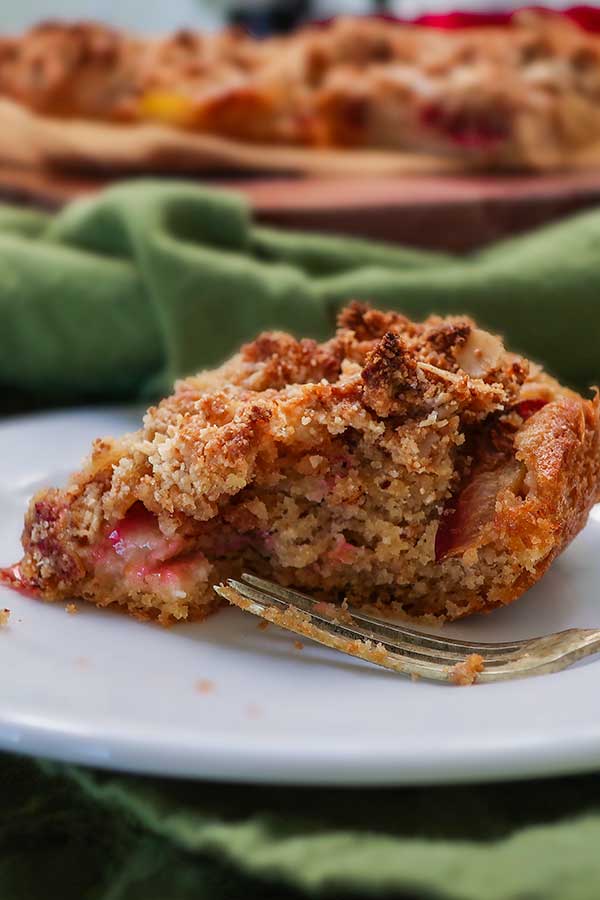 When it comes to cake, there are two main types: snacking cake and coffee cake. Both cakes are delicious and perfect for a quick snack or dessert, but what's the difference?
Snacking cake is typically denser and moister than coffee cake and often has a fruit or nut filling. Plum and almond crumble snacking cake is a delicious example of this type of cake. On the other hand, coffee cake is usually lighter and fluffier, with a streusel topping.
So which type of cake should you reach for when you need a quick snack? It depends on your personal preference.
But our favorite would be the snacking cake. They're just so darn delicious. And this gluten-free plum & almond crumble cake is no exception.
So if you are still unsure whether to try this Plum & Almond Crumble Snacking Cake, we hope the sweetness of the plums perfectly balanced by the almond crumble topping will make this one hard to resist. We guarantee you'll be reaching for seconds (or thirds!) Enjoy!
Let's Connect!
Be sure to FOLLOW US on FACEBOOK and PINTEREST.
Many thanks!
Kristina xx
Plum & Almond Crumble Snacking Cake – Gluten Free
Published on Sep 22, 2022
by
Kristina Stosek
Instructions
1.

Preheat the oven to 375 F and line an 8 x 12-inch baking pan with parchment paper.

2.

In a large bowl, combine flours, (xanthan gum if adding), baking powder and salt.

3.

In a separate bowl using an electric mixer, cream butter and sugar, scraping sides as needed, add eggs and mix to combine. Add milk and vanilla and mix. It's ok if the butter separates.

4.

Add wet mixture to dry ingredients, and using a spatula, mix to combine

5.

Spread the batter into the prepared pan and evenly top with plums. You should have three rows of plum slices. *see photo on the blog

6.

Mix two tablespoons of sugar with cinnamon and sprinkle over the plums

7.

8.

In a small bowl, combine almond flour, oats, sugar and salt. Grate in the cold butter, and using a fork, mix to combine.

9.

Add ice water and mix with a fork. Squeeze some of the mixture in your hands forming clusters, and scatter over the plums. Continue until you use up all the crumble mixture

10.

Bake for 30 - 35 minutes. The crumble should be golden brown. Cool in the pan before slicing.
Leave a Comment
Kristina
Alene, yes, they will work well in this recipe.
I have I.B.S and can't eat any stone fruit, such as plums which I love. Do you think strawberries would work? Thank you.