One Pot Fish In Red Curry Sauce
Prep Time
10 Minutes
Difficulty
Easy
Cook Time
15 Minutes
Serves
4
Average Rating: 4.5 | Rated By: 3 users
This fish recipe is made in One Pot. The white fish is flaky, cooked in a mild red curry sauce and plenty of vegetables—so much goodness in this tasty, simple fish meal.
What makes this red curry sauce so good?
The creamy curry sauce is made with green beans, carrots, bell peppers and tomatoes, adding healthiness and extra flavour to this red curry fish dish.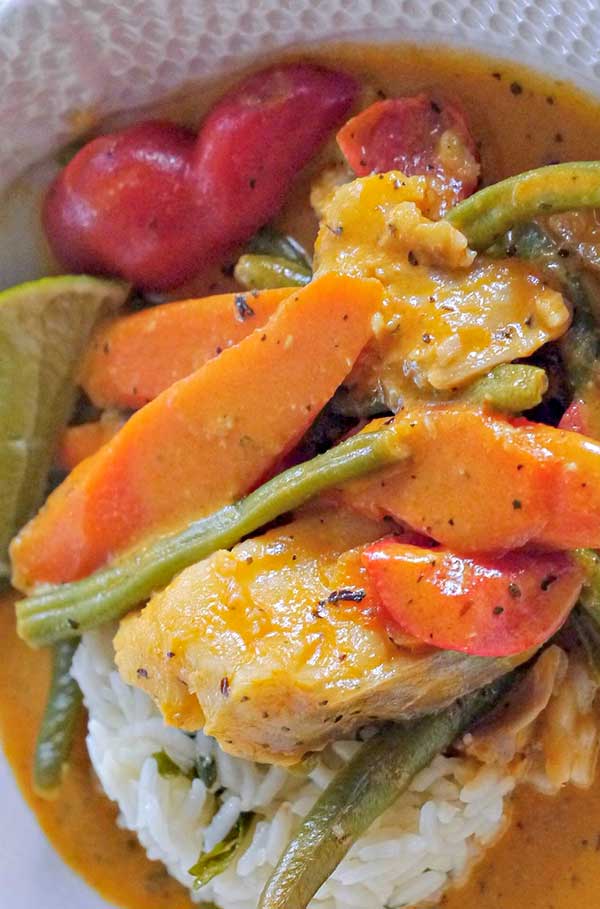 The sauce is flavoured with ginger, garlic, fish sauce, basil and tomato paste. However, it is coconut milk that makes everything extra creamy and delicious.
Another fish recipe you may enjoy is the Caribbean Fish Curry. 
I like to serve this fish in a red curry sauce dish over simple rice with parsley and a healthy salad.
Ingredients
2 Tbsp. GF red curry paste ( I used Thai kitchen )
1 (13.5 oz.) can of full-fat coconut milk
1 cup GF chicken, vegetable or fish broth
2 Tbsp. pure tomato paste
1 Tbsp. fish sauce
1 Tbsp. minced ginger
1 garlic clove, minced
1 tsp. pure maple syrup
1 Tbsp. GF dried basil leaves
1/2 lb. green beans, trimmed
1 red bell pepper, sliced
4 carrots diced
1 tomato, quartered or 10 cherry tomatoes cut in haved
1 ½ lb. white firm fish such as Halibut, Mahi Mahi, Snapper or Atlantic cod cut into large bite size pieces
Juice of one large lime
*As an Amazon Associate and member of other affiliate programs, I earn from qualifying purchases. Please check out my sponsorship and disclosure policy page for more details
Instructions
Add curry paste, coconut milk, broth, tomato paste, fish sauce, ginger, maple syrup, basil and garlic into a large saucepan. Whisk to combine and bring to low simmer
Add beans, red pepper, carrots and tomatoes and cook for 8- 10 minutes or until vegetable are tender but still firm to bite
Add fish and lime juice and cook for 3 – 4 minutes or until fish is cooked through
Similar Recipes
Gluten Free English Crispy Fried Fish
Crispy fried fish and chips are one iconic dish that the UK is known for worldwide. This gluten-free crispy fried fish is simple to make and is adored by fish lovers.  English Crispy Fried Battered Fish the gluten-free way! Keeping up with tradition, the gluten-free batter that coats the fish is crisp, and the fish is […] Read More
Prep Time
15 Minutes
Difficulty
Easy
Cook Time
20 Minutes
Serves
4
Ginger Salmon Hot Pot
This tasty salmon hot pot is made with leeks, celery, carrots and shallots in a light ginger sauce. The best part is that the mystical one-pot ginger salmon dish takes only 20 minutes to make. This healthy salmon dinner recipe is perfect for someone following a low-calorie diet. When cooking delicate fish such as wild […] Read More
Prep Time
5 Minutes
Difficulty
Easy
Cook Time
20 Minutes
Serves
4