One Pan Baked Cheesy Pepperoni Pasta – Gluten Free
Published on Feb 25, 2021
by
Kristina Stosek
Prep Time:

15 minutes
Cook Time:

45 minutes
Serves:

6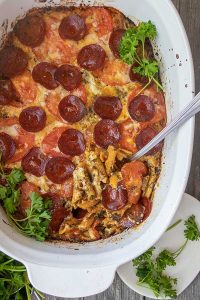 ​This post may contain affiliate links, please see our
privacy policy
for details
Gluten-free one pan baked cheesy pepperoni pasta—Italian meal for nights when you are looking for something easy and simple to make. This gluten-free Italian meal is made with dry pasta, olive oil, tomato or pizza sauce, garlic, cheese, tomato slices, pepperoni and plenty of herbs.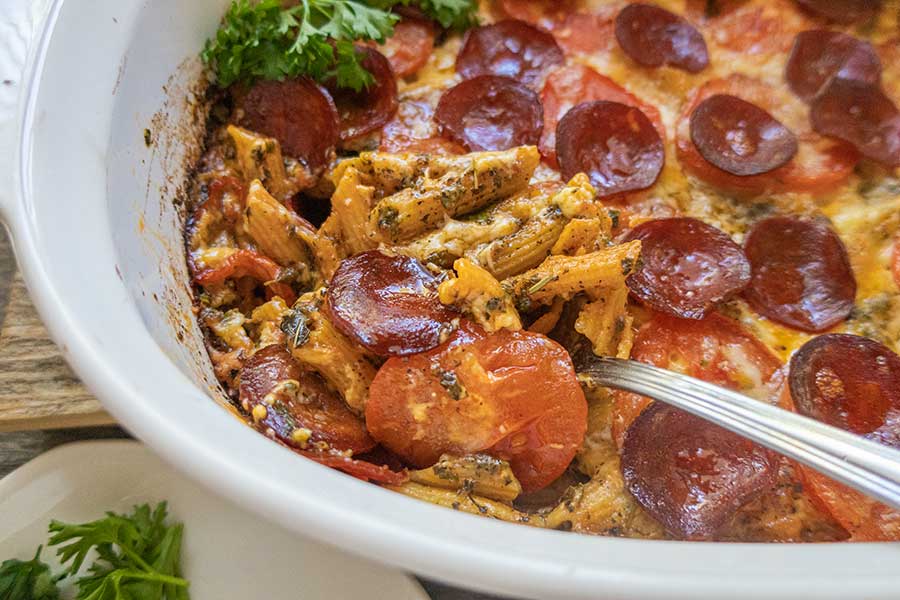 The best part about this gluten-free pasta dish is all you need is one dish. You don't have to pre-cook the pasta because it is baked in the flavourful sauce with plenty of cheese and topped with fresh tomatoes, more cheese and pepperoni slices.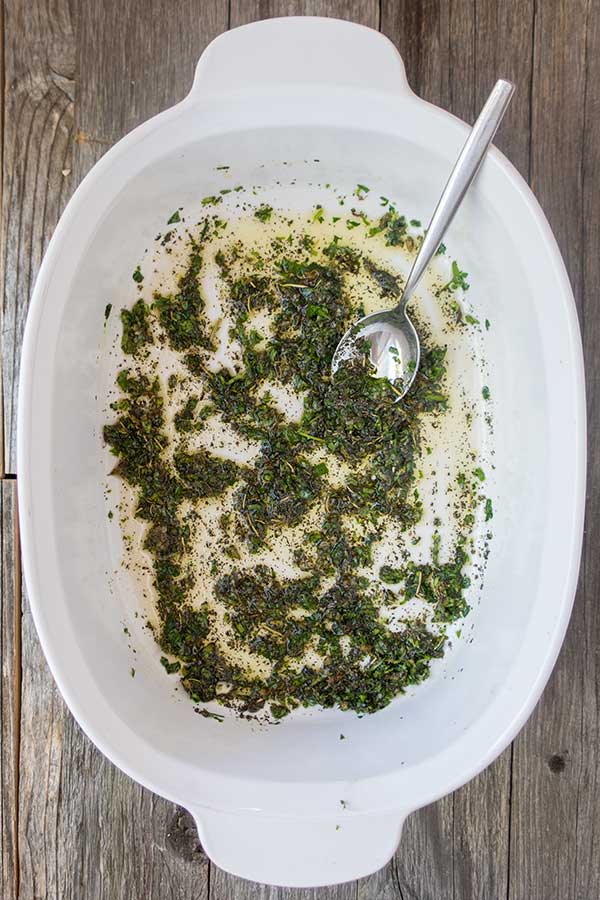 It is almost Friday, and what is more satisfying than finish the week with freshly baked gluten-free cheesy pepperoni pasta. After all, who doesn't love a good pasta dish?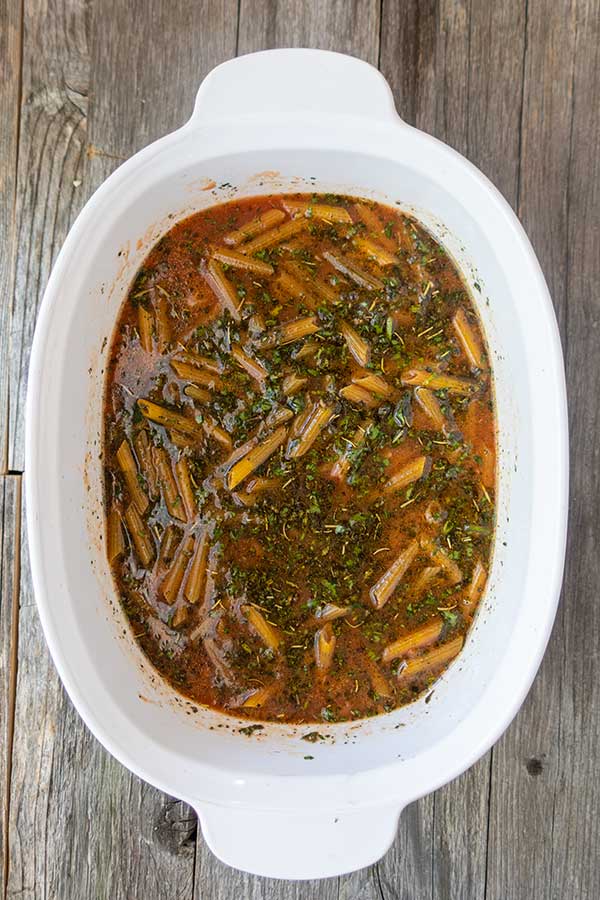 What I love about this one pan gluten-free baked pasta dish is, all you need is seven ingredients, plus the herbs. Making a hearty, satisfying Italian meal doesn't get much easier.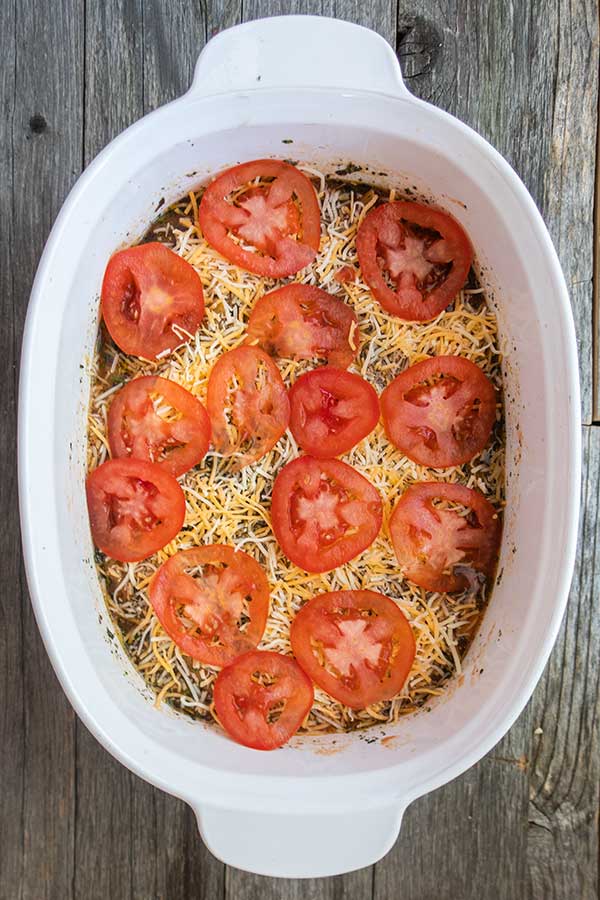 For the details,
Get a large baking dish and add the olive oil, herbs and garlic. Mix everything to flavour the olive oil. Then, add the dry pasta and coat it with the well flavoured olive oil.
Pour the sauce and water over the pasta, sprinkle with cheese, tomato slices, a little more cheese and pepperoni. The pasta dish is ready for the oven. Nothing to it!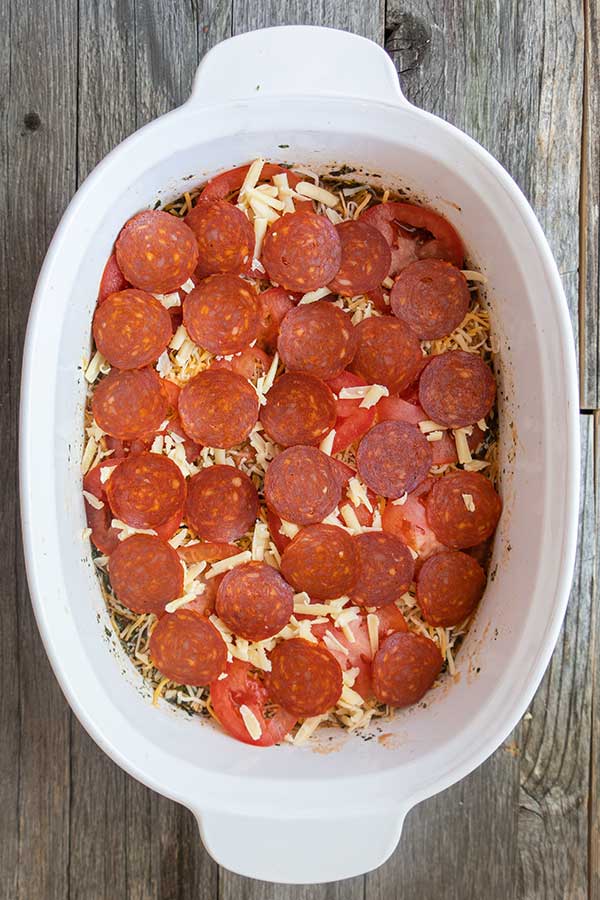 I recommend using short cut pasta such as gluten-free rigatoni or gluten-free penne. Both are perfect for absorbing the tasty sauce evenly.
This one pan gluten-free pasta dish is slowly baked, allowing the pasta to absorb all the delicious flavours and the cheese to melt throughout. The tomatoes add freshness and the pepperoni adds flavour and a bit of spiciness. Sooo good!
I don't know about you, but having only one dish to clean, ends the week just right. By Friday, the last thing I want to do is start cooking an elaborate meal. I leave that for the weekend.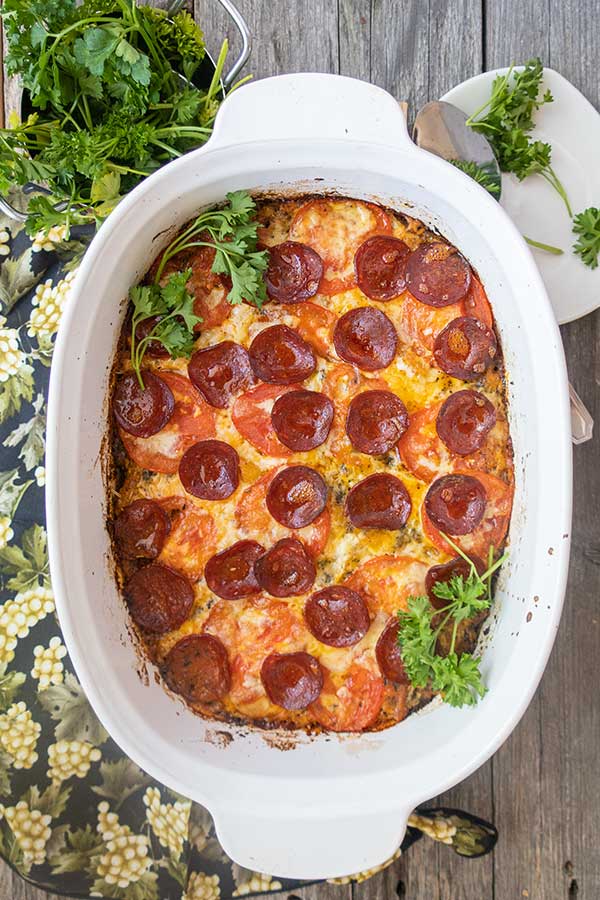 This gluten-free one pan baked cheesy pepperoni pasta dish is fancy enough for company and simple enough for any night of the week. So next time you think of ordering a pizza or take-out food, you can replace it with this Italian pasta dish.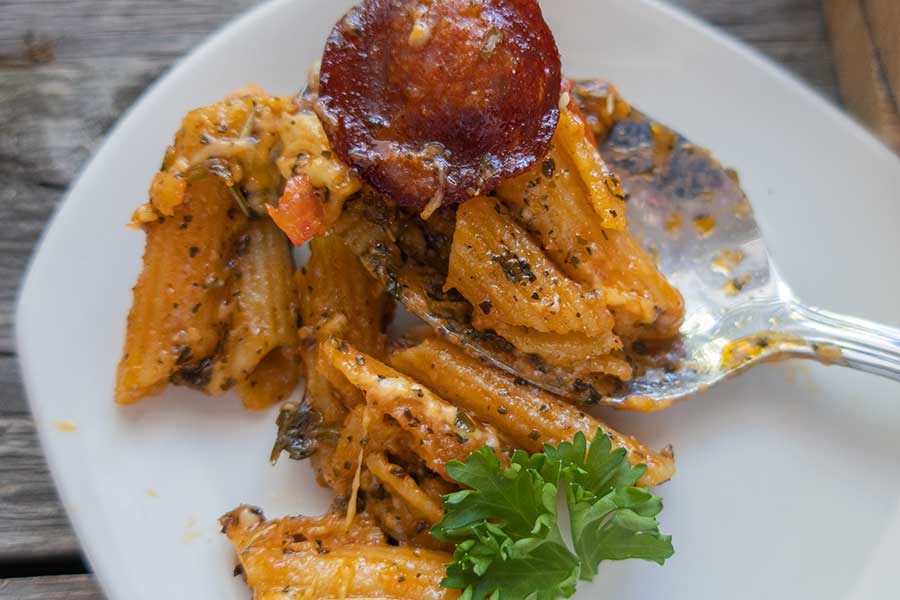 This gluten-free one pan pasta meal is budget-friendly, simple to make and satisfying. There are no dishes to clean up while you prep, and you will need only one pan. There is something about Italian food…don't you agree? The flavour, the aroma and plenty of cheese 🙂
Do you want to try some of our easy gluten-free pasta recipes? These are my favourites!
For the latest recipes and tips, please like us on Facebook or follow us on Pinterest and Instagram.
One Pan Baked Cheesy Pepperoni Pasta – Gluten Free
Published on Feb 25, 2021
by
Kristina Stosek
Instructions
1.

2.

Add olive oil, parsley, garlic, basil, oregano, rosemary, salt and red pepper flakes into an 8 x 10-inch baking dish, and mix. You can also use a larger dish

3.

Add dry pasta and mix, making sure the pasta is well coated with the herb oil

4.

Pour over sauce and 1 1/2 cups water. Stir to combine

5.

Top with 2 cups of shredded cheese, tomato slices, parmesan cheese and pepperoni. Cover tightly with foil or lid, and bake for 25 minutes. Uncover and bake another 15 - 20 minutes until the cheese has melted

6.

Remove from the oven and sprinkle with fresh parsley or basil
Leave a Comment
Looks so easy and delicious!!!