Grain-Free Pumpkin Loaf (Gluten-Free)
Published on Oct 08, 2019
by
Kristina Stosek
Prep Time:

15 minutes
Cook Time:

45 minutes
Serves:

1 loaf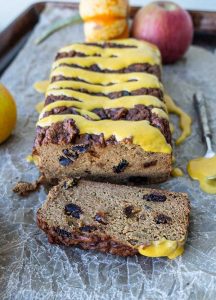 ​This post may contain affiliate links, please see our
privacy policy
for details
A healthy grain-free pumpkin loaf made without sugar, nuts, fats or dairy. This loaf is everything we love, pumpkin, fresh apples and bananas. The flour I used in this gluten-free pumpkin loaf is healthy coconut flour.
Is coconut flour healthy?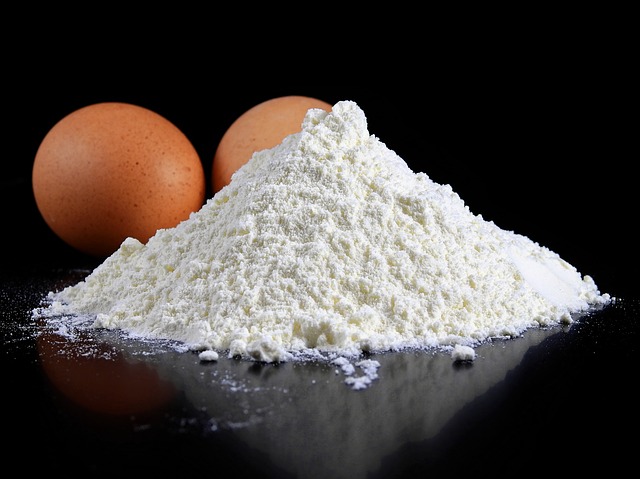 When following a gluten-free diet, coconut flour is an excellent option because it is naturally gluten-free. Also, it is rich in protein, fiber has a good amount of iron, and is lower in carbs.
I must confess I don't use coconut flour in my recipes often enough. But since I wanted to create a super healthy pumpkin loaf without sugar, fats and dairy, I also wanted this gluten-free loaf recipe to be grain-free, thus the coconut flour.
The pumpkin loaf turned out super moist, delicious and had a light pumpkin flavour.
Another ingredient I have added is dried currants. Dried fruit gives the loaf more texture and extra sweetness. Currants are my favourite dried fruit, so I use them often in baking, but you can use just about any dried fruit like cranberries, raisins, apricots, dates or another favourite of mine is crystallized ginger.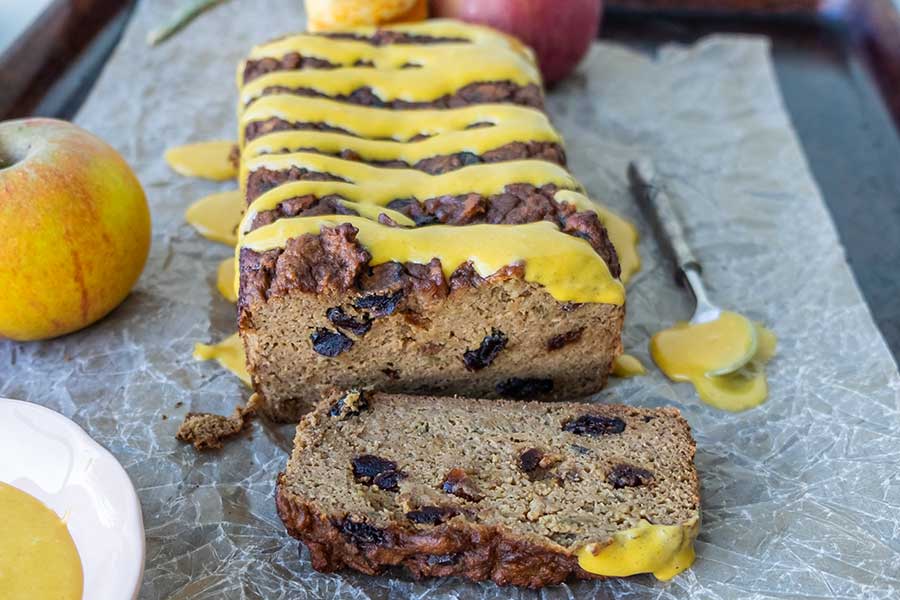 Every bite of this pumpkin loaf is beyond delicious.
And, because I couldn't help myself, I also made delicious pumpkin spiced frosting. The frosting is optional, but it is a must in my family for a fruit loaf. Yes, there is sugar and dairy in the frosting, so use it only if you must. However, the frosting makes this grain-free pumpkin loaf extra special!
I know this sounds like an autumn recipe since the focus is on the pumpkin, but I like to include pumpkin in my diet throughout the entire year.
Pumpkin is super low in calories and rich in dietary fiber adding healthiness to cakes, muffins and bread, and makes everything super moist without adding fats. Enjoy!
Grain-Free Pumpkin Loaf (Gluten-Free)
Published on Oct 08, 2019
by
Kristina Stosek
Instructions
1.

Preheat oven to 350 F and line the bottom of a 9-inch x 5-inch loaf pan with parchment paper

2.

In a large bowl, using an electric mixer whisk the eggs until frothy. Add apple, pumpkin, banana, vanilla, cinnamon, nutmeg and salt. Mix to combine.

3.

Add coconut flour and baking soda and mix. Stir in dried fruit

4.

Transfer batter into prepared loaf pan and bake for 45 - 50 minutes until firm to touch. Cool in the pan for 15 minutes, then transfer the loaf onto a cooling rack to cool completely

5.

For the pumpkin frosting, add everything into a blender and mix until smooth. Spread over cooled loaf