Pull Apart Sticky Pumpkin Spice Buns – Gluten Free
Published on Sep 19, 2018
by
Kristina Stosek
Prep Time:

20 minutes
Cook Time:

30 minutes
Serves:

12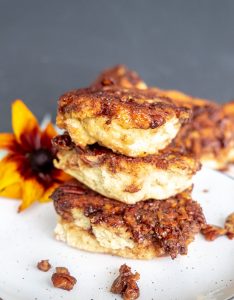 ​This post may contain affiliate links, please see our
privacy policy
for details
Warming Gluten-Free Pull-Apart Sticky Pumpkin Spice Bun recipe! All I can think of is warm, buttery, sticky, deliciously spiced pumpkin spice buns straight out of the oven, especially on Thanksgiving or Christmas morning.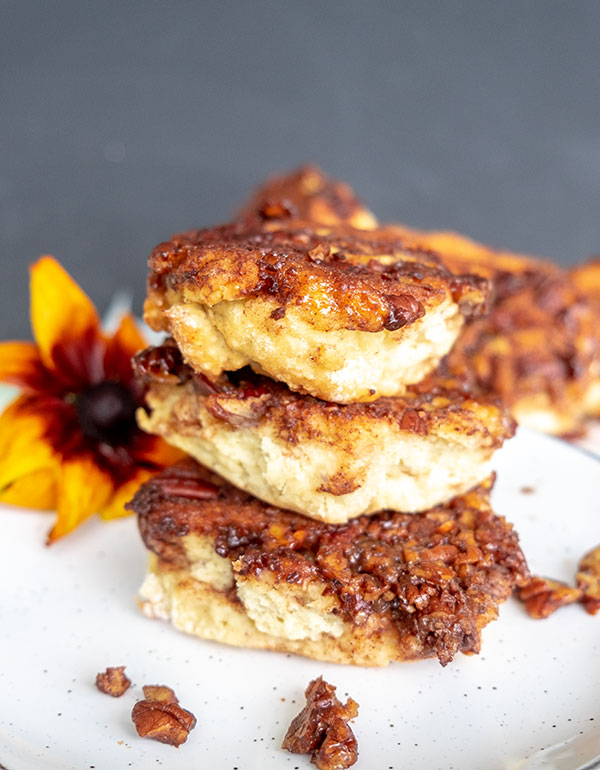 While the sticky pumpkin spice buns are baking, the aroma in the kitchen is intoxicating! OMG
Pull Apart Sticky Pumpkin Spice Buns For Holidays
Holidays are about memories with the family, good friends and delicious food. These Gluten-Free Pull-Apart Sticky Pumpkin Spice Buns will be one of the memories because they are that good!
However, they are a little messy because you pull them apart, and some sauce may drizzle over your fingers. But, well worth it!
Why use quick-rise yeast in sticky pumpkin spice buns recipe?
To make the Sticky Pumpkin Spice Buns, I used quick-rise yeast for the dough. I like to use quick-rise yeast for gluten-free baking for four reasons.
The dough rises faster

Needs only one rise

You can mix the yeast with dry the ingredients

T

here is no need to proof the yeast first. Just make sure the yeast has not expired. Yeast has an expiry date; after that date, you are taking chances for the dough not to rise as it should.
TIP: Yeast should always be kept in airtight container and in the refrigerator to keep it fresh.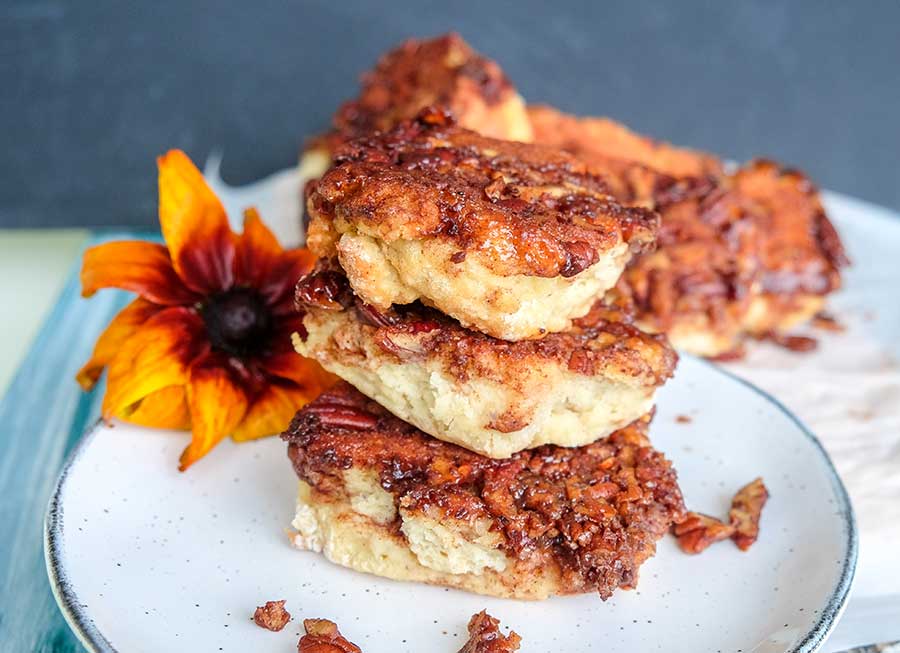 this recipe is all about the sticky pumpkin spice sauce
The sauce is what makes these gluten-free pull-apart buns stand out from most. The sauce is made with butter, maple syrup, coconut sugar, cinnamon, nutmeg and cloves.
Yes, the sauce is sweet and buttery, making the buns sticky and delicious. I have also added pecans to the sauce, adding some crunchiness and nutty flavours. If you don't like pecans, you can substitute the pecans for walnuts.
These Gluten-free Sticky Pumpkin Spice Buns are all about rolling the dough with buttery, sweet and creamy sauce filled with pecans and then baked.
Once the buns finish baking, turn them out onto a platter, exposing the bottom, which is where all the flavour and butter is. The pan will have some extra sweet caramelized butter leftover from the buns, which is spread over the buns. Doesn't this sound too good and incredibly delicious?
tips on measuring flour
One last thing I would like to mention when you measure the flour is that PLEASE do not dip the measuring cup into the flour, but rather using a scooper, scoop the flour into your measuring cup, and then level it off with a knife.
You should always use this method for measuring. Otherwise, you will have too much flour, and the baked goods will be dry. However, weighing the flour using a kitchen scale is your best option.
Reheat Sticky Pumpkin Spice Buns Leftovers
As with all gluten-free baked goods, they are best when fresh. If you have leftovers, pop them in the microwave for about twenty seconds, and they will be just as yummy as when you just finished baking them.
Storing
To store leftover Sticky Pumpkin Spice Buns, place them in an airtight container. They will keep up to three days at room temperature. Enjoy!
Do you need more pumpkin recipes? You may enjoy or get inspired with these gluten-free pumpkin desserts.
Let's Connect!
Be sure to FOLLOW US on FACEBOOK or, check us out on PINTEREST. And don't forget to sign up for our newsletter. We always have something new and exciting for you!
Many thanks!
Kristina xx
Pull Apart Sticky Pumpkin Spice Buns – Gluten Free
Published on Sep 19, 2018
by
Kristina Stosek
Instructions
1.

In a large bowl whisk together flour, yeast, baking powder xanthan gum and salt

2.

In a small bowl mix water, olive oil, maple syrup apple cider vinegar and eggs

3.

Using an electric mixer at medium speed, slowly add wet mixture to dry ingredients until a dough forms. Scraping sides as needed. About a minute, set aside

4.

For the sticky sauce; Mix butter, maple syrup, coconut sugar, vanilla, cinnamon, nutmeg and cloves. Pour 2/3 of the mixture into a 9x13-inch baking pan and sprinkle with 1/2 the pecans. Refrigerate for 10 minutes before going to the next step

5.

Turn the dough out onto a lightly GF floured parchment paper and sprinkle the dough with some more GF flour or as needed for rolling. Roll the dough into about 16 by 12-inch rectangle. Brush with remaining butter mixture leaving 1/2 inch border; then spread with the pecan mixture. Starting at the long side, using the parchment paper tightly roll the dough into a cylinder, pinching seams to seal. Using a sharp knife, cut into 12 pieces; place cut side down in the prepared pan. Losely cover with plastic wrap and allow to rise in a warm place for one hour. The dough should rise by 50%. Or refrigerate overnight, then bring to room temperature before baking

6.

Bake at 375 F for 25 - 30 minutes until golden brown. Let cool in the pan for 5 minutes, then invert onto serving platter. Scrape remaining butter from the pan and spread over the buns

7.

Pull apart and serve warm

. If you have leftovers for the next day, pop them in the microwave for about 20 seconds. Enjoy!