Grain-Free Cheese Chips (Keto)
Published on Mar 13, 2020
by
Kristina Stosek
Prep Time:

5 minutes
Cook Time:

8 minutes
Serves:

30 small chips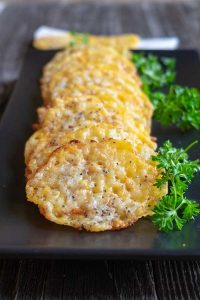 ​This post may contain affiliate links, please see our
privacy policy
for details
Deliciously cheesy and crispy Grain-Free Cheese Chips are a savoury snack made in minutes. The chips are made with three different types of cheeses, sesame seeds, poppy seeds and herbs. The herbs are optional, but they will add extra flavour to these grain-free cheese chips. The sesame seeds and poppy seeds add extra crunchiness and a slightly nutty flavour. What I love about these grain-free chips is, they are also keto. This means the chips are super low in carbs, only about one net carb per 6 small chips. 
♥ Delicious low-carb appetizer chips
You will love this → Not only the cheese chips are super easy to make, but they also make for an absolute perfect appetizer chip. Why? Because you can top them with just about anything. Think about what goes well with cheese? When I serve these cheese chips, I top them with various toppings. My favourites are sundried tomatoes, prosciutto, cucumber,  guacamole or salsa. So feel free to be creative by choosing your favourite toppings. Another option for these grain-free cheese chips is, add them to vegetable platters. They complement the veggies and add a bit of saltiness, balancing the fresh veggies. 
The best part about this delicious snack is, you can make the cheese mixture in advance and bake the cheese chips fresh when you are craving something savoury and satisfying. When I serve the chips as a snack, I make them bigger using a tablespoon of cheese mixture. However, when I serve them as an appetizer chip, I always make the smaller chips. The smaller chips are perfect to use for appetizers. I especially love them when I have unexpected guests because they take only minutes to make, and they are always popular. I hope you enjoy them! If you are looking for an impressive keto appetizer this Chicken, Water Chestnut and Bacon Appetizer is a big winner every time!
Grain-Free Cheese Chips (Keto)
Published on Mar 13, 2020
by
Kristina Stosek
Instructions
1.

Preheat oven to 350 F and line a large baking sheet with parchment paper

2.

Mix everything in a large bowl

3.

Scoop out a tablespoon of cheese mixture on the prepared baking sheet, leaving 1 1/2-inches of space between each scoop. For smaller chips use a teaspoon

4.

Bake for 8 minutes for large chips, and 6 minutes for small chips

5.

Cool fully on the baking sheet