Gluten Free Turtle Pie
Published on Nov 11, 2023
by
Kristina Stosek
Prep Time:

25 minutes
Cook Time:

10 minutes
Serves:

8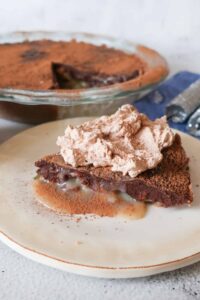 ​This post may contain affiliate links, please see our
privacy policy
for details
Classic Turtle Pie…my new favorite Thanksgiving gluten free pie that rivals traditional gluten free pumpkin or pecan pie. The almond flour, cocoa powder, and hint of cinnamon buttery crust are the perfect base for the caramel filling, pecans, and smooth chocolate topping. Extra decadent when just before serving, topped with a dollop of whipped cream and an extra dusting of cocoa powder. It's the perfect Thanksgiving pie. Every bite is sweet and heavy on chocolate.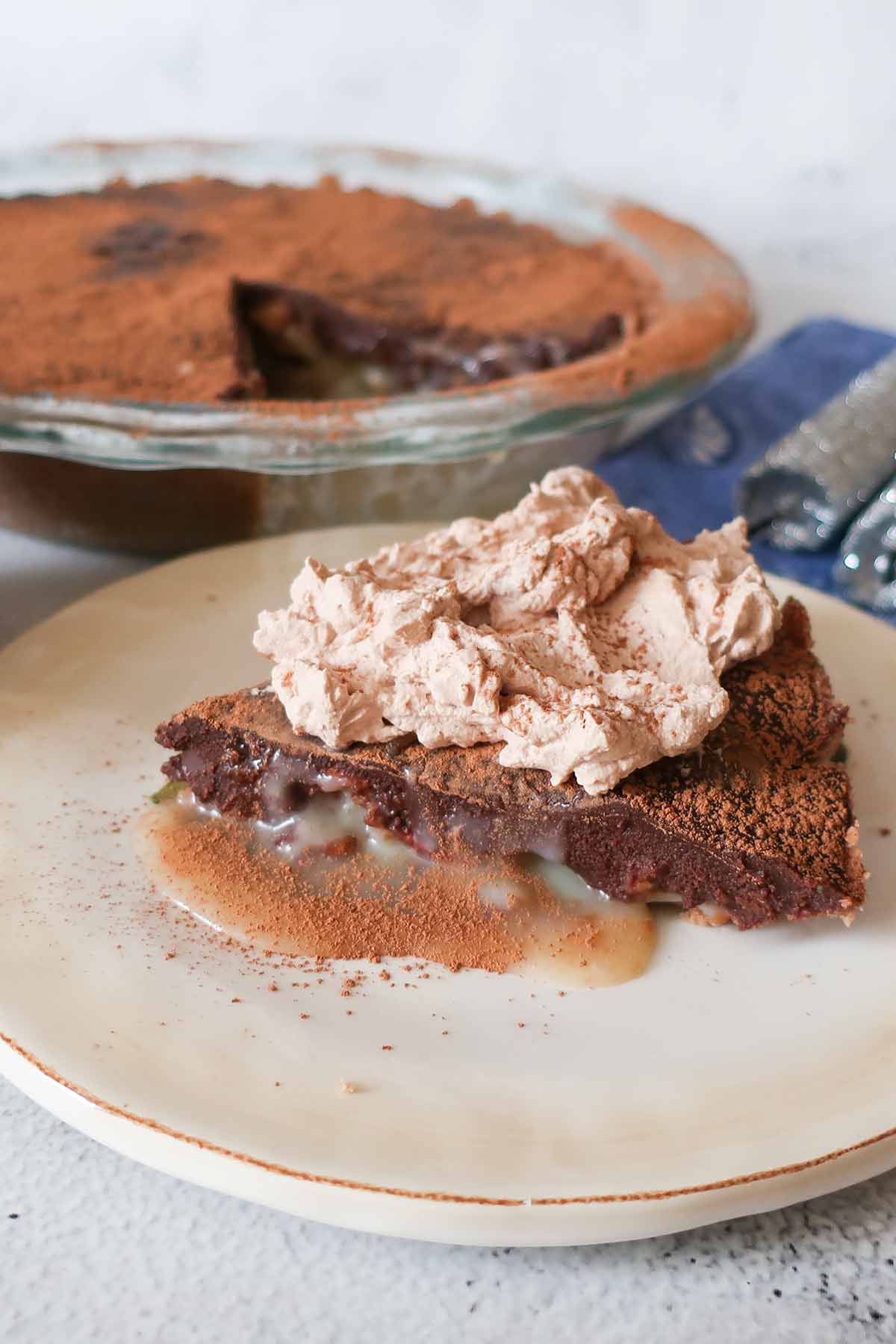 WHAT IS A TURTLE PIE
Turtle pie is a combination of caramel, pecans, and chocolate nestled in a pie crust and is one of the southern festive desserts. The term "turtle" originates from turtle candy, a confection made with caramel, pecans, and chocolate, which is said to resemble a turtle's shell. Over time, this flavor combination found its way into various desserts, including pies.
WHAT ARE THE THREE LAYERS IN GLUTEN FREE TURTLE PIE
The first layer is an almond crust. The crust is made with almond flour, butter, sugar, cocoa powder, and a hint of cinnamon.
The second layer is rich caramel sauce topped with pecans. The caramel sauce is made with condensed milk, butter, sugar, maple syrup, vanilla, and a pinch of salt.
The third layer is a smooth, creamy chocolate layer. You will need gluten free chocolate chips and heavy cream.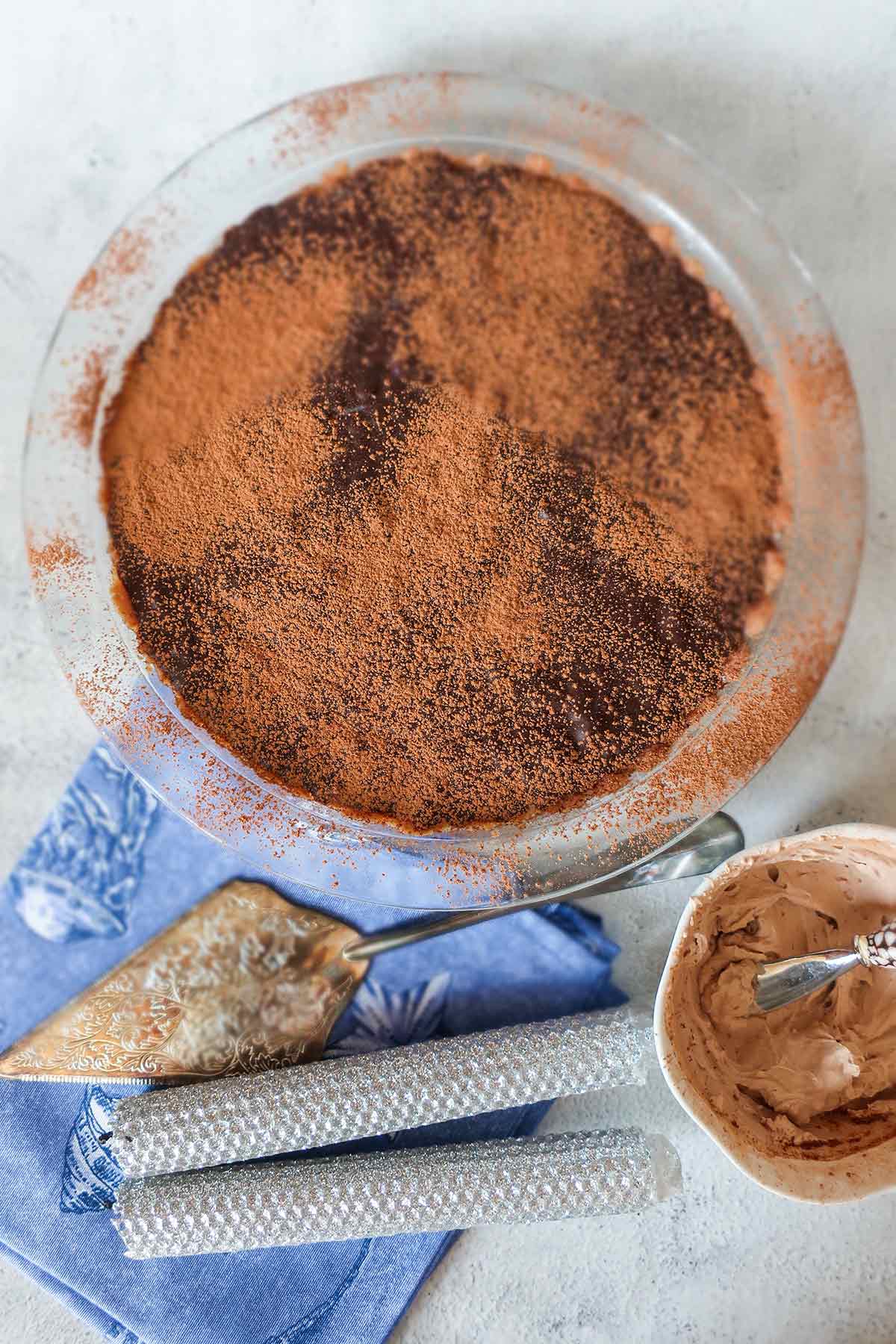 INGREDIENTS FOR GLUTEN FREE TURTLE PIE RECIPE
Almond flour
Unsalted butter
Sweet condensed milk
Sugar (brown or white), brown sugar will give you more butterscotch flavor
Cocoa powder
Cinnamon
Heavy cream (whipping cream)
Pecans
Chocolate chips
Vanilla
Sea salt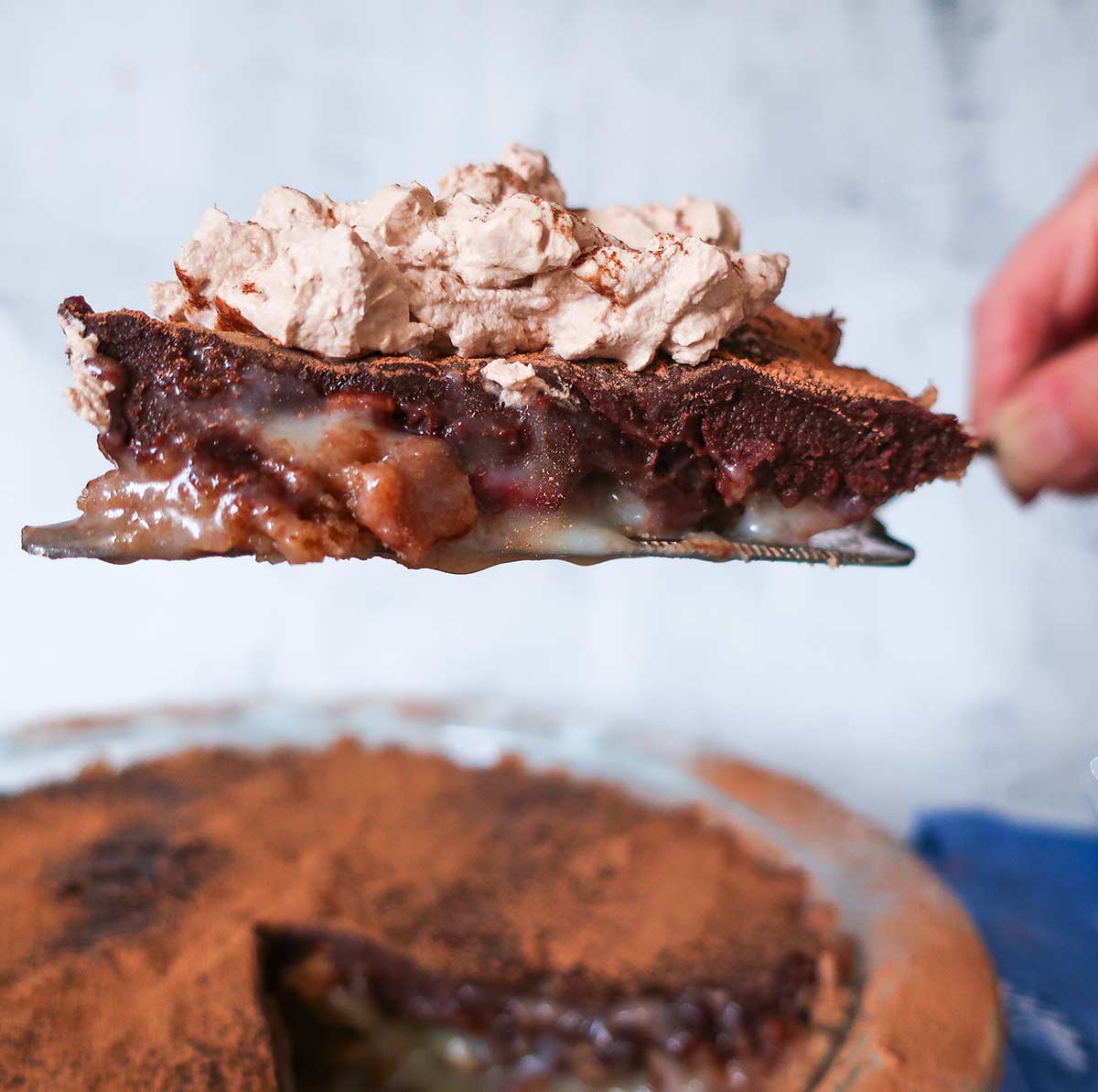 HOW TO MAKE GLUTEN FREE TURTLE PIE?
For the almond crust, mix the ingredients and firmly press the mixture into a pie dish. Bake for 10 minutes and cool.
The caramel sauce is made by simmering condensed milk, butter, and sugar. Then, add vanilla at the end. The sauce is poured into a cooled pie crust and topped with chopped pecans.
The final topping is rich, smooth chocolate. It is best to use a double boiler, but you can use a bowl over a pot of simmering water to make the chocolate layer. Simply heat chocolate chips with cream until the chocolate is melted and mixed with the cream. Pour the sauce over the caramel and pecan layer.
Chill the pie for a minimum of 6 hours or overnight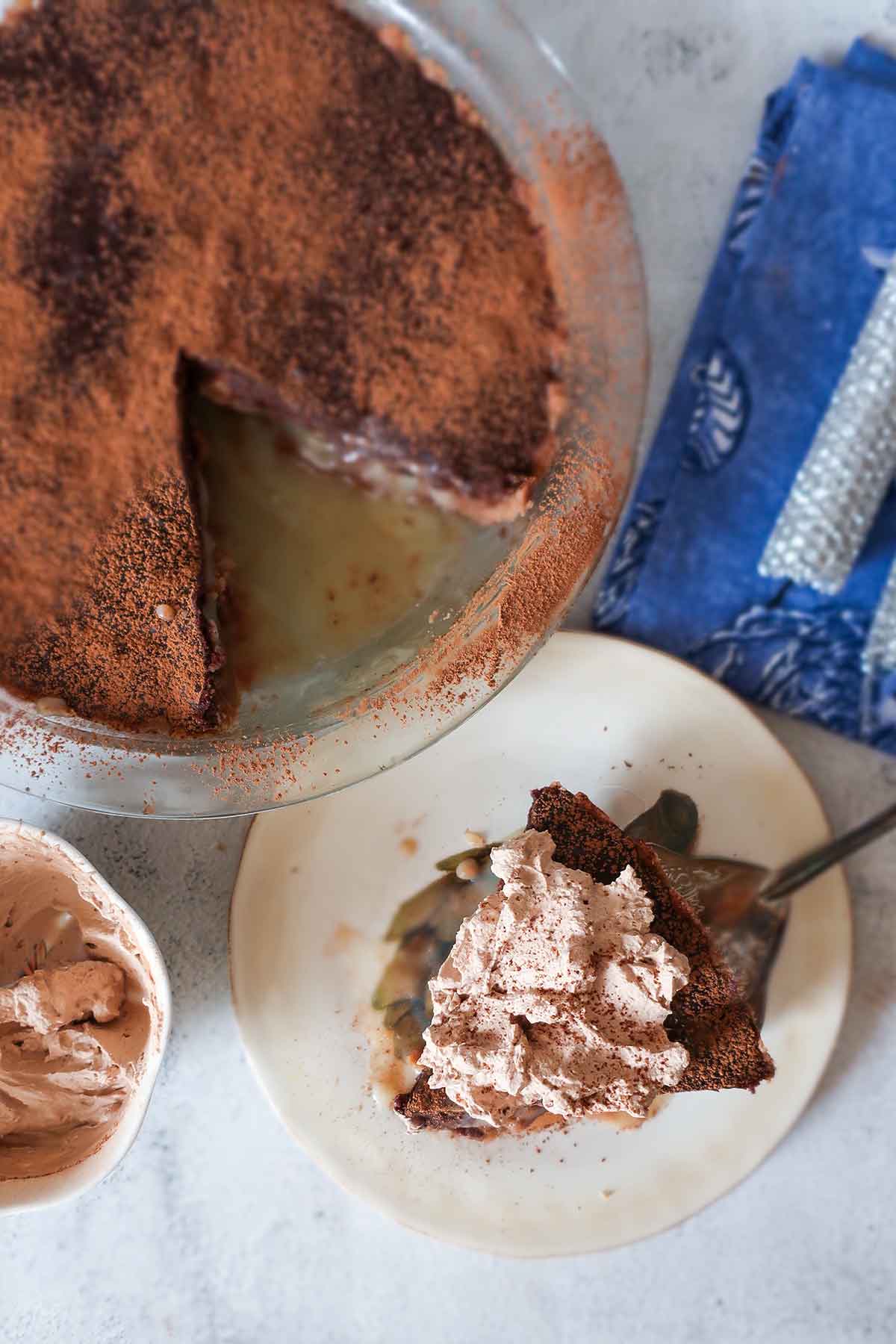 SERVING
Chill Well: Turtle pie is typically served chilled, so make sure it has had enough time to set in the refrigerator. This helps maintain the integrity of the layers
Use a Sharp Knife: When cutting and serving the pie, use a sharp knife that has been run under hot water. This makes it easier to achieve clean and neat slices without the layers sticking to the knife.
Garnish: Garnishing each slice with a dollop of whipped cream and a dusting of cocoa powder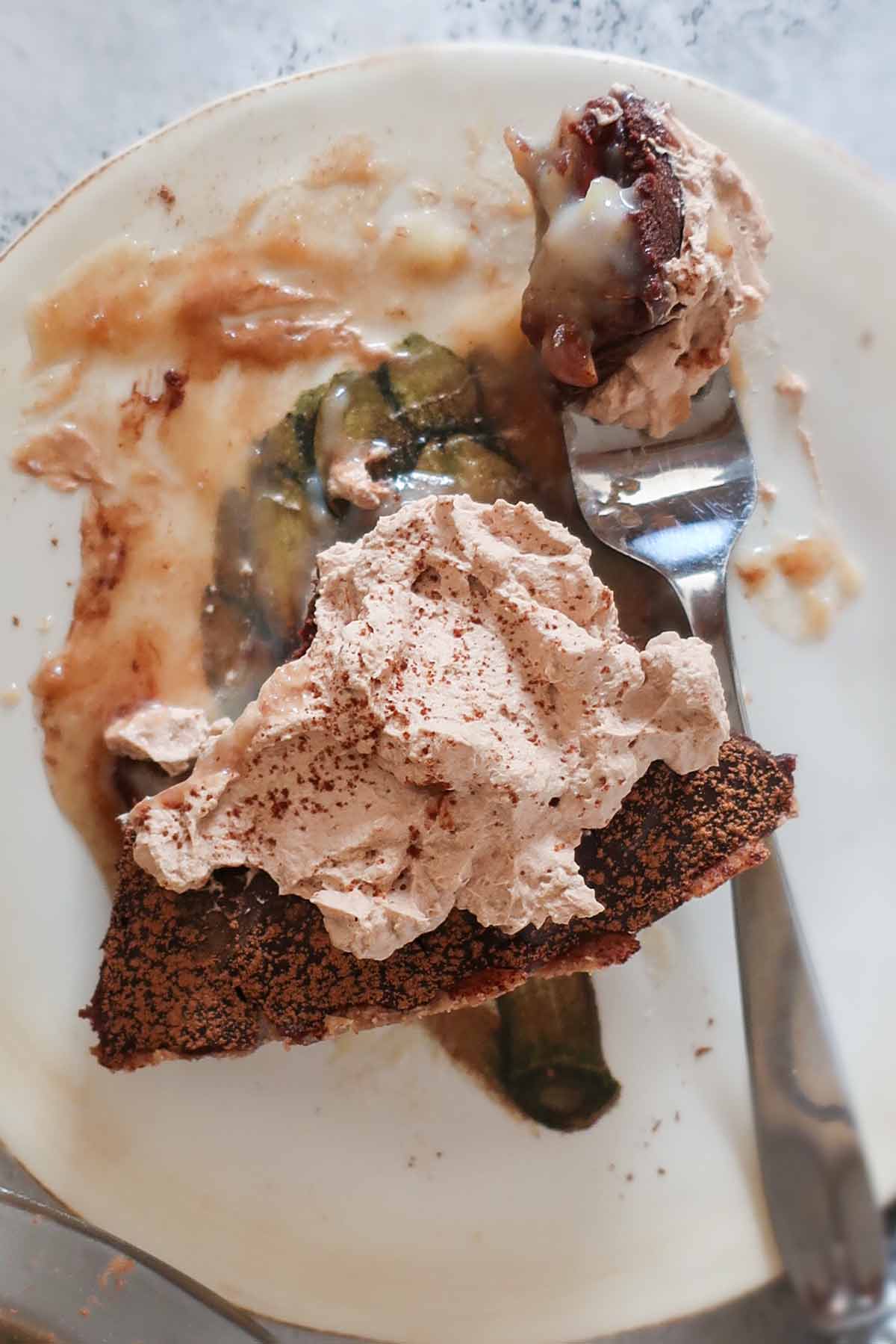 STORING
Cover the pie with plastic wrap and refrigerate for up to 5 days. If you need to store the turtle pie for an extended period, you can freeze it. Wrap the pie tightly in plastic wrap and aluminum foil before placing it in the freezer for up to 2 months. When ready to enjoy a frozen turtle pie, transfer it to the refrigerator to thaw overnight.
The gluten free turtle pie is an indulgence, a small portion is all you need to enjoy this rich, decadent dessert. And what better time than a festive occasion such as Thanksgiving to introduce this irresistible turtle pie?
Let's Connect!
Meet Kristina. Passionate about creating delicious, innovative gluten free recipes, and author of two gluten free cookbooks, "Entertaining The Gluten Free Way" and "Small Bites The Gluten Free Way".
Be sure to FOLLOW US on FACEBOOK or, check us out on PINTEREST. And don't forget to sign up for our newsletter. We always have something new and exciting for you!
Many thanks!
Kristina x
Gluten Free Turtle Pie
Published on Nov 11, 2023
by
Kristina Stosek
Instructions
1.

2.

In a large bowl mix crust ingredients. Pour mixture into a 9-inch pie dish and press into the bottom and sides using the back of a spoon to form one even layer. Bake for 10 minutes, and set aside to cool

3.

Meanwhile, make the caramel. Add condensed milk, sugar, and butter in a medium saucepan and place on low-medium heat.

4.

Stir gently until all the ingredients have combined, and continue to cook for 3-5 minutes until the caramel thickens and the sugar is dissolved. Add vanilla and a pinch of salt. Pour caramel over baked crust and top with chopped pecans. Set aside

5.

For the chocolate layer; place chocolate and cream into a bowl over simmering water or a double boiler. Heat stirring every 20 seconds until combined and smooth

6.

Pour the chocolate over the caramel and pecans and spread to the corners. Refrigerate pie for at least 6 hours or, even better, overnight.

7.

Dust with cocoa powder or top with whipped cream and a dusting of cocoa powder before serving if you wish

8.

Prepare Whipped Cream (Optional)

9.

Whip the heavy cream, powdered sugar, and cocoa powder in a bowl until stiff peaks form.