Gluten-Free Mocha Walnut Cake
Prep Time
15 Minutes
Difficulty
Easy
Cook Time
45 Minutes
Serves
8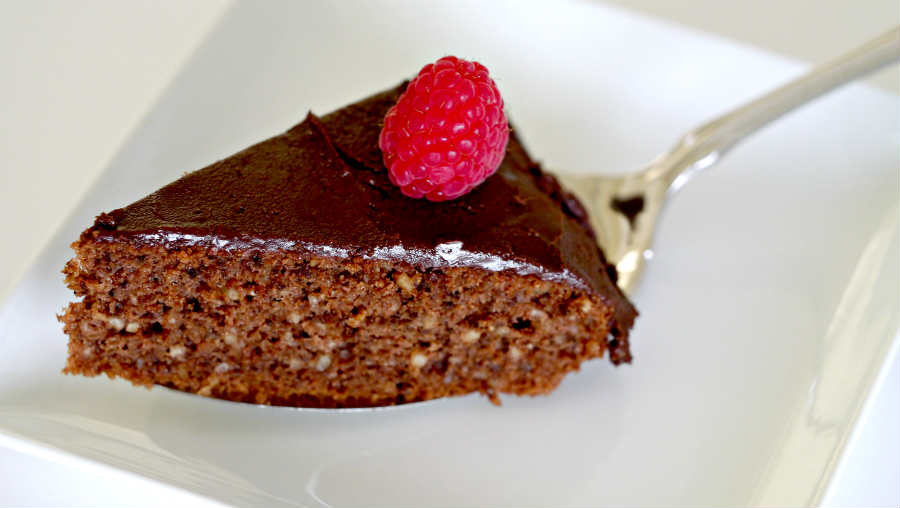 Average Rating: 5 | Rated By: 4 users
This gluten-free mocha walnut cake is a dessert made with cocoa and coffee. The recipe is simple for anyone to make, and the results are brilliant. You will love this moist and scrumptious mocha walnut cake topped with delicious chocolate glaze. Serve as is or with fresh berries or whipped cream. This dessert is outstanding!
Ingredients
2 cups raw walnuts
2 Tbsp. pure cocoa powder
½ cup sweet GF sorghum flour
½ cup GF white rice flour
1/8 tsp. sea salt
1 tsp. GF aluminum free baking powder
4 large eggs, at room temperature
1/3 cup + 1 Tbsp. extra virgin olive oil
½ cup agave or pure maple syrup
½ cup strong coffee, at room temperature
For the glaze ~ 1 cup GF good quality semi sweet chocolate chips, 2 Tbsp. unsalted butter + 1 tsp. pure vanilla extract. For dairy free option substitute 2 tbsp. coconut cream for butter
Garnish; fresh berries (optional)
*As an Amazon Associate and member of other affiliate programs, I earn from qualifying purchases. Please check out my sponsorship and disclosure policy page for more details
Instructions
Preheat oven to 350 F and line an 8-inch springform pan with a circle of parchment paper
Place walnuts into a food processor and blend for one minute, add cocoa, sorghum flour, rice flour, sea salt and baking powder. Pulse few times until well combined. Transfer into a large bowl.
Separate eggs into two bowls; whip the egg whites until they form peaks. In a separate bowl whisk together egg yolks, olive oil, agave and coffee. Gently fold in egg whites until combined. Add mixture into to dry ingredients and gently mix together. Pour the batter into prepared springform pan.
Bake for 45 minutes. Allow the cake to cool before removing from the pan.
For the glaze ~ over low heat in a heavy bottom saucepan, melt the chocolate with butter and vanilla, then spread over cooled cake. Garnish with berries
Similar Recipes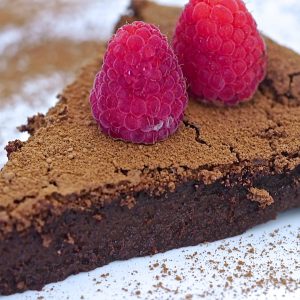 Flourless Chocolate Truffle Cake
For you chocolate lovers there is nothing better than this gluten-free flourless chocolate truffle cake. This fabulous dessert is oozing with chocolate throughout. On rare occasions, it is ok to indulge in rich desserts such as this chocolate truffle cake and since we are indulging add some ice cream and fresh berries. Enjoy Read More
Prep Time
20 Minutes
Difficulty
Intermediate
Cook Time
60 Minutes
Serves
6-8
Gluten Free No Bake Chocolate Coconut Cake
Sinfully delicious, this triple layer chocolate coconut cake is grain free, paleo and you don't have to bake it. Just imagine brownies with coconut topped with chocolate fudge. It doesn't get any better than this. This fabulous dessert is in our healthy dessert category. Read More
Prep Time
20 Minutes
Difficulty
Easy
Cook Time
3 Minutes
Serves
8 slices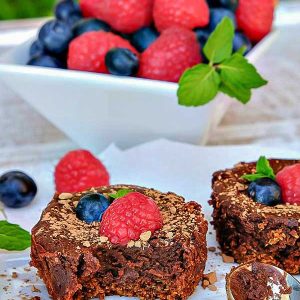 Gluten Free Minnie Mud Pies
Minnie mud pies are one of our most favourite gluten-free small chocolate desserts. They are decadent and dense little chocolate dreams. Whether you are entertaining a large crowd or small dinner party, these are ideal desserts. They are simply heavenly! When I was creating this recipe, I was looking for a cookie that can be […] Read More
Prep Time
15 Minutes
Difficulty
Easy
Cook Time
15 Minutes