Gluten Free Mocha Walnut Cake
Published on Sep 26, 2014
by
Kristina Stosek
Prep Time:

15 minutes
Cook Time:

45 minutes
Serves:

8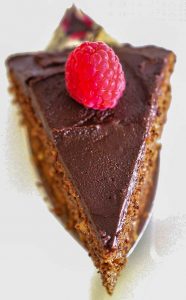 ​This post may contain affiliate links, please see our
privacy policy
for details
You should try this indulgent Gluten-Free Mocha Walnut Cake recipe if you are searching for a delicious gluten-free dessert that will satisfy your sweet tooth and coffee cravings!
Gluten Free Mocha Walnut Cake For Coffee Lovers
This dessert is all about rich chocolate flavor, aromatic espresso, and rich tasting walnuts and is a must-try cake for anyone who loves decadent desserts.
Whether you're sensitive to gluten or interested in exploring new textures and flavor combinations, this gluten-free mocha walnut cake dessert will surely impress.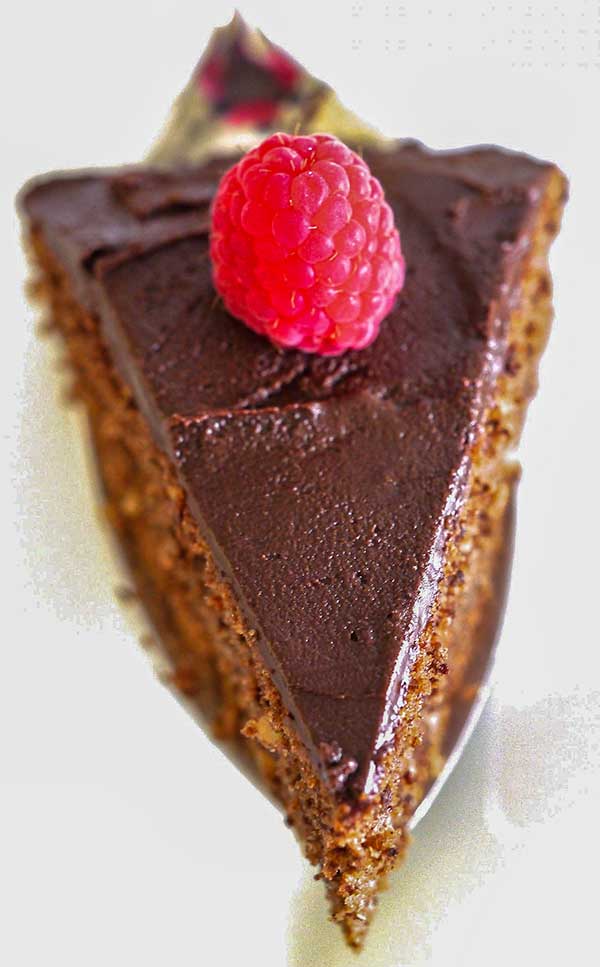 What is Gluten-Free Mocha Walnut Cake?
This cake is a delightful combination of chocolate and coffee flavors, with a hint of earthy walnuts. It is perfect for anyone who loves the taste of mocha dessert but is looking for a gluten-free option.
The cake is made with white rice flour and nutritious sorghum flour, which gives it a light and fluffy texture. It is also dairy-free, making it an excellent choice for those with lactose intolerance or dairy allergies. In addition, it is glazed with a chocolate sauce. YUM!
You may also enjoy our popular Gluten Free Chocolate Walnut Pie, or the Gluten-Free Chocolate Mousse Cake. Or, another one of our favorite desserts especially for Sunday brunch is the Gluten-Free Walnut Coffee Cake.
serving suggestions
This cake is delicious on its own, but here are some serving suggestions to make it even more special:
Serve with a dollop of whipped cream and a sprinkle of cocoa powder on top.
For a festive touch, top with fresh berries
Or, serve with a scoop of vanilla bean or chocolate ice cream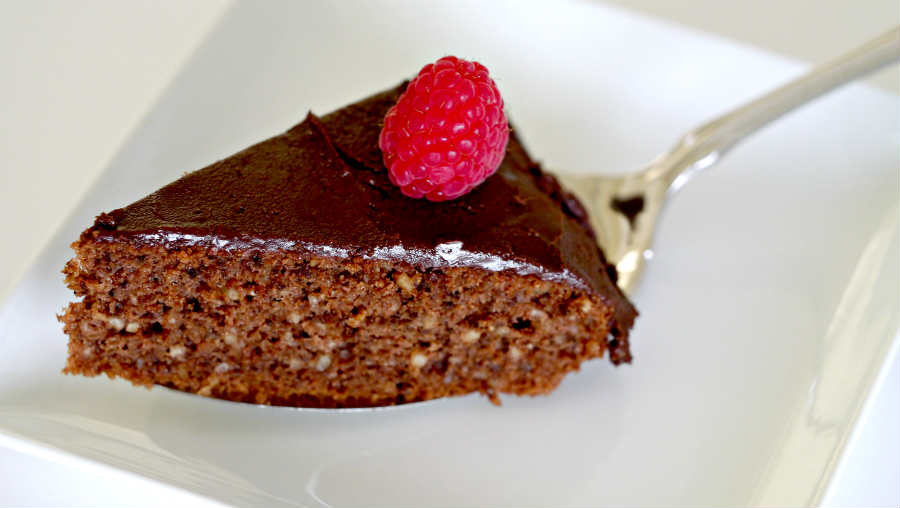 storing
The key to storing any gluten free cake is to keep it moist. The best way to do this is to store the cake in a closed container in the refrigerator. This will help to keep the cake fresh tasting, and from drying out.
This mocha walnut dessert will keep for up to five days when refrigerated.
conclusion
Mocha walnut cake is a great gluten-free option for those looking for a delicious, moist, coffee-flavored dessert. This cake is perfect for any special occasion, the recipe is easy, and it will be a hit with your family and guests every time.
Were you looking for dairy-free cake recipes? Check out our list of gluten free and dairy-free desserts.
Gluten Free Mocha Walnut Cake
Published on Sep 26, 2014
by
Kristina Stosek
Instructions
1.

Preheat oven to 350 F and line an 8-inch springform pan with a circle of parchment paper

2.

Place walnuts into a food processor and pulse to make a grainy-like flour. Do not over process! add cocoa, sorghum flour, rice flour, salt and baking powder. Pulse few more times until combined. Transfer into a large bowl.

3.

Separate egg yolks from egg whites into two bowls; whip the egg whites until stiff peaks form. In a separate bowl whisk together egg yolks, olive oil, maple syrup and coffee. Gently fold in egg whites until combined. Fold wet mixture into to dry ingredients to combine

4.

Pour the batter into prepared springform pan and bake for 45 minutes or until the cake passes the toothpick test. Allow the cake to cool before removing it from the pan

5.

For the glaze; in a heavy bottom saucepan over low heat, melt the chocolate with butter. Remove from the heat and stir in vanilla. Immediately spread the glaze over cooled cake
Leave a Comment
Kristina
no tapioca starch would not work Alene, but millet should work
I can't eat rice at all. Would tapioca starch work in place of the rice flour? Thank you!